Kantar: Android still dominating Europe while Windows Phone maintains steady heading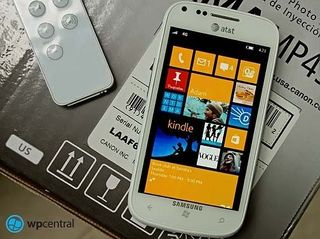 Windows Phone has remained on a steady climb, according to data published by Kantar WorldPanel, and sits comfortably at 5% of the EU smartphone sales (for the last 12 weeks). We've previously covered Kantar data where Windows Phone was shown to be climbing in the US earlier this year. With Windows Phone 8 just around the corner, and the announcements of Windows Phone 7.8, we assumed sales would have stumped the past few months.
It seems this has not been the case and Microsoft's mobile platform is surviving just fine in the run up to the next major advancement in its roadmap. Dominic Sunnebo, global consumer insight director at Kantar Worldpanel ComTech, explains the situation of both Android and Windows Phone in the EU:
We have seen an increase in discounts and special offers for Windows Phones - though Nokia smartphones have continuously enjoyed attractive price tags at carriers and retailers since being launched. Although consumers would find Windows Phones more appealing with cheaper offers available, we couldn't help but wander if consumers were actually looking at the platform as a serious contender.
Analysing the data supplied by Kantar WorldPanel, it reveals that Brazil has seen the largest percentage increase in sales for Windows Phone in the last 12 weeks, at a whopping 10.3% (compared to August 2011). That's more than both RIM and iOS combined. With Symbian being the prominent platform, it makes sense that Nokia is working hard to ensure consumers in the region pick up low-end Lumia hardware to experience what Windows Phone has to offer at affordable prices.
Sunnebo continues to note that:
This is where Windows Phone shines as an operating system. Consumers enjoy the social integration, the UI, the uniqueness and speed of the experience that's present on each and every Windows Phone. While it's down to OEM partners to pump out great hardware, it's positive to see Microsoft hitting the nail on the head on the software side.
As well as Brazil, Kantar data also shows a slight increase in sales (compared to 2011) percentages in other EU countries, including Great Britain (2.1%), Germany (0.7%), France (2.0%), Italy (3.2%), but saw retraction in Spain (-1.0%). The US is also performing well in the competitive market at just -0.1% change from last year, now sat at 3.3% of total smartphone sales.
Depending on how accurate the data is, it shows Windows Phone is positively climbing in smartphone sales, and this is during the transition between Windows Phone 7.x and 8.x - not bad, eh?
What are your thoughts on the published figures? Let us know in the comments.
Source: Kantar WorldPanel
Windows Central Newsletter
Get the best of Windows Central in in your inbox, every day!
Rich Edmonds was formerly a Senior Editor of PC hardware at Windows Central, covering everything related to PC components and NAS. He's been involved in technology for more than a decade and knows a thing or two about the magic inside a PC chassis. You can follow him on Twitter at @RichEdmonds.
The stars are aligning for WP over the next few months and it's time for it to take off like we have all been waiting for the last year. It's now or never.

It makes sense. The countries where the Nokia brand is strongest are going to see the largest growth. Hopefully the USA will eventually smarten up and realize the quality that Nokia is bringing here. I was one of those people who prior to the Lumia didn't understand why people always spoke so positively of Nokia. To me Nokia was just that old company that made brick phones with the annoying ringtone. After seeing how they treat their customers and the quality they put into their software and hardware I am sold on the whole Nokia thing. The only other manufacturer in the US that even comes close to Nokia in design/innovation is Apple itself. I don't think anyone in the smartphone industry is working harder than Nokia to satisfy their customers.

I think that people are seeing it is not Windows MOBILE and become interested. I still see bloggers, others fanboys, and sales partners refer to it as Windows Mobile. Makes you want to B#$%& slap them.

I feel WP will begin to do well with this next big push. It's a marathon, not a sprint. Slow n' steady. :)

This is good news. By the end of 2013, 10% of the Worldwide Smartphone market share is completely plausible by Windows Phone. 2013 will be a significant growth year by windows Phone. Windows 8 will provide a massive benefit. Im so happy that Microsoft is finally putting its full might behind windows. 2013 is the year of Windows Phone!!

Windows Phone can only go up after the release of WP8.

Lets hope the other OEM's join Microsoft and Nokia in the marketing department! I remember watching the March Madness basketball games and seeing all the Lumia commericals and being amazed that there was an ad. Shortly later I was in a CVS drug store and a guy asked "is that the Lumia 900" and I was even more amazed. Then the ads went away :( and a lot of the buzz along with it. Hopefully OEM's will market and stagger their projects instead of frontloading them all and leaving the many Androids that come out year round with the only ads up on radio or tv.

I just wna see great devices. I don't really care about WP's market share. I actually like that it doesn't have a large market share. I'm the only one with a WP at my uni.

I understand, but it needs a certain mass to keep going. You can't expect continued support from all the parties if it continues to underachieve

I get my mom a new LG L3 Android prepaid phone for 40€ from T-Mobile, there is no way WP can compete with that. The cheapest WP I luckily get for my grandpa was a like new HTC Trophy for ~100€ at ebay.

You just compared an entry level android to a phone with a superior everything... thats like saying I didnt buy my mom a Jaguar because the Ford Focus was cheaper. Hopefully Nokia will provide devices that fill the void so people wont have to default to android in the future.

Clearly the people that don't like apple products will go to android simply because there is no other OS. WP now gives them a different and in my eyes a better option. Over the next 5 years, WP market share will grow and those customers, will in the majority come from android
Windows Central Newsletter
Thank you for signing up to Windows Central. You will receive a verification email shortly.
There was a problem. Please refresh the page and try again.