LG comments on Microsoft's new Nokia partnership, has no WP7 phones at MWC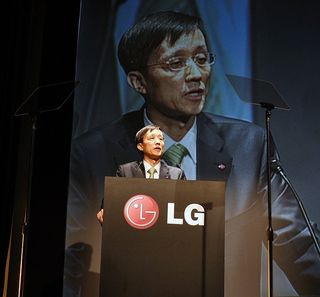 Today was a big day for LG as they announced their LG Optimus 3D Android phone and 8.9" Android Tablet. Of course, you can head to AndroidCentral for that info. During the Q&A part of the press conference though, someone in the audience asked LG's President and CEO Dr. Jong-Seok Park what he thought of Microsoft's new alliance with Nokia and what it means for LG.
Jong-Seok Park's response was borderline non-answer, but he did emphasize that LG plans to continue with Microsoft and that won't change. And in more of a boast or challenge, Jong-Seok said about Nokia (paraphrasing) "Lets see what they can do".
The question was pointed but also significant. If we flash back exactly two years ago, it was here at Mobile World Congress where LG was named as a key partner for Windows Phone, with the promise of 50 phones at one point. Since then, LG seems to have scaled things back quite a bit, to say the least. In fact, Asymco has done a nice job of detailing the history of announced and celebrated "partnerships" with Microsoft that have gone to sour, dissipate or never realize their promise. The list includes Palm, Motorola, Nortel, Erricson and others. This now seems to the be the case with LG, who's Optimus 7 and Quantum, while both respectable phones, have failed to garner the attention that the Samsung Focus has.
What was even more telling was at the LG display section on the main floor--which included TVs, their Android Optimus-series, tablets and even "feature" phones, there wasn't a single LG Windows Phone on display. (Or if so, it was well hidden).
One thing that is evident from today is that LG are doing way, way more in terms of hardware with their Android line. The LG Optimus 3D has dual core, dual memory and a dual camera for shooting in 3D. With a 4.3" screen, the device is quite the achievement and believe it or not, the glasses-free 3D ain't too shabby. Unfortunately when you see all the new "super" phones with Android, you realize how stagnant Windows Phone 7 starts to look--Microsoft is not yet in the business of pushing harware technology.
Daniel Rubino is the Executive Editor of Windows Central, head reviewer, podcast co-host, and analyst. He has been covering Microsoft here since 2007, back when this site was called WMExperts (and later Windows Phone Central). His interests include Windows, Microsoft Surface, laptops, next-gen computing, and arguing with people on the internet.
I think LG has given up on Windows Phone 7. It's a shame since they did some pretty nifty things on the applications side, and DLNA streaming isn't anything to sneeze at. That being said the Optimus 7 was in my opinion, the weakest half hearted attempt at Windows Phone hardware we've seen so far.

I don't agree at all, I like my LG optimus 7 quite a lot, no problems at all to speak of and the battery life is tops when it comes to smartphones in general, not that weak battery spec you'll find in most HTC phones.It could just mean LG doesn't have a device ready to show right now, we're not even at the midway point of 2011 so it's too soon to speak of where LG stands.

Could it be that LG devices are not as good as the Samsung devices thus the reason why it hasn't done as well?

that is a shame because they have been a very prominent player in the marketplace with their exclusive apps. with 2 phones on the market and 1 more given only to devs, it seems that LG has somewhat given up.

Its increasingly clear that these OEM's have no interest in WP7 and even though they may not publicly drop WP7 in effect thats what they will do with no new handsets and all their efforts focused on android. By default Nokia will end up being the sole WP7 handset maker and just validates that MS should have done the hardware themselves and cut out the useless OEMs.

Hear, hear.LG has been a total useless OEM for WP7, how can LG justify the Quantum? That phone is butt ugly.

I disagree. I think the Quantum is a nice phone, with a great keyboard.

It's really too bad. Looks like I'll be staying with the iPhone 3gs (going to just wait for the iPhone 5 as my upgrade is 2/20/11). Was hoping a new Windows Phone 7 handset was on the way as it's too painful to purchase a WP7 phone at this time with all the new Android hardware coming out (as the WP7 hardware feels dated). Also disappointed that no updates have yet been released dispite the need for it.

Here's my thing. There's alot of nifty things going on in the world of Android but the problem is that they don't always have a use case. For instance, there is absolutely no use case for a 3D phone right now. Sure some games will come out that support, but at that point your just talking about more fragmentation.
Windows Central Newsletter
Get the best of Windows Central in in your inbox, every day!
Thank you for signing up to Windows Central. You will receive a verification email shortly.
There was a problem. Please refresh the page and try again.