Advertisement Feature
The LG gram is the perfect laptop for work and play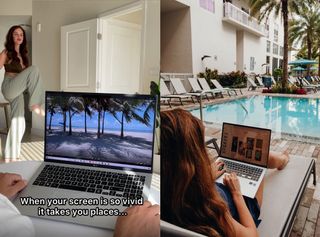 (Image credit: LG)
When LG launched its gram line of laptops a few years ago, the goal was to create an incredibly thin and lightweight laptop that was still powerful enough to handle just about anything. After a few years of iterations and refinements, the 2021 LG gram is the best one yet. The LG gram was reviewed by the editorial team at Windows Central and received 'The Best' badge among other competitive laptops.
Laptops are increasingly becoming the tools we use to both work and play and LG has delivered a computer that can do both while retaining its incredibly thin and lightweight profile. The gram is not just designed for work and studying, but also for entertainment and creativity.
Instagram couple creators Katerina and Yinon have been reliving the good times before the pandemic through their Instagram reels. They are a digital nomad couple with over 400,000 fans on Instagram and they travel the world discovering different cultures, new perspectives, and specialize in content creation.
The vivid screen on the LG gram is perfect for helping them revisit and enjoy old memories. Thanks to how lightweight and portable the gram is, they're also able to make new memories wherever they go.
YouTube music producer Napkins Music and 9GAG make music using the LG gram. He's the first Korean creator to reach 100 million views on TikTok and is a music producer with an increasingly large foreign fanbase of his YouTube and TikTok content.
The powerful hardware of the gram combined with it's amazing portability make it easy for him to keep himself and his fans entertained.
Everyone has stories to tell and the LG gram helps tell them better with a new 16:10 screen ratio that makes it easier to see everything you're working on more clearly. Whether you're making cool music videos, great YouTube videos, or the best stories on Instagram, it's much easier with the new, larger screen on the gram.
The best part of the gram is in the name, its amazing portability. At just over 1 kilogram (2.6 pounds), the 16-inch model maximizes screen usability with a 16:10 display by maintaining the width of a typical 15-inch laptop while weighing as little as 2.6 lbs.
There's nothing like a low battery warning on your laptop to interrupt creativity, but the LG gram virtually eliminates charger anxiety with up to 22-hour battery life (actual battery life will vary depending on the model, settings, and use case based on the MobileMark 2014 battery life testing standard). That means you can confidently head out without having to make sure you stay near an outlet or bring a powerbank with you. Charge it once and use it for a full day of creating.
Stories are who we are. They unite us and help us understand each other and the world a little better. When creators and storytellers want the best tool for the job and lifestyle, they use the LG gram. Grab your 16 inch LG gram here.
A laptop for work and play
A really cool laptop

When you're ready to get out, make memories, and share your stories with the world, the LG gram 16 is the perfect companion.
Get the Windows Central Newsletter
All the latest news, reviews, and guides for Windows and Xbox diehards.