Lumia 640 still picking up share of the Windows Phone market, but no sign of new Lumias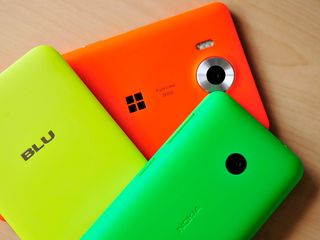 The February report from AdDuplex has some new numbers out for the US and EU5 (Spain, France, Germany, Italy, Great Britain) and with it comes the continued ascent of the Lumia 640 usually at the expense of older phones like the Lumia 535 and Lumia 635.
We also take a look at India, Brazil, and which phones make up the "other" category. Unfortunately, there are not too many surprises.
The US
For one of the first times, we can see what percentage of Windows Phones in the US are the high-end ones with the inclusion of the Lumia 1520 (2.4 percent), Lumia 1020 (2.4 percent), and Lumia 920 (3.1 percent).
Interestingly, there is still no sign of the Lumia 950 on AT&T or Lumia 950 XL (unlocked) revealed in the numbers. That likely reflects the low adoption rate of those phones in addition to still technically being new to the scene.
The Lumia 635 is still the most popular Windows Phone at a massive 28.9 percent, but that number is dropping with the Lumia 640 gaining 2.4 percent from last month for a 20.6 percent share of the Windows Phone pie.
EU5
Regarding the top five European markets - Spain, France, Germany, Italy, Great Britain – the Lumia 930 is at an impressive 4.9 percent of Windows Phone market. The Lumia 535 is the top earner with 10.7 percent, but it is not growing as fast as the Lumia 640, which added 3.2 percent to a 9.2 percent total.
The EU5 clearly has a more diverse market for Windows Phones with the Lumia 925 (3.4 percent) and Lumia 435 (3.5 percent) both having a noticeable presence. The category of "other" accounts for 30. Percent compared to 24.3 percent in the US.
India
Not much has changed in India since the last report. The aging Lumia 535 is down 1.0 percent to 22.2 percent total. That's enough to keep it in the number one spot for the country. The Lumia 640 XL is up 0.5 % to 5.4 % total.
The Lumia 520 is still in second at 13.8 percent, and there does not seem to be any 8xx, 9xx, or high-end phones with significant market share in that region.
Brazil
One of the other top Windows Phone markets – despite issues with trying to get new hardware there – is Brazil. AdDuplex last looked at that country back in November, and a lot has happened since.
The Lumia 630 is down one percent, but still controls 15.7 percent of the market. The Lumia 520 is dipping lower too with a 2.3 percent drop to 14.8 percent total.
The Lumia 535 is the fastest growing with the Lumia 640, 640 XL and Lumia 532 all picking up ground.
"Other" Windows 10 Phones
Finally, AdDuplex broke down their "other" category that shows up in the charts as mentioned above. Unfortunately, there is nothing too new or shocking on the list like anything resembling a Samsung or HTC device, which is the bad news. There are, however, plenty of smaller players on the list including some white-label companies that we have not seen before.
There are a few Acer phones, which could be indicative of other models coming out beside the Jade Primo. There are also the current players like Xolo, Yezz, BLU, Coship, and the newer Alcatel OneTouch, who just released their Fierce XL on T-Mobile.
Finally, we can see some testing of the MSM8996 chip from Snapdragon, better known as the Snapdragon 820, which has picked up Windows Phone support.
About AdDuplex
The numbers from AdDuplex are collected through their in-app advertising that is prevalent in over 5,000 apps in the Windows Phone Store. That data serve as an important metric within the Windows Phone ecosystem. The full AdDuplex report for February will be posted Monday, February 22 on blog.adduplex.com.
Daniel Rubino is the Editor-in-chief of Windows Central, head reviewer, podcast co-host, and analyst. He has been here covering Microsoft since 2007 when this site was called WMExperts (and later Windows Phone Central). His interests include Windows, Microsoft Surface, laptops, next-gen computing, and for some reason, watches. Before all this tech stuff, he worked on a Ph.D. in linguistics and ran the projectors at movie theaters, which has done absolutely nothing for his career.
IMHO Lumia 640 is an excellent affordable phone and all it needs to be super popular is aluminum bezel and shiny back. Like the 650
.

Spot on, completely agree with you

One can only imagine if the US market was not so "carrier-centric"...

Just another IMHO, but lacking an aluminum bezel and shiny back did not stop this guy from buying a 640. Price/features did it for me. Of course, YMMV

I agree, but the 8gb of storage is killing me. I've moved everything I can to my SD card, but the updates require a certain amount of free space, and almost all of the internal storage is taken up by system updates.

Metallic back cover, amoled display, all you need to market this as flagship. I purchased 3 Lumia 640s so far, value is there for sure. I would pay more if it had metallic accents and an amoled display.

He's asking about the shares Daniel :-)

Here? http://www.bing.com/mapspreview?&ty=18&q=paquista3o&mb=35.660443~-16...

Hahaha. Although i wish it didn't :/

Next door to your friends, India

Busy making bombs obviously xD

Lol Posted via the Windows Central App for Android

I probably should have hid my IP address before posting that, huh?

It started overpriced and underpowered. Can't say I'm surprised.

Just like 650... Posted via the Windows Central App for Android

640 and XL are really so popular windows phones in US

I recently reentered the Windows Phone world with my purchase of a Lumia 640. I really wanted the 950, but with the cancelation fees for my old Android phone with Sprint and the set up fees for Cricket, I just couldn't swing the cost of a $600 phone. Better believe my next phone will be a windows flagship phone though =D

Going to AT&T, they will pay your transfer fees, and the setup is only the price of activation $15, I think) and the tax on the phone ($50 or so). Then you pay the monthly installments on the phone and the plan price, not sure how they compare to Sprint there.

Then you are playing $70+ per month instead of $35 flat for the same service. Posted via the Windows Central App for Android

I've just added two 640s to my household

Good luck with WP for the future, you'll really love for a week or two before you'll struggle for stability, Apps, performance. Best of luck. :-)

If your talking about Windows 10 for mobile stability I totally agree, but for windows 8.1, I don't see any stability issues.

Windows 10 Mobile on the Lumia 640 is completely stable.

Agreed. Last four builds have all run perfectly on my Lumia 640. Still the handset to buy IMHO.

@Kamesh You manage to get downvotes on your every comment. Consistent. I like that.

There is no voting available for crapdows phones, so I'm not able to see any down/up votes :P

I removed one from mine :)

I added two 640XL's to mine. I guess i was that 0.1%

Daniel you forgot Pakistan Lumia 535 is at no.1 position there :P

Not caring is different than not remembering.

I also don't care, I don't know what 22% or 0.1 % or any number they take out with 3% OF UNIVERSE MARKET SHARE OF WP..

Ppl would use windows phones. If Microsoft keeps the right price of the phone according to competition. Don't know what their marketing executives find it so difficult just to price it correctly.

Profits matter. They can't just lost $200 on every phone so they can sell more...and lose more money in the process.

As if others OEMs except apple and Samsung are earning a lot of profit.If they wanna get users they have to market it with cheap price.

Apple makes a ton of money off its phones, actually. Microsoft is already struggling to justify its mobile division. If sales started losing money, investors would be incensed.

Unfortunately my 1520, with it's phantom touch, was not immune to an accidental elbow being dropped on it. The screen had a split crack that made the phone a nightmare to use. Long story short, I bought a 640 and I'm pretty impressed. Hopefully it can hold me over for the fabled surface phone.

@kamesh you hate Windows platform but still there just to tease others. If you say you are critic, sorry about you..

I don't hate crapdows Phone :P I'm myself a Lumia 720 & 730 user :P I'm not a critic also :-) I'm a crapdows Phone user :-)

Windows phones here are almost dead. The only OEM that sells Wps are Microsoft and every day is more difficult to see any Lumia in the stores. There is zero evidence that Microsoft will release their Windows 10 phone devices here also. If LG, Lenovo or Samsung do not release a new phone with Windows 10 Mobile in the coming months I think Windows phones will disappear in Brazil.

What Lumia series really needs now is a proper mid range phone with snap 617 or higher with continum support

Pathetic market share in india... >angry....

I got a 1520. Mum a 640XL LTE, aunt a 640, planning to get dad a 650. So far, all have found lumias better than their old androids which strugged even with Skype. Force Lumias down their throat :v Microsoft's marketing team is busy ******** bricks. We have to do their work for them.

Force Lumias down their throat

That's pretty sad.

I forced Lumia 640XL and Lumia 640 down the throats of my Sister and Dad, they actually are loving it now. I'm planning to buy 650 though. Really need to dump my L520 for good. Hope 650 prices don't disappoint me.

Forced a 535 to mom, even though the shop owners tried so hard to move them towards android saying, this phone wont get updates, it is too hard to use. I spoke to the shop owner and asked him to do what the customer wants. Mom loves using it now. My frnd got a 640xl too and shes really happy that she switched frm android. Im finally settling for the 650 in a day or two :)

If this is how Windows Phone fans are getting people to adopt the OS, there really is no hope for the future.

These are percentages of the Windows Phones out there. So 18% of 1.1% or something like that. Micro analysis.

Considering how well the Lumia 950 and 950XL are holding their retail price on eBay, it shows how heavily in demand they are. The 920 and 930 both halfed there price on just three months.

Kind of contradicts the sales numbers which dont even have them registering....

Off topic. Has anyone seen the rumored Hp elite x3. Windows 10's supposedly new flagship. 820 SD in tow and all the bells and whistles of a premium device? 4gb of ram 32gb storage and expandable. 16mp camera 8mp ff camera. Dang.

16mp.. how is that good? Even 1520 boasts a 21mp. n 4gb ram? i mean sounds good on paper but no app on phone would ever use that much ram.. none that im aware of at least.

1520 is only 2gb of ram. I know 16mp camera is not as impressive as a 20mp shooter, but Samsung galaxy s6 packs only a 16mp camera and it does an excellent job. Some consider it the best camera out there in the smartphone world. I agree 4gb is overkill, but it is nice to see that there is a windows flagship in the horizon that can compete with the current hardware that will be announced in MWC. Just seeing another OEM up the anti is good news for WM10. I was also thinking that 4gb might go a long way in continuum, but just a thought.

And a leaked pic of it, too: https://twitter.com/RudyHuyn/status/700544209946697728 Still shaking my head at Daniel trolling us with the red herring that HP isn't making a phone.

Oh, and just saw the other pics in the forum of it, DANG... looks awesome, and B&O audio: http://forums.windowscentral.com/hp-elite-x3/411266-what-does-hp-elite-x3-look-like.html Might already be time to dump the 950 :)

The phones listed as high-end are 3-4.5 years old. I personally still use my 1520 with .107 onboard and running like a champ! My kids and mom all have Lumia 640's with .107 onboard and also running like champs at a cost of 39.99 at the ATT store (just bought my mom one yesterday to replace her 635). Honestly, even though the 640 isn't aluminum, it's an excellent phone and with contracts going away, it's a great option to avoid paying full price for phones or paying what amounts to rental fees for the next and jump options offered by cell companies. It allows you not to be locked into plans constantly paying recurring monthly fees to get a phone. Microsoft really needs to highlight the functionality of these devices and sell these phones in their stores (advertise themselves in commercials our adverts kinda like the ones comparing sprint, Verizon and ATT but showing high-end phones locking consumers in to recurring fees or shelling out hundreds of dollars when they could get a perfectly capable device for $40). WM10 adaptation could go up and spark new developer interest, but of course Microsoft doesn't think this way, so it won't happen.

I'm assuming the 640 is including the XL? If so, I helped contribute to the 635 -> 640 shift. The extra 512 ram made a night/day difference with W10m - no longer did the OS seem buggy or glitchy. I'm very pleased with my switch choice.

There are no 950, 550 an 650 lumias in Brazil.

lumia 640 will win the crown soon ! @30 dollar, its just steal. Other than 1520, 920, its my all time favourite lumia mostly because of incredible battery life.

What was suppose to be the "last Lumia?" The 650? Why would you be looking for a new Lumia if they are not suppose to make another Lumia? I'm confused...

640 would have done great in India if MS had not kept it Flipkart exclusive. They also stopped selling the 640 everywhere in India, the day 550 was announced. Could not buy one so got a Moto E instead.

640 was amazon exclusive amd I got it for like Rs. 5800.

640 was never Amazon exclusive. It was a Flipkart exclusive product and was sold for ₹9000 throughout. It was made available on Amazon for only few months and then removed by MS. 640 had a great potential for its price. It was a value phone like my 520.

Exactly. They made a huge mistake not selling it offline. Thankfully 535 took place of it.

Rockchip on the list is interesting. Adding support for non-Qualcomm processors to W10M?

I want to know where all of the people who said that not releasing the flagships on Verizon was a major mistake. If you look at the 635, it is the most used in America and at one point, it was/is available on most carriers excluding Verizon. Also the 735 is ghost, so the Verizon point isn't a strong one. Posted via the Windows Central App for Android

It is a major mistake releasing any Windows phone, not the other way around. Posted via the Windows Central App for Android

If Verizon could have persuaded just 2% of their user base to use WP, then WP user base would have increased by about 50% in the US.

Why would Verizon take that risk? Because of the lack of features and apps, Windows phones have a high return rate. Verizon has no reason to push Windows phones when they have Galaxy, iPhone, Droids, G4, etc. that they can sell and not take that risk. All those phones also have better hardware, software and an overall better user experience. There is a reason Windows phones failed. A big list of reasons. It isn't Verizon's job to lose money because Microsoft failed to create a compelling platform! Posted via the Windows Central App for Android

I didn't say that Verizon had that incentive, and it doesn't necessarily have to be Verizon doing the persuading. I just tried to point out how big a deal WP not having a presence in Verizon is for WM in the US, and why some might consider leaving Verizon out to be a bad move.

640 is so cool
W10 Mobile is completely stable
When will come the official release for this phone?

950 still too expensive in Australia, especially with continuing feedback on W10M instability. I'm waiting for a price drop and more stable W10M releases before jumping. (Unless I drop and break my 930 first, of course, in which case I'll pop into the MS store next door and buy one immediately!) Pretty simple supply and demand equation Microsoft!

Good to see ageing flagships still going strong in US. Proud of my L1020. Push the wm10 update for us already.

With the 640 you get a big bang for your buck. While putting everything into perspective the phone is priced correctly for the features it provides. The phone can easily retail for double what it retails for currently and it still would be a bargain. For those that want to try out a Windows phone for the first time this is the phone to do it with. -Cheers.

Not happy about the Lumia 1520!!!

This is my first Windows Phone, and I'm really enjoying the experience.

Looking at this... Prepaid dominates the US WP users...400 through 600 series handsets dominate. Pretty sure a sizable portion of WP users are on Cricket...the 630 was exclusive, they were the only carrier with worthwhile marketing for the 635 and 640 (besides GoPhone, but I suspect a LOT of GoPhones get activated on Cricket or other MVNOs). GoPhone and Cricket had the 520. 2. TMo/Metro PCS had the 435 and 521. Metro also kinda advertises WPs. What I'm saying is that in the USA, there is unfortunately no meaningful market for better Window Phones. $150 retail seems to be the limit. I know I'd never spend more than that...wait a while and they'll be giving away phones. I'd never pay near iPhone money for a 950, never.

My first Windows phone and I'm loving it (with Windows 10).

Trump is calling on his supporters to boycott Apple.....good news for Microsoft Mobile!?

Nope. People aren't going to choose a buggy plastic flagship after using an iPhone. Samsung would certainly pickup those users. Either way, no one is going to follow Trump's boycott. Maybe a couple people. Posted via the Windows Central App for Android

Hmm it looks like the MS Lumia 640 could be as popular as the nokia Lumia 520 as far as being a popular low cost Windows smart phones is Concerned. it is Windows 10 Mobile capable so folks who buy it wont be left behind and will have a Smart phone that will work with the popular big brother OS Windows 10 for Desktop PC's/Laptop's/Tablet's and Servers.

If you have an eye for quality and detail, even Lumia 930 is avlbl almost new for 170 USD on olx in India.

The 640 line is the best MS has done since acquiring Nokia: nice features at an awesome price and brought back the Cyan color. The only thing I miss is the camera button.
Windows Central Newsletter
Thank you for signing up to Windows Central. You will receive a verification email shortly.
There was a problem. Please refresh the page and try again.