Lumia 710 Windows Phone vs Samsung Galaxy Note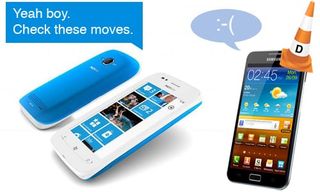 Laptop Mag is hosting game two of the 2012 Smartphone Madness competition, which has the Nokia Lumia 710 Windows Phone up against the Android powered Samsung Galaxy Note. The low-end Windows Phone is competing with a 5.3" monster of a smartphone. Something even the HTC TITAN could have trouble taking on with regards to screen size.
We're also talking dual-core, 1GB RAM and 16GB storage (with Micro-SD support). But what the Lumia 710 has over the Samsung behemoth is not only the latest version of Microsoft's mobile OS, but a more affordable price point, a solid manufacturer brand, and a choice of colours.
Be sure to spare a few seconds of your time to vote for the Lumia 710.
Source: Laptop Mag
Rich Edmonds is Senior Editor of PC hardware at Windows Central, covering everything related to PC components and NAS. He's been involved in technology for more than a decade and knows a thing or two about the magic inside a PC chassis. You can follow him over on Twitter at @RichEdmonds.
last I checked, the 710 is winning by a lot

Nokia Lumia 710 = 90% votes
Samsung Note = 10% votes

AWSOME!!! when WP wins the over all! make sure to let us know
im gona make sure to send it to the CEO of BELL to give him a freaking WAKE UP CALL!
but why is the 710 and the titan 2 on the same side! it probably gona end semi finals WP VS WP, rather have them both int he finals!
go WP go!

Lumia 900 is on the other side so we much get that too the final as well!!

Current results right now: Lumia - 1076, Note - 118

I'm lost. I go to the page and I can't find anywhere to vote!

EDIT: It's not working for me in Firefox, but it does in IE9.

Currently 1275-130 in favor of Nokia

Wow Lumia 1266 vs Note 127

Lets be honest, Nokia knows how to build a solid phone. Very few of them ever feel cheap, and most of them are so solid it feels like a slab of granite. They flat out build quality devices. Which is why I am pushing to be able to get a high end unit through TMobile.

You can buy an AT&T lumia 900 and use it on T-mobile's H & LTE networks when they refarm and roll them out.

There's something wrong. IPhone 4S lost in the first round to a Huawei phone. I've never used either (or the Lumia 710 for that matter), but it's hard to believe Huawei beating Apple. Additionally, the Lumia 900 is on there and hasn't even been released yet. Whatever. Good luck WP!

Well Apple asked for this. When they released the iPad 3 the last week they were so excited to tell the world they are best because they had a QUAD CORE machine :-)
Yeah, Apple. Quad core GPU - Not CPU!!

So this unknown Huawei monster has real Quad core CPU and 16 (!) core GPU. So by Apple logic it must be better :-)
Not that I belive multiple cores makes any difference to the already silky smooth experience of a WP7 :-)

I had the same concerns. Apple losing to Huawei? Lumia 900 not yet released? At least they didn't put down the Lumia 800, lol.
Lumia 710 is gonna win as it as 90% of the votes after I just voted.

Voted 710 FTW. Just convinced my sis to buy 1

it has over 90% of the votes...xD

im getting a lumia 710 today !! :D

No matter what type of phone, if it runs Android, it's no match for Windows Phone devices. Just because of that, the Lumia 710 will win gloriously.

holy moses, winning by almost 2k votes lol

It is CRUSHING the note...nice

2258 vs 272 after my vote. Getting the 710 for my better half next week.

I love windows phone but I'm a sucker for giant screens and underdogs so I voted for the Note and the Titan II if that's an option.

The GN is getting stomped 83% for the Lumia 710... WOW! I didn't expect that.

Is it wrong to vote on your mobile and then on all 3 browsers on your PC - IE, Chrome, Firefox? :)


Windows Central Newsletter
Thank you for signing up to Windows Central. You will receive a verification email shortly.
There was a problem. Please refresh the page and try again.