So long Project Spartan, Microsoft Edge is here!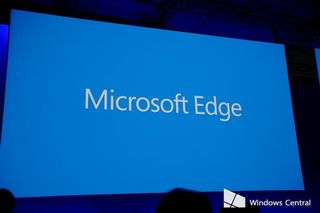 Microsoft has announced at Build 2015 that Microsoft Edge is the final name for its new web browser for Windows 10, which was previously known by its code name "Project Spartan"
As previously announced, Microsoft Edge was made specifically for Windows 10. It will have features such as built in note taking and sharing and will also have Microsoft's Cortana digital assistant built in.
Microsoft Edge will have a new tab page, which will be located in the address bar in the middle of the page. It will also include top sites, including if there is an app, and user information. It looks very clean.
Web extensions made via HTML and Javascript will also be supported in Microsoft Edge, and any extensions made for Chrome can work with Edge with just a few code adjustments.
Microsoft also showed how a Pinterest plugin will work in Microsoft Edge, as shown in the photo above.
Stay tuned as we will have more news from the Build 2015 keynote throughout the da
Should be called Microsoft Curve because of all the low end and rounded cornered Lumias.

Error 404: Relevance not found.

Error 808: Windows Phone is for peasants Android master race?

Android is a pile of laggy cack.

Should have been named Microsoft Breeze. Like a breeze of fresh air.

I like hotdogs, but with jelly.

I like edgy people, but with less smack.

I also don't like the new Lumias with rounded corners. I thought the hard-cornered flagships of past really gave Lumias a nice modern, unique look. I hope the upcoming flagship stick to that roots.

Did they show a new phone? I haven't had a chance to watch the rest of build yet?

I have lost my hope. Spartan >> Edge :(

The new name is so....umm...different and kinda lame....spartan was actually cool!

Well not everyone wants most of their Microsoft products/software/services/apps to be named after Halo stuff. It gets quite annoying for me and professionals who don't enjoy Halo as much compared to avid fans.

Look, man. All new names are gonna sound weird to you when you first hear it. You'll get used to it. If you weren't named "Charles" originally and hear that name for the first time on a man, you are obviously gonna wonder what kind of a name that is. So yeah. Look at the functionality, and not the name. Nobody must've like the name "MOZILLA FIREFOX" at first either. But look! Here are million people who have grown used to it, and the program itself. Peace. :)

But I like the name.... Spartan was also nice, however there can only be one wonner...

I am sure I would have liked Firefox directly. And I liked Spartan directly. That was a great name. This one is pretty boring.

Firefox not only has a meaning, but also brings a pet to relate to the software. Spartan has a backstory (Halo, gaming) and also could mean the spartan (adjective, as in simple and lean) browser when compared to others. Edge... brings me the idea we're on the edge of a cliff... :-(

Mozilla still sound stupid to me, but spoke love it and that's all that counts!

and also like xbox one, people thought it was ridiculous name at first but soon it was accepted by all with open arms.!

Spartan was cool, but doesn't sound appropriate for a browser, I think. And I don't think it's good to use an used name. "Which Spartan? 300? Halo?" - "I mean the browser."

Yeah well now you have to tell them that you are not talking about samsung Edge

Didn't like the new name! Why to trow away such a cool name as Spartan?

No it's not. Spartan is a terrible name for a browser.

But I like the new logo. I think people will love the "e" icon... wait a moment...

I'm suddenly full of hope!!! Edge >> Spartan :) :) :)

The wc comments are the lamest I've seen.People here whine for everything.Cheer up a bit will you?The future of windows looks fine.

I think it was a smart decision on their part especially if the usual web dev. Suspects choose to wait 3 years to update their ie specific code

Spartan sounded so much better. RIP

That's an easy to remember name, not bad.

Wait for another trademark issue with another pay TV company.
Multichoice Edge channel.

It's ok. Safari, Chrome... Edge will catch on.

They could re-use the Internet Explorer "e" for Edge, too!

It's definately a lot shorter than "Internet Explorer".

Except that everyone will have to say "Microsoft Edge" because of all the other Edge products and services already out there.

How do you figure? I'm not going to think about a Ford Edge when I'm talking about browsers or vice versa when talking about cars. Contrary to popular belief, most people can figure out a sentence with context. But MS Edge doesn't sound bad either if you want to save some syllables.

The name Edge is the opposite of original and unique. It's boringly safe. It will never stand out.

One definition of "edge" is a quality or factor that gives superiority over close rivals or competitors

Another definition of edge is "a line or border at which a surface terminates".

Yes, I'm sure MS Marketing was going for that definition. Not.

Whatever they were going for it wasn't originality, that's for sure.

People will confuse it with the guitarist from U2.

Good name. I liked Spartan, but it's a good name!

Fuck this shit I'll use Chrome. Posted via Windows Phone Central App

Fuck chrome I'll use EDGE.

Fuck IE I'm using Navigator.

Go and fuck your shit elsewhere then. This forum is not for you.

Lmao I always use IE I was just emphasizing the fact that it's a huge turnoff...although I use Chrome for simple and quick VPN extensions... Posted via Windows Phone Central App

Are you saying that if a person uses Chrome they can't access Windows Central? Because I'm on Chrome and it's willing just fine right now.

You won't use the browser because you don't like the name? What are you, 4?

I will use it. I just said that to emphasize that I don't like it. Posted via Windows Phone Central App

You call it sh*t, but you haven't even tried it yet. I'm gonna go all out with Edge when it goes live.

All because of a name change?..... Wow...

Hope the guy from U2 doesn't sue!

David Evans (the Edge) is too into Yoga from his Malibu home to care. But I could see Microsoft using the guitar intro to Where the Streets Have No Name for an all things Microsoft 10 type campaign.... I want to Run, I want to Fly, I want to Tear Down the Walls that hold me Inside..... (yeah a bit modified.. you can't say I want to hide.... but that Anthem type feel would play well for such a campaign).

He wont as long as everyone gets free U2 albums by default in their W10 upgrade.

"With these new programming tools we can easily port ANYTHING from iOS, including free U2 albums."

What a great PR Dept.......

Microsoft Edge... Sound cool and modern. I like it! :)

I hate using chrome, it sucks! I prefer IE or Firefox currently.

Chris is the best browser out there right now

I've never heard of the Chris browser.

It's in the Chris App store, but you can only get in with the Chris browser.

Doesn't matter at all if it works smoothly..

Its not in the name but how it performs... I hope it just meets everybody's expectations... and i doesnt repeat IE's disaster

"It's not who I am underneath, but what I do that defines me"

Obama face: Not Bad. Although Spartan sounded cooler.

Cool modern name but i still liked spartan more

EDGE is slower than 3G... #ifyouknowwhatimean

lol, edge is faster than 2g and slower than 3g

At least this will stop all the speculation.

Spartan was a better name and had a nice double meaning with simplicity, yet being robust. Edge sounds like its trying too hard.

Spartan WAS a good name. No longer is. Now Microsoft has the Edge.

Why would Spartan not be a good name anymore?

Edge is great...way to go microsoft

Samsung law suit in three...two...one... (This is a terrible name. Going with a brand that's already really popular on the market through another company, to try and make the product relevant will just backfire. It's like using "Microsoft Apples" or "Microsoft Chrome" or the next Lumia be calles "Lumia Galaxy". It just looks lazy.)

Just what I was thinking when I saw this.

Edge is name of the new browser rendering engine, so it's a very appropriate name. Not to mention much easier to market than Spartan (which I do like myself) to non tech users. Non tech make up the vast majority of a userbase, so need to appeal to them. I don't think that most people relate the name Edge to Samsung, given it's only had an appearance on 2 products, and it is not the primary name of the devices.

That is the stupidest thing I've heard yet.

You must not have read other comments authored by DJCBS ;)

Lol Samsung cant. Microsoft will then attack on them with android patents again.

Well, then that means WWE should've sued Samsung a while ago, lol.

They didn't want to create a new icon

Yea if Sky can make them change their name for SkyDrive, im sure Samsung might have a go for the edge thing

Terrible, should've sticked with Spartan

Because it's just something to bitch about.

Stuck* & yea, Spartan did sound alot cooler than Edge... which brings up images of Samsung Phones & slow internet (edge,2g..)


Spartan name was pretty good. I think Microsoft is taking serious to Samsung Edge phones.#LOL.

MS is master of killing the momentum. Why it cannot be just Spartan? Edge oh it's same like S6 Edge :(

Below: Grown men bitching over a browser name....while they are using a browser called Firefox or Chrome. Because those names are mind-blowing.

All those names are better than edge, voicing your opinion isn't bitching.

I liked Spartan better than Edgr

i have the sudden urge to make some cutting remarks about that new name ... they should fire their product naming team and just go with what their development team comes up as project name, those guys have better taste it seems.

Don't push me cause I'm close to the edge
I'm trying not to lose my head

With all the money at MS' disposal, they do have an incredibly bad track record at the seemingly simple act of coming up with names for things. Still, great to see extension support is a real thing. Web developers and hobbyists can talk about speed, standards, etc all they want, but the lack of easily added extensions are-imo-the single largest reason people moved away from IE and towards Firefox and Chrome over the last umpteen years. Frankly, it's just amazing it took them this long. I honestly thought they'd have made extensions a thing years ago.

I like it! I love Microsoft!

It rings well to me. Spartan would've a good alternative, but Edge is a wise choice.

I liked Spartan better. It made more thematic sense with Cortana.

I like it. Edge name is better

Edge sounds fine to me Spartan was awkward

Spartan was a better name. It had help with a A.I. Name Cortana. Capable of taking on any task and getting the job done. Way to go Microsoft for using a name that doesn't work well for your other products. Might as well rename Cortana cliff. Edge and Cliff get it?

Haha they should. They just jumped off a cliff anyway, why not jump off another one

Still no Home button. I NEED a Home button.

The thing I like least about Spartan now is the developer tools. It is sparse to say the least. Since it will support plugis we may get a good developer console with Edge.

So they are still going to use the E? What about people who still need to use legacy IE for work? That's going to be confusing. Two icons that look nearly identical except a little slice out of one. Worse, others who have been trained to avoid the E for IE will just think its IE and stay away.

Microsoft Edge: The Rated R SuperBrowser!!

So cant you use surface pen to write directly onto webpages? And save the results?

I LOVE the new name, "Microsoft Edge". Spartan sucked. I always hated that name.

Preferred Spartan but Edge is still a good name... And, it still has a reference to the UNSC Armageddon's Edge and Razor's Edge...

I don't understand the allure with the drawing feature. How do you all plan on using it?

Stylus on the screen has been Microsoft's pet project for years (driven by Bill Gates who kept trying to push tablets through the early 2000s as their biggest evangelist; I can only imagine how much it burned Gates to see the ipad finally make tablets mainstream). Personally, I don't think I'll ever care for the "feel" of writing with a stylus on a screen (I wouldn't even be able to tell you where the stylus that came with my Surface is). That said, I have no idea what the big picture metrics are. While I like to think I'm probably in the majority when it comes to "writing" on a digital screen, maybe there are metrics that support the continous push in that direction. As for potential uses? Well, let's say you're visiting a recipes website, and looking/following one of its recipes. I could see some potential for the ability to quickly mark that recipe up with your own notes/writing. The true game changer would be if the browser remembered that markup for that particular page automatically, rather than you having to download and save that page as an offline html file/page/etc. Even I, who never "write" on their tablet, could see some potential in such technology. I haven't read up enough on this feature in Spartan/Edge to see if it comes close to that kind of promise or not.

What a stupid mistake to not keep the Spartan name. As for Microsoft Edge, I wonder who though that was a good idea.

Seriously. They ruined it.

I'm still calling it Spartan!

I've said this before. Amazing how some make mountains outta molehills. I guess if they didn't, the expression would never have been coined. Onward and upward.

I think you're over-interpreting casual commentary (yes, even the more colorful expressions of it.)

So, so, stupid...... They had something good, something that didn't sound dumb, or have that 'lame' stigma like most Microsoft product names, but they didn't listen to the people and now they have the next IE. GJ Microsoft, way to ruin something good

They make some good producuts but boy do they suck ar marketing. That name is cringe worthy.

Hope Edge is better than Spartan, not to be a negative nelly but I'm currently using Spartan and it locks up all the time and I have resorted to go back to using IE 11.

It's not even in v1.0. Give it a break. Why are you expecting anything at all, be it the web browser or the screensaver, to work fine on a Technical Preview?

Well Spartan sounded cool if you are a halo fan but not every windows user is a halo fan. Besides, they wanted to keep the "E" I guess.

*reinvents browser to get away from internet explorer name and hate *corporate committee chooses 90's corporate sounding name and the same logo with a bit missing

Thankfully they didn't stick with Spartan, because that was awful

Will it have adblock extention support? Because I need that in a browser. With whitelists of course ;).

God I hope so, I can't use it for more than 10 minutes right now because it lacks Tracking Protection Lists which is how I block ads in IE right now.

Finally! A name! A mononym!

I am sure they thought about Spartan but name was probably trademarked. Would have preferred Spartan but oh well Edge it is

I hear "Edge" is not official unitl Al Gore sez so.

Will always be Project Spartan to me. Sorry MS

Like the Ford Edge which ironically kicked Microsoft Sync to the curb. Posted via the Windows Central App for Android

And hopefully it will work now, it give's me always a 'oops can't find that page'

"Spartan" is a way better name!

Such an awful board room committee 90's corporate name. Hell it even looks like the IE logo.

Sure, as if Firefox and Chrome or even Opera are such inspired and original names...

That would be cool. Thanks @Microsoft, Looking forward to Install and test.

Did anyone even see the presentation by Joe B at the Developer Conference. It's all about the crazy new features; who cares what they call it, as long as it does a great job. Windows 10 will Rock !

I Explore the Edge! Got it?

Gay name change...gay as shit. Feels like I slipped back into the 90s.

Edge has already left WWE... Any ways i wud use Uc Browser and Chrome for now.

This comment of mine comes from CHROME but very soon I will be commenting from Microsoft EDGE. I Love it & Like it

It sounds like a great browser, but WTF is up with the logo? Major fail!
Windows Central Newsletter
Thank you for signing up to Windows Central. You will receive a verification email shortly.
There was a problem. Please refresh the page and try again.