Microsoft finally ditches the Browser Choice menu for Windows in Europe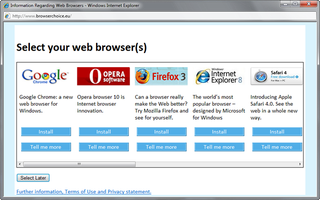 Microsoft has discontinued the use of the Browser Choice menu for Windows users in Europe, ending a requirement of the company's agreement with the European Commission to offer such a menu.
In a message on its Windows support page this week, the company stated:
That agreement with the European Commission was part of an anti-trust settlement, due to concerns that bundling Internet Explorer with Windows was creating an unfair advantage for Microsoft's browser against other browsers like Mozilla's Firefox and Google's Chrome.
In 2012, the European Commission announced an investigation of Microsoft, claiming that the Browser Choice menu was not available for many Windows users in Europe. Microsoft later admitted that a technical error kept the menu from showing up on many Windows 7 PCs. As a result, the European Commission fined Microsoft $732 million in 2013 for violating the terms of the agreement.
Source: Microsoft (opens in new tab), Via: WindowsITPro
Windows Central Newsletter
Get the best of Windows Central in your inbox, every day!
So why are they allowed to remove it now?

The agreement was only for 5 years... It started in 2009.

And Google bundles Chrome, and Apple bundles Safari.

I know. Seriously. The EU screwed over Microsoft big time. They made them promote competitors' products, and now their own market share has crumbled while their competitors' has skyrocketed, but the EU isn't making Google and Apple do the same thing. The most depressing part of it all isn't how unfair it was, it's how now Europe is dominated by Google Chrome and millions of people are having their privacy violated by Google and they don't even know it.

True, but anti-monopoly laws arent about being fair. They are about creating a balance in an unbalanced market. The whole idea is to allow competitors to catch up and even overtake the dominant company so that a more competitive environment will exist. I think the EU reacted a little too late in this case though and they also overcorrected a bit. Google is become unhealthy for some markets and now the EU is probably going to have to deal with that.

Scroogle and apple can bundle their own browser but Microsoft can't??????

Yes, because at the time of the investigation OSX had little market share, iOS was still on the ascent and Android was on one device. Nowadays the market is a lot more diverse.

There is no direct correlation between Microsoft allowing other browsers on the Windows platform, and the success of Chrome and Safari. The judgement was complete BS.

Thank the f****** lord, hated that thing.

Good, it was a fucked up requirement. They haven't had a browser monopoly for ages.

As far I know they are still dominant I the PC sector, but overall counting all devices, they no longer rule

I can bet a 6-beer pack that they don't dominate in any sector. A lot of PC users use either Chrome or Firefox. Sometimes Opera.

U just lose it.... Ie is used in The world in 56%...

Yeah I believe it's close to 59% now. It's my favourite browser too after the numerous improvements they made. Firefox is still my second favourite.

That's what I thought as well. I've installed many a PC for people in the 50+, and never once have I heard a request for anything other than IE. Well they don't require any browser. They just know that the big E gets you on that internet thing :)

I am not 50+ yet but no matter which browser I try, I end up using IE at the end as it is the most reliable when visiting non-standards/non-famous websites. Most people who create WebPages make sure they work on IE correctly. They think of Firefox or chrome later.

Sorry but that is not the real picture. I am a web developer and a proud user of wp and windows, but making website compatible with IE is a nightmare. Most of the time the features that always works with other browsers does not work for IE. One thing I need to say here, that IE11 is as almost same with Chrome, even better than firefox in some cases and when I am hating IE, I am not hating IE11. The thing is, one needs to download chrome or FF, so only latest version gets downloaded, in case of IE many people still uses older version as it is available right with the OS. And the problem starts from there, how can a 2009 browser give same features as a 2014 browser. It is not possible but clients don't want to understand that. They still want us to create a website that is compatible with IE6 (OMG) and yes, you guessed it right, they expect same website visuals (2014 style smooth visual effects) and performance like updated chrome or FF as the STATS says there is still large number of people who uses lower version of IE. So we (atleast I) will always hate previous versions of IE. Sometimes I want to give more effects to the website so that the website look more cool and intuative but then I hold my horses because lower versions of IE might show the website as broken.

So your boss forces you to support IE6? Damn, IE7 was released in 2007 (I think). What about a "You're browser is too old to view this page, click here to update it" message? How far back in Chrome or Firefox versions do you have to support? Let me guess, only the past few versions. Older than that, it's the user's responsibility to upgrade their browsers, not the developer's to support the user's old browsers IMO. Especially if they expect the newest features. If you stop supporting older crap, people will stop expecting it to work with every site, and upgrade it. No? It's not like they have to pay for the upgrade. Well I guess in some cases they do, but they have to pay for a new hard drive, or more ram too. People should expect these things when they own a computer / car / house / clothes, etc.

IE11 actually has the largest desktop market share of any browser in the world. Larger than all Chrome or all Firefox versions.

Actually I read somewhere recently that Internet Explorer is still rated as the most used browser over chrome.

You have read right. There is no doubt in this.

Indeed they are still dominant but no more than Android on phones fx. So I don't see why they have been forced to use that popup for so long. http://www.netmarketshare.com/browser-market-share.aspx?qprid=2&qpcustomd=0

Microsoft has never had a browser monopoly, and that's why the judgement and fines against Microsoft was utter BS.

Netscape would beg to differ.

Probably to step on #google #android toes...

Did... did you just use hashtags outside of twitter?!

That's not how this works, that's not how any of this works!

#hashtags4life #hashtagseverywhere #ilovehashtags #seemsfaster

finally. This was annoying as hell, the browser choice was invasive and all over the place. There was no user friendly way to say "no, thanks. I'm good, stfu!"

Wasn't IE one of the choices? Serious question as I live in the US and have no idea.

Yes it was. But that's not my point, I don't like IE anyways. The issue was that you could bot get rid of the browser choice "application", it would always remain in your start menu. Plus it would also pop up if you already had an alternative browser installed and set as default. Basically the tool was like "Oh, I see you're using Opera. Maybe you'd like to try an alternative browser like Opera?"

I imagine if they were forced to do this, they wouldn't want to make it very nice or fun to use.


If MS had to give that choice, then why apple didn't?

Why android/Google didnt?

Android/Google isn't a huge PC - devices CLOSED monopoly. You can use Firefox or other browsers on your Android devices.

Ugh... What the hell does CLOSED have to do with it? You can use any browser you want on Windows too. It sure didn't matter for Microsoft.

You could always use other browsers on Windows. True Story.

apple doesn't have a near monoploly. Anticompetatative behavior is perfectly legal if you aren't a near monopoly. Microsoft used its dominance in desktop OS to get an advantage in the browser market. You should be asking why google isn't required to do this. they are using their dominance on mobile OS and search to build up their other businesses.

Exactly my thought. Google is the monopoly, not Microsoft any more. See how google treats widows 8 and windows phone? That's clearly anticompetitive monopolistic moves. Why is google not punished?

Surely Google must be punished... For their monopoly mentality

As big as google is, I don't think they can be considered a monopoly in any market (including mobile OS and search).

That decision was all bs anyway. You could still install another brower back then. I ran Netscape. In my opinion it was a decision made be folks that did not understand the technology at the time.

You used Netscape in 2009? You'd have been better sticking with IE6.

Sweet. Get what browser you want. Why spoon feed the choice when ALL browsers, outside of the one that comes with the OS, are free.

And who aren't Apple and Google held to the same requirements? Such bs and clearly a money grab

Free healthcare ain't free

They never dominated an industry the way microsoft did. Although with Google becoming increasingly powerful and dominant they are being scrutinised even more-the European Parliment wants to split Google up.

Never installed that update anyway

Freakin' finally! I hope Windows 8 application will go away too. I once accidentally installed the update and that damn thing showed up. After choosing my browser, it wouldn't go away. Tried a bunch of walkarounds, but it still was there. Reinstalled the entire OS (luckily it was a fresh install in the first place) and was extremely careful not to install that load of crap for the second time.

What? Your realise you just need to select it once, right? The only time I ever had to reselect it was when I installed a full service pack, but then, I only needed to click it once. Is it really worth all the hassle making sure you never download the update for it when you could just have clicked once and forgotten about it?

Unfortunately it was not how it worked that one time I got it. I chose IE, it opened download link to download IE, through IE (kinda dumb, because I already had the latest version as in IE11) itself, removed my pinned icons, basically made a mess which I didn't ask for, and after all that it didn't go way. Even after choosing a different browser it still stayed. After reinstall I just hid the update and it never shows up ever again.

Maxthon Cloud Browser and Maxthon Nitro Browser is the best browsers for all OSs and devices so far.

You sound like a browser hipster.

I just love innovation, speed, built-in features, HTML5 support and design (: Maxthon web browsers really set the bar for speed, features and security. You should give a try!

Now tell me the bundling of IE with Windows is not completely identical to the bundling of Safari with OS X.

Apple's OS X didn't have the monopolistically huge market share of MS' Windows.

Apple's iOS and Google's Android mobile OS's today are equivalent to Windows in the Desktop market back then.

I dont undestand... What happen, can someone explain to me!?

Sorry, we can't tell you. It's a secret.

Thank goodness. I used to hate having to do that when I used to be back in the UK. I've not seen this in the US, which is, good.

All those saying what don't apple and google have to do it - because ms a long time ago used their desktop os monopoly to squeeze other browsers out, I.e. Netscape. The reason the browser choice thing is actually a load of money grabbing bullshit is because by the time they were forced to do it the market, I.e. Us had already learned how to get different browsers so it was completely redundant. P.s. I use IE11 by choice so it was a pain when it turned up. However I had no trouble dismissing it, once I made my choice it stayed away.

Exactly. Too many fanboys on here. MS were pretty shitty with anti-competitive practices not that long ago. The reason there's such diversity in browser choice now is partly due to this EU requirement. MS had a monopoly, Apple and Google did not. MS doesn't have a browser monoploly any more, and IE is better for it. If Chrome ever gets to 75% market share then perhaps the EU will go after them, same with Safari, but it seems the directive has done its job now.

No it's not. Many already used other browsers in 2009 or very well knew howto when this was forced on MS.

Not really...the US didn't have this requirement and Chrome, Firefox, Safari, and Opera all had healthy growth in browser marketshare in the region. Everyone else just had to step their game up. They basically shot the fastest runner in the leg just because he was leading the race so others could catch up. Now everyone else is allowed to pass.him and he's still limping.

Nonsense. IE was a poor browser in 2008/2009 when this ruling was decided. It was still on version 7, and version 6 still had the major market share. It wasn't the most popular because it was the best, it was the most popular because it came with Windows. MS had used their advantage to get rid of Netscape and other browsers never had a chance. Of course people could download another browser, you and I would have, but the vast majority of people who "double-click on the blue E to get the internet" wouldn't. IE stagnated as a result, as there was no real competition, and since web developers wrote to the most popular browser, standards suffered too. You know, people were allowed to pick IE from the browser selection screen, right? Offering people choice is hardly shooting IE in the leg. If it was the best browser, people would have picked it, so your last argument is invalid.

Actually, it was a good browser in 2008/2009. But then we're talking opinion, so I'll let you have yours there. This ruling didn't help the other browsers gain marketshare, SEARCH ENGINES did. The only reason Chrome became more popular than it was is because Google became the #1 search engine and linked to their own browser software. Not because of this god awful "choice" prompt. Opera and Firefox never made a dent even after this ruling. You know why??? SEARCH ENGINES!!!! Also, what was Microsoft supposed to do? NOT bundle a web browser with Windows? Then how do you download the other browsers? Just because the other developers didn't want to compete in the OS game doesn't mean MS was being unfair. Perhaps we should have MS give us a choice for the default text editing program because Notepad++ doesn't have as much marketshare as Notepad or Wordpad while we're at it. You know, people were allowed to pick any browser from the internet, right? If these browser companies wanted to gain marketshare, they could have advertised in magazines, TV, newspapers, etc. If the other browsers in the game marketed themselves better, people would have picked them, so your last argument is invalid.

Your last point is ridiculously convoluted. Your argument was that the best browser was crippled by having to offer alternatives to itself. If it was the best browser, people would have picked it. It was there to be picked, so how was it crippled by offering alternatives (along with itself)?

I never said it was the BEST browser. I said it was a good browser. Please read before you retort. The other browsers could have offered themeselves as well. And also, it was crippled by being FORCED TO offer alternatives (along with a hefty fine). I understand you can't form a decent argument without name-calling, but I recommend you step up your rhetoric game and not resort to such petty tactics in the future. Just because someone disagrees with you, doesn't make their point any less valid than yours. Or would you better understand if I just said that your point is ridiculous and invalid?

If you don't even know what "name-calling" actually is, then I can't really lower myself to argue on your level. Is that petty enough for you?

I'm sowwy. I guess we're getting into semantics now. #stayonsubject

I used both IE11 and Chrome. But mostly IE11 and my homepage is Bing.com and its nice hehe. Only use Chrome for Google apps.

Finally! EU just like over-regulation, like the ridiculous Sex-Equal car insurance thing.

Finally. I intensely hate that miserable thing. Every single Windows install. Actually EU , some people are capable of choosing a browser. For everyone else, they only know of IE anyway.

Finally, that windows update won't appear every time I go to Europe.

I have a love/hate relationship with that thing. It's useful as it allowed me to have all the links to the browsers for download available without needing to Google every page. On the other hand, if I didn't use it it would nag me to death to choose. Oh well. Let us just hope Microsoft is wise enough to don't try to force IE on users again, or the EU Commission will once again strike and back comes the menu.

Seems to me that if you're the one making the device you should be able to include or not include any browser you darn well want. Glad this expired.

Went should MS have to provide a choice, this is crazy. Install the OS and download whatever browser you want, idiots. How is this bout a problem with Apple only offering safari on OSX?

As far as I know the european government still stands on the obligation of browser choice in Europe. It still stands. It's recently been on the news in the Netherlands. This will be interesting.

Can I install IE on my Andrioid?

Finally! I always hated that menu and I also think that it was retarded to begin with. Just because my OS had a browser bundled doesn't mean I can't get another.
I'd also like to see the European commission crack down on Apple btw for bundling safari with their OS...

The European Comission has no idea about technology, yet they push bullshit against American software companies. Browser Choice was invasive, annoying, useless and couldn't be uninstalled. Never selecting any other region than US when installing anything.

It was a stupid requirement only used for the benefit of ignorant users.

The EU will find another way to make Microsoft suffer ... The Anti American drums pound loudly these days across Europe.

Microsoft make Windows they get to choose their browser, not the EU

Google should be fined now for bundling crapware chrome with flash and other installers.

And Microsoft gets sued for the contract ending? Wtf?

Then why EU don't ask Apple and Android to install IE as an option to their products, such an idiotic policy.

it was a Microsoft program? Whenever it appears on a new PC I always uninstall as it looks like a virus/pop-up/infected freeware; and then I download the relative browsers (i.e. all of them) from their own websites.

Wasn't it also constantly putting Chrome as the first choice too?