Microsoft shoots their own "selfie" and revisits their accomplishments of 2013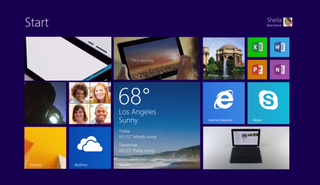 You and your Nokia Lumia aren't the only two buddies who can put together an awesome selfie. Microsoft has decided to assemble what they are calling "A Video Selfie" of some of their greatest achievements during 2013. You can checkout the video and more details below, after the break.
The video selfie centers around a Windows 8 interface, in which live titles bring special moments of the year to life. Of course, you couldn't plan your entire video around Windows 8 and live tiles if you didn't mention the introduction of Windows 8.1, which is the first thing the company points out. A barrage of laptops, tablets, and hybrids are shown with Windows 8.1 and exactly how they can adapt so quickly to your everyday life.
Next Microsoft takes a moment to show off their search service, Bing. The caption proclaims, "Bing reinvents search", while the video shows the innovative ways Bing is tied into the Windows 8 operating system. Of course, it wouldn't have hurt to show that Bing is also integrated into Xbox One, Windows Phone, and even Apple's Siri virtual assistant.
Another landmark event is brought to light, when Microsoft touts their announcement plans to acquire Nokia. In a world where Windows Phone has become Nokia Lumia, the purchase was a much needed move by Microsoft. The software of Microsoft and the hardware of Nokia, truly brings Windows Phone closer to a single entity than it ever has been before.
A new live tiles swooshes in and we are shown the Flipboard application, an app that had been long awaited and long overdue to appear in the Windows Store. As a user flips threw the app, the caption proudly reads out "100,000 apps in the Windows Store and growing". Microsoft has certainly come a long way from their October 2012 launch of the Windows Store and they have no plans to stop growing anytime soon.
Of course, Microsoft has to touch upon their Office and productivity suite, Office 365. They mention that the software has vastly improved and is even helping collections of nonprofits get work done at no cost to them through one of the company's many charity and donation programs.
Other services are celebrated including Microsoft's expanding Outlook.com mail/calendar/contact service and the company's enterprise social networking platform, Yammer. As of recent, the Yammer social network has grown to over 8 million users. In addition, the company's video subsidiary, Skype, has turned 10 years old!
The video also reminds us that Microsoft has taken the time to improve enterprise security and fight web crime around the glove with their new Cybercrime Center.
The year of 2013 has been a huge one for Microsoft, with mentions of Best Buy Windows Stores, Surface 2, Xbox One, and other notable achievements - Microsoft is now ready to move into the new year and keep their innovations coming.
What have been your favorite parts of 2013? Has Microsoft done anything to improve your life over the last year? Finally, services from the company do you use and enjoy every single day?
Source: Microsoft
Get the Windows Central Newsletter
All the latest news, reviews, and guides for Windows and Xbox diehards.
Saw this a few days ago. Its actually really good

Answers to the questions in the end of the post: none, nothing, Windows and Office.

You just come here and post negative shit. Geez. Everytime.

You mean 100,000 apps since the store launched in October 2012. 100,000 since October 2013 would indeed be a great feat. As to the above comment, no, Microsoft is not perfect. But it is not the dullard that many have been led to believe for a decade or more. Advances in Windows 8, Xbox One, Windows Phone, Office and more do point to a lot of serious work done in just the last 2 years. It is so easy to point to misteps, decry the "horrible" leadership of Ballmer and write off this company. But the bottom line is for the first time in a long while there appears to be direction in what they are developing, and not the quiltwork of seemingly unrelated divisions.

Nice catch! Fixed - thanks!

This was good. I would love to see it on your tv, shortened of course.

I agree and they will but they moved a lot of big stones around the past year and I only can compliment them on that. Can't wait to see what the future brings but it sure is promising......

looking forward for 2014 accomplishments

I still don't get why they release these official videos on YouTube. Mind boggling.

Biggest Video sharing site.

I guess Microsoft will be switching over to Gmail addresses soon too, then?

Yes but they could do it also on Vimeo, I mean, it's the 2nd and the most Microsoft alike.

May as well use up scroogle's bandwidth.

Why is there no mention of windows phone ? :/

Microsoft - The Soul of the New Machines!

I think, that Microsoft has some serious problems in management. For instance, They have had Skype for ten years and they haven't improved it much. They haven't integrated it into other of microsofts products.. I mean Come on!!!!

wow... I really get amazed by ignorant comments like yours... 10 YEARS? really?
if you took that from the article it says "Skype has turned 10 years old". not Microsoft acquired it 10 years ago...
Microsoft finally acquired it on october 2011, that means a little more than 2 years ago, and they have integrated it in xbox one, windows 8.1, Lync, outlook.com and outlook in office 2013. they also made "microsoft account" instead of using skype account only... so what are you talking about? Im not sure.

Yeah, not much of a clue, does he? I do hope to see better integration with WP8.1.

If it wasn't for MS, Skype would probably still be holding back on a WP app. Skype is probably one of the wiser purchases by MS.

they also moved skype to Microsoft Azure

Gotta be trolling, shows a complete lack of knowledge of the topic he's commenting on.

Get your facts straight, Skype was aquired 2 years ago, and not quite 2 because the deal had to be approved and motorola was trying to kill the deal up until a few months ago when their complaint was dismissed by the court.

Interesting that CEO candidate Satya Nadella appears in the video. A hint or maybe a push from the crew who made the video.

"The video also reminds us that Microsoft has taken the time to improve enterprise security and fight web crime around the glove with their new Cybercrime Center." Yes, Micrsoft is truly making the world a safer place for gloves to go online. ;P

No mention of Windows Phones' achievements? WP has made huge strides in the right direction in the past year.

I need an appointment in Outlook.com for every 2 weeks and every 4 weeks. No options for this on the web or on Windows phone.

All this year I got a Lumia, Surface RT and Xbox One... so my relationship with Microsoft has blossomed.

Anyone else planning on reading far too much into Satya Nadella being the only notable appearance in the video? Hmmm... ;)

"As a user flips THREW the app"???? Where did that come from???

And for as to why it is posted to Youtube.... it gives me great satisfaction that MS is touting their accomplishments on their largest competitor's site while said competitor rails about not enough Windows users using Google services to warrant building apps.