Microsoft will shut down Nokia Reading app and ebook service after December 31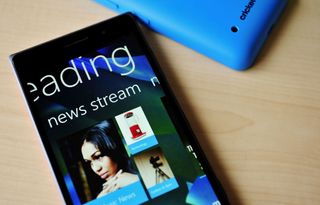 Microsoft has sent emails to users of its Nokia Reading app and ebook service, alerting them to the news that it has "reached maturity" and it will be shut down after December 31. The app was first launched for Windows Phone in May 2012 but has not been updated in nearly two years.
In its emails, Microsoft said that Nokia Reading users should download their already purchased ebooks to their device before December 31 so they don't lose them. After that date, the app won't be able to be used to purchase or download ebooks. If users delete the app from their smartphone, any ebooks that have been downloaded will be lost. The email added, "Data specific to Nokia Reading will be deleted. Your Nokia Account will remain active however, and data associated with this – including your credit card information – will continue to be stored securely by Nokia."
As to why Microsoft is shutting down Nokia Reading, the email stated, "The service has reached maturity, and we have decided that it should no longer be available for download. We have taken this decision knowing that there are many other eReading apps, such as Kindle and Audible available in the Microsoft Store."
Do you think Microsoft should keep Nokia Reading around for a while longer? Thanks to Andy and Michael for the tips!
Windows Central Newsletter
Get the best of Windows Central in in your inbox, every day!
And I'm just sitting here, waiting for an 1330 announcement. Is morelumia event finished?

I'll admit to also wondering if its finished. Seems a bit ridiculous to mention an event about a new phone then just seemingly plop it down in a video and that be it. They should at least have said the numbers of phones.

Am also dude....... Waiting for 1330 .,even I have semester exams tomorrow in college. But Stuck with WindowsCentral

The 1320 is a very good midrange phone, only not that popular. 1gb ram, 6" display and 3400 mAh battery (mine can last 3 days easy on one full charge!). Only the camera is meh, hopefully the 1330 will be a worthy upgrade with some decent specs and price around the 250 - 300 euros.

M also a 1320 user i totally agree with u i was suprised that most people dnt even know whats lumia 1320 is

OUT OF TOPIC..
LIVE!!
Watch Microsoft f***Ing itself and its customers HERE!!
Cortana and office are now on other platforms!! Even better that on WP!!
We have no updates,our apps sucks. Aaaand Microsoft is clearly not listening to us crying over here..
Want more?? All you have to do is subscribe to Windows central,and cry!!!!!!

Did I miss something? When did Cortana go to other platforms? You specifically say "is now" as if its already happened.

It is confirmed by Microsoft...hell its probably their number one priority!! Windows phone has so many problems,Microsoft keeps adding more without fixing any,Microsoft is focusing on other platforms and its killing windows phone!!!

1) no, it hasn't been confirmed, it is a rumor at this point 2) source? Link? I haven't seen anything to suggest that. I mean, I get it, you enjoy going to websites and trolling people, but did you not think someone would call you out? It seems stupid. Anyways, go to another site to spread your FUD, you're not welcome here.

1.it is confirmed,with the answer: Yeah. "Microsoft style"
2.here is The link http://www.windowscentral.com/cortana-may-soon-be-ready-impart-her-knowl...
And I am not trolling,I am an ordinary user that hates using android or apple,I loved WP at first, and its a bit better now, but MS keeps failing us!!!! Many people here agree on that,if you don't the your are one thing:a fan boy.
Cheers

1. That is not a definite answer. You're basing all of this on assumptions . 2. I don't care what you see yourself as, you're trolling. You claimed: Cortana is better on other platforms (despite it not even being available on them), office is better (which I can temporarily give you, but Office is being rewritten as a universal app and will be better on WP. They currently can't update Office unless they update the OS), we have no updates( despite the fact that we've had two big updates this year alone), our apps suck (which true or not, doesn't involve Microsoft). Based on that, I have no other assumption to make besides you're trolling. If being a fan boy now translates to: Pointing out facts, then I'm happy to be one (:

I'd really love a 1330 with 16gb on board storage etc v

WTF has this got to do with the Reader being discontinued?

Another msn music. Close the service and lose your DRM purchases.

MS should refund you as you have purchased rights to that music.

That reminds me that we haven't heard any rumor concerning the Xbox Reading app for a while now.

Lol Nokia had reading/ebook apps?

I think it was Europe-only or something, I knew it existed since 7.0 i think, but always failed to get it

It was only in Europe. I kind of wanted to try it if it came to the US but I'm happy with Bookviser, Fiction Book Reader, Freda etc. These are all solid reading apps.

Changed region and got it in US a long time ago. I use it regularly. Only app that is stable and I can import my stolen books. Its amazing!! (yes if I like it enough ill buy the book). But I will admit that kindle is convenient and books can be very affordable. Plus its great to get some books that release early in Australia. So I will lose the app ? Idc if I can't buy books... I just want the app

I used to read PDF and e-books on it though it was not available in India, I downloaded it changing the region to UK. It was a nice app even aftw there was no update from two years.

So far Nokia's acquisition has been very negative for me

What else did you expect. Look what happened to skype after they had purchased from eBay.

They'll keep your credit card info, but not let you keep your e-books!

Msft cannot do anything right..whatever was good is also going down the dumps..if you cannot provide the Nokia reading app anymore..why don't you make a new ebook reader by MS?? The best you guys can do I change names every other day and provide exclusive windows stuff like office, cortana to your competitors..MS is dying everyday, like a vegetable on critical care..

I wouldn't go that far but yes, poor choices everywhere...

You extrapolated all of that from them shutting down an ereader service that apparently no one used?

Yes every single day windows phone is becoming rubbish in from of android and iPhones because of the ridiculous path MS is taking.

It's not about not being used. The things that made Windows phone so different were some exclusives that we had. Now it's almost as if everyone has them. It's like bbm. I love my windows phone, but I can't understand why everyone gets what we have when we don't get the same treatment from others.

Riddle me this, malbendsouza. Looking through the comments, its clear that the majority of people here haven't heard of this service and it clearly won't affect many people. Now, are you actually suggesting that this eBook app that almost no one has heard of was a selling point for Windows phones in the past? I'd be surprised if this service would sell even one Windows phone. I get it, you're a customer and not a business owner so you only care about what you get, but you have to realize that there's a point in which making software for the sake of software is a little ridiculous.

They tried that many a year ago, failed due to lack of content

I assume Microsoft will leave the e-book business to Amazon and their Kindle services

Well and remember Microsoft has financial interests in Barnes and Noble's book services.

Which has resulted in a stellar WP app, right?

It did result in a fairly stellar (imo) Windows 8 app. I do wish they would hurry up and port it already, though. I have a number of Nook books that I can't read atm (No computer, No WP app)

Glad to know that, during all this software going out and being given away, we have some vague notion that Cyan will be released one of these years.

I mean, it makes sense. Did you expect Microsoft to be in the ereader business?

It would be nice if they could at least get some good first party software for their devices. Their PDF reader is woeful, no eBook reader, music service is questionable, they don't have any decent audio or video editing software. That is why many flock to Apple in the first place, because they know it will be able to do everything they want out of the box.
I still think Windows offers a better package because it has more flexibility, but it really had got to start working on the basic software offerings. I mean, if there is anything Microsoft should be able to do right, it is software, right?

I get what you're trying to say, but is there really any point into Microsoft investing hundreds of thousands of dollars to compete in the over saturated ereader market for the sake of "providing first party software"? I'd imagine not.
Also, I really don't think that's why people buy iPhones (; people buy them because they're simple, easy to use, and have a powerful brand. I don't think anyone buys and iPhone thinking "well, I could get another phone, but at least I'll have a 1st party ereader and editing tools with the iPhone".
Yes, Microsoft is good at software, but software for the sake of it seems stupid IMHO.

"Hundreds of thousands of dollars?" Are you serious??? That's like the average Joe tossing a dollar out of their wallet. Why shouldn't Microsoft invest in a good eReader for Windows Phone users? It's not like we're all uneducated buffoons. A lot of people like to read on their way to/from work or in their downtime - why not be able to do that right from their phone?

"That's like the average Joe tossing a dollar out of their wallet". Ok, fair enough, but let's say you had a very strict bank that pays very close attention to how you spend your money and it yells at you when you waste money (shareholders), would you then just start throwing random dollar bills to people? "a lot of people like to read" I'm not saying people don't read, but the ones that do read do it on Kindle or Nook. Why should Microsoft throw money at a project like this when there are just as good alternatives? It makes no sense.

Perhaps Microsoft should use their Nook investment to churn out a Nookbook compatible app? Why spend money to enter a oversaturated market when you're already invested in what would then become a competitor?

I am sure Microsoft had lots of leverage they could use to improve their services. The mail people calendar app has shortcomings that haven't been addressed since Windows 8 launched. Shortcomings that the previous Live Mail didn't have. There PDF app hasn't got any attention. Ever. They talked about music editing software, showed off prototypes, and nothing. We could seriously use a good Garage Band app.
How much millions did they invest in Surface, and what was their logic? That wanted to show the market what could be done with mobile computing and Windows, since the manufacturers weren't doing it. The result, surface is finally gaining profits, and lots of other quality tablets are coming out.
Do the same thing with first party software. Create awesome products that are available and fully supported. Instead of waiting for apps, show us what can be done with apps and Windows 8. Other developers will follow suit, and if they don't, will at least we already have site if great tools we can use. If Microsoft doesn't want to do it themselves, buy out companies that can do it for them. Minecraft, anybody? They could buy, or at least heavily invest in companies like Drawboard, Pleco, Audacity, etc to name a few. Small companies, doing amazing things, that could be doing amazing things for or with Microsoft, with the right Investments.
Many of us here use and love Microsoft products, from phones to tablets to desktops. I know I do. Buy we probably all finds ways to make them work for us. When you try to show other people how you make it work, they often glaze over at what needs to be done. Apple products work, I don't like them, but people who get them don't have to think to use them. Windows could be similar, it could just work, the beauty would be that you could make it work better for you because of its infinitely more adaptable platform. But the base of that platform could be much better.

Wow, I didn't realize how much writing that was, sorry....

Microsoft killing nokia .

Which was plan. They only wanted patents etc.

Nokia was already slowly dying long before Microsoft came into the picture. Microsoft didn't kill them, they liked themselves. Most of the major patents are still with what's left of Nokia not with Microsoft!

Wow, I didn't even know it existed.

It's actually a great app for reading epub books, but since found bookviser, which is awesome :)

I thought Nokia Reading was the best epub reader and I've tried many. I dont think I've tried bookviser though,would you say its better?

Don't think I've tried Bookviser but will now..

The Microsoft pdf reading app I crappy, so is adobe reader..they cant read big sized pdf files..as far as .epub and .mobi reading ebook reading app is concerned at least we have bookviser which does the job

I don't face any issues with either of them when it comes to big PDF's.. I have textbooks that are in the 4000 and above page range but they work fine for me

They both have limitations. I find the built on reader is nice because you can have multiple windows and files open, but it slows down with large files, and the resolution can be pretty poor. It supports pen, bit mostly as an after thought, and it really caps out when opening documents with lots of markups.
The Adobe Reader is crisp, fast, but you can't have multiple files open, and the annotation support is super minimal.
Drawboard remains the best right now, they handle all PDF's well, update regularly, and have amazing stylus support. They do however, have the occasional bug, but they are always working at fixing them. I still find my self using all three for different reasons and scenarios, though.

Wwhat is drawboard dude? I haven't heard of any such app..neither is it present on my appstore

They should keep it, why don't they venture it with Lumia ebooks and exert it into Xbox as well.

So if I ever have a problem with my Nokia device at any time who do I contact? Microsoft? Or Nokia?

Or the a-team if you can find them

I contacted CERT in UK, as they are the repair centre. Not sure about other places.

And what if you change or hard reset device after download??? It's clear case of litigation

No it's not. It's all in the Ts&Cs that everyone reads thoroughly before using a digital service.

I want to drop Nuclear bomb on Microsoft for Cortana for Android and iPhone

Damn it...i like this app...especially for news....this sucks

Why the could fight ibooks. Just call it Lumia bookstore

I know that not a lot of people are into eBooks, but Microsoft seriously needs to develop a book store. I love reading off my phone, and the Amazon app just isn't cutting it for me especially considering how nice the Play Books store is.

Translation: I know it'll be a waste of time, but I want Microsoft to spend hundreds of thousands of dollars to please my (and a few other) ebook needs.

Kindle and Audible are crap in WP

I just got the email today and I'm pretty annoyed as it said I need to download any purchased books if I want to keep them yet they removed the Nokia Reading app from the store already, therefore forcing me to loose all of my purchased books ;(

The email they sent said there are other apps like kindle and audiobooks that you can use instead. The kindle app doesn't align right so you have to sometimes tighten or loosen the paragraphs so you can read it all and the audiobook app is so horrendous I am ready to go back to apple or android just so I can get through a book without constantly uninstall/reinstall the app to get it to play.

wait Nokia has reading apps?

Kindle? Would say Nokia reading is a far better than this apart the UI

What a half-assed move. The least they could have done is hand over the e-reader customers, with an easy transfer to Amazon's Kindle bookstore or Kobo service. Microsoft really doesn't get consumer services.

Imagine if we treated every mature thing that way; You're mature now, so we're going to have to kill you. Of course, most commenters on the internet are safe from being branded mature ;) Mind you, there should be some kind of recompense for people who have bought products but who will lose them once they change their phones. Imagine if your local bookshop shut down and as part of that, the owner cam around your house and took back all the books you'd bought from them. Not cool.

I think Nokia Reader was "mature" in the same way as that liquefying cabbage you find at the back your fridge vegetable drawer, rather than the 15-year-old malt Scotch sense.

Your analogy is bad. This would be like you buying a book, the book store shuts down, then you sit down and b*tch and moan that you have nowhere to resell your books.

Mind you, there should be some kind of recompense for people who have bought products but who will lose them once they change their phones Except they didn't, technically, buy them; They licensed them. This means that what they bought was, in fact, permission to obtain a copy of the book and to use that copy for personal use by the licensee. Depending on the TOS, it was likely that Nokia had the full right to revoke that license within legal boundaries in the event you broke the terms of the agreement. And since its licensed, they are under no obligation to provide compensation for the inconvenience caused by the closure of the service. If you want, think of digital content licenses like this: A license is like a lifetime pass to concerts by a specific band. You are not buying the actual band, but rather the permission to see them any time they are playing in concert. In the event you try to copy and redistribute the music played at the concerts, it's up to the band's producer to revoke that lifetime pass at their discretion, as you will of violated the law. And in the event the band disbands and it's members go their separate ways, the Producer is under no obligation to refund the purchase price of that lifetime pass due to the band's end.

What's happened? Microsoft slowly and silently eliminate Nokia name and Nokia patents.

Um.... Nokia is still a company. You do know that right? They can't keep the Nokia name if its not theirs.

They purchased only assets etc. Not the name Nokia.

Didn´t know Nokia had a reading app. I sure it will be replaced by something else fom MS My current reading app is Nook, although i don´t buy anything from them. I am sure i once read some news about MS making a reading app with Office brand.

I'm using Freda+ and Calibre for all my eBook needs, works like a charm.

I would be totally fine with this if the Barnes and Noble partnership actually produced a universal app for Windows Phone! Been waiting for years!

What was this ? First time I heard about it.

Whoa... I just tweeted them yesterday requesting them to update this app and I get to hear this. Sad :'( I use this app a lot on my 920 along with Bookviser and Freda. In fact back in the day when there was a scarcity of good ebook readers on WP, this app was a saving grace. The interface was typical Metro, custom news feeds were great and book rendering was spot on. I had to change to the UK region just for this app. The main con with this is the immense battery drain and heating issues. Long reads literally fried the phone. They fixed that in an update but it cropped up again.
To those saying that this makes no difference to WP, I'd say Microsoft has missed an opportunity here. They could have expanded the reach of this app and could have made it iBooks like. Yeah you have alternatives but still this can be a model app to show em how it's done.

I don't use these, but I think it stinks that Microsoft is killing them off "because they've reached maturity." Are you serious??? This is ridiculous because there ARE users who enjoy the reading app and eBook service. -_-

It's interesting Microsoft referenced both Kindle and Audible, both Amazon services. I recently sent a tweet at the official Audible account regarding the state of their app and received a reply indicating that an update would be pushed out in the coming months. Could Microsoft be working with major content/service providers to improve the app ecosystem? Just speculation but I sure hope so!

Well here in Sweden they never bothered to release it for wp8 at all

(Rumor) Windows to produce "micro-end" device for mini-markets. Device is said to have 250mb RAM, no front camera, half-pixel cam on back, and a 0.6mhz processor. The small 1,200mah battery shouldn't discourage user as it's 4 inch black and white display won't consume much power. Rumored to be called the Lumia 968.

Kindle for WP is awful. It doesn't support books in Japanese at all. It's just text!!!! Why is it so difficult?

Hello Microsoft audible is a audio book app. Not an eBook app!!!

This article begs the question -- what exactly do you "own' when you buy an ebook? Is it really just a conditional purchase based on the availability of an app to display your product?

This is definitely a pain for anyone who paid money for content that they will now be unable to read, just as soon as they next wipe or upgrade their phone. See XKCD: Steal This Comic . I learned my personal lesson on this one long long ago, the first time an ebook vendor folded and took all my licensed content with it. That is why I wrote Freda And by the way, an update to Freda is coming out in the next few days, which significantly improves its rendering of PRE/CODE and TABLE content, and CSS 'border' attributes (so you should now enjoy better results with technical books)

Strange... Today an update of this app arrived.

Update available. Why if they are shutting down.

They updated the Nokia app, so that when you run it, it pops up a message saying it will be withdrawn in December. As far as I can tell, that is the only thing that the update does.

I only just heard about this when starting the app on my phone sometime last week and receiving the notice it was closing on 31st December :( I've read 12 or more books using this software over the past year and am disappointed it is going. I've tried several other readers but, for me, this was the best available. I think I will be able to continue using it and (hopefully) download books from OneDrive as before. I've never purchased a book from the store so things could be worse I guess.
Windows Central Newsletter
Thank you for signing up to Windows Central. You will receive a verification email shortly.
There was a problem. Please refresh the page and try again.