Microsoft working to bring WhatsApp Web support to its Edge browser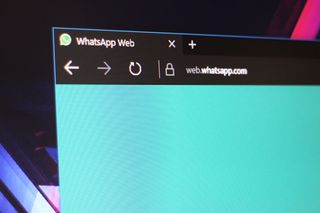 WhatsApp's web extension — through which you can send and receive messages directly from your browser — currently works on Chrome, Firefox, Opera and Safari (on the Mac), with official support not yet available for Microsoft Edge or Internet Explorer. That's set to change shortly, as a Microsoft program manager revealed that discussions were underway in bringing WhatsApp Web to the Edge:
There isn't a timeline available as to when we'll see the feature supported on the Edge browser, but those among us that extensively use WhatsApp will be glad to know that Microsoft is working on the issue. We'll let you know once we hear more.
Source: Twitter (David Storey)
They should also release a windows 10 app.

Probably underway they've done a good job with supporting the WP app

They did.. But very late compared to others

Well considering they actually supported WP from WP7 days and W10 for mobile practically follows a more standardized interface, Im pretty sure we'll be getting quicker updates due to the fact that it will be less work. They could even opt to port the app over from Android or iOS which would allow them to give us to have updates at the same time..

For now at least someone could wrap the website and offer it as a WebApp in the Windows Store as someone did with Facebook Messenger. Both of them can send you sound notifications.

can you please link to the facebook messenger app you're talking about? I must be searching incorrectly because i can't find it.

I use the Webapp-function from the Iron browser. Works quite good.

Here it is: https://www.microsoft.com/store/apps/9NBLGGH1Z967

i actually doubt it, but what do i know.

Yeah! It make sense to release Windows 10 apps too. Though since the SDK is been officially released just recently, maybe they just started to develop for new one.


Those were his last words before we lost him...

I think he meant change it from 'the Edge' to just 'Edge' in the article

Cool, good to see that Microsoft is dedicated to getting Edge supported.

But at the same time brings I'll fate for wm10

@Nicholas Maguire:
They say they "have an open line" with Whatsapp.
But since Internet Explorer/Edge is not supported yet, I won't be too enthusiastic...

I think it's quite obvious they will support edge. The delay is obviously due to the fresh launch of the new browser. Without edge a IE version for WhatsApp web would be already released, don't forget IE has the highest quote among web browsers, more than chrome and Firefox, safari doesn't even exists compared to IE and it's an horrible web browser.

That is one thing i really want to stop using chrome

Likewise. Chrome takes forever to start, however that's the only thing I use it for now. Would be a dream to have it's last use for me crossed-out.

Yay! Then I can get rid of chrome.

Opera is just the same as Chrome nowadays, just without the Google branding...

I used to LOVE Opera. I can't say I am a fan of what it has become though. Which really saddens me..

Lol I still have a copy of the usbopera before the transition to chromium's engine, & its been ages since I last used opera for Wii

Use Vivaldi! Made by the old Opera guys - I'm really enjoying it so far (two weeks in).

I have Opera on my desktop and through the years I have given it a good opportunity to win me over but it never impress the way Firefox did with the tabs and Chrome use to with being light and fast. Opera just didn't and still don't stick out with any differentials for me to make it my default browser.

Use Chromium. Full chrome functionality without Google crap. Plus you can get a 64bit version too if you wish.

Google has been finding ways to slip their crap into Chromium

Once ext starts getting Support on edge, browsers like chrome and especially firefox will R.I.P big time on #windows10, how the tides are changing

I would prefer using Firefox and Edge

I do use Firefox and Edge but as dubor99 mentioned, am shifting more and more to use just Edge as my Browser for doing every damn thing.

What's there to support? It already works they just whitelist browsers which is a horrible practice. Change the UA to chrome and see for yourself

Change what? Pls elaborate

user agent string to chrome , opera etc

That's what I did. Usable but I don't know why the markup looked strange. Probably need some optimization to get it compatible with Edge.

Come on edge, bring more feature. I still waiting for you edge.

Chant! Chant! I hope there will be at least more features to come soon like Tab Previews, Tab Muting, Full Drag-and-Drop tabs, Drag and Drop functionality for web pages (its a must!), Tab Progressbar, Download confirmation and Paste and Go. I can wait for October for Extensions, I'm fine so far without it for the meantime.

Make a universal app already! :D

Yea universal app and UI overhaul is what is needed though

The UI works and conforms with Windows phone design principles. What's there to overhaul?

Windows 10 Modern UI 2.0 is much appreciated by now so that it works for both desktops and phones. Posted via the Windows Central App for Android

Edge has potential, but there seem to be a lot of problems with it right now. Scrolling some times freezes, but more so, I get annoyed that, unlike every other app in Windows (including IE 11), it cannot seem to remember the size and location on the screen that I last used it. It always opens in a tiny little box on the wrong monitor, forcing me to drag and drop it to the other monitor and resize it, every time.

I don't have that resizing problem. You might be on your own with that one.

Microsoff has been working heavily on integrating skype with outlook.com. Outlook.com already has FB chat integrated, had Google chat at one point of time and now its working on Whatsapp web. But the major point they havnt got till date, god knows why, is why would anybody use any of these services provided the fact that neither the IE, nor the outtlok.com has supported WebNotifications till date. Chrome has had it for years. In this era of multitasking shud i be glued to the messenger screen just to know if somebody has pinged me on IM?

Pretty sure they removed Facebook chat integration. Largely because of frequent Facebook API changes. While they need not cannibalize their own messaging platform for a competitor, it's more beneficial for them in the long run to keep users using Edge and gain market share there

Microsoft removed Facebook and Google Chat Integration from Outlook.com That doesn't help people who don't use Facebook. Edge Doesn't support Web Notifications - Chrome and Safari do. Skype in Outlook.com still requires a Plugin for VoIP and Video Calling - Edge does not support Extensibility, and Skype doesn't use WebRTC (which I'm not even sure Edge even supports right now) Edge still has some massive performance issues with scrolling and page loading. It's also buggy in that it doesn't retain its position on the screen across launches, among other things. I'm still using IE11 as my default, and probably until it becomes completely unusable/too unsafe to use.

This is the best news I've heard today. One of the first things I tried and miss on Edge.

Skype had and still has potential, but it seems like we are going the wrong way.

Skype is too far behind as a messaging service, and even its VoIP and Video Calling pales in comparison to competitors in terms of quality and stability. The messaging part of it is pretty terrible, though. Skype still doesn't support standard Emoji, has a pretty horrible selection of Emoticons. It still has issues synching read status across devices, as well as dealing with cross-device notifications. It's still unreliable and slow for message delivery. It's terrible, and I wonder when people will realize that Microsoft bought Skype to replace Lync and will just give it to consumers whenever they feel like giving them updates for it. They haven't even removed the clutter from the desktop apps. It's still Adware (then again, the Start Menu and Solitaire are Adware now so that's likely the direction they intend to go with everything). It still performs terribly. It still lacks proper DPI scaling on Windows. For a company that's mobile first and cloud first, you'd think they'd have dealt with this by now. A platforms 1st party messaging services is one of the most important pieces of its ecosystem, especially on mobile. At this point, Skype is largely irrelevant outside of the section of the market that uses it to place international calls to landlines and cell phones (Mobile to Mobile VoIP, there are at least 5 solutions way better than Skype on the market from major players - FaceTime, Hangouts, Facebook Messenger, WhatsApp, Blackberry Messenger, and others...

Except bbm others are behind Skype lacking quality actually. Skype for business is the thing ppl find the best solution of voip. WhatsApp calling its not that good and if ppl wanna meet their clients they prefer Skype to talk to each other on VoIP.

Facetime?? Lol...you mean an Apple user can facetime to me on WP? No? Then it's a failure.

My wife uses Skype daily to call her family in Trinidad.

I use Skype everyday to talk to family in DR with no dissapointments. Even my daughter calls me thru Skype while im driving to work and she is 5 and i connect perfectly. I Skype with my boss in china IN CHINA! in a place where the internet is really really Slow. So thanks to skype and microsoft i ve being connected to the people i care the most with no problems at all.

Instead of doing that they should push for an App like Viber has.

WhatApp requires a phone number to register the service. They don't want Tablets and PCs registering for the service. The whole point of the service is that you use your phone number and the service does contact linking automatically in the background. It's easier to do this as a Web Service, and it avoids potential confusion for users, and flood of complaints from them when they realize they can't use it on their Tablets because they haven't signed up for the service on their smartphone.

Viber still uses your phone number

There's about a thousand things I think they should fix before worrying about WhatsApp hahaha

Great news! Recently I sent to Whatsapp support an email requesting it but they didn't reply me so far.

Great... the only reason I use firefox is for whatsapp web. I can get rid of that now :)

Ahhhhh thank God. Good bye fox and chrome!

Oh for fucks sake just let that shit die already, how is that abomination aligned with Microsoft's vision? On one side the company that wants universal apps and seamless experience across devices and on the other is that nightmare which only works with a single analog-archaic"phone number" yisus we're in 2015 aren't we? We just go from problem to problem,first BBM pins and now this and then snapshit, *rage quit **

Also fix the rendering problems that has edge too, sometimes windows 10 still feeling like an beta more had two problems and had, to start over, also Java support by part of sun would be good

Had no idea there was a way to use it on the web.

The real question, however, is wen it will it come to India.

We don't even have web support for whatsapp? And here I was hoping for extension support coming to mobile Edge. Also, like I always ask, when will Microsoft Edge become a store app? This is the only area that I feel that needs vigorous updates and I will only feel easy knowing that it can be updated from the store and not requires full OS update.

It already is a store app

it technically its a store app, its a system app, but like the transition windows phone went through during the wp 8.1 update, its 100% updateable via the store

Microsoft forces Windows Updates on you so if they ever want to update Edge they can just push it to everyone's PC.

I want universal WhatsApp app. Web sucks.

What about the SMS service MS introduced? It would seem more useful.

+1 edge is full of bugs...

And a Whatsapp app too, please.

It's been strange watching the web return to the days of IE6 proprietary nonsense with webkit and extensions and devs building things that only work on Chrome the past few years. And yet in the same breath still moan about the old days with IE being non-standards compliant... I hope this nonsense sorts itself out eventually, we have web standards for a reason and sites can be built on them that can do almost anything and maintain complete platform agnosticism. WhatsApp for Web shouldn't need to be an extension when Skype and Facebook messenger manage the same stuff just fine on the open web... Though a nice Windows 10 universal app would be preferred if they can. Though I guess WhatsApp really need to rejig their account system first to make a lot of this stuff happen...

Need whatsapp as a standalone app for devices other than mobiles. !

One thing I need with Edge is Roboform support. I realize that it is incumbent on Roboform to provide this, but I suspect that they will need extension support in Edge for this to happen.

Need true multi device support instead of mirroring device ffs. Lots including myself (1020 and an android) have more than 1 main phone. It is stupid that im not allowed to install and chat from both without having to request for authentication every now and then. And what's even worse is that chats and files doesn't sync across devices! Oh, and sounds like there is already another app that has all the above and more, ever hated by WhatsApp, Te*****m WhatsApp is a terribly old, overrated and outdated messenger soon to be replaced.

Trust me, it won't get replaced any time soon. Too many people use it and have no such wishes. Women mostly use 1 phone and don't even touch a pc/laptop anymore. Whatsapp won everyone over by chatting via phone number over the internet. No other app will replace WhatsApp. It's already the default Sms alternative for the majority.

I understand you but this is not Skype, peopel say it's slow, but it also runs on every device you log in. that's why I like it. web, any phones, desktop, tablets, tvs... I wish Microsoft optimized it but talking on it it's like a phone call.I was using it alot for it and I forgot I was not on a normal call but it was skype. But if you complain about that you should think which other apps let you do what Skype does? and I am sure it's few numbers (if any), kik doesn't, Line doesn't, Kakao doesn't, BBM doesn't, whatsapp doesnt... well you get it, it's a problem, for multi device users, but it's more secure, and whatsapp uses your phone number so they probably think "well if it's by phone number, people only have one per device" who knows. But I only know Skype having multi log in session support whatever is called. other apps don't... maybe it's because they started being for mobile, and skype was first a desktop application ported to mobile. but as you see, whatsapp is and will not be the only one. at least they offer Web version... that's better than nothing.

They should make a desktop app . instead..

Go to web whatsapp with edge and press f12: in the window that appears, choose emulation and pick google chrome. Web whatsapp will work at this point

No longer works. If you select Chrome, Firefox it will tell you you need to update to the latest version of the each browser...

Yes for this ! I am waiting

I think Edge wont be more used due to some lack of plugins such as The adblocker... And since i stopped up dating my host files a way back... Its going to take a while to gather all the info to update it..

This is Good news. That is the only reason i use chrome

How enable Whatsapp Web on Edge https://www.youtube.com/embed/hh9AnSecSQk?version=3&rel=1&fs=1&showsearc...

It would be great if they could make Windows 10 work first. I can't use any Edge or Email when coming back to the computer after being away (slumber etc). I have to close them first and then re-open, making me loose valuable tile and tabs left open that i have to write down in order to get back. My Onenote still doesn't work and i get so many mail sync errors that i wanna punch a hole in the wall!

really wanted !!!!!!!!!!!!!!!!!!!!!

windows10 is still full of bugs and i hope the next week update fixes all of these...

Open whatsapp web Right click > Inspect elements > emulation > select chrome, enjoy whtsapp web on edge ;)

Plz make it possible with internet explorer as soon as possible..

I cannot get this to work on opera. I just get a message that says to download the latest version of chrome.

I use it in Edge, you need to open developer tools, and setup the browser emulation like Firefox,opera or chrome

Yes, thank you, geez. Finally don't HAVE to have a Chrome window open lol

I like Edge, but the address bar takes up too much real estate. They could reduce the size of it by up to a half.

This is the only reason I have firefox portable. I use whatsapp sometimes and I am too lazy to pick up my phone most of the time. especially when I am working.

You can already use Whatsapp web on Edge. Just change the user agent to Google Chrome in the F12 tools in emulation.

They'd better make it work and just build it in on their Project Westminster. And put in on the Store.
Windows Central Newsletter
Get the best of Windows Central in in your inbox, every day!
Thank you for signing up to Windows Central. You will receive a verification email shortly.
There was a problem. Please refresh the page and try again.