Microsoft working on new Windows 10 set up experience powered by Cortana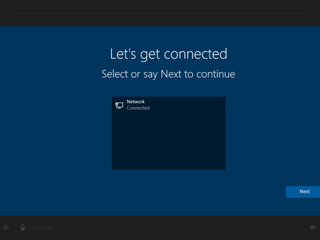 Microsoft is working on a brand new set up experience for Windows 10 that's powered by Cortana and works with voice commands. The latest internal builds of Windows 10 have a new OOBE (out of box experience) that by default, is listening to the user and is awaiting voice commands such as "Next", and is narrated by Cortana.
This news doesn't come as much of a surprise considering Microsoft's goal for Cortana is to have it compete with the likes of the Amazon Echo and Google Home. Building a Windows 10 device without a screen would be difficult to set up if there was no set up experience tailored for the voice.
Microsoft is also working on an improved set up UI for devices that do have screens too, with the options turning voice activation on and off, changing volume and more. We're not entirely sure if these improvements will show up in the next Insider build, but it's looking likely that it'll be ready in time for the Creators Update.
Now of course, if the user would rather not use Cortana to set up their machine, they don't have to. They can use touch, or a mouse and keyboard just like normal. Cortana would only be mostly beneficial on a device without an input method.
The Windows Insider program is on a break right now for the holidays, so any big changes happening internally won't show up until early January. In the meantime, stay tuned to Windows Central for more news regarding on-goings internally at Microsoft.
Windows Central Newsletter
Get the best of Windows Central in in your inbox, every day!
Zac Bowden is a Senior Editor at Windows Central. Bringing you exclusive coverage into the world of Windows on PCs, tablets, phones, and more. Also an avid collector of rare Microsoft prototype devices! Keep in touch on Twitter: @zacbowden.
Great Job, Waiting to try it out.

I'd rather have great os features than a premium installation.
Most people want to click next after entering a product key and go to lunch.

How are the two exclusive?

The delivery interface of software should receive the least development time.

Ah, so you know the team and how long this took it relation to everything else? Good, good. Since you're talking to the team, maybe you can get them to work on some of those features you want. Either that, or maybe you can stop pretending this is taking away from those"great features" you think are missing while they do a little work to make one of the most unbearable things for most people (setting the computer up) a little better. I have to set up the computer for most of my family because there's actually a lot to it and they'd rather just shove it on me. But go ahead, complain about something just because it doesn't give you something new and shiny to look at.

You think your family will find talking to an installation wizard more easier than the click next method that is already too advance(according to you) for them.
To answer your first question.
The article headline says they're are 'working'. That's already too much development time for something that was not broken.

Since they'll likely be simplifying it at the same time, I do think it will help them.

Who uses a product key? Gave those up with picture tube TV's.

The guy on the computer next to you

Still need product keys with windows 8.1 and also from Windows 10 machine not linked tto the net.

cool I want to try this out!

Sounds great, unless you're in the big part of the world where Cortana hasn't launched...

true but you can still change your location tho.

But it messes up everything, for example, the store :/ I mean, if I change my region, the prices show up in dollars instead of the local currency, you can't see the ratings and reviews by people in your country, and carrier billing doesn't work :/

You can force Cortana in any region assuming your default display language is English (or whatever market Cortana is supported in) and you have speech packs installed. I can't possibly bear using Windows in my native language so it's not really a trade-off for me, even though most of the "smarts" don't really work in here.

And I can't imagine using it in any other language than my native one. I even make translations for UWP apps, so they "know" Hungarian :D

How the **** would the average consumer know he has to change his region settings in order to get a Cortana based installation process. By the time he finds that out he has already installed though a bunch of clicks.

And after changing the language to English, Windows maps can't pronounce Dutch street names anymore, because it's integrated in Cortana. The rest of the world needs Cortana in their own language. The world doesn't end outside of the U.S.A.

not to mention the problems you'll create with local bought videos, music and apps if you swap region

No I didn't have to swap regions, only language. But navigation is really important for me.

Good luck 🍀 and waiting the best after vacations.
Happy well vacation and merry Christmas 🎄 to MS and all lovely users.

Thank you Amir and the same to you and your family and friends.

So much amazing stuff coming out of MS and maybe it's just me but are only us fanboys appreciating all this, or will MS eventually take it mainstream with commercials, pushing more into schools, business use cases, etc.? Siri is a household name even with Galaxy holders but nobody knows Cortana even though its on every Windows 10 machine.

They can do it when she really shines. Now, to me, Cortana is like a Bing interface, and not much more (except the reminder function).

Finally... We need to see even more integration of Cortana wherever possible :)

If cortana and the intergration can be disabled then fine and I mean disabled, not how Ms have it working now. you think cortana is disabled but it is still working int he background, I killed cortana stone dead by renaming the folder that stores it files, windows 10 can not find it so it can not run cortana.
got rid of telemetry and auto update. too much of this we want to know what you are doing.

Hoping that Creators update brings new OOBE to mobile too, those wonderfully informative spinning cogs are really starting to grate.

This !!! They really need to change it. Android is slightly better. iOS is still boring.

Do they really... grind your gears?

I rather like the gears and their optical illusion. With practice you can make them spin in the opposite direction whenever you want.

What if the soundcard needs a driver software..

I'm guessing you haven't heard of built in Windows 10 Basic drivers, have you?

Do u think all devices are compatible with those built in drivers??? I have a creative sound card which needs manual installation.

I'm not talking about 3rd party drivers. And your dedicated sound card needs a dedicated driver only for really special features. For basic sound and microphone related uses, the built in Windows drivers really do work ! I've got personal experience with that. Hehe.
.
I had to do a clean install of Windows 10 and my sound and microphone did work. Only the sound quality was poor (zero bass and poor vocals) but it did work. Same for mic.

Which is why you can still use the mouse and keyboard. This will be usefull for intragated devices like tv's

windows 10 basic drivers do not work on my sound card, well it knows the card is there and it tries to use it, but it do nto work until I install drivers.

Yours must be an older one I guess. In any case, things are getting "better" and we should be happy about that !!

My sound card is still being produced, but it is not the normal Realtek based sound chip that is found in most other machines. As for getting better, that depends on what you mean by getting better. there seems to be more spying in operatning systems, more of they want to know more about us and what us to intergrate things more. that is not getting better in my books.

How on earth would you log in to your Microsoft account without a screen?

That's a good question. How do you sign on to a Microsoft account without a screen today? How do you use a computer without a screen?

Also, how would you enter the WiFi password? I'm sure they've figured it out but speaking passwords doesn't seem safe

Other than headless assistants, how many screenless computers do you think people use?

Same way you setup an Amazon Echo.

Sorry Zac, I'm not familiar with setting up the Echo

You use an app on your phone to do the basic setup

So you would use Cortana on your phone to set up Cortana devices without a screen. Makes sense

Through a UWP app maybe, with a PC / phone / Xbox etc... :D

Android too or there going to drive away a good chunk of people

Yeah, droid and ios as well of course.

I'm hoping the installer UI when booting from a Win10 installer USB drive is overhauled too. It hasn't changed since Vista and looks out of place compared with the rest of the setup process.

That's wonderful and all, but Cortana isn't available in 99% of countries worldwide. So I say, let's cut the cheer.

This is perfect for users with visual impairment.

This is quite interesting :)
I am thinking like most technologies we'll come to take Cortana and other Voice Assistants for granted

great i might have a reason to reset or refresh my computer eventually.

Why can't all countries use Cortana at least in English language.

Such new Out of the Box experience would be a nice introduction to Cortana. I do hope though that Microsoft will improve the overall Cortana UI/UX. Her notebook is a pain in the neck.
Windows Central Newsletter
Thank you for signing up to Windows Central. You will receive a verification email shortly.
There was a problem. Please refresh the page and try again.