Microsoft's Tetra Lockscreen returns to the Windows Phone Store, but with no update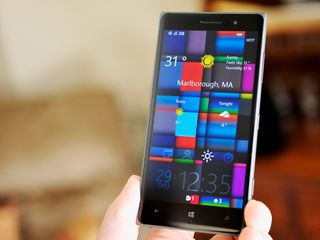 Microsoft has decided to bring back its Tetra Lockscreen app for Windows Phone, after unpublishing the app from the Windows Phone Store in March. However, its reappearance does not come with any new updates.
Microsoft first launched Tetra Lockscreen as part of its first wave of Microsoft Garage apps in October 2014. The app displayed a number of things on the lock screen, including calendar events, the phone's current location, steps activity stats and more. The last update to the app, before it was unpublished, was in January 2015, which added local weather information.
As with its removal, there's no word on why Microsoft decided to publish Tetra Lockscreen once again, but hopefully this means that the app will also be getting some updates that will add some new features and fix some of its bugs in the future.
Thanks to "Wam1q" for the tip!
Download Tetra Lockscreen from the Windows Phone Store (Free)
Windows Central Newsletter
Get the best of Windows Central in in your inbox, every day!
They own the OS, but they can't make a decent lockscreen app. What a shame!!!

There ain't one for iSheeps also.

i hate that when it comes to bad things we must compare it to others that also have the problem. but when it comes to good things that others have, we shouldn't reguest it, because "it's lame"/"we don't need it" Why can't MS step up the game? it has its user voice page. make most of the reguested things happen, be better! I feel really dissappointed. we test their software before its official release, and yet it comes out incomplete.. why even bother investing my time into products, as you only feel unimportant/unnecessary as a result...

I don't think you understand Microsoft's approach. They released a software that was stable enough and different enough that users would start downloading it and making it their default OS. They knew it was incomplete and have an update coming in Fall. Would you rather they release Windows 10 in the fall? No. But get this, so this "incomplete" version is making it onto many peoples' computers, by fall it will be on a lot of computers and they will release the update for desktop as well as mobile version. Now if they were to do the release in fall. Now they have to wait for users to download and developers have to start coding for the new platform. This way developers get a head start as do users. It's beyond smart. By fall user base will be high and more apps will be out. In time for the launch of windows mobile which will automaticallly have all the universal apps produced over that period of time. All this benefits mobile. And you don't seem to understand that the native integrated support is flawed compared to the app model. The app model adjusts for future, native support requires operating system updates. I mean the integrated facebook stuff in the past was horrible. Imagine facebook is no longer popular and something else takes over. Now you need to update OS because no one uses the facebook integration and add integration for something else. But you know what with the app model you can just add the app and integrate it through api. Same with lock screen. Why would you want 1 type of lock screen that is natively designed over an app model which can be superior because you allow third party developers to bring their ideas to the mix.

well, i think the developer preview (insider preview) is for developers to adopt to the OS before its release, so that at day one apps and drivers are ready. i also think, that insider program is ment for people to discover bugs, and report them to MS, and MS is supposed to fix them. imagine what people willing to try Edge did when they saw it's incomplete. they moved back to whatever they were using before, and chances are that they wont come back to edge. It's supposed to be like BAAANG, great browser! i'm kipping it! extentions should be there at day one! the most visable bugs should be gone! i bet they lost at least 50% of users by now. I'd really love to see the statistics.

I agree that EDGE should have been the one thing they finished and put a lot of time into. Because people once they switch it's hard to get them back unless the next update forces them back on edge by default. They are trying to fix internet explorer's bad rep but did no such thing. Internet explorer on windows 8 was at least more feature complete. I could sync tabs to my phone, etc.. now i use it but i also use chrome. For the most part simple reading of articles or forums im on edge otherwise chrome. I can't stand ads and forgot the internet even had them haha. But even the actual developer tools and official finished apis were only recently released. Developers won't work on stuff during the preview because they can't predict whether it will actually be a hit or not. So if they invest time/money and it turns out no one downloaded it, then it was all for nothing. Likely they are still watching to see how many users convert to windows 10 and if it is a viable platform to make money off of. Just because you have windows 10 doesn't mean the store will be used. Heck my brother hasn't gone to the store even once. He hasn't even changed anything on his start button. He simple uses the web. I think it should be made mandatory to make apps go through the store. This would be advantageous to the users and developers. Enterprise can make exceptions but their own enterprise store could solve these issues. Which I believe there will be in server 2016.

I think Edge Extensions should show up as a section in the Windows Store

Even for the Galaxy shit!?!?

Live Lock Screen BETA is "decent."

No its not decent still in beta too smh

as i remember, installing it caused the resuming screen... and than you had to uninstall it, turn on and off kids corner, in order to fix the resuming screen.

Haven't had this problem to best of my knowledge (on Samsung Ativ S Neo). "Resuming screen" as in the "resuming..." animation occurs more, or does it actually freeze on it? Worst i've had with it is every once in a while it kicks off, instead showing the boring standard lock screen. And I've never had anything where the process involved kid's corner. huh.

Used it for 5 minutes, it was incredibly glitchy with the navigation bar and task bar.

Lock Mix addresses all of my needs. What do you expect from a perfect lock screen app?

Exactly, Lockmix is such a perfect app.. And its developer is an active person.. He/She/They respond(s) so brilliantly

That it actually changes the design of the lockscreen? So I wont have to look on the same lockscreen for 5 years since I bought first windows phone?

Edge Extensions should show up as a section in the Windows Store

Is it any quicker than before?

No quicker than the next win 10 mobile update...

What part of "does not come with any new updates" was unclear? :)

I haven't used it for a very long time. Both this and the lockscreen beta were rather poor.

Bring back msn weather support for lockscreen.
Page can't be found. Go spend your time making apps for ios and android, Microsoft

If they do that, you'll whine even more. What's the point?

MSN or Bing Weather works on the lock screen and the glance screen, if you have that. But! The weather app needs to be on the phone, not on the SD card. Move it back, and you're good to go.

Microsoft should allow you to customize the lock screen with this app and especially ask for what weather app to use.

Cant get to the download page...Did they remove it again??

I also can't see it. Says its unavailable

Although this is a nice app, has nice features..it should be part of a system to work just the way it should be, with no lag.

We call lag "resuming" around here...

I know, I said it cuz there's no resuming when you unlock device, just a few seconds of delay until it shows start menu.

Yeah, this should be baked into OS for interactive Lockscreen. This is been here for a long time and they still figuring this out?

@aXross:
The article said that there were no changes made to the app.
So, no. Microsoft ain't figuring out anything.
Don't forget: Since Nadella took reign they are an "iOS/Android first" company.

Is it worth a try or is it as usless( and overhyped) as the live lockscreen beta?

It's better looking and more functional than Live Lockscreen Beta, also runs more stably for me... but UX seems to vary quite a bit.

Lumia storage check beta please :'(

Not available for my device. Oh well!

Tu nahi hai..? Sorry then, wrong reply.

...do it like the Indians?


Ho gaya natak salo, kyo apni izzat ki waat lagate ho... Region ko US kark download kar lo. Posted via Lumia640

I'm currently running it on a L920

There must be hard party in their heads...or they are preparing it for Win10M. Or something else.

Where can I find the background on the cover image?

Not the same - but similar http://www.wallpaperawesome.com/wallpapers-awesome/wallpapers-full-hd-10... http://www.hdgalaxynote3wallpapers.com/wp-content/uploads/Textures/Textu...

links doesnt work, and I want this wallpaper so badly :)

There is an extra space by end of each link. Remove space and it works.

The links' not working :(

https://www.google.it/search?q=umnet+windows+phone&biw=1920&bih=973&source=lnms&tbm=isch&sa=X&ved=0CAgQ_AUoA2oVChMI4YCc-v-MyAIVxLQUCh3e_wMP#tbm=isch&q=umnet+windows+phone+abstract&imgrc=I8uIKLY6Jqs6cM%3A

And still no support for my device , HTC 8X.

Get the Windows Insider app from the Windows Store and then check for phone updates to get to the latest build. From there you should be able to get to these apps

Not there in the store.... L630...India...

Still not available for me, probably cause where I live is one thing or its my phone. My phone is a Lumia 830 and I live in the UK.

still US-only, apparently.
ah well.

I still use this lockscreen on my 8.1. Since March. It's still awesome.

I can't download for my L930 pls help me

Place phone in a cup of water with ice for five minutes, shake vigorously...download...

worked for me on L920. Thanks

Worked for me! Thank you so much omg

Nice! That actually worked...lol jk!

Ye are all welcome....lol

Thank you so much! It even worked for my galaxy :D

It's working now!! Posted via Lumia640

WOW! Thanks so much it worked for my Nokia 3310 phone. Up until now I could only have a monochrome display but now it's so fancy :)

Change region to US and download ....

You also need to change language and keyboard settings to English (United States)

Can't install it on my Lumia 640.

It must be gone again... Link is dead.

Change ur region to US and download the app

W10M on my 1520 says, "no Tetra Lockscreen for you!" Sadness.

Plz update live lock screen beta app features r nice but not smooth. Posted via the Windows Central App for Android

I really do hate Microsoft right now. The app is no where to be seen on the us store and not even on the web. And they say its been released? Useless. Also, I cant install 8.1 apps on my windows 10 mobile phone. I don't have skype why? Because its an 8.1 app and up till today there is no new build despite promising us frequent builds for windows 10 mobile. This is how uncommitted they are to the mobile platform. Im still waiting Microsoft. If nothing changes, im going to buy the OnePlus 2 for sure.

You hate Microsoft because your BETA OS isn't fully supported with all the apps? There are plenty of reasons to hate a company, but yours is pretty dumb. Maybe you should just revert back to 8.1 and opt out of the preview program. Obviously it's not for you.

Im not just complaining about apps you dumb fuck. Im more than qualified to be on the preveiw program. I have been an insider since october 1st 2014 and installed all builds on pc till the final RTM version so do not talk shit. I said i really do hate microsoft right now not I hate them. Do you know your English? Right now means you dont like what their doing as of now the present now. Not in the future or past. Did you go to school? I have all sorts of justified reasons not to like what their doing now. They promised us more frequent builds and I do not have those builds as of now. Its almost a month. Actually, the reason why im hating on them now is because im so excited for a new build and they are not giving it to me. So im a real Insider who wants new builds to troubleshoot. So if you would please go back to school and learn how to read then please do.

Angry much? Did I hit a soft spot? If you wanna talk about reading and how important it is, maybe you should read the release that Microsoft put out saying the delay is due to a bug that was preventing them from releasing another build. I mean, you must have read that right, because you're a "Real insider" and all.

Yeah youre right. I read it. But did you read the article of the leaked version? Please tell me the build number it jumped to?

I did read of a version that leaked. Don't know the build number, don't care. It has nothing to do with this.

Haha. It does. Build 10512 leaked. If there is a new leaked version which got leaked on Monday, people would have expected it to be out by now or maybe Wednesday and yet no word from Microsoft. It feels as though they are just testing it themselves and just forgotten the Insiders. From build 10240 to 10512 there has got to be at least two build before 10512 and the insiders dint even see it or get it. Thats why i said I hate Microsoft "right now".

You have no clue how software development works do you? Of course things are tested before released to insiders. How do you think the found the issue that stopped them releasing the build mentioned before? You don't get every single release and code change that happens. That's not how it works. You get the next build that is considered stable enough to not destroy phones.

I have Skype on my W10M 1520.. Don't know why you can't get it.

Its a bug on windows 10 that wont allow you install some 8.1 apps. I had to delete skype because it was giving issues so i wanted to re-install it but cant

Man by! Stop complaining so dang much and go get another phone..! IT'S A TECHNICAL PREVIEW!!! WHAT DO YOU EXPECT. JUST SAYING!

Windows for phones have always been in beta right from os to their own apps

Dude you are cribbing about an OS that is not even ready for final RTM release. Go back to the public release of OS and then talk! Stupid!

Dude do you think windows phone 8.1 is complete?

Page not found in store!!!!!!!!!!!

So its not available for win 10

There app lock screen app sucks . U think they would make a good one and keep updating it

No API, no joy.... Powerful Lockscreen api were never released to wp 8.1 developers :(

Why is this app not available for my device? Why restricting this app to specific devices and countries?
Makes no sense to me!

This! They should have kept their OS exclusive to US only with their pittyful 0.3% marketshare

Maybe they pulled it to make it better due to all of this babyish complaining.. Just saying.

Still not available in India :(

Just change you phones region to USA and then switch it back after you've dl the app.

doesn't work for me, page still doesn't exist, even the web page says it doesn't exist

Has anybody been able to upload this on a Windows 10 mobile device?

MS needs to realize in the cell store, first impressions sell phones. Slacking on the lock screen and login keypad, customers will put the phone down in favor of the eye candy provided by android.

This app might be responsible for the bricking of my 925. I'm not sure I can trust it again.

Again, not available for Lumia 830 in the UK.

I feel sinned. I just read that as Microsoft Garbage instead of Garage :'(

Not showing up on my Windows 10 Lumia 830

Honestly this app should be apart of the OS with music controls built in, I think a uservoice page needs to be put into place lol

I'm from Spain and I can't install it on my 830 (8.1 update 3). Store says it's not available for my device :/

Not available in the uk though :'(

I've been using this lockscreen app since January, starting on my HTC 8x. I put it on my Lumia Icon in February. I haven't noticed any problems with it at all; I love this lockscreen app. Sorry to hear how many others don't enjoy it as much as I do!

We agree. My wife and I really appreciate this app. Sadly, one phone was destroyed and when we replaced it, the app wasn't available. Now, it is, so all is good again. (Microsoft, please keep stepping up your customer service, responding to what we WANT.)

To all of you who cannot get the app: change your region to US, dl the app, and then switch back to what ever region you prefer...

I am set for US and it doesn't show

Again laggy lockscreen..!

When I try to Download it shows page not found

Anyone got a link to that wallpaper?

Using it now. Seems much smoother than it was originally. Although, that was on a Lumia 920 and I nite have a 1520.

Didn't have it before. Using it now. I like it...

its not avaiable in wp10 store..

No, The link is not working. . And search results too shows nothing. .!! Any Help. . I really like the App. .!!! Also, Wish Refocus would be there available. .

Looks like it has been removed once again...

I really like the app. Litte slow when I wake up the device but has alot of good features.

Not available for windows 10 mobile

Page not found. Can't find it in the store

Where you finding it? Microsoft Garage says it's dead. The WC link is broken. Another useless WindowsCentral post.

John Callaham, who pays you? Because whatever it is, it's too much. Go rewrite some more press releases.

I canot find this app in store !

Lockmix is better.... Download that guys... Even if this tetra app is good... Microsoft guys are not gonna update it regularly....

I want you to be wrong, but ... you are correct, Microsoft is not consistent and doesn't always know the good software and unique features they develop: MS Money, Zune, and Windows Media Center.

I'm glad I got to try this app. They definitely need to fix the lag on initial load - unless this only happens on 512 devices. I would also like to see more widget options and the ability for devs to add their apps to the list. For now I'm sticking with the default lockscreen. I'm hoping Windows 10 mobile adds some changes to the default lockscreen.

Well, that was short lived. I pulled the trigger and update to the latest Windows 10 Phone preview. And..... No more Tetra Lock Screen.:'(

Didn't work on windows 10

And it's gone again... At least in preview 10512

Please bring it back.....
Windows Central Newsletter
Thank you for signing up to Windows Central. You will receive a verification email shortly.
There was a problem. Please refresh the page and try again.