Advertisement Feature
Movavi Video Converter: The future of desktop file conversion
Media conversion shouldn't be difficult or time consuming, Movavi makes it the simplest thing imaginable.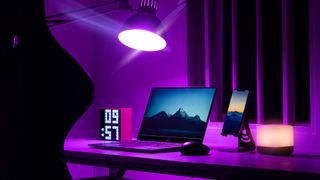 (Image credit: Movavi)
One thing is for sure - we're all multimedia users nowadays. The array of platforms can be a little overwhelming. What can be even more daunting, though, or just plain annoying whether you're a pro or not, is the amount of formats in which to share your content. Whether you're a vlogger, filmmaker, photographer, or an enthusiast, one hurdle we all encounter is simply one of file conversion, and modifying our content, so it fits any of the platforms available to us.
Exchanging funny or educational videos should be easy in this day and age, which is why it pays to have a program that deals in video conversion, particularly one you can download to your desktop. Having your own converter has way more pros than cons, the main pros being; no problems for bigger file sizes; it's quicker as you don't have to rely on an internet connection; and you're more in control of the adjustments you might need to make - IGTV videos need different ratios and sizes, than say Youtube, Vimeo, or Flickr.
There are also as many, if not more, options for file/video converters out there to choose from. What you need from a converter is ease of use, something you can rely on. Thankfully Movavi provides just that. Movavi is known for providing simple-to-use multimedia programs for all types of people. They seem to know their stuff when it comes to providing programs that are intuitive to use and liked by professionals and enthusiasts alike.
Movavi's video converter is super simple to use and fast, too. Once downloaded (for free) to your desktop, you can convert to over 180 file types and make necessary adjustments and edits using the within the app. It makes the whole process painless and allows you to convert files for any platform, and for any device. That is a whole weight lifted to be perfectly honest, and it pays to have a tool like this at your fingertips. As of 2021 the active number of social media users has reached over 4 billion, so it makes sense that being able to share your stuff effectively and quickly should be as easy as possible.
Of course, it's not just for videos. The Movavi video converter may look basic, but it's a pretty smart piece of kit. It's great for photos, digital art work, and music, also. You can even extract audio from existing video files. As well as conversion you can also make handy edits like trimming, cropping, and improving the quality of your files. It does all this at lighting speed, too.
Movavi has been around since 2004 and understands the need to have, as media users, tools that work for you, and not the other way round. The need for simple-to-use software to create and edit has never been more vital. Whether we are editing photos, video clips, or simply creating PDFs, there has always been a need for a software package that makes all this possible with minimum fuss. Download the video converter and give it a try here, for free.
Get the Windows Central Newsletter
All the latest news, reviews, and guides for Windows and Xbox diehards.