Live music discovery service Pepper looking to break into the US; the team requires your help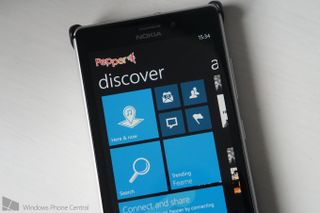 Pepper is a familiar name within the Windows Phone community. The service originally launched on the platform early last year and has since branched out to iOS, but location support is still restricted to the UK. Why is this the case? The live music discovery and social service is incredibly accurate when it comes to local events and performances. This requires data that's frankly hard to come by, even today.
The team has been working hard on evolving the backend and frontend systems to prepare for a daunting task - enter the US market. UK as a whole is a relatively small market when compared to the US, especially when we talk about distance and number of music venues. The Pepper team is having to start from fresh with no data in the US and build a database of venues, bands, events and more. This is where you guys come in.
The Pepper team requires some assistance to get at least a foothold into the US, offering various pieces of information that's usually overlooked, including support acts and what times performances are held on-stage. That's just an example of how Pepper improves the live music scene - the performances and venues really are brought to life with added social interaction and accuracy. Here's what David Hamilton, CTO at Pepper, has to say about the level of accuracy:
We're not talking about just large acts in stadiums and massive venues either. You're also going to find small open mic evenings, clubs and even orchestra and classical music. Both free and commercial events are also supported. It's that big of a deal and it's planned for the states. So how can you help?
More data, please
For the time being, the Pepper team would like to find out the following on any venues you're aware of:
Venue name
Town
State
Website / phone number
Any further details you believe might be useful
You can enter the above information over on our forum in the designated thread (more information in the thread - please do not do so on this article in the comments as it'll split the data up). The general idea is to build a small database of venues in multiple states across the country. Gunning for an early 2014 launch, October will see the team finalising details and ensuring event information is ready for the service launch.
Next year will see the service expand into new markets, but the US is the first major focus after the UK (if you'd like to see Pepper in your country, be sure to shout out in the comments). So head on over to our forum to get cracking and help the Pepper team break into the US. The more data they collect now, the easier it will be for the team to break into the market and support your local venues.
Lastly, follow the Pepper team on Twitter and Facebook for announcements and updates.
Windows Central Newsletter
Get the best of Windows Central in your inbox, every day!
Rich Edmonds was formerly a Senior Editor of PC hardware at Windows Central, covering everything related to PC components and NAS. He's been involved in technology for more than a decade and knows a thing or two about the magic inside a PC chassis. You can follow him on Twitter at @RichEdmonds.
Daunting task. I'm not sure how they are going to get this launched with they can't use the existing data in a country this large.

Don't worry, we have a few tricks :)
We've been WP focussed since the beginning, and this is a great chance for anyone that loves live music to help have a bit of a say....especially for those venues that you might consider a hidden gem - nothing beats a bit of local knowledge

This is often misinformed; is Canada included in this? Frequently Canada is included even though they say the "US". (Just Proves how conceded the US is! Haha, but since this is a UK based app im assuming it is actually USA only.)

Hi Brent, Canada is not included in this yet, but is certainly in our plans. Feel free to start helping us though by adding some venues to a Canadian thread - but it will be a little way off before we take the service live :):)

...who aren't available on wp. However, this service goes much further than just listing events. In fact, due to the way we store our data, the discovery process can be much more varied....ands that's before even talking about the social side of things

If accuracy is what they need, i think they are going about it the wrong way. Why not try to work with small local publishing companies that print papers for what's going on in town? In Jax FL we have one called Folio Weekly. In the back of each weeks free paper you find hundreds of music venues. Every town has these, many will have websites too. I truly think a lot would be happy to allow them access to the listing they provide. If not, then pick up the free paper up! Start with the major cities in each state!

Thanks, we'll be sure to check out Folio Weekly, every little helps. Our ultimate goal is to have relationships direct with the venues....a bit of a challenge!!

I live right by the Sunset Strip that has a variety of venues in the area. I sent the info to one of the influential owners and also the Sunset Strip Business Improvement District office. They'll get you accurate data from the bigger places like House of Blues to the iconic like the Roxy and everything else.