Nokia and Phones4U take over The Sun newspaper with advertising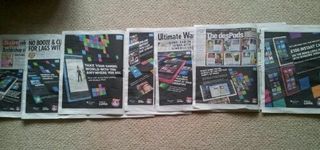 When advertising in newspapers, one would believe that a few spots here and there would be sufficient enough, right? According to the above photo, this apparently isn't the case at Nokia. The UK's The Sun newspaper sports a number of advertisements in one edition. Should the reader not notice a Windows Phone advert on one or two pages, they certainly will now.
We're looking to seriously consider starting up nokialumiapromotion.com, to keep up with all the latest news surrounding their huge global marketing campaign. Then again, the manufacturer depends on the platform to succeed, so we expect to see much more from both Nokia and Microsoft (as well as other OEMs once things pick up).
Source: CoolSmartphone, via: WMPU
Windows Central Newsletter
Get the best of Windows Central in in your inbox, every day!
Rich Edmonds was formerly a Senior Editor of PC hardware at Windows Central, covering everything related to PC components and NAS. He's been involved in technology for more than a decade and knows a thing or two about the magic inside a PC chassis. You can follow him on Twitter at @RichEdmonds.
Global marketing, except for half the globe...

...i assume by half the world you mean except the us? well maybe they're waiting to actually release their flagship device first...

I'm no marketing expert, but ads to promote an upcoming product too right? Actually, probably more effective than after the fact.

No, with WP we see the phone get old months before the release, then when it's finally released no advertising for it is to be found. I need this to change!

Ain't that the truth lol I'm starting to not be so excited about the 900 anymore

Sure Nokia is advertising their lumia line but it's just as much an ad for windows phone. I think people forget about that sometimes.

Good stuff. Shame they have to advertise in The Scum though. But it's nice to see a strong effort for the brands, OS, and phones.

Hopefully lots more adverts to come like this in other newspapers, even if it is just the other news corp ones. Also a week of Metro front pages would be money well spent

I'm still waiting, patiently, for the huge marketing campaign here in the US.... Where are the Television Commercials??

Here you go again. Everyday I swear, I see T-mobile 710 commercials all the time, maybe you need to stop watching racism channels.

So am I. Exactly, where are the ads/commercials ?

Its a dumb argument anyway because the only phones that have ever had a big tv presence are the I phone and the of droid.

I see them on telemundo and Univision all the time and I saw one on fox just now.

Yeah, there is nothing more frustrating than what I encountered a few days ago: a friend with a Blackberry who's ready to upgrade. Try convincing them that they should wait ~3 weeks for the Lumia 900 to come to AT&T when they're interested in the Galaxy SII Skyrocket and can get it today. I'd likely be able to get them to wait on the Lumia 900 because of the $99 on-contract price...if AT&T would at least come forward and make it official so I don't end up becoming a liar if the price turns out to be higher.

Un Italy (Sky and free channels) bomb us with 4s commercials, 10x more than Lumia :( ....

I was hoping ther would be a Superbowl spot for Nokia Microsoft but there wasnt

To get more attention they need to make wallpapers not solid black r white backgrounds and solid tiled ther needs to be customized WP phones that what we lack badly no one cares really about solid colors they wanna see there family and other pics that's what we need to make it big

There is a large photos tile on the start screen that lets you do that. Just select your favorite photos and they will play in a slideshow on the live tile.

Yeah I vehemently disagree pizza lover. Then it's just a droid or I phone. The tiles are what separate win phone 7. I do wish there were more accents colors to choose from though.

And its a bad thing to have options like the other guys? IMO, its this steadfast need to be completely different that is one of the many problems with WP. No, I am not suggesting sacrificing the things that make the OS great (Metro UI, Live Tiles). But people like customizing things and making it their own. Its why people put up pictures on their PC desktop, choose custom ringtones, or in iPhone and Droid's case, put up background pictures. Maybe it makes no sense to put pictures on the background as the live tiles will just block them. But have the option so at the very least, you can put up a nice pattern.
And yes, more accent colors or an accent color wheel would be nice

I hear what you are saying, but I don't see the point of a wallpaper when it is only going to obscured by the tiles.

Exactly. When it comes to design sometimes you have to say no.

My excitement level for the Lumia 900 has been coming down lately, especially when it was delayed from March to April. And is taking another hit, I read that they were not using the curved Gorilla glass that was found on the 800. Come on! I loved the look of it.

I like the idea of a pattern? Maybe? Need to see it in action. Definitely not being able to change notifications alerts is annoying.

Love the 900. Just can't get it becuz I'm on Verizon. So jealous of you at&t guys having choices where I have ONE.

Print adverts are all well and good but they need to be plastering the front of MSN.com, MSNBC.com, CNN.com, Yahoo.com as well as some TV adverts during March Madness (along with "Smoked by Windows Phone") to get people to see this phone. They probably could have done an online bracket with some cash and a few 900's as the prizes...

c'mon MS/Nokia...think outside the (phone)box,
Techiedude
Windows Central Newsletter
Thank you for signing up to Windows Central. You will receive a verification email shortly.
There was a problem. Please refresh the page and try again.