Report: Nokia Normandy, low-end hardware with forked version of Android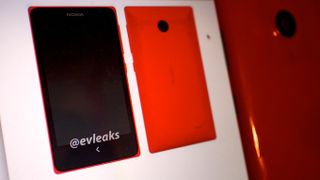 Do you want a Nokia device running Android? According to The Verge, Nokia has been building it under the code name, Normandy. It runs a forked version of Android on some really low-end hardware similar to what Amazon does with the Kindle Fire.
The Verge's sources say:
Infamous leaker, @evleaks, has mentioned Normandy before. He tweeted an image of a red device (pictured above) a couple of weeks ago with one capacitive button. No other details were shared.
What does "forked" Android mean? In essence, companies have two ways to use Android. There's the official, Open Handset Alliance (OHA) method, which is how Samsung and LG go and then there's the "forked" way, like Amazon. Amazon's Kindle HD technically runs Android, but it has no access to Google Play, which are Google's main services. The thing is, once you're out of the OHA, you're out of the OHA. (Read this article on Android Central and Ars Technica for more information).
Assuming Nokia goes through with this device, which let's be honest is pretty slim, the device won't be an Android phone as you folks know it. It'd be a custom job with restricted access to Google's core services. That's an interesting play, but obviously such a device, with low specs, is not exactly Android 4.4 Kit Kat running on a Lumia 1020—aka the dream device of Android fans. In fact, it's very far from it.
The big question is whether Nokia will release Normandy before the Microsoft deal is finalized, or whether Microsoft will continue the plans for the device. Are you interested in this at all? Let us know in the comments!
Source: The Verge
Get the Windows Central Newsletter
All the latest news, reviews, and guides for Windows and Xbox diehards.