Nokia bringing "a number of phones" to Canada in early 2012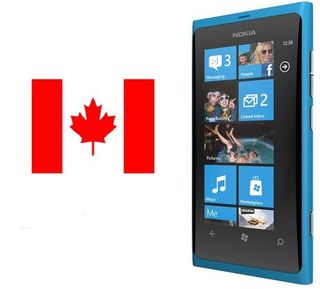 It was but yesterday that we were lamenting the state of Windows Phone in Canada and wondering when we might hear about some Gen-2 devices heading that way. Apparently, in all of the Nokia World hub-bub on October 26, we missed that Nokia Canada held a media event of their own in Toronto, showcasing the Lumia 710 and Lumia 800. According to Richard White, General Manager of Nokia Canada, who was at the event, both Lumias (and possibly other Nokia handsets) should hit Canadian shelves in early 2012.
White did not elaborate on what models would be available, nor did he provide a specific timetable for their arrival. He simply noted that Nokia is "working hard to make sure they're here as soon as possible". That should be refreshing news to anyone who was worried about the Canadian coldspell.
Source: MobileSyrup, Thanks for the tip, Marcus!
Windows Central Newsletter
Get the best of Windows Central in your inbox, every day!
Good news for our neighbors to the North.

This sounds promising! Maybe that is why we don't have any mention of the Focus S, Titan or any of the new Mango 7.5 devices?

I chewed out HTC on their facebook page about the Titan yesterday, and actually got a reply this time."We don't have an exact date yet but we'll be sure to keep everyone posted. Thanks for asking."Regardless, Early new year is a dumb time to release expensive hardware, and could reflect on the perception of the OS.

i agree... and not due to price but because i am sick of Canada being the step child of the phone world.. all they need to do it beat us to complete the picture.

We don't just want a number of phones. We want a number of phones on ALL carriers.

I'm only interested in a atleast one phone coming to the States to a carrier named T-Mobile.

The Lumina 800 in Canada over Bell would be a great addition, but the HTC Titan even better!

Agreed. It should create more choices of WP7 phones when you're stuck on one wireless company. Damn contracts. :(I'd also love to see the HTC Titan come to Canada (Rogers. :)

And this is why Nokia needs to use different names in North America.

my best friend's mom makes $77 an hour on the computer. She has been out of job for 9 months but last month her check was $7487 just working on the computer for a few hours. Read about it here CashSharp.com

Yeah, I already caught her webcam striptease act. So did my credit card company, so they're charging back the $77 to my account. BTW, your friend's mom is a sk@nk.

I would love to have the Lumina on Telus. They are a fantastic carrier. Bell would also be great considering they now sell zero WP7 devices. I loathe Bell Mobility, but for those who do not. I hope they come.

I thought it was law that all Canadians had to use Black Berrys. :)

Good news for our friends north of the border. At least Nokia's got their backs. Who knows, maybe some Samsung and HTC models may turn up as well. Hope so.

I really want a Windows Pohone handset or two on Fido, I have a contract coming up in early 2012 so this could be perfect. Add to that I have tonnes of Fido Dollars and nothing to spend them on.

Good news! I hope it reaches all carriers (still on Rogers :P) and Nokia markets it strongly... I personally know a lot of people now who are willing to switch to (or add) Nokia+WP7.5, so they really need to get it right!

Woo-Hoo! Some positive news. The update was very much appreciated, thanks. :)Now here is hoping for some parity between the carriers.

Unless one of these phones has a 4"+ screen (for my fat fingers) and a ffc and is on Bell I'll stick with my HD7, thanks. A smaller screen and slightly faster processor but less RAM isn't an *upgrade*...