Nokia to launch the impressive PureView 808 in May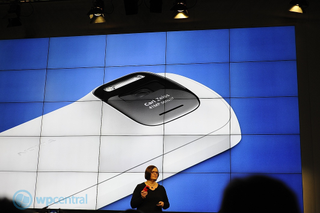 Nokia surprised many at the Mobile World Congress 2012 event in Barcelona this year by announcing a beast of a smartphone - the PureView 808. Boasting a 41MP sensor, coupled with advancements in camera technology and research by Nokia, the Symbian powered smartphone is set to be a diamond when it comes to snapping those memorable moments.
While the Nokia 808 is no Windows Phone, it's exciting to see how Nokia can stay in the midst of the competition with available resources. It has been confirmed that technology used in developing the 808 will eventually be available on Microsoft's platform (an extension to the exclusive partnership with Carl Zeiss reaffirms this possibility) - something many of us wouldn't mind witnessing.
The Finnish manufacturer has published a press release (three in one day - not bad) detailing plans to start rolling out the Nokia 808 in select markets this month. The smartphone has received multiple awards, including Best Mobile Device at Mobile World Congress and Best Imaging Innovation for 2012, and also features full HD 1080p video recording (with 4x lossless zoom).
Would you be interested in a Windows Phone from Nokia that features such a camera, and will you pick up the Nokia PureView 808 just to see how it is? Check out the press release after the break.
Source: Nokia
Espoo, Finland - Nokia today confirmed that the Nokia 808 PureView will start rolling out in select markets in May. The Nokia 808 PureView is the first smartphone to feature Nokia's award-winning PureView technology. PureView represents Nokia's highest level smartphone imaging experiences, bringing together high-performance sensors, exclusive Carl Zeiss optics, and Nokia developed imaging algorithms. The first markets to begin selling the Nokia 808 PureView include Russia and India.
Since its launch in February, the Nokia 808 PureView has received multiple awards, including Best Mobile Device at Mobile World Congress 2012, as well as an award for Best Imaging Innovation for 2012 from the Technical Image Press Association (TIPA).
"PureView has completely raised the bar on imaging performance for the whole smartphone industry - and Nokia is not stopping here," said Jo Harlow, Head of Smart Devices at Nokia. "We're going to carry on developing PureView for our future smartphones in ways that will again revolutionize the imaging experience."
The Nokia 808 PureView features a large, high-resolution 41 megapixel sensor with high-performance Carl Zeiss optics and new pixel oversampling technology. At standard resolutions (2/3, 5 and 8 megapixels) this means the ability to zoom without loss of clarity and capture seven pixels of information, condensing into one pixel for the sharpest images imaginable. At high-resolution (38 megapixels maximum) it means the ability to capture an image, then zoom, reframe, crop and resize afterwards to expose previously unseen levels of details. With superior low-light performance and the ability to save in compact file sizes for sharing in email, MMS, and on social networks, the Nokia 808 PureView makes it possible for anyone to capture professional looking images in any conditions.
In addition to superior still imaging technology, the Nokia 808 PureView also includes full HD 1080p video recording and playback with 4X lossless zoom and the world's first use of Nokia Rich Recording. Rich Recording enables audio recording at CD-like levels of quality, previously only possible with external microphones. The Nokia 808 PureView also features exclusive Dolby Headphone technology, transforming stereo content into a personal surround sound experience over any headphones and Dolby Digital Plus for 5.1 channel surround sound playback.
Windows Central Newsletter
Get the best of Windows Central in in your inbox, every day!
Rich Edmonds was formerly a Senior Editor of PC hardware at Windows Central, covering everything related to PC components and NAS. He's been involved in technology for more than a decade and knows a thing or two about the magic inside a PC chassis. You can follow him on Twitter at @RichEdmonds.
Sweet phone. Just want it for Windows Phone.

Agreed. I so want this in a WP variant to get picked up by Verizon. It would make me so happy that I would even suspend my hatred of them over their lackluster support of Windows Phone at this point. (love my Trophy for what it is but I want more!) Something like this, while not for everyone design-wise, would be pretty sweet!



who really has the need for 41mp? Image that big is for commercial use only.

It's not for taking 41MP pictures. It's so you can digitally zoom into a picture without causing pixelation.

PureView is not about taking pics at 41 MBs, it is about lossless zooming and for that it is unprecedented in a phone.

While the sensor can capture 41MP worth of data, in reality the software is scaling it down to 12MP in size to JPEG format. With normal 5-12MP sensors today, compressing those images down is a lose of quality. With the 41MP capture, compressing it down allows for better looking, more crisp images. Plus, zooming can be done with little to no loss of image quality, unlike current sensors in mobile devices.

Of course, if you are planning on taking professional looking images, a DLSR camera should be used.

No, 99% of the time you will want to take 5-8MP pictures with PureView.
PureView tech is actually about the binning, lossless zoom, and megapixel netting, large MP count just makes those possible. Of course you can also take 38MP pictures.

Binning is the amazing thing of 808. You essentially take 7 pixels of the 41MP sensor and create one "super pixel". Binning is active when you are in PureView mode.
Lossless zoom is possible because of the large MP count.
Megapixel netting lets you create hot spot inside the large MP sensor where it can move inside and eliminate shake as you move the phone around.

It goes much beyond that. Be free to read Nokia's whitepaper about everything the PureView being made inside Nokia for 5 years is all about.
http://press.nokia.com/wp-content/uploads/mediaplugin/doc/nokia-808-pureview-whitepaper.pdf


Here is another comment about lossless zoom.

Can't wait for the windows phone version I am sooooo all in break huddle on 3

I'm sure no one would say no to such tech in a Windows Phone. Lets just hope they do a better job than they've done so far with the Lumia range.

Nokia has done a great job with Lumia. I would buy a 900, but I'll stick with my Titan until WP 41MP is released. 900 is the hottest phone ever:)

The 900 is a great device, but the recently reported issues make me glad I decided to wait.

Well, I didnt wait, and I dont regret it one bit.

Yes, will get one as soon as/if Amazon UK stock them. Will happily carry both that and the L800 until a Windows version is released. Now if only there was a SkyDrive app for Symbian for photo uploads.....

If it's storage you're woried about, the 808 has an SD card slot :)

Yes, I would love having it in a WP. Though I hope they can slim it down some.

Exactly what I was thinking. Flat is the way to go.

The camera on my N8 has served me very well, even without Pureview. But there is no way I will spend another dime on another Symbian OS product. Windows Phone with Pureview is the only worthy replacement for me (although I might splurge on the Lumia 900 in the interim).

If the image quality is as good as the samples that came out of MWC, it would certainly be worth it, but I'd REALLY have to judge it in person. Looking at the huge protrusion on the back reminds me how annoying it was to port around bulky phones like the HTC Wizard back in the day.

Since Mobile World Congress, I've been counting the days for when I get PureView on a Lumia. A Nokia phone running Apollo with a PureView sensor would be scary good.

My next phone will be a Nokia Windows Phone with this technology in it.

Yep, want that for sure. Almost half the reason I use a smartphone is to have a decent camera in hand.

Same for me and with kids its more than half. Lumia, pureview with Apollo will be dynamite. My next phone... No matter the price:)

I wonder if it has a backlight?

It doesn't have a BSI sensor but the low light samples that I've seen were amazing so they must have come up with some clever engineering. The lowlight samples I saw were better than anything I've seen from a camera phone but it is not my area of expertise by any means so whether that is so I don't know.


They should of put that technology in the Lumia 900.

When it comes to windows I'll get it for the fiancé as she would love it with all it's feature rich goodness.

Running Symbian. Booooooo

Yes, I'm looking forward to a Nokia phone with the best camera possible. October should be exciting! Until then I hope the advertising push helps boost sales. If the rankings at bestbuy.com are any indicator, there is still plenty of room for growth. Here they are as of yesterday, for what it's worth: AT&T (72 phones offered)
19. HTC Titan (30. a week ago, 35. a month ago)
27. Samsung Focus Flash (32. a week ago, 27. a month ago)
29. Nokia Lumia 900 Black (22. a week ago, not available a month ago)
40. Nokia Lumia 900 Cyan (48. a week ago, not available a month ago)
55. Samsung Focus S (55. a week ago, 54. a month ago)
64. HTC HD7S (63. a week ago, 62. a month ago)
68. HTC Surround (66. a week ago, 65. a month ago T-Mobile (28 phones offered)
6. Nokia Lumia 710 Black (7. a week ago, 3. a month ago)
7. Nokia Lumia 710 White (8. a week ago, 4. a month ago)
8. HTC Radar (10. a week ago, 6. a month ago) Verizon (56 phones offered)
36. HTC Trophy (36. a week ago, 36. a month ago) Sprint (50 phones offered)
42. HTC Arrive (41. a week ago, 39. a month ago) I went into an Authorized AT&T store the other day. They had Lumia 900 banners everywhere, but the device itself was nowhere to be found.

Will not be upgrading from my original Focus until this is released for WP8. Besides the Pureview tech, the Rich Recording feature is a big point for me. Going to be a nightmare for concert venues to police :)

Cool imaging tech, for sure, but I'll hold out for the Windows Phone version. :)

With bsi sensor this time ;) ?? I will buy to replace the cam of my Lumia :D

It will have to come out with WP then it will be worth getting.

If this is out for WP by the time my contract runs out then I'll definitely be looking into getting one, though I'll still wait a bit just to see if there's any bugs that might put me off. I am also really glad to see a lot of people on here wanting to get one too as it'll hopefully help Nokia remain a big player in the market, as well as make them feel like the Pureview tech hasn't been a waste.
Windows Central Newsletter
Thank you for signing up to Windows Central. You will receive a verification email shortly.
There was a problem. Please refresh the page and try again.