Nokia photo sensor patent looks to take the hump out of Pureview Cameras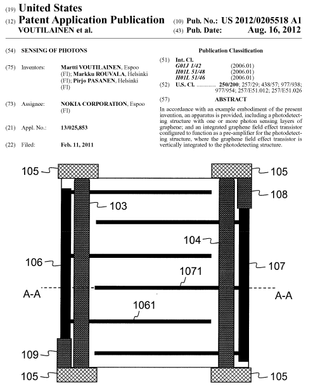 New sensor technology could put a larger cameras into smaller packages
Nokia may have the best smartphone camera system around with its 41 megapixel Pureview camera. We are all hoping to see similar Pureview technology (but on a smaller scale) with the Lumia 920 Windows Phone 8 devices. While the Pureview cameras have turned heads, what Nokia has up it's sleeve should take the Nokia cameras to a new level and eliminate that pesky hump in the process.
Nokia has filed a patent application for the sensing of photons utilizing graphene technology. Graphene is a two-dimensional material made of a single atomic layer of carbon layers. It allows photo sensors to be smaller than the current crop of CMOS sensor and capture light photons across a broad spectrum of frequencies of visible light. Combined with the transparency of the graphene layers, this should make the graphene sensors better low-light performers than what we have today.
In a nutshell, we are looking at potentially a smaller, thinner, better low-light performing photo sensor that may give us the 41 megapixel Pureview camera without the hump.
Graphene has been around for some time and is found in a wide range of applications ranging from solar cells to sensors capable of detecting a single molecules of toxic gases. The challenge is adapting the sensitivity of the graphene layers for photographic purposes.
The patent application calls for a image sensor comprised of one or more photo sensing layers of graphene. The graphene will absorb photons effectively in visible, infrared and ultraviolet frequencies. The improvement in low light performance rests with the transparency of the graphene layers. Only 2.3% of passing light is absorbed by the graphene layers, filtering light more evenly across the light spectrum.
We should see lower manufacturing costs, due to the lower materials cost, and an overall smaller sensor with the graphene. While the technology is promising there are still a lot of questions to be answered as this new photon sensing technology emerges. What type megapixel count are we looking at?
While Nokia seems to be getting a handle on things with the patent filing, I don't think we'll see graphene sensors any time soon. Still the prospect of a smaller, thinner high resolution sensor with better low light performance does sound very appealing. We could see that 41 megapixel camera easily fitted inside the form factor of the Lumia 9xx phones. Now if we could just get a mechanical shutter....
If you're feeling adventurous, you can find Nokia's patent filing here at the U.S. Patent and Trademark Office (opens in new tab).
Source: unwiredview; Thanks, Miguel, for the tip!
Windows Central Newsletter
Get the best of Windows Central in in your inbox, every day!
George is the Reviews Editor at Windows Central, concentrating on Windows 10 PC and Mobile apps. He's been a supporter of the platform since the days of Windows CE and uses his current Windows 10 Mobile phone daily to keep up with life and enjoy a game during down time.
Can just see the complaints when this comes to future Nokia WP phones.

Well this certainly sounds promising for the inclusion of higher sensors in slimmer profiles... so now we wait and see if it's coming to this generation of WP or if we have to wait. I know I won't be the only one disappointed if they don't include it in this generation and turn around and release one in the spring.

Dude you just find out about this and you already disappointed? Relax, damn...

im glad they are patenting it as samsung cant copy apple no more and htc is getting desperate and apple see it and try to patent it and say they came up with it.

Damian Dinning is the 'imaging guru' for Nokia and is responsible for the 12MP/imaging quality in the N8 - imaging quality only recently superceded by the imaging in the 808.

He and his engineers created Pureview and there is no doubt in my mind that they would cease trying to refine their technology and leave the only iteration in the 808. Actually, I expect continuous refinement of the imaging technology especially after what Nokia didn't quite accomplish (according to what I've read) with the imaging for the Lumia 800/900.

@phonedaz is his twitter handle for anyone that wants to follow him/tweet regarding Nokia imaging and Pureview.

Update: So, wow! Just as I was typing this, Rich posts an article regarding Damian! I'll leave my post anyway :)

I've been following graphene for some time now and it's amazing how nokia can use it with cameras. Way to go!

Petition to save the hump and Xenon flash in upcoming Nokia Windows phones.

A little off topic but Apple pay attention. This is how actual patent filings look. Not that crap I've been seeing all over the news.

Apple is busy patenting 6 rows of icons ...
Windows Central Newsletter
Thank you for signing up to Windows Central. You will receive a verification email shortly.
There was a problem. Please refresh the page and try again.