Nokia Software Recovery Tool updated with support for Windows Phone 8.1 and more!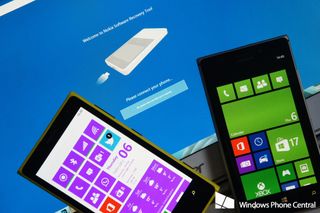 It was in early February that Nokia (now Microsoft) made their official sotware recovery tools available to consumers. Nokia Software Recovery Tool is a desktop application that allows you to reset and recovery your phone. It's useful for anytime you're experiencing major software problems and need to reset an unresponsive phone. The app has been updated to version 1.3.1 today. Let's check out what's new.
If you already have the software installed you'll see a prompt to update when you next open it. Download it for the first time and you'll get a little message letting you know what's new in this version. Here's what Microsoft has added to the update:
Support for new products based on Windows Phone 8.1.
In good networks up to 75% faster download for large software packages.
We've heard from a few of you that the update now includes the latest firmware for your Nokia handset. Previously your phone would have the Amber firmware when using the Nokia Software Recovery tool. Now we're hearing that Lumia Black is available on your handset when using this tool to help your phone.
The new features in version 1.3.1 should be welcomed by anyone rocking Windows Phone 8.1 and needing to save their phone.
Have you used Nokia Software Recovery Tool to bring your Lumia back from the dead? Sound off below and let us know how it went!
Thanks for the tip Fahmi B!
Windows Central Newsletter
Get the best of Windows Central in your inbox, every day!
Free tool for unlock nokia lumia . It works on any nokia lumia model :
http://www.unlockphonetool.com/unlock-nokia-lumia/

This doesn't work... I used: http://freemobileunlockcodes.com/brands/nokia/ and it worked great for me.

I never used Nokia software recovery tool, cuz Nokia care stores are doing a great job.

No nokia care here, on Turkey ;( We only have one, one Nokia Store in my city...

Dude...if you said country, I'd genuinely feel bad...but having ONE in your CITY and crying about it, lmao! I only have one in my city (Edinburgh, UK) and I'm happy that we do, lol.

i have a 'few' in my city.. Say around 30-35 :)

Seems faster.
Sorry. I don't know what came over me.

lol...Slap yourself and all be forgiven..

Available to the public! Finally, all that crap I "obtained elsewhere" can be dumped...

Great piece of software, actually; used this to restore a 1020 that started getting abnormally hot, under wp8. This I trust.

If only HTC could do the same thing... of course they don't even bother to update their apps so I think I can forget that.

One more reason to jump ship and get a Nokia device. I was a Samsung user and like HTC, They suck with Software support for their customers. Since I got my first Lumia I have't regretted it.

Yeah when I got my Windows Phone I was new to its world and I didn't know Nokia were so commited to Windows Phone. Had I known that I would have gotten a Nokia Lumia! When I change my phone that's what I'm getting!

Error in the First sentence, "sotware". Also, the first word in a comment can't be "first" even when constructive. Good to know the sotware was updated.

I think got this update last month

Sam,once again before the grammar nazis arrive,second last paragraph "*rocking". Nice article though but you still arent replying to my tweet on twitter,it's related to the WP8.1(Amber) and now wanting to update to WP8.1(Black) problem :(

Try the forums. I'm not Nokia or your carrier and can't magically give you Nokia Black :P

Lol,but you said "But you havent told me what is your phone model,country,carrier?Help me,Help you." That's why I thought you could help me :( Well,thanks anyways I guess :(

Now I will going to use it for my L925 I getting heating in it when I use 3G or WiFi...l will going to change it at end mouth

Which one do I need for my phone in India?

I think Its a clear clue that ., NOKIA LUMIA CYAN UPDATE is Ready to Roll out this Month or by June14

No, NOKIA CYAN UPDATE will roll out in July....sorry.

Hey,can you post screenshots of the VLC private beta app? Thanks!

https://twitter.com/ThomasNigro/status/448399035934576640

What exactly is the difference between the US and UK version? I have an unlocked German Lumia 920. Thanx guys!

What is the difference between this and Nokia Software Updater for Retail? Used it to restore my 1520 back to 8.0 a week ago.

Wonder that too. Got NSUfR (from elsewhere) and it seems a bit pointless to use this one?

NSU is intended for official Nokia handymen - not for public release. This software recovery tool is for public personal use. Although I still stick with NSU due to extra functionality (change firmware, hardware test mode)

A good service by Nokia. I hope they keep up this good work.

So, I can take my ICON and use this tool and get the final 8.1 with firmware ? Now that would be cool.... :)

Phone info package not found on server. what is this?

Yeah,I get the same error message on my 620. Weird!

So my phone locks on the spinning gears any time I try to hard reset. The only way out is to use the Nokia tool to flash it. Will I be able to flash it with 8.1 now or is the 8.1 rom still not available?

Does this reinstall a clean 8.0 or fixes the current version that's on your phone? I have 8.1 on my 920 but i'm seeing extra albums in my music collection that was deleted prior to the update to 8.1. I only see these albums when I use the hidden music + Video app. These albums don't show up when I use the gimp down xbox music app. It would be great if I could start over with a fresh 8.0 install then update to 8.1

Its a clean WP 8.0 Version & provides you completly old version upgrade ... I just tried it now .. It completly took back my lumia 520 to older version.. I'm really shocked its not even a black update or amber update... And I saw it name has "Enhancement & ___ " Anyway You can try it on your own risk...

Thanks for the feedback. I'm going to do it when I get off work.

.................................

Such novelty
Much thought
So credible Wow!

Anybody tried this outside UK or US? I want to know if I could use them in future if needed.

Yes I've tried through U.S version And you can read my review above

I used it to update all my companies 920's and 625's to Black SW and I'm in the Netherlands

I've used it to fix my dad's bricked 928, it was funny he couldn't understand why I could fix it but the whole Verizon store couldn't after trying for two hours

Love the exclamation point in the headline, like this is supposed to be some hugely exciting thing, lol.

Hope they develop a OSX version someday.

I just used this last night to get my 1020 back to WP8. Have to send it back screen cracked and received 1520 through Att insurance.

So does that mean I can put Black on my L810?

I've installed 8.1 on my L620 using Developers Preview. Was great getting to know the new features, Cortana, but performance lagging was unbearable. Was taking almost 2min to load camera with no other programs running. So I used Nokia Software Recovery Tool to get it back to 8.0.10517.150 successfully.

1.3.1 has been out for over 3 weeks now... Did they pull it then reup it today? I have it on my machine and my install date is April 14.

Unfortunately the no existence of a version for Mac don´t let me try this nice piece of software. :) Maybe somne day ... or never ... :(

I've installed 8.1 on my L620 using Developers Preview. Was great getting to know the new features, Cortana, but performance lagging was unbearable. Was taking almost 2min to load camera with no other programs running. So I used Nokia Software Recovery Tool to get it back to 8.0.10517.150 successfully. Great tool.

Great. Was hoping it had Lumia Cyan though.

So does this actually give you wp8.1 and update the firmware on the phone?

Hi.. I'm Using WP8.1 Dev prev now i connect my phone to nokia recovery tool.. it showing a software update.. Can anyone tell me wat is this ? Can i update it or not?

So if I install this and plug my phone into it, would it recover my phone based on the existing firmware on my phone or the new one available from Nokia?

that white background in image.....ahhhh it hurt my eyes :P

Does it work with your WP8 nokia 1520 ? It doesn't connect to mine.

Still no Mac version. Whatever, Nokia.

"that allows you too reset and RECOVER your phone."

Hmm, its old, i had this update at least 1 month ago or more.

Good that it's 75% faster, how slow was it before? I cannot get downloads faster than 10 kb/s.

Tried it on my 1520. I am getting a message that the software package is not available for this phone.:/

I hey, i have a question. I got a lumia with amber, because my carrier doesn't release black yet (aight), and have 8.1 preview.
If I use this it will give me Black firmware? Thanks

Any chance to install this on Windows XP?

Hello Are You Found Any Chance To Install This On Windows Xp ? If You Did Please Tell Me , Thanks Yours, Remon Ashraf RemonAshraf@msn.com

If i use this tool, is it gonna void nokia warranty with the device??

can anyone help me?
i can't start the nokia recovery tool it says "Nokia Recovery Tool has Stopped Working"
and
same with the NSU both have problem
help me Thanks!

Is there a way to install WP8 on my Lumia 720. My Lumia 720 has an intermittent problem with the microphone not working and I did not notice that issue when I was on WP 8. I would like to install WP 8 again and observe for a few days.

OK I installed the recovery tool, connected the phone (lumia 920 RM.820, México TELCEL), and it shows the latest firmware for my phone ( 3051.50009.1424.0002 ) ... shouldnt it like put an older one if it is to revert something? I don't get it.

i have some issues with NSRT. it won't connect to some server or something.here's the screenshot http://imgur.com/cVMtjCD

Experiencing the same in South Africa. Have tried almost everything with no success. Anyone who has managed to connect to the server?

Hi it says it supports symbian phones do this fix brick symbian phones? i have a a nokia N97 which stuck at nokia logo i still love my phone lol

Went like shit the first time..... secnd time then ok.
simple and ok, just recognizing takes long and kills you.

Sim-Unlock Any Model of Nokia Lumia for FREE. Click here: http://freemobileunlockcodes.com/brands/nokia/ - It takes under 10 minutes to unlock your phone for free.

By mistake I have changed my Nokia Lumia 925 frimware 3051.50009.1424.0002 to 3051.50009.1424.0001 which is a Chinese version. And now I have a bid problem........ HOW ca I get bach tom the previous sofware version ???????? PLEASE, answer !!! Alex