The unique NuAns NEO with Windows 10 Mobile is headed to Kickstarter for a worldwide launch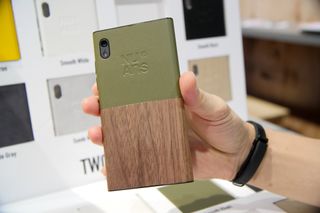 The NuAns NEO, an incredibly unique Windows 10 Mobile phone that is currently only available in Japan, is finally set for a worldwide release. Starting the last week of June the NuAns NEO will launch on Kickstarter, allowing interested buyers to pre-purchase one of the phones.
From NuAns:
If you're unfamiliar with the NuAns NEO, the phone features swappable "TWOTONE" covers, allowing you to choose among an incredible number of different textures and colors for both the top and bottom of the phone's back. NuAns also offers Flip covers that will automatically wake the phone when opened.
For specs, the phone features a 5-inch 1280x720 display, a Qualcomm Snapdragon 617 processor, 2GB of RAM and 16GB of expandable storage. We assume this global version will support most GSM and LTE bands, but we'll have to wait until final details are revealed.
The phone also supports Continuum and carries a USB Type-C port on board.
Unfortunately, a price and final launch date aren't yet known. However, we can expect to hear much more when the NuAns NEO launches on Kickstarter at the end of this month. For now, be sure to check out our hands-on with the NuAns NEO from CES in the video below.
We'll keep you posted when the Kickstarter goes live in case you are interested or you can read more about the NuAns NEO on their website. Speaking of, for the right price would you buy a NuAns NEO? Let us know!
Dan Thorp-Lancaster is the Editor in Chief for Windows Central. He began working with Windows Central as a news writer in 2014 and is obsessed with tech of all sorts. You can follow Dan on Twitter @DthorpL and Instagram @heyitsdtl. Got a hot tip? Send it to daniel.thorp-lancaster@futurenet.com.
Jolla fat edition. Btw, have you seen the Jolla C?

What?
Did you read the article?
This is a Windows 10 mobile device.

Very interesting! The only prblem is that since January the price of the 950 as droppe dramatically, so we will have to see how they price his

Depends upon where you are. The 950 is still about $850, with tax, in Canada.

whoa! thats a top of the line android phone with lag.

I will buy one if all parts of this phone are designed and manufactured in Japan. It will be a truly unique phone and it has been long time since I owned "Made in Japan" gadget.

There's no way every part would be made in Japan even if the phone was assembled in Japan, which I doubt. I do have a Panasonic digital camera made in Japan, though.

High end G-Shocks are made in Japan.

Got this link from their website Says handmade in tokyo http://trinity.jp/products/simplism/neo_gramas/index.html Posted via the Windows Central App for Android

It may say "made in Japan", but....many "Swiss" watch brands, excluding the obvious ones, only have to have a small percentage of Swiss made parts inside. It could be the housing or the strap. As long as "some" of it originates in the country marked "made in", the rest of it could be cheap, nasty Chinese parts.

Wikipedia: Swiss watch[edit] A watch is considered Swiss, according to the Swiss law if:
its movement is Swiss and,
its movement is cased up in Switzerland and;
the manufacturer carries out the final inspection in Switzerland Swiss watch movement[edit] A watch movement is considered Swiss if:
the movement has been assembled in Switzerland and,
the movement has been inspected by the manufacturer in Switzerland and;
the components of Swiss manufacture account for at least 60 percent of the total value, without taking into account the cost of assembly.

How could parts be nasty? They were always nice to me...

Nice, I might have to pick one up. I couldn;t see them anywhere when I was in Japan, hopefully they have better luck internationally

Wait guys everyone knows Windows Mobile 10 is dead! (insert sarcasm here)...now queue all trollers! ;)

Queue is a line of people waiting on something. Cue is a signal to take action. Either one could work here, I think OP meant queue as in they can all line up beneath his comment.

Trolls* Posted from my Lumia 950XL

First time I have watched this video, seen the photo's and wasn't so sure, but these actually look very good indeed when running continuum too!!

The glass screen looks very nice. Though this phone makes the old Nokia Lumia polycarbonate bodies look anorexic in comparison

I will likely. Would be a no brainer if the display was at least 1080.

I disagree and think that the resolution was a good choice if the price follows it. And for the performance, this phone is gonna run very fast.

Well having 1080 would make it easier to switch from my 950. Would be like going back to the 920's display again. After having the HTC M8 in between this two, that phone had stellar battery life and display and was priced as a midrange just a few months after launch.

I see, but it is not a phone to replace a 950 which obviously is way better in all the specs. However is a great deal if you have a 640 XL or a 830

In terms of style it is an upgrade from the 950.

You got me excited for a sec when I see "1050"...

YESSSSSSSSSSS!!!!! Great news! I wonder other than the bands if anything will be different.

This phone has a really Nice design Too bad its a step back in specifications if you come from a lumia 950.

This will be interesting to watch. Time to see if the few remaining WP fans/users will actually put their money where their mouths are...

Why would I "put my money where their mouths are" and buy this when I have the best phone out there - 950XL? Oh, I know the answer, you are just trolling, again.

Maybe you should go read the article when they said this would NOT be sold outside Japan. Since apparently your memory is like your intelligence: very very short.

Don't make yourself look even more stupid. It's a waste of time (and mine, replying..)

How do you know where I live, where I visit, what I do, what my ethnicity is? The fact is that I occasionally go to Japan for business, once every couple months. But you would rather make bigoted assumptions about me. I disregarded where it would be sold because I saw the specs on the phone, it doesn't match what I have and is closer to an iPhone or Android phone, which I do not want. And of course you need to throw in the usual personal attacks because you do not know my situation. You, knowing damn well that it would not be sold outside of Japan, made your usual troll comments to try to generate controversy, and relied upon exploiting race to make your point. So now not only are you a troll, but also a racist.

So you are so smart but fail to understand that what was interesting at launch might not interest people anymore since the 950 is now very cheap? It was an attractive midranger when there was no midranger, now the 950 filled that hole so the audience will be smaller, duh!

Yes he is. Even an obvious troll. I thought DJCBS was smarter.

How could you even think that? :D

How about you put your comments where your mouth is?
www.androidcentral.com that way -------> Sent from Bikini Bottom via my ShellPhone 950 XL

Perhaps you should think twice next time, before you type idiotic comments (though I guess that'd require a brain...so I'm sorry you're unable to do it) http://www.androidcentral.com/users/djcbs

Stay there, then. Hit the road, Jack, and don't you come back! :)

Im not going to... Im waiting for that kick butt Nokia Androidz phonez... that is going to kill it yo! Coming to you from my Nokia Andryod Phone

Why? You never heard about other W10M phones? Rhetorical question ;)

To those of you with selective-amnesia... http://www.windowscentral.com/poll-buy-nuans-neo-phone-windows-phone ;)

You're a little virus yourself. Be gone, troll.

I wanted one a while ago, I thought it would be a neat phone for the wife as she would be more interested in the potential covers, but now I ended up getting her a 950 with a $2 lavender pink rounded aluminum case lol. And she's happy. So it's not like I feel like taking a step backwards either in terms of spec. Personally, I'm more interested in the Elite X3 package and what that turns out to be. I can't say I know a lot of people that would be wanting to jump in with a windows phone. I know some who would like to just try it out though... yet actually go out and buy a decent enough one to get a decent experience? I dunno. I do agree it will be interesting to watch how the kickstarter goes. Windows fans can't buy everything....

Jeez you guys are too harsh with djcbs... He's critical where he needs to be and has usually had relevant points to back his opinion. We ought not to get too butthurt over what he says... Posted via the Windows Central App for Android

I agree rianext. Just because we may not like what DJCBS says doesn't qualify as trolling.

Although I don't agree with all of DJCBS comments, I think he's got a point most of the time.
For example his strong negative view (I agree with) on Nokia's transaction. In my view the only real values in the old Nokia company was:
1. Brand
2. Patent's
The deal was shockingly bad. It didn't include none of above.

Its one of the biggest blunders ever. Two years later and MS has *nothing* to show for it. Everything and everyone acquired has been sold off or let go to the tune of billions in losses.

I think what people are overlooking is that on the outside it may look like a bad deal but MS did come away with all those patents that no other company can acquire now....

But he posted a comment saying why should we bother when it's not coming out of Japan in an article about said phone coming out of Japan via Kickstarter. That ruffled my feathers. Should have posted that "oooo controversial statement incoming" comment on the VAIO Phone Biz article instead where it might've been at least half-right. P.S. I didn't downvote him, and I agree with some of his points at times. This is not one of them.

I see that now that it is time to put their money where their mouths are they're coming up with excuses as to why they don't want this phone anymore. Classic.

We already bought 950 XL's, we arent due for a new phone for two years

Look's like a brick... to bulky

The guy on the video sounds like Borat. Also Nuans is an anagram for annus. Not sure if I could live with that..

I mean, if you're bad at spelling, sure.

Any word on release to Kickstarter for this phone yet?

I live with an anus every day. Posted via the Windows Central App for Android

It looks like the 920. Which I still think is the best feeling phone ever made. Every time I switch to my 920 during a late day battery situation, I'm reminded of how well that phone was designed. I don't think this phone is any more bulkier than the 920.

Would love yo have one "when in India" :)

I wouldn't buy this or any other Kickstarter product. I'm too wary to throw away my money on failed Kickstarter campaigns. Posted via my Moto X Pure Edition using the Windows Central App for Android

This is different. They already sell this phone in Japan, they're not going to create it from scratch on some promise. Kickstarter is to reserve one so they know how many to produce vs. committing to production and not selling them/having leftover stock. It's a smart, low-risk way for them to sell this phone globally.

Guess their unaware of the bad rep kickstarter has with fly-by-night campaigns that produce nothing. Loved how knowroaming's campaign was managed

Not with know product like this. I bet they will do well if they have competitive proce and not mess with folks on shipping and handling. Would have love the ram be 3Gig instead of 2gig

Will you please let us know if you find out when this is on Kickstarter as I've been checking since this article and nothing yet, regards.

Doesn't Kickstarter only charge you if the funding goal is met? ----------
I am someone, of the 2639th variety.

People still can lose money if the project fails. They're stuck taking legal action themselves. Kickstarter won't get involved. https://www.kickstarter.com/terms-of-use#section4 Posted via my Moto X Pure Edition using the Windows Central App for Android

If this comes to India, it should be priced between INR 12,999 - 17,999.

It's not coming to India. It's a Kickstarter. If you want one you reserve one at their price and they will put it into production.

would they ship to india if i reserve one?

Worldwide, probably Posted via the Windows Central App for Android

It should not come to India. It's price was $350-400, so that would be above ₹25000 here. Whereas, the Xiaomi Redmi note 3 and the Le Eco Le 2 are available for just ₹12000. It would get lost in the market without any fanfare. Shipping individually makes more sense, though I'm still not sure how many Indian people would buy it considering the already high price and the inevitable import duty.

why it had to be a midrange? whats the point of lower end phones? they all drop to half price in less than a year specially for wp, that 950 on ebay will probably sell for less than this and offer away better value

Is anyone seriously thinking of choosing WP for their next phone?

I will continue to use WP for my next phone when a successor to my 950XL is released. Just because you may not like them doesn't mean that other people don't find the features they offer much, much better than the competition.

There is no succesor to the 950xl. MS is done with phones. The one good thing is that the 950/xl is still a NOKIA at heart so it will last forever, and is the busienss. The one bad thing about the 950/xl is that windows 10 mobile will be long gone and kaput before your 950xl is. Shame MS has such a dim witted CEO and leadership team!

Don't get me wrong. I think the WP has a lovely ui - the best, and I've never not had a Nokia, but you're in denial if you think MS aren't heading for the exit. The App makes know this and are departing, all my work related apps are only on ios - there really is no point staying.

Do you always ask rhetorical questions? And by the way. It was WP. It's a Wp or W10M now.

Yea there's no reason yet for me to NOT get another windows phone after my 950XL

Yep, count me in as well.

Yup definitely :) Posted via the Windows Central App for Android

Yes, there is no other phone for me.

Since BBOS is dead, W10(M) is the only option left for me.

If a good mid-range WP comes up in India, then yes. For the 650, absolutely no way.

Of course. They are nice phones with a unique aesthetic that are cheaper than the iPhone, get regular updates - unlike most Android phones - and they work beautifully within the MS ecosystem.

As long as I can keep finding new 1020's on eBay!

Serious questions, What make you stay with 1020? Are you on 8 or 10? And is there a HDR option to go with the 41mp? This is the phone I always wanted.

For me it's the zoom and reframing capabilities, plus double-tap to wake. These features are crucial for me and missing from the 950. I'm still on WP8.1. I don't know what HDR is (much of this camera's capabilities are lost on me).

Seems the URL link is incorrect. It's currently nuans.neo.jp should be neo.nuans.jp Anyhow, was really waiting for this Phone. Thank you for the heads up WC! :)

The link does not work. This link works http://neo.nuans.jp/design/?lang=en

Awesome! We need more phones like this! The smartphone designs is starting ti get stale with sameness full silvery metal everywhere or plastic with similar generic design theme. Hopefully it wont be that costly to get this internationally.

Hi guys, from the specification this obviously is a mid range product already available in Japan. Don't think we should compare it with a flagship.
Those who would buy a mid range Windows phone should be their target.
Lumia never released one x50 mid range device anyway.

Always good to see that more phone manufacturers are adopting this beautiful , very esthetic WM10 phone OS .

the url directing to the nuans neo website is wrong.. https://neo.nuans.jp/?lang=en

I'm interested! Posted via the Windows Central App for Android

Read it as Anus at first.

For the right I'd like to have me one. It looks like it strikes the right balance of form and functionality and with the snap dragon 617 it is a true mid ranger

11.3 mm. That's one thick phone by 2016 standards. .5 mm thicker than my old Lumia 920. My first reaction to this two-tone cover thing is that it seems gimmicky, and it's ugly. Wish them a lot of luck though. :)

For 300 USD I would highly consider this, taking into account that it is made in Japan.

Can someone please make a kickstarter for a 4,3" Windows Phone with Midrange pecs? Even having a Lumia 950 now (Continuum is working so great), It's just too big and i miss my Lumia 820 every day.

Interested in this phone...might recommend it to a few friends looking for midrange wp if the review and pricing is good...

It's nice to see a new case design for Windows 10 mobile smart phones. Windows 10 moblile smart phones is not dead. 4 continuum capable Windows 10 smart phones are going tobe in the market place in 2016. I would buy one with fold around case design or go top and bottom wood case halves. if they come to the Staes they will sel well

I want one of these anus phones. Very unique.

Given the core specs is it asking to much for lte-a(aws 700 2600) given it is midrange Android that have it

Oh. I thought it was an established company. Posted via the Windows Central App for Android

"I've got the new AnusN Neo guys."

Gorgeous device, too bad Ms doesn't gives a flying quack about their platform and QA is total crap!

This is a wonderful lifestyle focus device but with the 950 costing as low as 350€ in some cases It is hard to justify a purchase. Let's see how much it will cost. Unfortunately MS not only ruined its mobile chances, it also set a dark pit for its mobile partners to fall in... pathetic.

These are awesome. If they were to apply a Microsoft logo on the back and they would be perfect.

I'm humored he is rocking an Apple Watch.
Nice phone though. My only problem with modular is more dust and dirt in phone and seems backwards when newer phones are becoming more and more water resistant. Posted via the Windows Central App for Android
Windows Central Newsletter
Get the best of Windows Central in in your inbox, every day!
Thank you for signing up to Windows Central. You will receive a verification email shortly.
There was a problem. Please refresh the page and try again.