The super-unique Nuans NEO Windows Phone may be getting a global release after all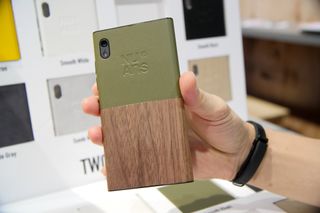 Japan has been picking up a few interesting Windows Phones lately for the Windows 10 Mobile push there. Recently we saw VAIO announce a new phone, which won't be released in the U.S, and before that it was the Nuans NEO from Trinity. That phone with "unique 'TWO-TONE' interchangeable covers that provide a more organic feel due to their more texturized materials".
An email from Trinity claims they are now working on a global version of their Nuans NEO for markets outside Japan.
In our poll asking if you were interested in the Nuans Neo come to the United States, India, or EU, close to 75% of the nearly 2000 respondents voted that they were. Trinity, it would seem, has also seen the notable interest from potential international customers. In an email reply to a Windows Central reader, a representative from Trinity wrote the following:
Currently, the Nuans NEO only supports radio bands in Japan and will likely not work on many carriers in the US, Europe and other locations. As a result, Trinity needs to rework the hardware with a global radio, something which can take a few months.
About Nuans NEO Windows Phone
Windows 10 Mobile
5-inch 1280×720 display
Qualcomm Snapdragon 617 processor running at 1.5GHz
2GB of RAM
16GB of storage, with a microSD card
13MP rear camera and a 5MP front-facing camera
3,350mAh battery
USB Type-C connection with support for Qualcomm's Quick Charge 2.0 technology
Also, Microsoft has recently announced Continuum support for the Snapdragon 617 processor, making the Nuans NEO likely to feature the big-screen PC/phone experience.
Image 1 of 4
The phone sells for 42,700 yen ($378 USD).
Trinity will be at Mobile World Congress in a few weeks and perhaps there they will announce officially their plans for a global rollout of the NEO. We'll be on-site to cover any announcements they may make. For now, you can see our hands-on video of the Nuans NEO from CES back in January.
Thanks, k1s23, for the email and tip!
Windows Central Newsletter
Get the best of Windows Central in your inbox, every day!
Daniel Rubino is the Editor-in-chief of Windows Central, head reviewer, podcast co-host, and analyst. He has been covering Microsoft since 2007 when this site was called WMExperts (and later Windows Phone Central). His interests include Windows, laptops, next-gen computing, and for some reason, watches. Before all this tech stuff, he worked on a Ph.D. in linguistics, watched people sleep (for medical purposes!), and ran the projectors at movie theaters because it was fun.
It's raining Windows phones

Thusharaya owes you 10 bucks

More like a drizzle. But this is good. Even though some of these pics are horrendous combos. But still a great look for WP growth Posted via the Windows Central App for Android

Well, this phone is different and better specs than many recent WP's so that's good. May not be your choice but may be what others want.

I never said the phone wasn't good. I said even though some of the pics are horrendous combos. Posted via the Windows Central App for Android

@aitt, the beauty of this device is that they are swappable. So you could have a custom case, third party designs etc. Not to mention if you were feeling creative, you could mirror/inverse mirror colour coordinate your start screen with the back covers :P. The possibilities are pretty endless Imo.

I understand that. I never said the combo can't look good. I simply said the pics of the combos they have are horrendous. Posted via the Windows Central App for Android

The phone looks good and would buy it for sure if it's within my budget.

LOL I love to see you struggle trying to explain what you already clearly stated. That's the way of this site, people love to not understand what you write just to argue with you, it happens all the time to me too

I need a net....a huge net!

Get an umbrella from Nadella Posted via the Windows Central App for NES

Raining lack luster spec'd device....

Windows phone doesn't need very high end specs to run well. Android needs only a 410 to run well. I.e the Moto G for example. Heck, it'll run well on one GB of RAM if you're not running anything too large on it. Of course, for that to run well, it would need to be well optimized. Windows phone will run pretty consistently across the board, even with the lower end. With Android, you really have to watch what you buy in the lower end. If it's a Samsung lie end Android, you may as well have bought a ****. They run horribly compared to the Moto G, which is much more optimized because it runs near stock. Windows phone is the same across the board because Microsoft is like Apple when it comes to control over the OS. They're like Apple but better. So just because the specs don't match up to Android specs isn't a bad thing. It's because Windows phone doesn't have to. That doesn't mean Android is heavy, they just don't have as much control over the OS. Therefore it makes it harder to make it run well. I'm actually surprised that Android runs as well as it does now. Posted via the Windows Central App for Android

Sorry, but that's one ugly phone!

It's huge but in a good way actually. It probably feels a lot better in hands than a 930 or 950. Ergonomics where a key point in the design of this device.

Yeah, it doesn't look like its huge. It's actually slimmer to any phone with a case convered on it.

Major design fail. Looks like it was wood but they dropped it in paint. Go home Nuans, you're drunk.

You need to check out some of the other combos. There is a black suede/wood that is stunning.

Beauty is in the eye of the better phone holder. The specs are better than most other WP devices at this price point and there are multiple case options. I'll take one in matte white and dark grey, thanks.

It's like a chunk of wood. 11.3mm thick? I'll keep my 950XL thanks.

11mm may be thick compared to recent, unergonomic phones but it is much more natural in the hand. The only plus side of a thin phone is no pocket bulge. Why aren't game controllers thinner, or steering wheels, because poor grip posture is bad for your hands.

Exactly! Like 1-2mm will kill anybody. I would rather take that extra 335mAh with additional mm, than slimer phone with smaller battery. But he just wanted to piont he has 950 xl ;-) Posted via the Windows Central App for Android

@920Walker, this obsession with thin phones has lead to era of dimishing returns. Apple found out the hard way. It's only a few mm not cm, which some act it is like. I'd rather have a thicker phone that holds a big, chunky battery. As since battery tech is lagging behind everything else.

Also its quite funny to read now that some Lumia people became so proud with the thin phones when Lumia used to be one of the phones that are thicker/chunkier than the most flagships. Having thin phones isn't bad but it sounds hypocrite that we even criticised thick phone when not long ago Lumia was like that. Anyways, I really hope there will be a major improvements in battery tech soon. The phones already reaching the limit that despite of demand on usage, the smartphones still can't last more than 2 days or 3.

Thickness, bezels, weight are the least important specs that for some reason many judge a phone by. I agree, give me a larger battery and thicker screen if it adds 30g and a few mm. Pretty soon we'll be holding giant credit cards to our ears, uggh.

Good. There should be more offerings by more manufacturers of phones with good 720p screens and big batteries - the combination makes two-day battery life easy even with a fast processor.

Yeap, looks like a turbocharged 830 cause it has the same 720p 5" display specs and around the same level SoC but the battery is 1Ah bigger lol

SoC is much better on this phone.

Hahah no the specs are way better. Including 2 gigabytes of ram and a better and faster processor Posted via the Windows Central App for Android on my Lumia 950 XL

I was just about to say the same thing. I smell something fishy here. Posted via the Windows Central App for Android

Yeah I would have preferred VAIO to go global but.... This is also nice!

They will probably follow Nuans NEO's foot step down the road.

"a few months" At which point it will be too close to the Surface Phone and other MS hardware refreshes, most likely. That, and Android devices will already take a lot of the potential customers.

What hardware refreshes'?
And since we now next to nothing about the surface.phone we can't say if it will be direct competitor or not.

It won't be a direct competitor, but this is the kind of phone that I think many would tab as a tide-me-over device, or something to settle on. As for hardware refreshes, I mean the devices running the succeeding chip to the 617, and the releases of the new Android devices will drive down the prices of their predecessors, so something with the SD 810 (or Exynos equivalent) will have dropped in price as a more-powerful alternative, and that could very well include the Lumia 950 family..

It took MS three years to replace the 920 on AT&T, what makes you think they are replacing the 950's in under a year?

Well, the landscape is quite different now. Microsoft's obviously not playing dumb games with Verizon again, so there's not going to be a 950 successor that's exclusive to Verizon, like with the Icon.

Do you really think they will get the Surface Phone out this year? Early 2017 is a best case scenario. Likely, they will not have something ground breaking and will kill it like they did McLaren and Surface Mini. I would be surprised if it has Windows 10 Mobile as we know it. I bet it will be completely different if they ever do release it. Otherwise it will fail just like every other iteration. Posted via the Windows Central App for Android

Well, call me when there's something sourced in your statement. This site has stated the intent for the Surface Phone is something for this fall, and my assumption would mean a launch next to the other Surface devices.

Great! Can't wait for your review of the device. I'm especially interested in its battery life.

The thing about this phone is it's different and I like that. Decent specs as well

Nice with choices but what an ugly choice.

Interesting assuming it is released elsewhere. This seems like a good midrange phone. At this size, price and specs it would give an upgrade option for Lumia 830 owners. Of course that assumes someone is willing by a phone from a company they haven't heard of.

I have an 830, and trust me, I would make the switch. It's a leap of faith, true, since its a company I've never even heard of. But it seems okay, I'll give it a shot. Maybe watch a review or two first though

Look at the design, you know it is not a 'me too' clone company. It is unique and daring. It should do well. They don't have to worry to compete with L850 either, because it ain't any.

If they are committed and support the device well, this will probably be my next one.

Neat! Looks cool. I might snag one. :)

This is fr**in good news!!

Definitely an interesting look. No doubt Verizon will not carry it...

Would be my next phone if this Congress out in the UK. Love the design

looking forward to hearing more about this one nice to see something different.

What is the cost differential between a "Japan only radio" and a "Universal radio"? I would think it is so low that it would always make sence to use the universal radio. There may be issues such as power consumption that I am not aware of.

I hope they do for no other reason but to maybe quiet the "midrange" call. But having said that, I myself would like to see how Continuum feels at its lowest processor and cost point.

I bet it feels the same, same as you could run it from a pair of xeons, unfinished software tends to do that

This is a mid range. A true mid range. Not like the Lumia 650 which is not Posted via the Windows Central App for Android on my Lumia 950 XL

Any new phone should help uptake of WM10 one way or another, onwards and upwards !!!

I might get this phone just because. Never been more bored with a phone than with Lumia 950

Signed:
Daisuke Kitazawa I wonder if she sometimes goes by Daisy.

WP is crying out for SD6XX options in the west, priced right it would have no competition.

OMG!! SUPER MAGNETIC NEO IS BEING RELEASED GLOBALLY!!!!!....wait...I misread the title...nevermind.

I like the flip cover, almost tap to wake. Good size, needs a camera button and a lanyard.

Whoa, only 75% of fans on this site expressed interest. Isn't that kinda low? Posted via the Windows Central App for Android

Because trolls like you are allowed to vote also

I think it looks nice....price seems to be reasonable

Can't choose between all-yellow (looks so great from the front, almost like a Lumia and Blackberry Priv lovechild,) white top w/ dark grey suede, or white flip case. It's a really good looking phone. If it becomes available for the US, I'll definitely get one. Especially if it can do continuum; I'd love to try that out.

White top, dark grey bottom for me. Need to find camera reviews, but being from Japan not concerned.

It's an awfully tempting device. Continuum and the ability to change looks with so many possible combinations. Like it. And with 3350 mAh it could be an endurance champ.

The line where the two materials meet is extremely ugly though. In architecture we say: even is uneven.

Well, it does leave room for other case designs :p

It's merely,a prototype now, so the lines may be more polished in the retail product. However I'm worried that the gap in between will let lots of dust and rubbish into the interior of the phone.

Hope they will refine the design of these cases to at least reduce the dust sipping through the gaps. At least for now we got an interesting looking smartphone in the sea of sameness.

So create some sort of beading and sell it to your friends here at WC :)

Can you use the trinity NEO with Sony's Morpheus?

I have mixed feelings about a phone with a logo that almost says ANUS.

I hope they make a Verizon version of this smart phone I would buy it. There willl be 3rd party developers who will make some nice new top and bottom peices for this smart phone. some tech writers are calling Windows smart phones dead but the truth is Wiondows 10 mobile smart phones are the best smart phones to work with the huge Windows 10 desktops, laptops and Windows 10 tablets that are 180 million strong and more are coming. with Universal apps which are growing in number Windows 10 mobile smart phones will get more apps and will survive although their sales mauy be small. Microsoft store would be wise to sel the Nuon's NEO they will sell very well.

Nice. Interesting 2 tone. Will be interested in getting one.

I really don't like it at all, thick as hell, ugly to watch and even specs, especially the screen resolution, aren't good at all

Please make it high end so I would buy one!

I will wait for this phone! If it gets to Indonesia

I want it *_*
Actually MS should release one such phone with this spec.. But now since I am seeing more brands with such specs.. I think they r keeping this sweet spot for others... I think its tym to embrace others ... I mean WP by Others :D

They need more options of colours and materials for the back I think. Otherwise the phone is pretty interesting and definitely unique

I want nokia as brand name on this

If they put the LTE band 4 I will consider Posted via the Windows Central App for NES

It's a really nice phone, but the specification isn't great, and if it takes them a few months to develop a global version, it will most likely be more or less obselete by the time it comes out.

I think snapdragon 6xx processors can easily support 1080p screen. Even snapdragon 805 shall be a great option, this is an excellent device, and Microsoft should show it some love

How's the camera quality compared to Lumia series?

Without using nobody can tell except the manufacturer

I was one of those voters who used 16 diff devices to vote! :-p) hard work pays off!! And hope VAIO foes the same!!

I hope so it looks like a very cool device

Maaan, I love innovation and these guys are it. Cool factor in bucketloads. Remember when Microsoft launched Hololens, or Surface Book and everyone was thinking whoah, Microsoft are finally sexy. That these guys...innovators and entrpreneurs! Where do I buy one?

Nuans Neo 2 could be nice, if a bit thinner with full HD amoled screen.

Nice phone for a mid. Ram and storage OK. and the cases are a nice option too.

Great comments on here but few celebrating another device on an apparently dead OS. I like the look of these. I like a slightly thicker device as it gives more surface area for grip. I dislike devices slipping out of the hand. I also like a bit of weight. Then again I love my 1320 and 930 for size and weight. If it were thin, I'd forget it was in my pocket....:-(

Dead OS not, but dead ms phone hardware yes

Sorry to kick the dead horse, CAN SOMEONE MAKE A MID RANGE PHONE WITH CAMERA BUTTON?

3rd party on the rise. About time

I would hope they do not just sell the phone but also provide after sales channels in India. Fingers crossed :-)

Can somebody tell me what's the deal with all these new Windows phones in Japan? Why are we seeing so many new models recently in Japan specifically? What are the Japanese engineers seeing in W10M that others aren't.
(referencing http://www.winbeta.org/news/cool-new-windows-phone-launches-in-japan)