Omnia W hits Swedish/Norwegian carrier Telenor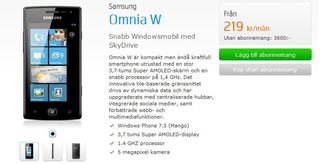 The Samsung Omnia W is now available at Sweden's Telenor. For 219 Swedish Krona ($33.00) you can get one on a 24-month contract, which comes with free data. If you choose to go contract-free, the Omnia W will run you 3600 Swedish Krona ($533).
The Samsung Omnia W is nice handset, sporting:
Windows Phone 7.5 (Mango)
3.7 inch Super AMOLED display
1.4 GHz processor
5 megapixel camera
Source: Telenor; Via: WINGadget.se (Thanks for the tip, Peter!)
And for that sum of money you will get absolutely no kind of useful support from Swedish Samsung!

Stay clear of Samsung in Sweden. They still have not fixed the major problems they have with Omnia 7 - one year after launch!!!
So why risk it. There are better options. NetOnNet (http://www.netonnet.se/art/telefon/mobiltelefon/smartphone/3---4-tum/nokia-lumia800/164796.5765/) in Sweden are selling the Lumia 800!


1. What major problems are those? Apart from one update hanging and which I recieved help from WPCentral forum to resolve I have had no problems with my Omnia 7. Then I can agree that Samsung Support people sound and act a bit indifferent when you call them.
2. Wholeheartedly concur with Bruno H that if you are set on Lumia, your best shot for a Christmas present is to go to NetOnNet and purchase the Lumia 800 from them. For clearification it is simfree but with a start screen for T-Mobile and is pre-set to German. However NetonNet has been kind enough to launch a note on how to change that.
3. To return to the news that Telnor is offering Samsung Omnia W on a 2 year contract for SEK 219/month. They are the only carrier that offers a gen 2 WP mobile. Hopefully that will change once Nokia officially releases Lumia 701, 800 and other versions on the Swedish market
Windows Central Newsletter
Get the best of Windows Central in in your inbox, every day!
Thank you for signing up to Windows Central. You will receive a verification email shortly.
There was a problem. Please refresh the page and try again.