One year later, the Nokia Lumia 520 owns the Windows Phone market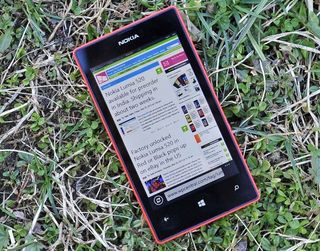 The Lumia 520 (and T-Mobile's lesser known variant, the Lumia 521, in the US), was the sleeper hit of 2013 for Windows Phone 8. Announced nearly one year ago at Mobile World Congress, it seems apropos to see what it's accomplished in that 12 months.
As it turns out, we don't think anyone predicted just how strong the Lumia 520 would have become. Due to its low cost, where it's often found well below $90 off-contract, great build quality and all around solid user experience, the Lumia 520 has become representative of the Windows Phone ecosystem.
While that's noble, it does continue to highlight Nokia's – and to a greater extent, Microsoft's – problem of gaining traction in the high-end market. Indeed, Microsoft and developers were caught off guard, catering to the flagship devices when the ecosystem was driving towards budget phones. As a result, we have far too many top tier games that can't run on the most popular device.
Just how popular is this Lumia 520? Here's the Lumia 520 compared to all of the Windows Phone market share, accumulated by advertising provider AdDuplex (blog.adduplex.com), for the month of February, hot off the presses. (Numbers in parentheses represent change from last month, where available.)
Global 33% (+2%)
US* 42% (+2%)
UK 40% (+2%)
Brazil 40%
Canada 27%
China 12%
France 40% (January)
Italy 30% (January)
India 43% (January)
Russia 22%
Spain 46%
*US market with Lumia 520 and Lumia 521 combined
Windows Central Newsletter
Get the best of Windows Central in in your inbox, every day!
Daniel Rubino is the Editor-in-chief of Windows Central, head reviewer, podcast co-host, and analyst. He has been covering Microsoft since 2007 when this site was called WMExperts (and later Windows Phone Central). His interests include Windows, laptops, next-gen computing, and for some reason, watches. Before all this tech stuff, he worked on a Ph.D. in linguistics, watched people sleep (for medical purposes!), and ran the projectors at movie theaters because it was fun.
I think the so called 630 with dual sim could be a potential winner in India

the 525 considered to be the best smartphone under budget in India.

525 really wins with the 1GB ram advantage

Yeah and think about it after ppl get wp8.1 on it. Wowwwwwww

This is depressing read.
WP ecosystem become synonymous with low end budget phone.
Bottom line is that Nokia got it right with 520. And messed up with 525 which is essentially same phone with bigger RAM.
MS must produce an answer to Moto G. Currently there isn't one.

And yet, the 520/521/525 is outselling the Moto G across the globe. So the reality is opposite to what you're saying. By the way, your statement "WP ecosystem is synonymous with low-end budget phone" is NOT true at all because MS has not abandoned the mid/high-end sector because there's the 625, 925, 1020, 1520 and 1320 for those who want those phones.

This is year MS has to release a Lumia 530/535 in the same price point (100$) dual SIM enabled and I can see the WP doubling until the year's end.

A Lumia 530 with a 720p screen, 1GB ram, and a quad core cortex A7-successor (the A12?) would be killer.

The only important thing: HAS to cost exactly, or lower than, the same of the Lumia 520.

well - i guess double the specs half the price and please more free content with it, right? are the phones not good enough so it is worth the money the cost?

How many people actually use dual SIM? I've never had the need, and neither has pretty much anyone else I've ever talked to. I think I may have one dev friend that uses dual SIM on occasion, but I don't see how that would double their sales (unless I'm missing something, of course)

What country do you live? In developing countries this is pretty huge.

Dual sim phones are very popular here in India...dual sim phones are not so popular in the US but are very popular in India and Asian countries..

Come to India, people would dig a quadruple sim phone if possible. There is a myriad of large scale operators here and intra network rates are dirt cheap compared to inter ones.

In India number portability came only a while back and even today I find it cumbersome. People tend to visit multiple states in country and keep Sims around to avoid roaming. Further the demand is there for cdma +GSM as cdma has been supposedly cheaper. As most people are off-contract, with dual SIM you can flip networks easily having both numbers active while you make the switch.

While not popular in the U.S. (or Europe for that matter), dual-SIM and multi-SIM phones are incrddibly popular in deveoping and emerging smartphone markets (Africa, India, parts of Asia) The reason being is that a family can have multiple SIM-only plans that are very affordable and only have to worry about a single device and can share that device as a family phone.

In India certain carriers allow calls for around 0.01 usd for the minute on their own networks. So if you have the 2 major carriers present in India it basically ensures that your phone bill stays below 10-15 usd.

I would love a high-end dual sim phone.

Me too, I wish this was an option for the next flagship
One primary SIM that is hard to access/remove for my primary SIM and then the spare one that I can use for a local SIM while I travel so I don't have to pay as many roaming fees, especially data.

Awesome!
Off topic but Nokia has released a new exclusive game Nokia modern mayor.posted on my thread "Newly Discovered Games" by Mohammad Ashid.perhaps a review about that,eh??
:) love George's and Paul's articles on games. :D

I don't think Microsoft or Nokia will see it as a problem that their entry-level offering is the most popular. They may see it as a gateway device, with users potentially upgrading to a higher spec one a little further down the line if they're happy with it.

This!!!! The users of 520 are generally the ones who moved from a feature phone so 520 gets them hooked to WP. As the old adage goes 'catch em young' so later they move to better WP phones on upgrade

Yes, I'm one of those that purchased a 521 to see if I liked the WP experience compared to my Android experience. I will be purchasing a higher ended Lumia shortly, because I've really enjoyed the experience.

They need to focus on the Caribbean market as people here are starting to get off Blackberry. Targeting here means that people traveling from the Caribbean region to the us, south America and Europe or to the same may have a better influence on sales if everyone sees them using the devices. And also, seeing as the Caribbean is America's back yard, what better place to capture?

I feel you on that one. Many are going the Samsung route but the L1020 and 1520 is peaking peoples interest. My L820 are making my friends seriously consider Nokia. The problem is that local retailers and phone companies are firmly in the ios and android route with 1 or 2 WP8 models. Microsoft needs to talk with Digicel and Lime to seize this opportunity. Fast.

I have a free upgrade from digicel and would love to go from the 920 to 1520 but wait. There is none :( im going to try and hold out and hope they bring it eventually. I heard they are bringing the 1320 though

can I tell you... I've been waiting and waiting from windows phone from windows phone 7 days... but guess wat?? when digicel finally got windows phone did they make it available island wide?? no... smh... and they still haven't got any of the newer ones L1020 or L1520 and seeing how people are leaving bb in droves now would be a good time for MS/Nokia to step up their game...

I know right. Have been trying to get LIME to run with Windows Phone but unfortunately it's a futile effort.

You wonder why Nokia/Microsoft could not just sell this instead of Android crapware.

Lumia specs are the best we just need more apps and developers.

200k isn't good enough? How do you have more apps and developers with forked Android? I still can't get it.

Given that the 8.1 SDK hints at lower resolutions and price points, I think this is good trend. Android flooded the market via cheap phones and it is a vulnerable foundation given how poorly it still performs on them.

i love my 520 bought it for 60 at walmart on a sale :D it was the last one on the rack tons of the GS4 and 521 gophones though XD

All i need is successor of Lumia 720. Come on Nokia, we badly need successor of Lumia 720.

Obviously Nokia/MS needs to make a Lumia 920 successor. Its the only flagship Lumia with decent marketshare.

That's just a 920 variant. If MS keeps the naming convention it will be 93x.

ICON is not a 92x variant, it is on its own class. The 920 successor should keep the same design, with beefier hardware.

The Icon carries the number 929 for a reason.

What?
Every Nokia Lumia released since two years ago has been a variant of the 920, various mix and match features to hit various price points. There hasn't been a single follow up flagship since the 920. The 1020 and 1520 were both, even by the admittance of most here, niche devices.

I love 525 a lot as it has a better processor and 1 GB ram. But it doesnt have dolby enhancement which I have in my 720. Anyways it still is the best in the market.

I just picked one up with the Xbox music promotion. Basically got it for free.

The 520 really does deserve its success. At $50-60 in the US at least, it's an amazing value. You get a real smartphone experience - almost the same as any other Windows Phone, which is huge. The apps that don't run on 512MB are (for now) relatively few and unimportant. The speed is great - felt almost the same as my 1020 in my couple of hours of playing with it. The camera is surprisingly decent. And the size had me jealous. So much easier to hold and use with one hand than these 4.5 to 5" phones. Build quality was not too bad either. Good luck finding accessories in a physical store, but hey, you can get them online easily enough. Oh yeah, and it works great as an actual phone with clear sound and good reception. Overall, just a great phone at a dirt cheap price. A true smartphone for the masses that isn't crippled by terrible specs or a mess of a UI. If MS could sufficiently address the (still numerous) pain points of WP, while also not screwing up what is actually good about WP, I think devices like this could really take off.

Agreed. I have the t mobile 521 variant, and 3 months later I'm still blown away by the price point and performance. No lag at all. Amazing phone with great build quality.

Sorry, but why are you always bringing up all those ADduplex numbers? they mean NOTHING! They only count apps with ads. I had a lumia 920 and now a lumia 1520. Do you really believe, that I have a single app with ADs? I ALWAYS get rid off ads as fast as I can. That's why my Lumia 1520 or 920 won't be counted. Oh, and of course, people who buy a cheap lumia 520, will only get free AD supported apps, that's why they count.

Your point would only make sense if the majority of 920/1520 users didn't have ad supported apps. The fact is: the majority of WP users are exposed to ads enough to where these statistics can reasonably represent the population.

The Lumia 1020 is lumped into other?

no doubt that 520 is best selling phone among wp8. but these aduplex no. dont seem right. i think flagship phone buyers get rid of ads by means of paying the developer. People who get 520 try to enjoy their phone at lowest cost possible. just a theory and i have no evidence or anything to support it.

There better be a 520 upgrade at MWC with improved specs.

So, basically, about 65% of the Windows Phone market is made up of lower end devices, mostly sold in emerging markets. This should tell Microsoft something. Of course, in 2-3 years, this conversation could be totally different, if the Nokia Android phone really takes off in those markets. The U.S. market won't really change. Its fairly clear that most Americans don't want or haven't heard of Windows Phone.

The world is not the USA.

Nope, but that's where you get the mind share and the major press, for high end devices.

My mom will have birthday in some weeks, I want to get her a smartphone, of course Windows Phone, because I think it is the most easy to use OS. It should be cheap though (thats why Apple isnt even an option), because I know even low-end hardware can run WP pretty smooth. Im a bit worried though about the 512MB RAM of the 520. I read that most games need 1GB, is it besides that such big of an issue?!

You should be able to get a 920 for cheap now. 1 GB of RAM and they move faster than at release because of Black update.

The biggest issue with the 520 is the tiny internal storage. My 820 has 8 gig of internal storage (same as 520) and all maps, pics, music and video I put on the SD card. That leaves me only 2.6 gig of apps before I hit only 1 gig of space remaining (gotta keep some free for working space for the phone so it doesn't bog down). With that in mind, I wouldn't worry about 1gig ram games as you'll run out of storage if you install the big boys. Perhaps when 8.1 comes out we can offload them to SD, but I bet that'll be rather slow for games.

INteresting numbers but I think they are not true to real life. These are based on what add duplex measures on the adds they send out to phones. Me thinks that people using the 520 are more inclined as well to go budget on apps and use the free add supported versions instead of paying for the add free ones.

I would like to see a similar chart for Android. I am going to assume that in any market segment the cheapest phones will do the best. I going to bet the same for Apple as well I going to bet for a large majority of people they just need voice, text and Facebook and they are done.

Sorry to get off-topic guys but did you noticed the pie-chart had 33,0% instead of 33.0%. That's strange, isn't it ? "Dot's" converted to "comma's" ! :)

I hate to say it, but the higher end phones have features that I really don't need. My 521 has been rock solid. Theres only been a couple of apps and games I couldnt couldnt use, but can live without. I'm down to 1.6gb of space left, but if there's something I want I just delete an app I don't want and replace it. I don't really care for NFC. A bigger, sharper screen would be nice and maybe a little bit faster faster, but I can still do what I need to do on my 521s screen. And you can buy it dirt cheap off contract. To me, spending that extra money on a more high spec phone make no sense to me, when my 521 does everything I need it to do. Besides a bigger sharper screen, more onboard memory, more ram, better and faster processo, what are we really getting?

If your talking about the screen being not visible while out in the sun, I'm with ya, but 2d is 2d!

US has 42% share for 520, I don't think exactly its selling only in emerging markets. The lack of high end phones is simply down to specs i believe. Phones like icon should restore a bit more balance.
Also, 520 having a large share is not a bad thing, the problem i think is high share with overall low volumes..

Haha, I got a Lumia 520 as a throw away phone. Doing something risky that might endanger my precious Lumia 1020? I just stash that away, swap the SIM and pull out my Lumia 520. Hell, I'm in gym class right now, and I'm using my Lumia 520 to avoid having something happen to my 1020. While I would still be angry if it got damaged, but it wouldn't be damning.

I've seen a bunch of them in the wild and own a 521 myself :)

Honestly, I love my 520 even with its faults. If they made an upgrade to the 525 with a front facing camera and 16gb/32gb built in storage, I'd have no problem making that my main

it's sitting on my deak right now ;)

Both that and the 1520 are both niche devics. So inside of the smaller Windows Phone marketshare, it was catering to an even smaller niche......which means, not that many sales.

The Lumia 710 seems to still have a pretty good hold despite its age.

Okay Microsoft/Nokia you've disrupted the market with 52X's that have hit $35 on sale or with price matches. Now it's time to talk about those $600 phones. You can make them cost $200...

I had the 520 on T-Mobile and now I have the 620 on AIO Wireless. I know the 620 has a flash and a better screen but I prefer the 520 because it's a little larger and much easier to type on than the 620.

Love my 521 that I bought last may for the low price of 150 with flex pay, and haven't regretted it since.

But, see on wp market itself compare to other OS. It is so sad to see

It's a start. I bought my Lumia 620 because it was cheap. But I really liked it, so in a year or 2 I'm planning on buying a better one Lumia. However the fact that most games and soma Nokia apps they launch now are 1gb only pisses me off. Makes me think Nokia regreted selling this cheap phone to me

Nokia's focus seems wrong, it has produced a string of high end devices which has not translated into sales n ignored low mid range,525 was late still better late than never but I know many ppl not wanting it because ofno secondry camera, no flash n they ve been waiting for a 720ish phone with 1gb ram. 525 is sold in India with a voucher of abt 40$ worth of games but with 8gb of memory how many games can u install, ppl are willing to shell out that little amount extra for 16gb but as of nowit doesnt hv a 16gb device even in mid range. these things are holding back buyers.

proud to be the owner of the gr8 520....next success got to be 525 though

Over 55% windows phone devices are 512Mb type ( 66% when including 7.8 devices), take that Microsoft and Nokia.

I'm new to Windows Phone and I am loving it! I got the 520 at the MS Store for $59 off contract and I couldnt be happier to be rid of my iPhone!!
Windows Central Newsletter
Thank you for signing up to Windows Central. You will receive a verification email shortly.
There was a problem. Please refresh the page and try again.