Photography app OneShot gets a glut of new features in 3.0, including auto-leveling and more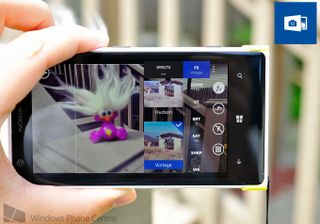 OneShot, developed by Andy Stumpp, has quickly become one of our go-to apps for snapping photos on Windows Phone 8. With each update, the app becomes more user friendly, adds new features and brings new innovation.
The last time we visited this app was back one month ago when version 2.0 landed. Today, version 3.0 has gone live and if you know anything about version numbers that's a big one.
So what's new in 3.0? You'll have read on to find out, but if you like taking photos, you'll certainly want to see what's new.
OneShot version 3.0 adds quite a few new features to make the app even better than before. Let's take a look:
OneShot version 3.0 changelog
8 camera modes, including 3 for custom settings
Auto-straightening
Live straightening
Performance improvements and 1:1 resolution
Share to Instagram (via 6tag)
New settings menu
Shutter animation
Minor improvements and bug fixes
With version 3.0, users now have various modes to select from including M (Manual), P (Program), Portrait, Macro and Scenic. In addition, users can now create and save their own presets with one dedicated slot and two that will reset later.
Keep those photos straight
The auto- and live-leveling are certainly one of the neater things we've used. Auto leveling is used with the app's built-in photo editor, which was enabled with version 2.0. In and of itself that made OneShot a great bargain since not only can you shoot photos but you can edit them within the same app. Auto straightening is just that—it will align the photo to the horizon afterwards, using data from the phone's accelerometer. Pretty awesome.
Live straightening, optionally enabled via Settings, is even better. It will adjust the rotation in real-time while taking a picture, although if you're angled past 25°, it will disable (since you probably want to angle the shot). That's a real useful feature for capturing vista shots as it will save time in post-editing and you won't lose any of the image. It's also the first time we've seen this enabled on Windows Phone.
Version 3.0 also brings a 50% increase in performance for 16:9 mode and now offers 1:1 square mode for framed Instagram shots. Speaking of Instagram, you can now share directly to 6tag for quick posting to that photo sharing service—always a great thing to see.
Share your photos to 6tag directly in OneShot v3.0
As you can see, OneShot version 3.0 is quite a considerable photography app. Between the built-in photo editor, auto- and live-leveling, faster performance and all the other bells and whistles it's going to give ProShot and Nokia's Pro Cam a run for its money. As photo buffs ourselves, we're quite impressed with it.
OneShot v3.0 is a Windows Phone 8 only app, though it will work on 512 MB devices. It runs for $1.99 and there is a free trial. Pick it up here in the Windows Phone Store.
Read more about the new features in OneShot version 3.0 from Andy's blog.
Daniel Rubino is the Executive Editor of Windows Central, head reviewer, podcast co-host, and analyst. He has been covering Microsoft here since 2007, back when this site was called WMExperts (and later Windows Phone Central). His interests include Windows, Microsoft Surface, laptops, next-gen computing, and arguing with people on the internet.
It's working almost perfectly on my Lumia 620. "Almost" because it does stutter every now and then, probably due to having only 512 MB of RAM to work with but it's not a biggie, it works ok. I bought it after reading your 2.0 release cover article. I wish I could set it as the default camera app for the camera button. :)

I was ****ing amazed by the improvements this app brought to my L620, ****ing amazed...

I thought the new GDR2 up date was suposed to let you set the default cam? This looks like a great app.

Looks like it's limited to just OEMs for now, which is lame.

Loving these camera apps. Nokia Pro Cam is great too despite the yellow tint, have it set on default. This would be a good one in my lens collection. I wish I can rearrange the lens order though.

Anyone know if it works on 8X's now? Before (a couple weeks ago), it'd just crash and never open. I'll buy it if it's fixed :)

It definitely works on 8X devices, or do you have a 8Xt?

Nope, just a red HTC 8x from Verizon. Gonna go download it now...

I might give the app another go to see if it's any better after the update.
When I used it in the past it was incredibly laggy, turned my phone into a furnace and drained the battery in about 15 minutes.

I would download this but I'm waiting for gdr2 so I can use pro cam first. Hopefully soon.

Please write a "comparison" article measuring against popular lenses and Nokia Pro Cam. I suggest Lazy Lens and ProShot.

If it helps, I much prefer OneShot, although the UI isn't quite as good, I find it produces better photos than Pro Cam and on my Lumia 920 the exposure doesn't work properly for Pro Cam.

How does this app compare with ProShot? I already have way too many apps to keep up with.

does it save the full resolution image of the nokia 1020

Ugh I wish I didn't update it cus they took away a filter I used a lot. It had a really nice scratched effect.

The filter will be coming back in the following minor update, I had to remove it temporaly because of performance issues. Sorry for that, but it will be solved!

why do they cant make photography app for 7.8 too? Lumia 800 could run it with 512 mb

The post process photo is identical to Nokia pro cam,it has light greenish touch instead of white especially in indoor shots..anyway haven't tried it outdoor..but its not bad for its price..

Sharing to 6tag is broken atm,maybe due to the latest version of 6tag.
Windows Central Newsletter
Get the best of Windows Central in in your inbox, every day!
Thank you for signing up to Windows Central. You will receive a verification email shortly.
There was a problem. Please refresh the page and try again.