OneShot 2.0 brings live sharpening, photo editor and grids to your Windows Phone 8 camera; becomes a must-have app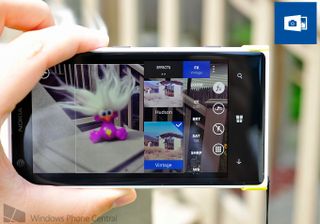 Windows Phone 8 currently doesn't suffer from a lack of high quality photography apps, but that doesn't mean all are created equal. OneShot, which we've covered in the past, was one of the first indie apps to make use of Nokia's new imaging SDK and today it received a major update.
Version 2.0 is now live in the Store and as the new milestone marker implies, there's a lot of new features here to report. While OneShot's earlier claim to fame was "live filters", the new version tosses in many new tweaks and useful tools that has made it a highly recommended purchase.
OneShot version 2.0
Fully featured photo editor that allows to edit effects of existing photos and to undo effects of photos that have been taken by OneShot
You can now edit every photo in OneShot in order to apply OneShot effects of photos that you have already taken
Photos hub integration
OneShot extends the built-in photo viewer experience by offering a "Open in OneShot" function that allows to change effects even after a photo has been taken
Zoom now fully supported using pinch-to-zoom gesture or the slider in the sidebar
Sharpen/Blur in real-time was added to the sidebar
New grids: golden ratio, 4x golden spiral, 1:1 grid
Display of a photo's exif data in the photo viewer, also the app name the photo was captured by
Double tap to reset: This allows you to reset single options in the sidebar by double tapping on them
New favorite button
Minor changes and bug fixes
That's a whole lot to unpack, so let's break the main features down for you.
The biggest new feature is the ability to now use OneShot for editing your images. Before, the app was very much like Oggl where you had to use it and a specific filter only at the moment you were taking the photo. Now, you can open any photo and by using the Windows Phone Edit button, you can send your image to OneShot for post processing. The editor has all of the same "live" features as the Lens app, so you can snap now and change things up later.
Speaking of the Lens/live camera view, you can now pinch to zoom to get a closer look before you snap the photo. You can also add grids, including square (great for Instagram photos) and golden ratio, to help frame things. When combined with the steady-cam detection, you should be able to nail that perfect photo.
The sharpen/blur tool is a first of its kind that we're aware of. In essence, you can increase the sharpness of the camera live. For those of you who have complained about pictures being soft, you now have your answer. It works quite well and while we feel setting it to "3" is a bit much, knocking it up to "1" for sharpness does improve photo quality significantly. Of course with all sharpening you get a bit of noise too, so be careful.
The take away...
Before, OneShot was a fantastic live-filter camera app. It was one of the few where you can see exactly what your photo will look like before you take the picture. While we enjoyed it, not everyone felt they needed that and they were happy with post-processing. But version 2.0 of OneShot brings so much to the table that if you take a lot of photos, you should reconsider.
The live camera features now, including sharpening, zoom and grids, adds a lot of incentive for photo buffs. The added editor feature basically doubles the value of this app since you now have a two-in-one tool at your disposal.
Agree or disagree with us? Let us know in comments.
Head to the Windows Phone Store to here pick up OneShot version 2.0; $1.99 with a free trial. Windows Phone 8 Only including 512MB devices
Windows Central Newsletter
Get the best of Windows Central in in your inbox, every day!
Daniel Rubino is the Editor-in-chief of Windows Central, head reviewer, podcast co-host, and analyst. He has been covering Microsoft since 2007 when this site was called WMExperts (and later Windows Phone Central). His interests include Windows, laptops, next-gen computing, and for some reason, watches. Before all this tech stuff, he worked on a Ph.D. in linguistics, watched people sleep (for medical purposes!), and ran the projectors at movie theaters because it was fun.
This app is my weapon of choice. At least until GDR2 arrives so I can use ProCam

This needs to be combined with ProShot... killer app.

I don't see why RiseUpGames hasn't already made these changes to his such a well received app.

Nokia's SDK is too slow to run a live HD image with real-time filters, so I have to write my own (which I am doing). OneShot's viewfinder is really choppy, low-res, and generates more heat than ProShot.

I think Nokia is doing a great job with this SDK. Of course, a viewfinder with live effects and high-res needs more computation. If you don't want to enable live effects, you can apply them later in the editor. So it's on the user to choose.

I didn't know I had it installed until i saw the update a few hours ago. Will play with it more now.

Just updated it, will be sure trying it tonight!!

I'm waiting to use Nokia Smart Cam in L820. What's diferente with this App?

You mean Pro Cam? Smart Cam is really just for removing photo bombs and highlighting motion in pictures.

Is Nokia Smart Cam for Lumia 820, but i´m waiting GDR2, i can´t open it

I hope nokia is working on some of these nice features for Pro Cam

Love such dedicated devs!
Speaking of powerful editors, can any of the devs please provide a way to rotate / reframe a photo? Something similar to what ProCam allows you to do. I know Fantasia has this feature, but it's very non-intuitive, esp with no grid to help you along the way. Thanks!

Good idea, I will take a look at it. Seems like it's something for the next update.

i'm so confused... i wish i knew something about photography. I have Proshot and Nokia Pro Cam i'm terrible with using them

Check out the "Loving the ProShot app" thread in the forums. The first few pages are filled with tons of information (settings that help under different lighting conditions). Helped me a lot.

Nah, proshot is way better than this

That was my question. Is it better than Proshot..

We need more apps that can shoot in 38mpx so i can replace Pro Cam

Supposedly ProShot will be able to take advantage of the L1020 HighRes photos feature in the near future.

Just tried it out. Its a really cool app.

Is there any meaning for me to buy this if I always use standard settings and auto? I always just mess pics up when I'm trying to be a pro photographer:(

for me i'll stick with pro cam for the moment. while oneshot and proshot have great features, they don't have certain basic functions for me to switch full time. for example, in proshot you can'd do video or FFC. with oneshot, you can't do video (if i recall correclty). i'd rather have the ability to flick an icon to switch between shooting modes (camera vs camcorder) rather than have access to filters i rarely use. but, we all have different opinions and needs, so it's really awesome to see the continued dev support on the platform.


This is my go to camera app. I hate that I can't select it in setings with GDR2 to allow it to open automatically when pressing the camera button. Thanks Andy for your dedication and updates!

Thanks for the great comment! Yes, that helps to keep pushing out updates :-)

It only do 5 mp shots on the 1020 right ?

The image does not get resized, on a Lumia 920 it is 8MP.

Yea. But on the 1020 its 5mp

I will buy this app if it can be set as my default camera button function. I would love having the quick start up of the default app with the customization of oneshot.

Looks like my comment was deleted.
Odd, all I asked was what does this app have that Pro Cam doesn't (other than filters, that I have no need for), and what makes it worth paying $1.99 when Pro Cam is free. Is it because the dev showed up? Are these guys paying you to put their apps in a favorable light or is it just loyalty to your own preference?
If anyone wants to point out the differences or something I missed, do it quickly before this comment is deleted too.

nice! will make sure to update asap. I have been liking this app and was looking forward to seeing more from it like this. It's been running well on my 920 so far.
On a completely different note, what is the case on the 920 in the first picture? Been looking for something like that for mine.

I'm always excited to see these new apps.

Unfortunately the grid is not showing at my Lumia 920. It also has a strange preview which makes unnecessary movements. It also is very slow (the app and the preview). I'm not really happy with that app at the moment.
Windows Central Newsletter
Thank you for signing up to Windows Central. You will receive a verification email shortly.
There was a problem. Please refresh the page and try again.