Palm "Wanda" to Succeed the Treo 500v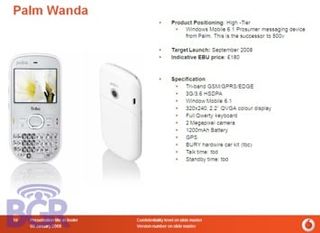 BGR's leaked Vodafone roadmap is the gift that just keeps on giving. The latest: Palm Wanda. It takes some major design cues from the PalmOS Centro - the tiny keyboard and the thin (width-wise) shape. But switch that baby over to Windows Mobile 6.1 standard and throw in 3G and you have Wanda. The radio is tri-band EDGE/HSDPA so it's probably going to follow the 500v's Europe-only tack to start. We truly hope that's just to start, because this little sucker looks cute as a button and our pockets are begging for it.
Specs:
Tri-band GSM/GPRS/EDGE/HSDPA
Windows Mobile 6.1 Standard
320x240 screen
2mp camera
GPS
1200mAh battery
It's due in September '08. Thanks to rener for the tip! Our money is on this getting the "Centro" branding.
Read: Vodafone Roadmap: Palm Wanda! | The Boy Genius Report
Windows Central Newsletter
Get the best of Windows Central in your inbox, every day!
It seems thinner than the Centro?

It sure does - *and* they managed to fit a 1200 mAh battery in there too. Dropping the touchscreen does wonders!

Sounds like a great buy. I can't wait.