Pay for your Latte with Starbux Card for Windows Phone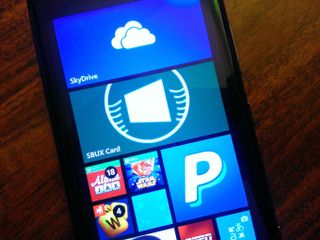 While we wait for official apps from companies we make due with 3rd party solutions. However, a lot of the times we get some great apps from the Windows Phone community and it's really hard to see what else an official app can add. You only need to look at 4th and Mayor and Metrotube to see examples of the active development community.
You can go ahead and add Starbux Card to that mix of examples. If you want to load up your Starbucks cards to your Windows Phone, check out Starbux Card for Windows Phone 7 and 8.
Starbux Card is fairly comparable to official app offerings over on iOS and Android. The only thing you can't do in the app is reload your card. That little caveat aside, the rest is fairly awesome and should satisfy the most java addicted user out there. You can:
Find the closest Starbucks location
Enter multiple cards with custom names
Check card balances
Check Starbuck reward information including how many free drinks are available
Pay for purchases
Track orders through the order notepad
Save favorite locations to easily access in the future
Create a secondary tile for each Starbucks card
After downloading the app you can enter in card numbers to load that card to the app, entering in the security code on the back of the card allows you to track the balance. If you want to pay with the app you just need to select the card and it will generate a bar code for the barista to scan. You may also wish to track your Starbucks rewards and you can after logging in with your account.
Another handy feature is the order notepad that allows you to jot down and track your drink history. A great way to experiment with new flavors and combinations and figure out your favorite drink. Unique to the Windows Phone 8 version of the app is the ability to be notified via the Live Tile of free drinks when they become available.
If you already had this app, they recently updated to fix an issue with the barcode being cutoff and causing issues while scanning.
What's your favorite drink at Starbucks?
The app is free and ad-supported, you can download it here in the Windows Phone Store or use the QR code below.
Get the Windows Central Newsletter
All the latest news, reviews, and guides for Windows and Xbox diehards.
Looks like a great app, but I'm concerned with entering my Starbucks credentials. What kinds of security measures are in place to protect me?

Its ok, it will store your credits in an offshore location that can't be seen by anyone in the ul.

Love my job, since I've been bringing in $5600… I sit at home, music playing while I work in front of my new iMac that I got now that I'm making it online(Click on menu Home) https://goo.gl/Ozh2m

That's a question for every 3rd party app. Google voice, rhapsody, etc. I have been using this Starbucks app almost daily for several months with no issues.

What kind of protection is in place for every time you hand your credit card to a waitress? You are never really protected from bad people...which sucks.

Been using this app for along time...works great. Added a couple cards, and the only reason for your user\pass is to get your stars.

I thought this was a joke when i read the headline

I wish they would make a Peets coffee card app like this......

I actually prefer Starbucks Finder for its simplicity. The mentioned App wasn't reliable at the finding Starbucks locations etc. I like that Starbucks Finder displays if it has free WiFi, 24hrs open and so on. Here's the link if anyone wants to try it too:
http://www.windowsphone.com/s?appid=e98d574c-74c9-424e-a9a2-b111a37ba3d6 Only thing I don't like is both of them are Ad-supported and I wish I could just pay to remove that banner :)

I have used this app since it first came out for Windows 7 well over a year ago. It's fantastic, and actually works better than iOS or Android versions. Here's my take: Easier to scan: Has 2 sizes of bar codes. Just tap the normal one and it jumps to a mega-sized one that's even easier to scan. Fast & Convenient: You can pin a specific card directly to your home screen. Security: This is actually more secure than carrying your card around, because if you lose your card then anyone can use it. Lose your phone and you can remote-lock it via windowsphone.com website. Reloading: Yep, it sure can. You simple had the barrista your credit card or some cash, and tell them to load it up. They take your money, then scan your phone. The balance instantly updates right on your phone. I agree with the other commenter that Starbucks Finder is better for finding a nearby Starbucks, but outside of that, Starbux Card has them all beat hands down.

been using this since WP7, one of the first apps I downloaded when i got my 9220

But, America Runs on Dunkin~

Wtfx is that? (Texas here)

The "My Starbucks Card" app is better perhaps because it has no ads.

Anything related to that non tax paying piece of crap that is Starsucks, can go and do one.

Funnily enough, I was going to write something similar. Amazon is also another big tax dodger here in the UK.

Agreed. I'm waiting for the 'Anything-but-Starbucks' app. I'd buy that one.

Well they are a very charitable company and do a lot, even locally.

Disapointed Starbucks did not create their own app like this. I personally dont trust any 3rd party app with my payment details or log in details for other accounts.


I am also a long-time user of Starbux Card. I regard this app as must-have and I use it regularly by pinning my card to my Start screen. I use the official Starbucks app on an iPod Touch and can easily say Starbux Card is faster and more convenient. In fact, I love Starbux Card so much that I'd be willing to pay for an ad-free version.

Mine didn't update to support WP8, did anyone else's?

My favorite drink you can only get in summer but its a white chocolate mocha frappe with coconut and caramel syrup mixed in and whipped cream on top. Its like heaven.

I love WCMF, but never had it with coconut and caramel...gonna have to try it; SB should be able ro make this any time of year since WCM is on the menu year round. I'm gonna give this app, and frappe, a whirl :)

Well coconut is only a summer item so you can still get it with caramel

I use Starbucks Finder, but it's not as feature rich as Starbux Card. The main difference is the lack of integration with the rewards information and card balance, but it does load faster.

Everytime I've gone to Starbucks their scanner won't scan my phone. I'm not sure what's wrong with it But with all my cards I don't like to very them all around

I would try re-creating the bar code by entering a new card. I had the same problem at first and after trying that, no problems since.

there's no starbucks in my country... so... good luck bro ;)

I bought the Starbux card and it will not generate a barcode, making it useless. Not support available, really a bad program.