Perfect Tube brings another way to watch YouTube, designed exclusively for Windows Phone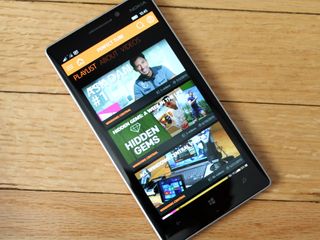 Perfect Tube is a new YouTube player that was designed exclusively for Windows Phone, offering a unique video player with great gestures. With tons of great features, Perfect Tube will let you upload and play videos, as well as subscribe to other channels, and open YouTube links directly in the app. Some of the other great features include:
Unique video player with easy gestures.
Watch mini video while browse others.
Switch video quality 240p, 360p, 480p, 720p, 1080p with full screen mode of landscape and portrait video.
Browse most popular videos, channels or search for what you want.
Sign in your YouTube account and manage your favorites, subscriptions, playlists, history, liked videos, watch later and more.
View and post comments, browse related videos and more.
Watch your uploaded videos.
Upload your new videos.
Subscribe to YouTube channels (with browse channels function)
Support tiles.
Open YouTube links (video, channel, playlist) directly in app.
Superfast and logical interface!
Perfect Tube is available now in the Windows store as a free download.
Thanks to everyone who sent this in!
Download Perfect Tube for Windows Phone
Jared started off writing about mobile phones back when BlackBerry ruled the market, and Windows Mobile was kinda cool. Now, with a family, mortgage and other responsibilities he has no choice but to look for the best deals, and he's here to share them with you.
In my opinion, it is the best alternative of MyTube.
I also use MyTube! But trial version.

Sadly i cant install.. An error always show up 800blabla... I've paid :(

You assume it's because he's being cheap. But what if he just doesn't have a credit card to pay with? Or maybe he just doesn't have money to spend on smartphone apps. That doesn't make him cheap.

Tubecast is the way to go for sure.

I'll give it a shot, but tubecast is the best so far

+Mytube!(paid). And I must say best YouTube app with download to sd card facility.

No background audio support no where near as good

Does it let you filter videos by age?

Huge potential and i like its Design that perfectly fits windows 10 it is now my current youtube player

Can it play audio in the background?

Need sd card download option including mp3

Yeah... If download options come , then it will outcome all the 3rd party YouTube apps...
.
.
.
Waiting for Perfect Tweet [ twitter client ] and Perfect Book [ facebook client ]

Are they working on Twitter and FB client or that is just your wish for now? Would love to see that from them, i already use several of their apps. These guys are awesome. :)

I'm gon a stick with MyTube

Me too. This is good, but doesn't add anything new. The myTube developer is great too! Is it just me or do some bits of this app also look like they were directly lifted from myTube?

Yup, MyTube is the best. And even Chris.

Is upload available in myTube?

coming soon. already spotted appropriate strings in myTube beta translation section. :-)

Are you guys talking about MyTube or MyTube! ?

To bad its missing mytube's 60fps

Open it in a web browser. Microsoft changed the app linking which is not working in our app currently.

Update the app atleast once before the Windows 10 Universal app comes. This app is lying abandoned on the store and you talk about the app gap.

The Windows Central app works absolutely fine, and it's integration with other apps is really good too. What exactly do you want updated? Why update something that doesn't need updating?!

Windows central app has a few issues itself email notifications when people reply to your comments on articles is very unreliable its not even working right now

Go to the links section in app Posted via the Windows Central App for Android

Love the look of it. Don't know if it'll replace metrotube for me but I'll give it a try

I think it has replaced metrotube simply because LazyWorm hasn't updated the app in a while and because its design is reminiscent of WP8 and not 10. Plus Perfect Apps updates their apps quite frequently.

already using it next to tubecast and mytube

How its difficult to decide which app to use. All u tube third party apps are fantastic.

Does any one know if this support cast? I think is the only way I could use it

It does't even support downloading..Casting is a far thing.

Love this app.. I'm using it as my Youtube player now, no need to go to IE and go to Youtube site <3

YouTube on IE is horrendous.

Need SD card download !!!!

I'll go for it. Why not...

Tubecast still rules 3rd party apps

I don't see why. I think Tubecast is weak, no proper playlist support.

Tubecast can't even play music in the background

Of course it can. You are doing something wrong.

it does not have the share button....what if I wanna share a video???

Mytube, metrotube, tubecast and now perfectTube.. Although WP lacks big time on apps, we have the best Youtube alternatives! Tubecast is all I need, but still, perfectTube is a great app!

Nice UI but no option to download so no

Which YouTube app has captions ?

myTube! does, and it supports annotations as well :)

Tubecast also supports these features.

No landscape support for videos? Holy crap what an epic fail...

You need to click onto the video and then the square lines on the right side

Only upto 480p on L630 ? am i missing something ? the app is really perfect and neat (tubecast user )

What's the point of 720p video on your device anyway :3
Your device resolution is 854x480

I can watch 1080p videos on TubeCast on a L820. Better image quality due to downsampling.

Still not optimized for 512mb ram.. Laggy when play video.. Love the ui btw...

It's internet speed problem buddy...

Obviously designed exclusively for Windowsphone, every other platform has a Youtube app of their own.

Can't share to Facebook, twitter, etc. It would have been great.

Cool! But i can't download any video

No 60 fps? No 1440p for SD800 devices ?

There's no sd800 devices with 1440 displays

No, but downsampling still leads to better IQ and you can always cast to a 1440p display.

Daniel, which app do you usually use for YouTube?

Mytube is the best. The developer rocks.

I want to be able to read comments and watch the vid at the same time, metrotube provides that for me.

Great potential. Working perfect in Windows 10 mobile. Great alternative to new windows phone users because it's very familiar and works like the one in android and iOS. However it doesn't add anything new. Needs more customization options. I hate videos playing automatically, and I actually prefer having an option to choose light or dark theme on YouTube apps. That's one of the reasons I love myTube.

First it was metrotube, then was mytube, now tubecast, should i try this one now?

All videos lag like h*ll and the sound has been messing around too, like it has a high gain so it cracks a lot. Other than those two issues its nice. Didn't think it would lag when my 1520 is connected to a 500mbps WiFi xD

Raise your hand if that's higher than your internet speeds. *everyone raises hand*

Still needs improvement towards subscribed data . Even viewing the individual channels the upload videos don't get sorted according to date of upload.
Design is excellent, still app feels bulky, not as lightweight and snappy as metro tube.
But its just been updated so I am sure the developer shall improve the flaws

Are you copying everything from WMPowerusers

But if I wanna play a video from WC app.. And from options "YouTube app" or "browser" PerfectTube doesn't show up. It is great app to begin with and has lot of scope of improvement. Also keypad disappears if selected from drop down and if you tap the input scope it wont show up again.

I have paid versions of the main 3 (tubecast, mytube, metro tube) and yet how can I not try this out. They all have different strengths that make it hard to abandon any one of them. Metro Tube was my main one until it didn't work well on W10m. Now Tubecast Pro is it, great live tile, etc. But latest v of mytube is good and so I have it pinned to the start screen also with a different account signed in to it.

Is this the same dev for perfect apps?? Like perfect note.. Etc?

I use mytube n tubecast.... But this app is very smooth but the only thing is it don't show all my subs recent videos

When the universal store is online, can I download this for windows 10 too? Because I really like this app!

One of the best surely, almost on par with tubecast

These devs do most everything Perfect! Downloading this to see if the touch exists for youtube. Thanks Perfect Thumb. Edit: Not for WinXM at least it won't install on my Lumia 1520.

Disappointed that the app could not be installed on my SD Card slot because the develooper does not warrant it. Hopefully the deveoper fixes that soon.

Very solid app. I believe the devs will keep adding features that we miss from other alternatives.

I like that you can sign into your youtube account. Can mytube do this?

What? myTube! even supports multiple accounts man :D

Hey WC, you should do a comparison of all the youtube apps as a way for new users to choose which one they want to use. :) Explaining what feature makes each one unique etc.

This looks nice, but TubeCast FTW

It depend on your device's resolution.

Gave it a shot, but I'm afraid MetroTube is still my preferred. The layout is just perfect and it works 100% of the time.

Great app. The best. Please check their other apps. They are really perfect in my humble opinion. Posted via the Windows Central App for Android

I use Android now because I was tiered of vote having any customization. I truly do miss the YouTube clients though. Posted via the Windows Central App for Android

Can't we download YouTube videos with this

Lol, the comments section of the app is like a complete ripoff of MyTube

The UI pretty laggy on my 535 though.

Better than MyTube? I think no...

Out of subject: I'm not sure but how come an hour of tubecast browsing will kill my 1520 battery into critical low since I still have 30% and my phone just suddenly turn off.
I just did the hard reset recently rolled back from WP 10 to 8.1.

Tubecast- 32mb, perfect tube-10mb, tubecast- no video gesture forward, no volume gesture, long hold to stop video(perfect tube- just through video to side),not loading fast...... but perfect tube has all the above features.... Perfect tube is out standing YouTube app..... but provide channels like in android YouTube app.... And pls Pls provide DOWNLOADING option... It's a Humble request....go windows go

Like it. But the lack of background play...

Hamburger menu, wireframe icons and awkwardly placed icons at the top. Basically a crappy Windows 10 app. No thanks.

What happened to the store? Before, after I scan a QR code on my phone and click the link, it redirects to the Store. But now, it just opens the site of the app. I had to search the store. What the hell Microsoft. :(

They are moving to the new unified store, so issues like this are normal until they finish the transition.

Tubecast and video 360 ftw

Better would be: "designed for Windows 10"

Why doesn't the videos rotate automatically?? Looks pretty neat actually.

Works well and looks amazing! I've used them all, but this is fresh

Looks great and its functional. For it just being released it works great. Other apps always crashed on my phone.

Whats the point of this app if we already have TubeCast? But i gotta admit it is ok

So that we have competition, which will bring us great features at good prices, and of course finally, we will have choices that will appeal to different people differently.

Who watches youtube videos anyway, other than kids or when the video is embedded e.g. to a Windows Central article? Posted via the Windows Central App for Android

Tubecast+video 360! unless it has download video, its a win

Is there any youtube downloader app which support 1080p download directly to phone storage?

Only downside is it can't be installed onto micro SD cards. :(

No landscape mode so not so perfect.

I don't want YouTube for WP now after using PerfectTube. It's awesome.

Perfect Tube updated, now a Windows 10 Universal App!
Windows Central Newsletter
Get the best of Windows Central in in your inbox, every day!
Thank you for signing up to Windows Central. You will receive a verification email shortly.
There was a problem. Please refresh the page and try again.