PicsArt's dazzling new AI-powered Magic Effects turn your photos into works of art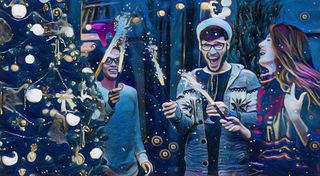 If you use PicsArt for editing your photos on Windows 10, you're in for a treat. The latest version of the PicsArt app brings new "Magic Effects" that can turn your pictures into artful masterpieces using the power of AI.
In essence, Magic Effects can take your photos and make them look like they were hand-painted. This will inevitable draw comparisons to Prisma, which became quite the rage earlier in 2016. That said, PicsArt's implementation looks pretty darn impressive, and includes a number of Magic Effect options out of the gate. In all, PicsArt says (opens in new tab) that this update contains more than 20 Magic Effects that you can check out, and the developers plan to add more every week.
Lastly, this update contains a new Challenges page that lets you compete against other PisArt users to create the best images. The CHallenges page will let you both vote and compete in different daily and weekly challenges with your best pictures.
Be sure to check out the latest version of PicsArt for Windows on the Windows Store now, and let us know what you think in the comments!
Download PicsArt from the Windows Store (opens in new tab)
Windows Central Newsletter
Get the best of Windows Central in in your inbox, every day!
Dan Thorp-Lancaster is the former Editor-in-Chief of Windows Central. He began working with Windows Central, Android Central, and iMore as a news writer in 2014 and is obsessed with tech of all sorts. You can follow Dan on Twitter @DthorpL and Instagram @heyitsdtl.
Vinci still rocks. Have to try PicArt.

I like this better than Vinci. PicsArt fixes both gripes I have with Vinci and Matisse l, at least on Windows. 1. We aren't limited to 1x1 square ratio. 2. You can adjust the strength of the effect. For me, this makes PicsArt tge clear winner.

So Vinci and PicsArt are pretty-much exactly the same*, apart from those differences you highlight? TY. *I don't mean their effects engines ofc

No. This one new feature is like Vinci. PicsArt has a lot more to it.

Thanks mate! Would you say PicsArt is okay for a total neophyte/noob? (i.e. low learning curve, not too overwhelming etc)
ATM my mother has Vinci on her 950XL, loves it, has started using it often, & enjoys the main "stuff" it does. The stuff PicsArt has in common with Vinci, is it "front & centre" for the app, or more just a side thing?
Just wondering if PicsArt might be "a little too much" all-up, for her to actually get GREAT usage out of! Best Regards.

It might be a bit much if she is not into this sorta thing. There is a lot going on there. You can get into using layers and masks and such. It takes me some thought about which tool in PicsArt to use, sometimes. You might want to test drive it first before recommending it to someone who might not want all of those options presented when she's just looking to apply a cool effect. I do with Vinci and Matisse would allow a slider to adjust the strength of the effect and also stop forcing the 1x1 square crop. They do these things on other platforms.

Thanks mate, sounds like it might be a bit much for her, I'll have a quick look "if I have time", if it looks "simple enough" I'll remove Vinci & put PicsArt in its place. All the best!

Vinci will likely win out. It's very straight forward and does what sounds like she wants it to do. PicsArt just has a LOT going on. She might like Matisse as another option. It's really Vinci with different effects.

Did you mean "Matissa" not "Matisse"?

Now matter how you sort it (& via the UW apps or the Web), it seems to get quite bad ratings compared to Vinci. About to play with PicArt now, if it looks like too much, I'll promptly uninstall & just leave Vinci in place! Cheers.

Yeah this is too much, looks a bit like IG, though perhaps more cleverly done, all-up.
Haven't managed to get her to use IG much (heck I rarely use it or similar stuff), let alone this! Only "Social" stuff she uses is Facebook...
Then all she cares about is Skype for messaging/SMS, or Facebook Messenger.

It's more complicated than IG! :) PicsArt sounds like it and your mom are not a match.

Vinci is sooo damn basic though, wish there was "tiny bit" more to it!?!

Like on their Android app? :/ Vinci on Android lets you use any size of photo, not just square. It also let's you adjust the strength of the effect. Not so on Windows.

Picsart great overall editor, really happy with the purchase and it's gotten so much better!

Still i love fantasia painter. ;)

Same here. I never felt the need to download another editor

You might try this out. I use Fantasia so much less now.

PicsArt is quickly becoming my go-to photo editing app. I'll check this new feature out. 😀

Where are the new effects?

I didn't find it either. Can anyone show how to apply these magic effects?
I didnt see the word magic in the effects section at all.

Close app and relaunch it
it shows up after.

Nice to finally have this available on the desktop as opposed to having to do it on my phone. Will be installing later.

I can't open this on offline mode any more.

Anyone else lose their package downloads and have trouble get them back?

Yup. I sent a message through their Facebook page and still trying to sort it out. She sent me a list, but it wasn't all of the stuff I downloaded during the launch promotion. That's the stuff I'm trying to get back.
Windows Central Newsletter
Thank you for signing up to Windows Central. You will receive a verification email shortly.
There was a problem. Please refresh the page and try again.