Possible Required Specs for Windows Mobile 7?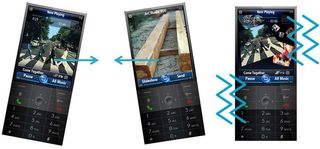 Mary Jo Foley lets us in on some possible info about this "Pink" stuff. First, there's these reported specs for 'Chasis 1' which according to Foley "seems to be the the heart of the rumored "Pink" Microsoft phone and possibly other Windows Mobile 7 phones made by Microsoft partners".
In other words, Pink may be a prototype/demo unit/scaffold for developers to model their next-gen WM7 handsets on--so Microsoft is setting the bar on what the minimum requirements will be and what they envision the ideal handset would be like. Sounds pretty plausible to our ears. Now onto those rumored specs:
So we have an addition of a compass (iPhone is rumored to get that too), microUSB, accelerometer, light sensors, required aGPS, there's that ol' Multi-touch and some high end processors on board. Gone is also anything less than VGA for resolution, which is something we welcome.
There we have it...think this all sounds legit? Can you (and the market) wait till 2010?
Finally they concentrate on the screens...

Didn't even see that... 3.5mm jacks! WooHOO!!!

Yes, it's legit, and no, the market won't wait. Bad enough that new hardware is required in most cases to upgrade to 6.5 this year (my Sprint Touch Pro is not eligible for upgrade because the home button is a house instead of a Windows icon; it would have no problem actually running the OS), but to then expect people to upgrade their hardware AGAIN a year later to a new and incompatible (note the use of multitouch in the requirements, meaning capacitive screens and all new finger-friendly UI) hardware and software... I saw this coming, and realized I'd have to switch hardware and buy all new software when 7 came out. I decided to beat Microsoft to the punch and bought an iPhone.

Well since you are happy with an iPhone, the functionality of a WinMo phone would have been a waste on you anyway.

Dude, I've been using Windows Mobile since it was Pocket PC 2000. I know exactly what I'm giving up. And until Apple announced the 3.0 firmware, I wouldn't have considered it. I fully intended to get a Pre, even though I loathe sliders. Then Apple and AT&T made me an offer I couldn't refuse. But none of that changes the fact that Windows Mobile 6.x is a dead system with no upgrade path. Windows Mobile 7 doesn't upgrade 6.5, it replaces it. Along with all your software. And if you're going to have to rebuy all that stuff anyway, why wait another 18 months?

My apologies then, I took you as one of the masses that buy the iPhone. From what I've seen, people who normally wouldn't buy a smartphone are the biggest users of the iPhone. It has the chic effect like the Razr did. Lacking much of the functionality that the WinMo phones have. In my case, and others that I associate with that have carried PocketPC in one form or another since it first came out, there is no other option that is as flexible, let alone the hardware on the iPhone doesn't lend itself to what I need it to do. No battery swapping.
No multitasking.
Low resolution screen. (Yes, I've been on the VGA screens for many years)
No hardware keyboard (I'm not sure if the bluetooth folding keyboards work with it or not) So in that aspect, I don't regard the iPhone as a serious threat (even with the 3.0 update which is going to help a lot) to the core of what has made WinMo so great. The thing is, the end user that just needs a phone and mobile internet has never been Microsofts target until recently. 6.5 is going to be a good update while I wait for 7 to hit. I'm currently running a leaked build of it on my HTC Fuze right now, and greatly appreciate the tweaks MS has done for the user interface. However, I don't have a problem upgrading to all new hardware when 7 comes out, because even if it only meets the minimum of the specifications in this article, it is going to be a well worthwhile wait. My biggest worry will be software compatibility, as the jump to WM5 was a rough stretch for apps, I think WM7 is going to be even rougher.

Oh, plus, I'm not a huge fan of giving up my resistive screen. I seen no reason to, as the screen on the newest HTC devices is wonderful to work with. Maybe a hybrid with the one that the iPhone has, but I think it will be an annoyance to quite a few if you can't use gloves, the tip of a pen, stylus etc with the device.

Where does it say you've have to go capacative? All it says it multi touch. Texas Instruments demoed resistive multi touch at MWC this year.... Oh yeah and a compulsory 3.5mm jack! Huzzah! I've only just got a 3.5 mm jack because of my Touch HD. The only previous phone that came close was my Blueangel but that was only 2.5mm.

I don't think that was resistive multitouch, I think that was an early attempt to get Windows Mobile working with a capacitive screen. Dieter, we need a ruling on this. You saw it in person, what was it?

What did you do with your Touch Pro?

I still have the Touch Pro, haven't figured out what to do with it yet.

Well if it still works, I'd be happy to have it. I've been stuck with a Razr2 for 18 months and have been trying to move to a smartphone ever sense.

Sorry, bit you are incorrect. You can upgrade your Touch Pro 2 to Windows Mobile 6.5. You just have to find to right site to go to for the free download.

Damn! This officially is the death of the non-touchscreen smartphone. :(

Wow, these are pretty high specs... not that thats a bad thing, but it could be a problem for cheap smartphones and non-touchscreens. Accelerometer, multitouch,wi-fi, wvga... I guess we'll just have to deal with the higher prices. Btw, I've never heard of FWVGA.
Also, I hope it's a mistake of the minimum screen size of 3.5 inches. That's a killer for people who want small phones and/or candybar phones (like the Q)

It's probably not a mistake. The iPhone screen is 3.5 inches, and a larger screen is probably advantageous with a capacitive, finger-based interface. Your fingertips can only be so small. We don't know yet how well the Palm Pre's smaller screen is going to work.

@CeluGeek & Christian Keep in mind the notion "Chasis 1" ;-) I think this is but one recommended design choice for WM7 devices e.g. "the black slab" form factor. I don't think it is wrong to presume a "Chasis 2" and "Chasis 3" guideline too.

It's not wrong to presume that, but don't hold your breath.

Hopefully that's true because a phone with a front-facing keyboard would be rather large...

Stantum has a resistive multi-touch screen, it has soft touch and it is overall beter than a capasitive touchscreen heres a link to the story and videos http://www.engadgetmobile.com/2009/02/19/stantums-mind-blowing-multitouc...

Where does it say you've have to go capacative? All it says it multi touch. Texas Instruments demoed resistive multi touch at MWC this year....scrub m65 Oh yeah and a compulsory 3.5mm jack! Huzzah! I've only just got a 3.5 mm jack because of my Touch HD. The only previous phone that came close was my Blueangel but that was only 2.5mm.
Windows Central Newsletter
Get the best of Windows Central in in your inbox, every day!
Thank you for signing up to Windows Central. You will receive a verification email shortly.
There was a problem. Please refresh the page and try again.