Readit updated to fix battery and heating issues, new features also added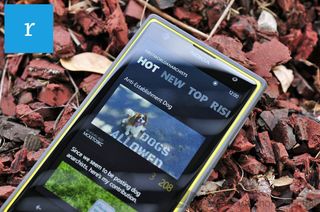 Readit has been out for Windows Phone since early November. The app quickly become one of the best Reddit apps in the Windows Phone and become our personal favorite. It's a stunning app that has seen rapid success and updates since its launch. There's even a Windows 8 version currently being developed. Version 1.4 of the popular app is now out, so let's check out what's new in this update for Readit.
Readit for Windows Phone was last updated to version 1.3 in mid-December. That update was notable for including things like battery/heat improvements, low memory optimization, and various tweaks to the usability of the app. Today we're looking at version 1.4 available in the Windows Phone Store with the following features:
The Battery Issue should now be solved, the bug that was eating up CPU time is now gone
Heat should no longer be an issue because CPU is not running 100% the whole time
App bar in all submit/edit dialogs - provides a submit button so you no longer have to exit the textbox before submitting
Gfycat integration = smoother/faster gifs - uses a ton less memory and much less power. The gifs are now converted to an h264 encoded mp4 and played as a looping video in HQ - what an awesome service. (We will soon include options to pause and reverse gifs too!)
Landscape now supported in subreddit view, post view & comment dialogs
Rotation Lock - only persisted for one session until you close the app completely - set when viewing a subreddit
You can now publish blank self-text posts
Album viewer performance/general improvements
Completely new markdown parsing engine
Comment images, albums and gifs now load inline
Images are now saved with the condensed post title as the name
Hide read posts - now respected in swipe view
Context menu doesn't open when you tap a hyperlink now in a comment
Post doesn't zoom/zoom out when you tap a hyperlink now
Improved performance with video player
Critical - Fixed bug with self-text posts only saving one character
Fixed bug with taking extra back buttons to exit a post
Fixed bug with swipe view getting stuck after releasing your swipe gesture
Fixed bug with swipe view not disabling correctly
Fixed bug with hierarchy indicator appearing when there are 0 comments
Fixed bug with multi-Reddit refresh causing a crash code
Swipe view now disabled correctly when viewing a linked post
You can now view comments on first launch without having to restart the app
A ton of other general enhancements/bug fixes/UI tweaks
As usual, the developers behind Readit provide a highly detailed changelog for us to all parse through. That also means that the actual update to version 1.4 of Readit is pretty substantial. We normally joke that apps "feel faster" when we don't see a changelog with a given update, but this version of 1.4 does feel faster. No joke.
The other updates to the app are important and worth highlighting. For example, the biggest complaint against Readit was that the app would kill batteries and heat up devices. The team has found the bug that was eating up the CPU and killed it. For those who experienced any heat/battery problems that should be fixed in this update.
Readit also picked up a lot of smaller updates that enhance the app overall. For example, you now have landscape support in the subreddit view. Comment images, albums and gifs now load inline, which should lead to a better reading experience. Speaking of gifs, the app includes Gfycat integration should should lead to faster and smoother gifs in the app. The app will use less memory and power by converting the gif into an h264 encoded mp4 and playing as a looped video. A future update will include the option to pause and rewind gifs.
Readit 1.4 includes a ton of other changes and you should read the changelog above. It's a big update and we're happy to see the direction this already excellent app is heading. However, the Windows Phone 7.x version of Readit will no longer see features added as the code has forked from Windows Phone 8. The team will still fix any major bugs in Readit for Windows Phone 7.x.
Want Readit for Windows Phone? It's our favorite Reddit app on Windows Phone. Grab it in the Windows Phone Store for $1.99 (trial included).
Via: Reddit
Get the Windows Central Newsletter
All the latest news, reviews, and guides for Windows and Xbox diehards.