Report: Windows Phone 7 hardware still dominating worldwide, Samsung falling behind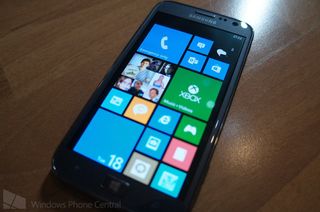 The cross-platform developer advertising network AdDuplex has released data for the month of February which details some interesting findings and trends for Windows Phone. We've previously looked at data leading up and closing off 2012, but what about the start of this year? We've also recently covered Windows Phone 8 taking over Windows Phone 7 hardware in the US, but how does this reflect worldwide?
As one can see in the above chart, Windows Phone 7 still holds the ground worldwide, with the Nokia Lumia 800, Lumia 710 and Lumia 610 taking just over 50 percent combined. It's clear Nokia owns the Windows Phone ecosystem in terms of usage. The Lumia 920 is in fourth place, which is also a promising jump for Windows Phone 8. The handset is currently sat on 10 percent, just 6 percent behind the Lumia 610 in third.
Other notable jumps in share include the Lumia 820, which leaped from 3 percent to 5 percent, while the Lumia 822 and HTC 8S both entered the top ten. It's interesting to note in the above chart the absence of Samsung. Neither its legacy or latest hardware is present. This can be blamed on poor availability of the ATIV S and overall sub-par platform marketing.
Compared to the report released early last month, Windows Phone 8 is slowly catching up with legacy hardware and if its momentum continues, we could well see a global takeover within the next few months. The chart below goes into country penetration and how quickly the new platform has been adopted by consumers.
France, USA and Australia are launch markets for Windows Phone 7, and all have passed the 50 percent barrier. As one would expect, emerging markets including Peru, Brazil, Mexico and Colombia are in a position entirely opposite to the markets in the above chart. 95 percent onwards for Windows Phone 7 is reported.
Update penetration
The Windows Phone 7.8 update is slowly being released with more consumers being able to enjoy the new start screen experience, but it's still lagging slightly with only 16 percent of Windows Phone 7 devices running the latest version. Microsoft has some way to go to get the remaining hardware up to speed.
It's worth noting that rotten luck may be at play here with the selection of handsets used in the AdDuplex report in a similar situation surrounding the update. This may not represent the actual percentage or picture on the update roll out worldwide. But it's not all bad news. Here's a chart showing Windows Phones that have the Portico update:
This is a positive sign. Of the number of Windows Phone 8 included in the reports, 54% were running the latest update. With the OTA process kicking in on the latest mobile platform from Microsoft, the company is able to minimise delay between engineers and the end-consumer.
What's packing the punch in the states?
With the US passing over the 50 percent marker in Windows Phone 8 penetration against its predecessor, which mobile devices took most share in the AdDulex report?
The Lumia 920 is winning by a slight margin. Sat at the top on 17 percent, the Lumia 822 comes in second at 16%, with the HTC 8X in third with 12 percent. The Samsung ATIV S is non-existent in the US, leading to both the Focus and Focus Flash showing their heads for the company. HTC has performed well so far, should the chart be anything to go by when calculating actual marketshare.
Overall, the platform is doing well with Windows Phone 8 continuing to grow. Samsung needs to pull its socks up to get back into the fight, but we're sure the company has something planned up its sleeves. This report is based on data collected from 294 Windows Phone apps running AdDuplex SDK v.2. Full report will be available on the AdDuplex website tomorrow.
Windows Central Newsletter
Get the best of Windows Central in in your inbox, every day!
Rich Edmonds was formerly a Senior Editor of PC hardware at Windows Central, covering everything related to PC components and NAS. He's been involved in technology for more than a decade and knows a thing or two about the magic inside a PC chassis. You can follow him on Twitter at @RichEdmonds.
It's not really a surprise since MS made no effort to get carriers offer early upgrades for WP7 users. When I checked my upgrade options with AT&T the only early upgrade option I had was an iPhone...not exactly a good option when you're trying to grow your platform.

Who does do early upgrades? Technically speaking, AT&T will extend your contract even if you're only six months in to get a discount--I do it all the time. Either way, in the US, more than 50% of the Windows Phone base is already on 8 (compared to WP7), meaning users have been switching.

W8 will probably never take over W7.xx. Nokia sells way more low end devices in 3rd world countries than mid / high end.

er.. which of course won't happen, as 7.x devices will stop being made.
620 is the low end device, isn't there a 520 now? (I can't keep up) but over time, WP8 wil easily outgrow WP7
as WP8 is already off to a great start. Bear in mind its still only just 3 months in, and in places even like the UK only this month have we had full carrier availability!

No. The Lumia 510 and 505 were just recently released, the later barely two months ago. People havn't yet wrapped their heads around the fact that WP isn't at all comparable to iOS or Android in this regard. Both WP7.x and WP8.x will continue to exist side-by-side. The point at which WP7 devices are EOL'ed will be determined by the price difference between the cheapest WP7 and the cheapest WP8 device. Only when that difference is negligable, will WP7 dissapear. Until then, Nokia will continue to release new WP7.x devices to cover the low end. Most of those will be sold in 2nd and 3rd world countries. The existance of WP8 has absolutely no influence on that decision.

They have already suspended the production of 710 and 610. 620 is supposed to be launched by 15th Feb in India and will act as a support till 520 and 720 are launched, which I think will be around may. The only people who will be carrying a WP7 device are those who have bought 800 and 900, they will carry at least for another year.

Yes, mid and high range WP7 devices will disapear. The lowest end WP7 devices will continue to be produced for quite some time. See above.

But with a 520 and 720 we can expect the 510 and 710 to likely go out of production (they only offer a 800Mhz processor vs a 1Ghz dual core as the hardware difference, well maybe NFC too).
I would guess eventually a 505 replacement might come, which is a 620 cut down as far as it will go.
My 900 will still run everything I want for years to come, but I'd expect to see windows phone 7 devices to be a minority by the end of next year if the platform continues to grow well.

Agreed. MS should have given a $100 voucher to he used to pay off early termination fees or whatever, for every Lumia 900 returned. Bam, instant WP8 sales in launch markets, and then flashed the returned 900s with 7.8 and offer them at a discount in emerging markets. Everybody would have won on that one!

Yeah I agree they should have had some type of buy back program for Lumia 900's. I'm sure they could refurb and resell the used 900's for at least $200 and use that money to discount a 920 upgrade.

Completely ludicrous suggestion - you would have to pay Microsoft $100 for them to break even on the distribution costs alone.

I have a feeling the charts will look very different in a few months when the 620 comes to play... ;)

I wish the 620 would come to the US. It looks like a great upgrade for my wife over her Focus Flash. But I suppose I shouldn't complain since the US gets the best WP models first.

I think so too. And include the up-coming 520 and 720 into the WP8 mix that will affect the charts.

My Lumia 920 turned up today. Just sayin' ... :)

Ah Big Supes from Engadget? Hello :)
My 920 also came this week, I get the SIM tomorrow hopefully.

Good to see the 822 is doing well. A big improvement over the Trophy on Big Red.

To me, the biggest surprise is the Nokia Lumia 822 doing so well. If verizon can push a mid range device so hard, just imagine what it can do with a Lumia 920 variant! Nokia, MS and WP is letting a huge opportunity go by.

Perhaps with the big install base of the 822 (only available on Verizon), you would think that well maybe they could get off their asparguses and release the Portico update? If Verizon doesn't get better with updates, people might start to jump off their network to a network that releases updates in a timely manner. It would be nice at this point just to get a target date for the release so it does not feel like VZW will not push the update...

Agreed. Definitely would like the update sooner than later. Windows Phone can't beat the iOS model for updates, but they need to get close. A target date at least would be nice. This is one of the reasons a "Surface Phone" would be great. I would image they would be the first to get updates, maybe even without the carriers interference.

WP 8 sales would have to be really bad not to be able to gain ground on WP7 devices, no big news here IMO. The fact that MS was able to change the underpinnings of their mobile OS so quickly after introducing it ,without any major outcry, shows how badly WP7 did in the marketplace.

I think sales of the lumia 920 were low and hampered by being exclusive to EE operaters and only from phones4u in the UK. i for one would have prefered O2 but had to go with orange which were the last to release 7.5 and i still hav'nt received 2 updates and wont be holding my breath for 7.8!

I would agree with you if not for their supply issues. Whether the 920 is selling like hot cakes, or they just can't make them fast enough, there doesn't seem to be any built up inventory of 920's lying around. I base this on early selling out, and on the continued slow expansion to other countries. So until they can make enough of the 920 to meet demand, they might as well secure carrier exclusives and the extra subsidies/marketing that comes with it.

Interesting that the 8x is behind both Nokia models even though it's available on both networks.

Not surprised. Unlike the USA, the practice in Europe and Worldwide is normally to get the phones at full price and not on contracts. So it's quite normal that people who bought a Lumia 800 last year are NOT going to get a Lumia 820 when their phone is just 1 year old.
I only expect the numbers of WP7 devices falling as people reach the 2 year warranty limit on their phones and start to thing about buying a new one.

Lumia 822 is out of stock on Verizon.

none of the colors are showing out of stock for me, except Grey which they seems have pulled completely.

I kind of feel like the Lumia 810, 820, and 822 should all count as "Lumia 820." The 810 and 822 are just carrier variants of the 820, after all. They're more a Lumia 820 than a Lumia 920T is a Lumia 920. When you take that into account, you realize the Lumia 820 has around 7.5% of the Windows Phone market.

Real sad to see that. from my country, vietnam, Nokia used to be the most trusted mobile brand but now is losing out the ground to Iphone/android and even china stuff. Iphone is everywhere, more than android. However, like other developing country, people still get feature phones for its long battery and dual sim convenience.
Nokia/WP has no problem to draw attention from the crowd, just that the nokia supply constraint is really a pain. They've laid off employees in major factories in Finland, Hungary and Mexico and shifted to Asia, close to the component suppliers. And nokia planned to set up a new factory worth of $300 mil in Vietnam, Bac Ninh province, north region, very close to the border with China. A factory with capacity of producing 45 million phones / quarter will improve the supply a lot.
http://press.nokia.com/2012/04/23/nokia-officially-starts-the-developmen...
though they seem to struggle with serious financial setbacks, it looks like everything is still on the progress as planned.
http://www.vir.com.vn/news/business/nokia-on-schedule-despite-struggles....


It's not surprising considering the crap options that have been offered to us. I still carry my HD7, which is a nice classy phone, my wife carries a HTC radar and my 13 year old son has a Nokia 710 notice. The options that we are offered as for children, starburst colored phone a purple phone that looks like it came out of a porn movie. What about business folks. You have the best phone OS wrapped up in what looks like toys. The failure to compete with the iphone will not be on the functionality but on image, if MS was serious about competing it would have force the phones to have the same class look as the surface products and I can guarantee they would sell more phones. I would have been interested in the Samsung ATIV due to it look but I have no real reason to get rid of my HD7 until I can get a device I am not ashamed to put on the conference room table during a meeting or maybe I should wear a florescent tie to match my phone.

I am WP advocate but disappointed with how these phones look
Windows Central Newsletter
Thank you for signing up to Windows Central. You will receive a verification email shortly.
There was a problem. Please refresh the page and try again.