Runtastic Me app update adds support for Runtastic Moment smartwatch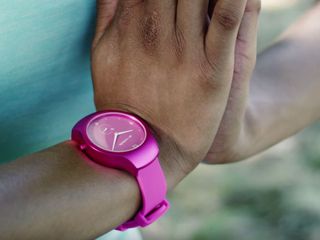 Earlier this month, the Runtastic fitness company launched their newest device, the Runtastic Moment smartwatch. Now, the official Windows Phone Runstatic Me app has been updated so it can connect and support the Runtastic Moment.
The smartwatch has been designed to that it looks on the outside more like a regular wristwatch, but it can still track the owner's steps, active minutes, calories burned, and sleep time and send that information to the Runtastic Me app. The update also adds support for the Czech language.
There are several models of the Runtastic Moment available to purchase, ranging in price fro $129.99 to $179.99:
Via: Plaffo
Well the design of the smartwatch is too old and lame....

Poor rating on windows store, sorry not interested

Android is getting these amazing watches.... we get.... this.

We get the updated app to work with the watches. Sooo...what's the problem? We get '...these amazing watches..." too.

What riid082982 ment was..... Android is getting amazing watches like The Moto 360 second gen, Asus Zen Watch, Sony Smart Watch 3, LG Gwatch, Urbane...the list goes on. Windows gets an Update to an app that works with a semi Smart Watch ( no direct interaction between it and the phone ie sms/notifacations ). So Windows Phone is still left with almost no options for Smart Watch. There is the Band and soon Band 2.....but again not a Smart Watch......if it can do a Watch Face then it's a Smart Watch If it can't it just looks like this http://i.ebayimg.com/00/s/NTUzWDgyOQ==/z/ygMAAOSwqu9VSrg4/$_1.JPG

I don't understand the problem.

Im still waiting for a new Misfit app. They say its in development and whatnot. But this watch seems to have the same idea as misfit, 6 month battery life! I have to look into this =D

Runtastic is my favorite and go to running app. Now if the can make it compatible with the Band that would be awesome!

It would obviously be great to have a wider range of options, but this is clearly good news - particularly as the watch is waterproof and can be used for swimming. I'm waiting to see what the Band 2 offers, but this could be a good option which could persuade me to switch from MiCoach. Surprised to see so much negativity.
Windows Central Newsletter
Thank you for signing up to Windows Central. You will receive a verification email shortly.
There was a problem. Please refresh the page and try again.