Satya Nadella hints that Microsoft is at work on 'ultimate mobile device'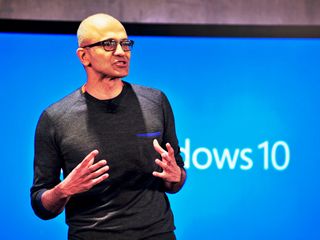 (Image credit: Windows Central)
Speaking in a new interview, Microsoft CEO Satya Nadella commented on Microsoft's current position in the phone business, hinting that the company may be working on the "ultimate mobile device." Specifically, Nadella tells the Australian Financial Review (via OnMSFT) that Microsoft is no longer looking to do "me-too" products, instead focusing on where the company can differentiate itself.
From the Australian Financial Review:
Of course, Nadella's comments are likely to spark further speculation on a potential Surface Phone, which has been rumored for ages. However, Nadella notes in the interview that Microsoft won't approach a new device category without bringing something new to the table:
If one thing should be clear by now, it's that Microsoft isn't planning to come to market with anything resembling current Windows 10 Mobile hardware. Rather, as we've noted before, Microsoft is waiting on some kind of "paradigm shift" in the mobile market. What that might resemble is up in the air, but it's clear that Microsoft is looking to make an impression with something that disrupts the status quo — much like previous entries in the Surface line have done:
Windows Central Newsletter
Get the best of Windows Central in in your inbox, every day!
Dan Thorp-Lancaster is the former Editor-in-Chief of Windows Central. He began working with Windows Central, Android Central, and iMore as a news writer in 2014 and is obsessed with tech of all sorts. You can follow Dan on Twitter @DthorpL and Instagram @heyitsdtl.
Trust u Mr Satya Nadella, Trust u all MS . I do waiting the best and uniquely.

Nadella destroyed the previous strategy, products, and momentum. So now he will clearly and personally own any success (or failure) in Mobile. I hope he's successful too, but it doesn't look good so far.

You clearly haven't been following the news on Microsoft lately...

"You clearly haven't been following the news on Microsoft lately..."

Follow the results. In Nadella's case, there none.

Nadella had to work under Ballmers doing, the Nokia acquisition. Now that that's gone, he's free to do whatever he pleases and what works for Microsoft

Doing "whatever he pleases" must please the board and the market, that's assuming the market is an affirmative consideration for corporations like Microsoft that are heavily intertwined with or outright run by central planners in government and private operations. Nadella is no different a puppet than the President. To clarify, when I used Nadella's name above, I was speaking for all of Microsoft. Whether Microsoft succeeds at mobile or not is not on Nadella. It's on Microsoft's known board and those who control it.

I agree. I'm sure they will come out with something that is awesome, fail to attract developers and then kill it, as that is what Microsoft and Nadella have always done when it comes to hardware.

Can you please site one instance where Nadella created and killed a hardware?

Surface? He killed my Surface 2.

In Microsoft fashion, it will be a year late.

Surface and UWP is very much alive. Windows 10 Mobile is very much alive. Only thing they stopped was Lumia. When i look at what (more or less great) services google and yahoo have killed in the last view years, that's nothing. #nextbigthingHYPE

I think he means Surface RT, it got killed.

We all saw what was going on with the phone and the platform long before Nadella arrived on the scene. Most of us saw that Nadella wasn't about to toss good money after bad so production was halted so they could re-assess the market. Lets see whats up.

Yes! Most definitely. In my case, I'd expect the Surface (mobile, phone or whatever the name it acquires) to be a Tablet at times that can be folded in to a Phablet at convenient moments. Much like the ones that are used in the Westworld series.

I want what raytiger describes! Folding phablet.

Folding Phone, 4,3" on one side, foldable 4x, making it a 12" Tablet. Might be a bit thicker, but still better for me than the way to big Lumia 950.

We have apps. Just not as many. Everything else is mind set.

I don't think they're waiting for the "paradigm shift", they're aiming to push it

That is actually how Microsoft would describe it. They're creating their own future/path through category creation and paradigm shifts. Besides giving up that is really their only way out of this mobile situation. Innovate like hell.

My only concern with this is, that at the targets of this new strategy (I just assume it is business, given the x3) you normally only got one try. If they screw this up with one of their driver problems (Surface WiFi, Battery, Display, Power management and so on...) they're done. And using innovative things (toying with new tech) doesn't make this any easier. Still hope they get this right. But the past doesn't really give me that much confidence.

"you normally only got one try"

True, but this is why they tend to do small rollouts. Even Studio is a small rollout (US only, Core i7 won't ship until early '17). If it fails it's not like Surface Pro 1 where they went too big. Elite x3 is same deal. Small rollout, steadily built it up for enterprise and not "OMG THIS THING IS HERE NOW GO GET IT" only to have it flop. They now test the waters first, get results, iterate and improve (or cancel if it failed).

The cancelling thing is the problem, it took three generations of Surface before it really hit it's stride, they need to be willing to take those same kind of risks and not just can the project in version 1 or 2 because they didn't hit their mark.

True, but I believe you'll generally have a good feeling if something's going to be a hit after v2. With Surface, after v2, you could tell people were interested in these devices, even if they were not yet perfect. This must have provided the motivation for the Surface pro 3 which changed the game!

Daniel, do you still think that in a mobile market (even with a shift as they are looking to create) that is still dominated by apps from a store, W10M will come out on top? I love the UWP flexibility and thier integration with all things MS, but i can't help but feel the gap is still there (both of quality of apps, see facebook, and apps in general (more specific games))

I'm pretty happy with the apps in the windows store right now. If they can let me use them in a smaller screen that would be awesome. I use a Surface Pro and find myself in no way left out, so if they just make a smaller screen Surface, and add LTE or other telecommunication it's a pretty big thing.

I agree with you... my Surface Pro get's a ton of use and for the most part the certain apps are up-to-par, but some are still lacking... take a look at the USAA bank app... it's a UWP app and it's great that it's there, but holy heck have you seen the iOS or Android app it make me cry with the solution that we have to settle for... overall i don't miss any of the main apps since we do have functioning app for most all (either first or third pary) but what i do still feel is a steep up-hill battle is the games area... i fully understand alot of people on this site don't feel this way, but if have ever played Brave Frontier on W10M and on android or iOS you know the difference... it's much better optimized for iOS and android... This again is an instance were we do have a solution, but it's honestly someone half-$#%!@. Furthermore we are a community devoid of 80% of the games available to either iOS or Android :(

If you are talking games and W10M, I agree with you. If your talking about games and full PC Windows 10, W10 has more games available than ANY other platform, including consoles. With all of the different stores and emulators, you can literally play every game EVER created. Don't EVER compare mobile OS to PC OS!!!!!!!!!!!

Strictly talking about W10M... I absolutly agree that W10 game space is massive and I would never compare the two... lets say x86 emulation does arrive... what is the performance going be? That question alone would give ANYBODY a pause before commiting that it will be great. That being said we will have to wait and see how it actually turns out.

You are in a miniscule minority.

If you are speaking about games and social media apps, I would ask what are the top application on the other Mobile OS'? I love W10M... however i can acknowledge short comming that keep it from mass adoption... everyday there are tons of new app/games being added to the other app stores... Super Mario Run is another one... what is your counter argument when someone says i really want to switch from either iOS or Android and part of thier request are I want to still be able to do all of the social media apps and play the latests mobile games? If you are stating that Me personally, am a miniscule minority giving W10M current user base, you are right, but it's only because the vast majority doesn't use W10M.

This. The problem has always been software, not hardware. All of a sudden, the software will be amazing? I don't think so. And even with an incredible new form factor, the device will have no app ecosystem.

That form factor may include millions of x86 apps if the latest rumour is true.

I absolutely understand the boom this would create... it is still about 1% boom... if MS is looking to do a shift in the way consumers use thier phone this (runing x86) isn't going to be it... people/tweens/kids want to play PokemonGO, they want to waste some time with clash royal, and now Mario Run... snap/tweet/instagram... if MS is really looking to create a shift it would have to be within those parameters for them to truelly succede in the consumer market space... heck even Studio is building it's app system within the store, NOT in an x86 environment

Still it can run X86. Very important for users of Photoshop & Stuff. I'd love to use a tool like Photoshop via continuum in the evening in the hotel to edit my shoots on vacation. And this is just one use-case.

There is still a lot of polish coming to the OS and a new design language for next year. They have a lot planned and also a lot to do. UWP won't suddenly click. It's on the 2-5 year plan. OneCore, UWP, WaaS, shell improvements, new categories, is all a huge pivot for them.

and a new design language for next year.

Wait, what? Am I going to have to rewrite my UI for a FOURTH time?

FOURTH? Windows Phone only had two UIs. O.o

Windows Phone 7/8 -> Windows 8 Desktop -> Win 10 UWP -> New??

"There is still a lot of polish coming to the OS and a new design language for next year." What? Talk more.

Hope they get rid of the hamburger again. Or, at least, put them to the bottom of the scren.

Did you complain abt facebook app ? I need not say more !

The paradigm shift is happening and its real. First, 2in1, convertibles, surface studio, and surface phone. Its now official that MS is more innovative than apple, first the tech world notices and then every tom dick and harry!

They need someone to buy those products

Sounds exciting. Can't wait to see what all the brilliant minds at Redmond come up with.

While I applaud MS for wanting to move the needle and look forward to their "paradigm shift", "giving up" isn't their only other option. As a 20-year advertising/marketing person, I'd bet dollars to doughnuts Windows 10 Mobile could get get to 10% market share within two years with the right marketing, dev incentives and a reworked distribution model as is. Would probably be about a $6 billion spend over those 2 years, but a bargain in retrospect to what they wasted on the Nokia purchase. As it stands they risk having zero mindshare in the Mobile space (compared to what little they have now) if they guess wrong or the "shift" takes longer to come than expected.

It's value versus costs, though. How much money do they want to invest in something that is not really complete or competitive in the consumer space. TBH, besides personal preference I can't think of many reasons today why I could recommend W10M over iOS and Android.

I agree with your sentiment that advising W10M to anyone over Android/iOS is a tough sell. I absolutely love Windows 10, but went from Lumia to Nexus for 'reasons'. But I still mis Windows 10 Mobile from time to time (the only mobile OS that ever made me mis it xD and I've been on iPhones and Android for years so I know the competition), actually considering the HP Elite x3, but then I realize that my (Android wear) smartwatch won't work with Windows 10, so that takes me back to sticking with Android as it is the better option (for now). Ecosystem really locks you in, every day Microsoft's presents in Mobile is basically non existent is a day they lose consumers to other ecosystems. And getting them back is going to be hard, very hard! The Galaxy S8 or Note 8 look like my best options for a new phone next year. Or a possible Surface Phone must blow my mind! I want to use Windows 10 mobile, I only use Microsoft services and own several Windows 10 devices. But for now even I as a fanboy can't justify Windows 10 mobile over the very best Android has to offer!

This...this argument right here is on point.

This is why in only buy platform independent hardware. E.g. the Vector watch.

Continuum and fully intergrated Cortana across the ecosystem everywhere.

But why do we assume that users who have that personal preference are capped at 1%? Personal preference for me trumps anything that ios in particular have to offer. Have market analysts found data that suggests a magic 1%?

Fair enough. Though I do feel that the competitiveness issue has occurred after the "retrenchment" strategy and the completeness since the move to One Core (which is a good thing long term). But ask yourself this: if the app and distribution playing field were level (or at least a lot closer to level), would you find WM10 competitive? As someone who has multiple devices on all three platforms, my answer is yes. I could also see Continuum, Hello and if they would add some of inking features of W10 proper, as differentiators. Microsoft owes it to themselves, the platform and their "loyalists" to give W10M a real push, that for whatever reason (Sinofsky-era politics, their own hubris or whatever) it never got. If for no other reason than to find out if their mobile philosophy needs to be scrapped and reworked (yet again). I remember how excited I was after MS flew me out to Redmond for a WP 7 preview back in Sept. 2010. My quote to people was "Microsoft just 'out Appled' Apple with the anti-iPhone. That was followed by utter disappointment when I saw the preview of their first marketing campaign. And it just went downhill from there. But I digress. If MS could eek out 8 market share over the next two years for less than they paid for Nokia, it's a smart play for a few reasons. They stay in the public consciousness in the space and keep their loyal (but dwindling) base happy. But most importantly, they get more than half way to the magic 16% market share number that the law of diffusion of innovation dictates as the point of self-perpetuation of a product. That would give them the base they need to impact the market when this unknown paradigm shift occurs. With zero base "normals" will likely not gravitate to a new MS product in mobile due to no familiarity, fans will be distrustful and afraid of being abandoned yet again and on sheer volume Android and iOS will retain enough users to stay comfortably ahead while they catch up to this new paradigm. Sorry for the novel, but I feel MS is at a crossroads in mobile right now and laying low until something new happens has more risks than being aggressive. Both now and post paradigm shift.

I made the mistake of switching from my trusty Nokia 1520 running WM10 to a Nexus 6P.... and while I liked the extra apps at first some things just didn't work or didn't work nearly as well, and those things were very important to me. Hands free Bluetooth reading txt messages over the car audio was a HUGE one... I have an android head unit and I tried EVERYTHING to get that damn Nexus to read out text messages over BT when I got in the car... Nokia 1520? No problem and NOTHING to set up... Cortana read the messages, and asked if I wanted to reply, and 99 times out of 100 she got what I said exactly right. That was a huge one for me as I drive a lot from state to state and don't like texting and driving.
Next, battery life... not even close... sure the Nexus could quick charge, but how about not HAVING to charge instead? Much better... and Windows was just faster at everything.... So I switched back... I took my Nokia out on the St Johns river though and the saltwater screwed it up, so I had to replace it... I am waiting for the next big thing so I just got a 640XL as a temporary replacement... Heck even THIS cheap phone lasts as long or longer on a charge than the Nexus! hahaha

The 1520 is, and perhaps always will be, one of the greatest mobile devices ever created. That thing was just plain amazing.

I like this perspective and would also like to add that the overall spend might have been less if they leveraged what mindshare they did have before going into complete retrenchment. However, now that they have taken their current approach, it seems like mindshare is almost at a net negative. At this point, it might be the right approach to let the slate get wiped clean, then come out with the intention to reinvent themselves in the eyes of the consumer. Bottom line, I'm on board with their current strategy because it seems to have the greatest potential to regain mindshare.

I agree. the innovation is there. tablet that replaces a pc-surface. then a phone that replaces a pc- continuum. then tackling businesses only with elite x3. dropping the microsoft band. i hope they find their niche. they have been truly innovative. unfortunately the world wants popularity more than innovation.
my last phone was a lumia 950xl now im thinking to buy an iphone. sadly everytime a phone is released we say maybe this will do it. Can the surface phone do it? it will be innovative for sure.. popular.. unlikely. An ad would be nice to create some buzz.

Good comment buddy, it's inline for what they are doing by coming up with new products.

Gotta love the new MS. If they pull another Surface tablet and have Apple and the rest copying them all over again ill be speechless. I still am when it comes to the tablets tbh but still this would be magnificent to witness. It's harder but thankfully the industry is so stale and with MS so inspired I think it's rather possible. Fingers crossed!

The thing is, Apple will copy them like they did with the Surface, and whatever Apple copies will sell helluva lot more than what they copied. And 90% of people will think Apple invented it.

Considering Apple doesn't have a mobile device (ARM processor) that runs full programs, nor do they have the market share (or the software available) to take over that market, I would disagree. There aren't a lot of consumers that need a phone that can run x86 software. Some will buy it for the geek factor (I'm one of them) but this will be an enterprise need. And it will likely be something that enterprise will adopt very well. Apple can't compete there at all.

That's the point. I wasn't even considering the legacy apps. And I don't think x86 is a geek factor anymore if you account the adoption rate of devs that are finally make UWP apps. From never to might get a broken alpha version of an app now thanks to Windows 10 being on all devices even my 930 has apps it would never dream of and things on PC and phone get better. I think taking things a huge step further will be even better for devs and consumer. I had almost lost hope and wasn't that confident about legacy apps on a phone but after all the new welcome changes the past year I don't think it's that far fetched to believe that a new innovative mobile device from MS plus desktop apps isn't a considerable starting selling point. Like I said. I never based my comment on the apps. But on the innovation that they bring with it. MS is on a profound roll. And with a profound recognition after so many years. Can't get a better chance than this.

I was more directing my comment at the idea that Apple will outsell what ever they copy. I'm the first one to agree that Apple may be the best marketed company in the tech industry, and they certainly do sell extremely well to consumers. I just don't think a device like this (assuming we know what it is and it becomes a reality) can't be as successful through marketing alone. This would have a MASSIVE use in enterprise, and as I think about it, the healthcare industry. Apple can certainly break into healthcare (to a point) but they just don't have the ability (right now) to take over enterprise.

@davisorle Axmantim Well, Apple does not sell extremely well to consumers anymore. Actually they are getting hit hard in most departments. Apple is even killing devices like the big screens and networking devices. In mobile it's Android, in bigger devices it's Windows. Regardings apps it's Android, regarding legacy and business app(lications)s it's Windows.

Where Apple has an advantage is that iOS is their market share OS. Apple's desktop OS has always been more obscure and differentiated, and even targeted for specialization, as it has never run all software available to Windows. The iPad Pro is more an extension of iOS's capability. Also keep in mind iOS leverages Apple's SOCs and further tightens their hardware-software relationship. Every advancement of that helps Apple control its own destiny versus a dependence on Intel. Skylake really hamstrung MS with SB and SP4.

As much as I agree with you and will bother me, at the same time I am fine with knowing for myself how retarded those particular people will look and sound to me and that satisfies me at least enough. But if you consider that now media outlets that drool over anything Apple even bring up and compare with them the new MS products, MS innovation can't be transparent any more. Things, thankfully, changed enough the past year or so. And MS doing something huge in the mobile space won't fall onto deaf ears this time I believe. At least not as much. Trends are changing a lot.

Apple is not as bullet proof as they used to be. They got a lot of bad reviews for their new Mac Book Pro from many Apple reviewers. Right now they are just living off pass accomplishments (iPhone/iPad).

I am using an iPhone 6s, I am using it because of the app "situation". there are many many apps that I use daily that are not on the windows side of things. I tried using a macbook, (which i am typing this on now), but I do not like it. I cannot get used to how OSX runs. I just don't like the OS. I said the day that Jobs Died that apple will NEVER be the same. I was right, but it's just taking longer than expected. They have not released any "NEW GOTTA HAVE" products. They just made things thinner and lighter. The "touch bar" on the new macbook is really a cool idea, but then they hampered it by removing a lot of functionality from the pro in the form of ports, drives etc. I Do enjoy my iPhone. If windows mobile had the app situation fixed I would be back with a 950xl as my daily driver. I am going to buy one, but I need the iPhone as there are apps that I use that I NEED for business and are not available on WINDOWS. I am very excited to get my new dell 2 in 1 however to be back sitting drinking my coffee in the mornings with a device that has longer battery life than 2 hrs. Cannot wait!

Apple can't copy them, they have to restructure iOS to be like Windows 10 that's a massive undertaking and not something done lightly. Remember the Surface isn't as much about the hardware or the software it's the level of integration of both, and touch is a first citizen on it something Apple isn't willing to bring to the desktop and iOS is far too limited at present to even come remotely close to the same functionality of Windows. Apple is already losing mindshare over the latest MBP and iPhone something that was unthinkable a few years ago.

Thought 950 was an ultimate device

It was for me until they hamstrung the DualSim DualActive capabilities.

I'm not sure that Microsoft ever said that. If memory serves, the 950 was a device for the "fans", to hold them over. There was no marketing push, no over-the-top announcement.

Lumia 950 mini would it be for me.

Of course they are! And like I said in Jason's last post, it's not just going to be another phone in the market. They are going to bring a device that differentiates itself from the competition. Much like how Surface devices are 2-in1's, this is how Microsoft's mobile device is going to be. If they build a "phone" that plays well with Windows 10, I'd gladly purchase that device.

Don't know why but I think if Ballmer was still CEO we would already have some kind of Surface phone.

But then it wouldn't have been all that unique a product.

He wouldnt have thrown the platform under the bus with all the retrenchment bs either, and he would probably be building on the double digit marketshare it had in Europe to make it more viable rather than the walking dead platform thats its turned into.

Exactly this. Satya severely hampered the future of UWP by his short-sighted decision of retrenchment. By late 2013 they had more than 5% global market share, and more than double-digit marketshare--and the #2 spot ahead of iOS--in a dozen or so markets. They accomplished all of this despite carrier exclusivity limiting purchasing options, and without any real attempt at advertising or promotion. What they should've done is doubled down and continued to grow WP, as it was near the 'tipping point' needed for more widespread adoption. Had he done that, WP would probably be at least 6-7% market share (which is all Apple ever achieved with MacOS/OSx, by the way, despite decades of trying), and instead of having the atrocious app gap problem we have now--one where some developers are choosing to release apps for Windows 10 but not Windows 10 Mobile--we'd have a much better ecosystem.

Sorry, but I think this is a rather myopic viewpoint. The market is unpredictable. How do you know W10M would have gained any significant market share? People tend to get set in their ways and don't budge unless the alternative is convincingly better. Moreover, even if it had the gains you said, why do you think that will be sustainable? Smartphone innovation, quite frankly, has slowed to a crawl. Year after year there are only incremental improvements from the big players that really don't improve productivity. You think that under those circumstances that W10M will survive, especially with lack of OEM and software developer interest? The best thing to do at this point is to create a new form factor--carve out a new market segment. That's where the groundbreaking innovation will be, and that will ultimately generate the most interest. MS already accomplished that with the Surface products. MS could make a phone with an x86 chip, but how many consumers care about that? It's still just another smartphone. MS has to go outside the box-- otherwise they'll just be another victim of what's really a war of attrition between iPhones and Android (Samsung) devices.

"How do you know W10M would have gained any significant market share?" Because it was already experiencing annual growth every year since inception despite not being universally available and despite rarely being advertised.

Perhaps, but how was it gaining market share? By saturating foreign markets with low to mid-tier devices that yield marginal profits? If that's the case, what does it matter if it beats Apple when Apple sells pretty much only high end devices and most of all has market penetration in the United States? Eventually W10M was going to hit a wall. Continuum doesn't work on low to mid-tier devices, so what else is going to entice consumers to buy a WP over an Android device? There's not much sense in pouring money and resources into trying to penetrate a market that is dominated by Android and Apple. That ship has sailed, but now MS has the opportunity to carve out a new platform and a new market like it did with the Surface Pro while Android and Apple keep trying to outduel one another in a market that's stagnating.

It matters because user-share directly correlates with developer interest. UWP was dead-on-arrival as soon as Microsoft pulled the plug on Lumia. Starting from scratch makes a lot less sense than starting from 5%. Had they kept with it, UWP would be blossoming instead of faltering. They set back UWP by years and completely wasted the tens of billions of dollars in sunk costs already poured into Windows Phone.

YEah sure.. the 950/950 XLs were selling like hot cakes before the retrenchment.... geez.. Balmer let google and Apple slip in and gallop away when MS was the undisputed king.. Dunno why you guys support him..

60$ stock price now, from $29 when Ballmer was around. Healthier business = phone has a chance. Imagine if they are still suffering to make money. The only hardware we might have is Xbox and MS retrench fully into software only Money talks

Stock prices are fickle and favor short-term strategies over long-term strategies even though it's only successful long-term strategies that lead to actual growth. It is not a good measure.

Suffering to make money? Shows how much you know... Also everything that's making MS money right now is straight out of Ballmer's strategy (and according to him pushed through the board by him) aka the whole surface and xbox line; windows 10 too is pretty much fully based on Ballmer's intent on creating a unified platform with the whole minwin project. Nadella has done much to push for better developer relations by being more open (not just open source, but also with the feedback and more open communication). tldr; ms was making money then, it's making money now...

Well Panos and his team would still be in charge for Surface phone. Ballmer has had more mobile strategy over the Cloud and other stuffs. So Panos would create SP as he probably will in future. Thats what I meant.

Better one in the hand than ten in the tree...

Why not? Panos was still there. Wasn't the Surface developed under Ballmer?

The last reference to crApple is just sweet!

Especially since apple kind of provided a fridge sized toaster ;)

Indeed, especially with quotes like this: "to be very focused on a specific set of customers who need a specific set of capabilities". That's telling.

Eh, he meant it literally, you know. :)

I don't know if people are in denial or don't read, but Microsoft has said many times that W10M is now only focused on enterprise customers, meaning it's not really designed for the rest of us. All this continuum and the hope of x86 apps on a phone might be good for the ones that use it only for Excel and Word, but other than that not too much. However, if/when the day comes where a phone has the power to run real applications, then that is the day something like this will be useful. But I don't see that happening anytime soon (maybe not even in our lifetime).

Sounds like this device will be for Liam Neeson.

I hope i'm that customer. Midend-Hardware with 4,3" and Continuum is what i need.

I wont either. The only thing they can bring is x86 on phones but realistically what does that really change? The vast majority of consumers arent looking for basically a mini Windows tablet so the appeal again is limited to enterprise. Seems like just a bunch of talk (like their so called "commitment to mobile") to keep the fanboys happy.

I think the idea of a paradigm shift consists of more than just adding a feature or two to an existing device...

Definitely not. Cause MS has soon as there trade-mark;")

I just hope its within the next year or so

Sadly, something tells me around 2 year minimum give or take a few months. I'm thinking it'll be a device that can run x86 apps in continuum mode while plugged in to power. That's not supposed to hit W10 till end of 2017. Then they gotta work the bugs out of that. I seriously hope I'm wrong though.

x86 doesn't make an ultimate mobile device. It will need quite a bit more than that. Microsoft just isn't in the position to make the ultimate mobile device. They are all talk.

Why, because you claim it? As usual your argument is 100% subjective. I provided an opinion and didn't try to make it anything but that. You should try the same sometime.

What x86 program would be useful on a touchscreen mobile device that doesn't already have an app equivalent? To create the "ultimate mobile device" Microsoft would need third party software as well as game changing hardware and UI. Do you really think Microsoft has this all up its sleeve? So you really think the next paradigm will be using Windows 10? It will need to be something we have never seen before if it wants to be the next iPhone.

First off, do your research. MS has been reported to be bringing x86 emulation to ARM processors. No special 3rd party software for it needed. Also, re-read my comment, 2 years is enough time to redesign a mobile device. As for your first question, pretty much any HCIS/EHR software for starters. Text editors that developers already use and are familiar with, pretty much anything that any enterprise uses. You quantified touchscreen, yet that's not even close to necessary to making x86 software useful on a mobile device (again if you read my initial comment) I, as well as plenty of people, would love a device like this for hotelling at the office. If I could carry a 'phone' instead of a laptop, that could drop down on a dock and do my work from any space in any one of our offices, that would be very much ideal. The rest of what you said, is nothing but speculation with nothing behind it.

An ultimate device would also need to have a consumer hook, not just a very niche business case. Microsoft's marriage to Windows 10 will keep then from creating the next paradigm.

Who said that was the only feature? You're creating arguments where they don't exist.

You must be dense. #1. Running x86 apps on a phone would obviously be done through continuum so that you can utilize a large screen at your desk. It's unlikely people would be excited about running photoshop on a 5 inch screen, but they'd be very excited about being able to replace two devices with a single device, and more importantly businesses would be very excited about the cost savings and flexibility with devices that can do everything. #2. If enough businesses get on board with W10M for the x86 continuum capabilities, then naturally the app developers will follow and soon enough you'll have a device that's equally compelling for the average consumer. The first target however will most certainly be business. Nadella said they are focused on a "very specific set of customers with very specific needs". Now stop causing trouble and educate yourself before you start hating.

X86 would only be useful to me if I could use it in the phone, on the go. Otherwise I might as well just keep using my tablet. But if i could use my work software on my phone and just have a monitor set up to connect to at times for a large display that would be the perfect set up.

The second part of what you said is pretty much my point. I don't know what you do for work, so obviously I can't speak for you, many people won't need it as I've said. But where I work, if I could pick up my phone, go to a meeting room, training room, or even another office/cube, and pick up where I left off, without carrying a laptop, and not worrying about forwarding my phone anywhere. Instant productivity upgrade, and even though a high initial cost to the company, no need to buy all the extra machines for conference rooms, training rooms, and open offices/cubes. Just a dock needed everywhere.

I just need one thing don't abandon windows 10 mobile until I die.! Cuz I don't like any other platform.!

I'm pretty sure W10M is here to stay, so far Windows is around. As several articles and interviews have pointed out, W10M is not a 'standalone' OS anymore, it is part of the entire Windows OS

So what. If no one builds a device what's the use?

Do you mean "no one" as in "some"?

Looking forward to what Nadella has in mind.

With the news of Windows 10 Mobile emulating full Windows, I think we might get some kind of Surface Phone.

Just don't fire any more employees.

Interesting . . . I just had a very similar conversation with 2 tech guys at my AT&T store, both sporting Lumia 950s as their personal devices. (I went in for a SIM replacement for my Lumia 950 XL.) One of them is convinced that the new mobile device is to be expected this spring. But he called that a "hard rumor," whatever he meant by that.

These are the types of responses and comments that are needed, welcomed, and relieving to hear. I am guessing they may be positioning Windows Mobile 10 to be no different than Windows 10 (as has been pointed out). However, allowing companies like HP to have an integral hand in the shaping of Windows Mobile 10 will do nothing but benefit both companies. We may see the Windows 10 Mobile platform be very similar to Windows 10 as a whole - meaning MS will produce top-knotch hardware which truly embraces and shows what the OS is capable of and third party hardware companies can do what they would like with it. Obviously this isn't much different than what has, supposedly, been the case but the CEO coming out and starting to lay the groundwork that focus IS on mobile is a great way to instill confidence with other companies. In the end....we'll se.

I hope we see something in spring 2017. But who knows, it might take much longer time to.

In order for it to launch "Spring of 2017", it'd essentially have to be almost finished by now. And don't forget the OS still isn't quite where it needs to be. I'd say 2018. 2017 will still be the year of HP.

Agreed. The earliest for anything is probably fall.

I think in the spring we'll hear more substantial rumours, and maybe even a better idea of a potential release date, but it's probably too early for the phone. On the other hand, the Surface Studio came out of nowhere.

I can't wait to see that Ultimate Phone / Gaming device come alive. I am just dreaming here. One can hope for it.

Gaming device would be difficult, unless your W10 PC gets everything set up to stream to your phone even outside your network. (possible but difficult) Other than that, for it to be capable at gaming, you're gonna need something pretty big to fit a bunch of hardware in. I would love it, but I don't see it.

It's really difficult to create something completely new, different from the other phones. I hope Microsoft will reach this goal! :D

Yep. Apple only managed because there weren't really any consumer devices with an extensive software ecosystem behind them, at the time. Nowadays, breaking into the smartphone market is much like breaking into the desktop market.

What Microsoft needs to do is advertise better. I told a coworker about contiuum and she thought it sounded awesome. They to get cell providers on board to help advertise. As someone who is on Verizon I wish i could have a phone with contiumm it would so help with my work. To have the ability not to have to carry a laptop everywhere would be awesome.

Dude that's an understatement. They need to advertise A LOT better. I really believe if they did just that, and nothing else, Windows Mobile would gain some foothold.

I agree they need to work on marketing.
They waste ad budget on movie, TV placements as if that would really work.
Compared to the barrage of android/iOS commercials in primetime+sports events

Agreed, but I think they're picking their spots. I think MS releases a lot of "test" hardware. I don't think they want to advertise anything until they know it's solid. That's why they never advertised the band because they were never convinced it was a good product (although I think it's pretty darn awesome). That's why they never advertise Windows 10 Mobile because they still don't believe it's good enough to compete. However, they did (and continue to) advertise Surface tablets and Surface books. Notice the difference? They know their Surface line is fantastic and so they advertise it. That's why I believe when they do release a Surface phone, #1 they will only give it the Surface name if it's truly fantastic and a game changer, and #2 then they will most certainly advertise it.

Hololens in some ray bans and a folding screen and I'm in. I think they still need a battery revolution though, especially for an x86 platform?

Yeah I'm thinking it's gonna end up being you can't emulate x86 unless the device is plugged in. I don't think that'll be a terrible limitation for now.

I can wait for that device. No problem. But I just hope I'm able to afford it when it comes. :p

Time to take a break from boring(at this point) android and ios

Whatcha doin? SOMETHING AWESOME. You mean like a phone? SOMETHING MOBILE AWESOME. When will it be here? THE FUTURE. So in the mean time . . . IT WILL BE AWESOME. COME BACK IN THE FUTURE. Moving on, then.

Would you have preferred if he'd said nothing, leaving us all to assume that they're working on nothing and we should just give up all hope and move on to Android? Do you think that would've been better?

At least he threw proper tech shade to the nay sayers like the verge when the 2 in 1s first came out.

Awesome news. Glad to finally hear some confirmation about their commitment to mobile. If this article came out some months ago I may not own a second phone as a backup phone that is non-WM.

Crikey, if this isn't click bait Dan. The title says 'are', whilst the text says 'may'. Quite a difference Sir. Any how, the Pedantic Police have left the building. IMHO, whatever it is they 'are' or 'may' be working on, it will have to be capable of everything people require. Whether that be win32, continuum, UWP and so on. I guess whatever they do will be, once again, aimed at enterprise and prosumers. Consumers won't be wooed unless it is the dogs danglies, and everything they access, app wise, is available. I think apps will become less important and be more web / cloud based. That's when MS need to be ahead of the game. If your mobile device becomes just that, like HP's fab 3 in 1, and cell speeds continue to increase, data allowances increase / made less expensive and something that fits in your pocket, possibly folding, MS will be way ahead. Alas though, Apple have a folding device going through the patent procedure, and that may delay the path MS ought to take. Maybe we will end up with a reworking of the fab Nokia Communicator for the modern world. Larger screen, power, ram, storage and a full blown Win10 / 64 bit mobile. Of course the other spanner in the works is intel withdrawing the mobile chips although the Atom struggled with anything remotely heavy. Am I mad, deluded or just having a bipolar episode (again). Powered by lithium! Oo yeah

Just because Apple has a patent, doesn't actually mean they have a working device or are planning to release it soon. The patent is a couple of years old as it is.

Love to see a phone similar to those in Westworld. Those things are badass. Though I think it'd be more of a wireless display and you'd have to carry the processor etc in something else. Also unsure if they make batteries that thin right now, at least reasonable Ah ones....

We already know they are working on something different from months ago, the question is after how many years will the product be ready? 5 yrs? 7, 10

You know what. I might try the AR first on the mobile and then on the hololens. You know what I mean;")

This is all well and good, but they need to work on getting more app developer support.

Holy ****. You people really can't see past your own noses, can you? Good thing you're not running things over there. You have no vision at all. You just want MS to keep duking it out against iOS and Android without bringing anything new to the table? You think that's gonna go anywhere?

Too late to matter now. People have already moved to Android and iOS ecosytems. They won't go back to Windows phone easily, unless Microsoft does something extraordinary, like a phone having a battery lasting a week, etc.

That's exactly what they're trying to do!!! They're trying to do something extraordinary!!! That's the point! Pay attention man.

Tim Cook's biggest mistake when he disparaged the Surface as a toaster and a refrigerator is he failed to realize the iPhone and smartphones in general are convergence devices. 20 years ago who would have thought combining a phone with a calculator, a gps device, an internet browser, an AI assistant and a computer running on apps was a good idea and not the height of absurdity? Now look at the market it has spawned.

Could someone explain what the exact benefit of x86/x64 apps is? or, to put it differently: Can't you put C++ into an UWP app? (Yes, noob here.)

You can, but it's not quite that simple. There is no advantage to x86 as long as the apps are UWP-bound, and even if they are not, they would likely appeal only to a small niche.

Whatever. They are always working on the next big thing. I wish they would just forget about mobile and focus 100% on PC. Even if they do release something, the execution will be poor and someone else will come and do it better.

Hard to be passionate about anybody or company that's content to be "wating for....". We'd be using flip phones if Apple decided to wait for ..... Get out their and create the paradigm shift.

You make it sound so easy.

Here we go again wait for big surprise

Definitely agree with that. Westworld mobile device needs to happen I left sprint because they were releasing the Kyocera Echo (Droid) and no more windows phones like the HTC Arrive, when 920 came out.
The Echo was first American fold out extra screen phone I can remember, it failed

True true. I've said it before the Westworld device should indeed be the next best thing.

I really wish they'd made a phone for creatives. Like the next update is Creator's update, so if they just surprised us with a phone with a handful of nice creative features for musicians, painters, photographers...

Here's a thing about new Microsoft.. They don't tease what they will release.. They never teased surface studio.. One S.. They tease things which will released at least a year after..

I think Microsoft is heading in the right direction, I think the ultimate device can't be called your phone or your tablet or your pc. It has to be a conglomeration of them all that works well as either, I think the X3 is the test model, and maybe the surface device will be first iteration of the only device you own as phone phablet and desktop, if it runs true x86 .
Maybe the first model will run x86 emulation

I do hope so. Mainly because the whole Apple/Samsung or iOS/Android field is getting boring, in terms of mobile. Seriously...it needs a major shake-up, and a big part of me is hoping that Microsoft does something so big, it breaks that 10-year-old device out of the water. Call me crazy, but yes...I want to see something awesome happen here next year. Go Microsoft, Go!

In what decade will this take place?

Glad my Lumia 1520 still works great for the time being.

He should be hinting at stepping down and letting Panay taking over

Wait. He's just admitted that they're working on something awesome, and now you want him to step down? You think maybe MS should drop whatever they're doing and start over again? Sheesh.

Everything he says is BS. You want me to believe THIS TIME when he says something great is coming, that it isn't just one more of his lies? Put someone in there with vision, excitement, and some form of honor. Nutella has been nothing more than a dancing clown that is only worried about money while presenting false promises in order to get everyone to ignore the mess he has created.

I bet you couldn't even provide evidence of a single lie.

How about when he said he was fully behind supporting the new Microsoft Windows Phones (950 & 950XL) then turned around and pawned off technical support to it, to some third party company that when you contact them informs you each time that they dont know what that device is and cant help you. Would that count?

Like I said before, I'm not interested in the overpromising anymore. They underdelivering has been insanely apparent for a few years now. Don't tell us what you're planning to do, show us what you've done. All this crap keeps doing is raises expectations that are never met.

That's Nutella's MO. He has to go. He comes off as this "oh-shucks, I am a people person" and in reality he is a "don't trust me looks, I'm a money hungry rat".

"...even our competition has decided that it's not a refrigerator and a toaster but it's actually a two-in-one." Nice comeback, Nadella.

Make it a true x86 capable 3 in 1 with dual sim WITH expanded memory (not dual sim or sim and expanded me more) and a great industry leader camera and my company will be lining up for them.

This looks like more business focussed development. Phones running legacy apps via continuum. This might make shareholders happy but I cant see anything of interest for consumers. That's the Nadella way.

Think boy! Of course this is business focused, but if businesses love it, then the app developers will follow because business users bring their phones home with them. Then once the apps start flowing the typical consumer will benefit. First court the business user, then it will naturally flow to the non-business user over time. Don't you remember Blackberry? Where did they begin?

Anyone with half a brain knows that the HP Elite X3 is the device that shows where Windows 10 Mobile smart phones are going. the latesr news is that Microsoft will have a great X86 emulation program that will enable a Windows 10 mobile AMRS CPU smart phone to run full x86 Desktp PC programs this sofware will prbably be showcased on the "Surface brand" windows 10 mobile smart phones next year 2017. until then Microsoft's OEM partners will debut Windows 10 mobile "Continuum" Windows 10 moble smart phones. The device I want is an 8 inch touch screen tablet that run windows 10 mobile and the full Windows 10 Desktop PC/ PC Tablet OS. I would make and receive phone calls with a blue tooth headset and run MS Universal Apps desktop and PC programs in it's Continuum mode. Hdset

No it's not...too small by .5 inches. They don't want phones they want....wait for it...Pocket PCs...annnnd I'm going over there --->

6.5 to 8 inch tables that can make phone calls using BT headsets that can also dock and become full blown netbooks. Am I missing anything? If the package it with a smart watch I'll buy it. If they forgo the smart watch again...I can't come back to WM as my DD.

I hope these are not just words. I've been loyal to Windows Phone from WP7 to W10 Mobile, and now am using a Lumia 950, but the proposition is wearing thin. MS must invest in core quality apps as part of the strategy. Recently several apps have disappeared from my phone leaving me with no alternatives. Previously very useful and well executed apps have been scrapped and cease working properly. I'm ready to go to Android if they don't get their **** together soon.

If MS are searching for a consumer hook for this 'ultimate' mobile device, I don't think they need to look much further than the Xbox department. Consider all the work going on recently with backwards compatibility/emulation, Xbox>PC streaming, W10M Xbox controller support, adaptive resolution scaling between One S and Scorpio etc... What if one of the modes of this 'ultimate' mobile device becomes a lower 'third tier' of Xbox console? Fully compatible with digital 'play anywhere' and backwards compatible Xbox games, albeit at lower resolutions etc where necessary. Play handheld or docked via continuum to a TV. Throw some cloud processing/rendering behind it if necessary, or stuff an eGPU in the dock, whatever. I guess it's technically all possible? Surface Mobile. The mobile that can replace your smartphone, PC... and your console. I can't imagine Apple, Google or Sony being able to copy that and pass it off as their own for quite some time to come.

At this point in time, these announcements and promises mean absolutely nothing to the average consumer

Does it matter? With app developers not adding apps and many leaving the marketplace, what could they do that would actually bring customers? They have done nothing to take advantage of the recent Android Samsung disasters. Without apps the best phone in the world does not matter.

You don't get it, do you? If they release a phone that runs x86 apps, that would be a game changer. You could literally replace two devices with one. You could run QuickBooks, PhotoShop, full Office, and any other app that you can now run on your desktop or laptop, through your phone. Just plug your phone into a dock at the office, and you're off to the races. And it may not appeal to you, but this would be a no brainer for business. And if businesses start buying it in great enough numbers, then the app developers will follow.

Being an insider, I can only confirm that mobile is being taken seriously by MS.

do you mean insider as sign up for the insider program? or you work for MS. being an insider showed me NOTHING of how serious MS is taking mobile to tell you the truth...

The more I think about it, The more consumers don't need x86. They JUST NEED SOME APPS. Simple…..MS/Nadella/ETC, are really making this harder than it really is. The w10m OS is very very nice to use…All they need is to give dev's free for 2 years development and placement. The bridge is already there with island wood. Yes, still have SOME control of what goes into the store because there is ALOT of crap in there. BUT, give the real dev's free usage for 2 years, and price yourself into the game instead of out of it like they have been doing. If the app situation was better I, and I am sure ALOT of other people would still be using w10m. And stop pulling stunts like they did in the past. Making promises that were not kept.

You're not really a visionary, are you?

The only way a Microsoft mobile phone can be competitive with iPhone and Android is if it required no monthly fee from a mobile operator and Santa gave everyone one for free. Lets face it, without the apps no one is going to invest in a Windows Mobile phone.

The iphone didn't have any apps at one point either. The reality is if you make groundbreaking and genre defying hardware then developers will jump on board. In the end devs just don't look at marketshare, they look at developing for a device they would personally want to use. MS's challenge is to make a mobile device that people will **** for. Haha, L U S T is censored. If they do, all of the other stuff like apps etc will fall into place. That's how the original iphone succeeded in spite of the fact that they had a smaller marketshare compared to competitors. That mantra still exists till today. Apps appear on IOS first in spite of the fact that Android has a larger marketshare. It's because the iPhone has that cool factor.

The original iPhone didn't need apps to succeed because app stores didn't really exist at the time.

Oh, boy, what a statement! So you're saying, windows phone has no apps? Have you tried to look at windows store lately (not like 10yrs ago)? You'll be surprised, there are apps, and useable ones. And if you'll try to make some nonsense statement like, iPhone has 2billions and android 3 gazzilions, and windows phone only whatever, then i'll have to say, dude, come on, get real, does it really matter how many of those flashlight type apps are there? All the apps I need are present on the platform, and they do get the job done.

I think Microsoft will do a GREAT work with the SURFACE PHONE!!!
Windows Central Newsletter
Thank you for signing up to Windows Central. You will receive a verification email shortly.
There was a problem. Please refresh the page and try again.