Sprint MVNO Ting to support GSM starting in February 2015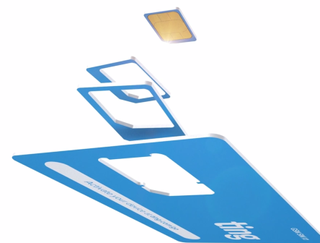 Ting, the MVNO that currently runs on Sprint's network, made a curious little announcement today. In a rather epic video on YouTube (as epic as SIM cards can get, anyway), Ting announced that it will support GSM phones starting in February 2015.
WIth its SIM, users are free to switch to the Ting and bring their unlock GSM devices with them. It isn't clear which carrier network Ting will be piggybacking for support, but its projected GSM coverage map can be found here (opens in new tab).
In a blog post, Ting's Andrew Moore-Crispin describes how he service will work:
Are you any more likely to consider using Ting when it supports GSM phones in 2015?
Source: Ting (opens in new tab)
Windows Central Newsletter
Get the best of Windows Central in your inbox, every day!
Dan Thorp-Lancaster is the former Editor-in-Chief of Windows Central. He began working with Windows Central, Android Central, and iMore as a news writer in 2014 and is obsessed with tech of all sorts. You can follow Dan on Twitter @DthorpL and Instagram @heyitsdtl.
I used to have an HTC on Ting, found the coverage awful. But to its credit, my bill managed to hit around $20 once. If the coverage provider for GSM gives me the coverage I want. I will definitely consider it! If not Ill just stick with T-Mobile.

That is the T-Mo coverage map right there, so you could switch if you want to. Posted via the Windows Central App for Android

Ting is a pretty great company and this GSM thing could be huge. In short, you pay for what you use. If you're someone who uses a lot, probably not much in savings. However, if you ever wanted a second line, or are on Wi-Fi a lot, Ting has some very intriguing options.

beg your pardon but how is this related to windows phone windows xbox or whatewer MS produce? Not considering any Ting to answear THE QUESTION

Because T-Mobile has Windows Phones?

Because Ting carries Windows Phones.

Some articles are posted across all MobileNations sites.

I'll try it before switching from T-Mobile

Taking a look at the coverage map it's definitely T-Mobile. Very interesting, but as it stands I pay less for 5GB of data on T-Mobile than I would with Ting.

First worldwide? Possibly because not many countries would allow operators squeeze customers' and manufacturers' balls as tightly as CDMA in US.

CDMA is a superior standard that delivers greater coverage from a single cell, historically stronger data performance, superior voice quality and a whole host of other options. "3G" on GSM is actually a form of CDMA, known as WCDMA, because the original GSM data standards (GPRS and EDGE) simply couldn't deliver the performance of a code-divided infrastructure. Qualcomm ended up licensing the CDMA IP and becoming the biggest player in GSM chipsets as a result. (Irony). Plus, CDMA does a superior job, even today, of covering large amounts of empty territory with relatively few towers. LTE and GSM require significantly more towers to get the same level of coverage in the same frequency range. So it's not as cut-n-dry as some would like to insist.

I don't get it. Here in Europe GSM is the first generation of digital mobile networks. It's still in use but it's just basic, also known ass "1G".

In the US, common vernacular is GSM refers to networks that use a SIM card for 1G/2G/3G, while CDMA is for 1xRTT/EVDO CDMA networks. Generally, "CDMA" and "GSM" phones will not work on the others' network type (though this is changing with newer devices like the Nexus 6). National CDMA networks are Sprint and Verizon. National GSM networks are AT&T and T-Mobile.

You also forget that U.S. Cellular is also a CDMA carrier, but their only Windows Phone is the Samsung ATIV Odyssey.
They are rather obscure these days....

That sounds complicated, in South Africa we have got one simcard for 1 to 4G.

That sounds complicated, in South Africa we have got one simcard for 1 to 4G.

What never herd of amps?
http://en.m.wikipedia.org/wiki/Advanced_Mobile_Phone_System

GSM is 2G not, 1G... (and for reference GPRS was classed as 2.5G)

You're right, I got this wrong. But thanks for all the explanations.

From the coverage map HTML

meta name="author" content="T-Mobile, U.S.A."

http://www.ssbwiki.com/images/0/0f/WWHD_Tingle.png

Weren't GAIT phones popular for a time? And didn't Verizon acquire Alltel resulting in the blackberry storm?