Tired of Cortana suggesting things to you? Now it's your turn with CORTANA.USERVOICE.COM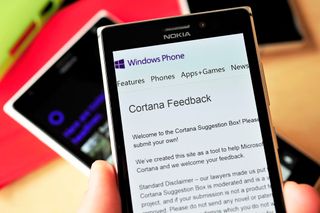 Microsoft is very interested in what you think of their products, and they want your feedback. We've seen them take action on this by launching various 'User Voice' forums where users can submit feedback and suggestions. But the real cool feature is the ability to 'vote' for suggestions. In short, the more votes something gets the more likely Microsoft will take action.
Today, Microsoft has announced a new User Voice built specifically for Cortana, and it can be found at cortana.uservoice.com.
Here's what it's all about:
It's that simple. Suggest something, and if people like your idea, they'll vote with their mouse. Microsoft's Joe Belfiore even cited User Voice suggestions as being used to settle debates about enabling a feature or not, so this isn't some PR tool but a valid feedback system. Make use of it!
Do you want some other User Voice forums for Microsoft? Glad you asked, here you are:
Official Microsoft User Voice forums
So make your voice heard and use these sites!
Windows Central Newsletter
Get the best of Windows Central in your inbox, every day!
Daniel Rubino is the Editor-in-chief of Windows Central, head reviewer, podcast co-host, and analyst. He has been covering Microsoft since 2007 when this site was called WMExperts (and later Windows Phone Central). His interests include Windows, laptops, next-gen computing, and for some reason, watches. Before all this tech stuff, he worked on a Ph.D. in linguistics, watched people sleep (for medical purposes!), and ran the projectors at movie theaters because it was fun.
I just watched the movie "Her", now I want a version of Cortana with Scarlett Johansson's voice!

Have you seen Johnny Depp's Transcendence? You'll LOVE it...mwaaahh!!

19% on Rotten Tomatoes...can't tell if trolling with the "You'll love it" comment, lol

Who pays attention to rotten tomatoes? I know I don't. I find most movie reviews that are bad towards a movie I end up liking lol.

Obviously, I do, lol (and so doesn't Bing). I mean, it's not and end all, be all, but it's a good finger in the wind about a movie. Also, forget professional reviews, only 44% of the audience liked it. That doesn't mean you can't of course, but that movie is considered to be a bomb, and many ppl in tech hated it. Just saying!

Saw it and didn't really like it..

Thankskilling, horrible just horrible movie. But it was awesome haha! I haven't looked at any percent ratings though. I only watched the trailer a bit back. I'm more excited for Godzilla!

I for one don't really like reading reviews before watching a movie or testing an app. I respect my decisions and if I love something, no one can make me hate it. True a lot of the audience hated it, but ai loved it and learnt a lot from it. Favorite movie by far for me.

Wow. Facebook has its own user voice...

lol loved this article's title

Amazing hats off Microsoft. This is awesome

Wow..i think Microsoft really wants to make the experience truly personal

I wonder if it'll receive the same amount of attention as the WP uservoice, because there's a lot of good ideas there with very few votes.

Why would I want Cortana to stop making suggestions to me? That's part of what makes her cool and useful..

No.. Sarcasm. I got it. My comment was more to see if I would get a response to you for a change lol.. Too bad it wasn't in reply to a question I really had darn it.

There should be a male version of Cortana that uses Jarvis' voice. I think I'm going to add that right now.

Vote here if you want Jarvis to be an alternate voice to Cortana!!!
http://cortana.uservoice.com/forums/249565-chit-chat-personality/suggest...

Honestly, I'd never use that, but the option would be really cool.

Or the Monitor from the Halo series as that's what Cortana really looks like on WP. The voice would actually be pretty close to Jarvis in IM

I'm your daddy Cortana, don't even need to ask me that.

There should be a Surface User Voice.

Facebook user voice gave me unlimited votes.. Interesting.

Cortana should be able to provide news based on RSS feeds! http://cortana.uservoice.com/forums/249009-general-cortana-feedback/suggestions/5874919-provide-news-based-on-rss-feeds

Voting for what!!! They did not implement the feature to allow user to edit or delete email content before forwarding it!!! This feature is their in their voting system now for over two year, neither they took action nor they even gave a feedback.. Daniel, any feedback in this???? I still a big fan of WP, but this feature is a real frustration to me...

Is Cortana supposed to great you aloud when tapping on the search key?

In the final release yes, not in the dev preview.

I want Cortana to have the ability to dial a number

You can already.... just say "Call <name>" or "Call <name> at home/mobile" or "Press <number"> or "Save speed dial", and more (click 'See more' > Phone in Cortana for a list)

Hmmmm, like android, like hands free calling on my Moto x. Just sayin

You can already do this. Say "Call" followed by a series of numbers and she'll call that number. I've used it a few times. What I'm not sure you can do is use her to select menu options once the call is connected (those "press 1 for sales, 2 for service, 3..." menu prompts).

Can microsoft make a windows phone user voice app? Its really weird when I have to use a browser for windows phone stuffs instead of an app!

Very Good. Now Nr. 1: Have Multilangual support for ALL countries!!! Yeah!

Still can't open Cortana from steering wheel or dashboard of my civic's imidi. Calls and music working well, but calls thanks to the imidi system and music only after opening Cortana once. Loving WP so much!

I wonder how often the WPDev uservoice site is monitored - a number of the top ideas are actually done in 8.1 but are not marked as so (some even have comments saying they will not be done for the 8.0 release). Marking things done is important - it removes the clutter, and gives people their votes back so they can suggest other things.

Good thing. I personally think Cortana is kinda creepy... But I'm REALLY loving Windows Phone 8.1

If they change Cortana's voice to anyone but Jen Taylor, I will be very upset.

Is there a "user voice" for Office Mobile? I would surely be heard there...

that is my idea http://cortana.uservoice.com/forums/249009-general-cortana-feedback/sugg... basically that can autodetect an second language and even an third one different than i have my phone main language set up , is a very good idea ie i have friends in the USA and i really would like that could have my set up in spanish but if ask for an name on english or start to write an mail via voice on english i wish just do not have to chnage of phone language to do it and just speak naturally and switch between two languages spoken without change of phone language. Can i bet if Cortana take my idea would beat to siri and Google now in countries where english is the second language

I just want her to say my name every now and then... that's really it. Otherwise she works like a charm.

Problems typing into text box on web site. Was unable to move the cursor to a previously typed word to make a correction. The red circle shows, but not the vertical bar. Even after placing the circle where I want it, touching any key causes it to disappear. Typing on a Lumia 521 on WP 8.1.

I would like the weather to update more frequently, and for the current location to be identified by name, not just genericly. Also, sports and news live tiles can be improved. Baseball scores do not update on a real time basis, and only one headline is displayed - this should display several in a sequence.