Top Microsoft engineer makes the hardest decision of his life and packs his bags for Google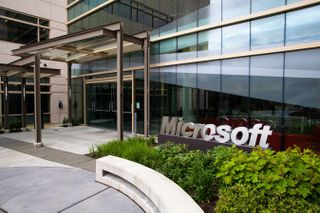 A new page has been added to the annals of the bitter rivalry between Microsoft and Google. Blaise Agüera y Arcas, a top engineer at Microsoft, will be leaving after seven years to work on machine learning at Google. Agüera y Arcas first joined Microsoft as a software architect when his company, Seadragon Software, was acquired by them. Since that time, he has been a major player in developing Bing Maps and Microsoft's Photosynth image software.
Agüera y Arcas said in a blog post that his upcoming career change was the "hardest decision of [his] life."
Microsoft spokesman, Adam Sohn, offered up a gracious, albeit vanilla, response: "He was a great colleague and we wish him the best in his future endeavors."
Given the track record, one can imagine that Microsoft is pretty steamed about losing Agüera y Arcas to their chief rival. In the past, such defections have brought heated reactions from Redmond, like the case of Kai-Fu Lee, a Microsoft vice president who left to run a Google research facility in China. Microsoft sued Google, only to later settle. Anecdotes from other personnel changes also include expletive-laden tirades, as well as a chair being heaved across a room by CEO Steve Ballmer.
Agüera y Arcas' departure is a big loss for sure. Thankfully for Microsoft, one of his biggest projects, Photosynth, just finished up a major new initiative. That will hopefully make the split sting a little less for Microsoft.
Source: New York Times, style is violence; Via: TheVerge
Windows Central Newsletter
Get the best of Windows Central in in your inbox, every day!
I only wish him well. We all go where the money and opportunities are.

Hate you google. Feel bad for MSFT

It's not like he was the only engineer.

NIST.. The ultimate Google defending fanboi.. Lol❕

Don't think so Rodney. Just saying that while it is a lost, departments and projects aren't all about one person. That would be just horrible management.

Lol❕.. I know.. I was just joking..

Money talks, Microsoft walks.

There is usually more to it than money, often just more interesting work is enough of an incentive.

Yes, but he goes from developing software to developing adware. It is more important to me to do what I want.

Not necessarily. While what he is doing will ultimately be used for ads (this is Google after all), it also has many practical applications for any software product.

Self-driving car? Glass? Come on man, Google may make its cash from ads, but it's not all about ads. MS makes all the money from business stuff like Office, yet its phone OS is totally not ready for business, lack of VPN support and all.

I love Google. But remember, EVERY Google product/initiative/experiment is about collecting data. Ads are FAR more effective when they can be specifically targeted. And hence, more valuable

I bet MS has enough money to counter offer. The feeling I get from "insiders" is that MS is rife with internal politics. Not only do different divisions have issues working with one another, but the people inside a division have to deal with tons of internal politics. Now, I am sure Google has its own fair share of politics too. Any large company suffers from it. But Google seems to constantly accomplish more than Microsoft does these days by a far margin. Not everything is great, nor does it pan out to become a great product, but Google seems to try. If I were someone in his shoes, I'd be swayed by Google too. Microsoft needs to step up their game, and that largely comes from inside. When their employees have the ability to kiss ass, their consumers will know it.

Well he did a Great job but on Apple...i mean he took one fucking year to release photoshynth for WP....so gooodbye

I have the feeling he won't be the only one in the coming months. I'm ready to bet we'll see a few top people from a certain D&S division also leaving for Google and other companies.
Which leads us to the question: isn't Microsoft paying them enough? Are working conditions that great at Microsoft? Can Microsoft's next CEO stop these kind of bleeding?

"Can Microsoft's next CEO stop this talent exodus that I just imagined up?"

But he has a feeling. Doesn't that make it worth wild speculation?

We're all speculating at this point.. Are you saying that you know exactly why he left❔

I advise you to do some search next time. ;)

But you didn't back up your statement with any references. Now you expect us to search for articles that back your position?

DJCBS is always down on Microsoft. But spends so much time here. :) Must be the lovely people in the comments section ;)

/Here begins the world as seen by DJCBS: Everyone is a villain and Nokia is the crucified savior of the world.

I'm the biggest WP fan, but a lot of times DJCBS is right, and he has some good points.. This is one of those times.. What's wrong with his reasoning❔And, he's only asking questions, not making statements.. He's right❕

Executives at this level rarely leave because of money, or to pursue their dreams. The vast majority of the time it's to further their career; he's leapfrogging up the corporate ladder. The only bad thing you can really say about Microsoft in this case is that they don't promote 50 people to CEO each day. People need to step off the drama train.

Yeah, but whose being a drama queen, and turning things into a spectacle.. There hasn't been anything outrageous mentioned by anyone here.. DJCBS'S comment might hold some water..

Sure, it might hold some water. But he's speculating about the reasons behind his unsupported speculations. That's absurd. Here. My turn: I have a feeling that all Apple products will explode on Christmas day killing or maming all their owners and the people they love. And those of us who are left will be asking why Apple didn't do something to stop this? Do they hate their customers? Are they trying to bring about the robot apocalypse?

You're tripping... He didn't go off the deep end on this particular comment of his.. Ya'll are just picking on him now... Stop it❗

Just using a little exaggeration to prove the point. ;) OK. Maybe more than a "little" exaggeration. But the point is that the author of those comments is trying to insinuate that this mass exodus, that hasn't happened, shows that MS mistreats its employees whether through underpaying them or poor working conditions. You stated earlier that he's "only asking questions, not making statements". The problem is that the questions were leading questions -- trying to lead the reader to a conclusion as much as if they had been statements. Obviously it worked b/c you followed that with "He's right!" If he's just asking questions, he can't be right or wrong-- that would require stating something. He is either trying to lead the reader to a conclusion that puts MS in a poor light based on pure speculation about events he thinks are going to happen or dreaming up a scenario of how future events could validate his own poor opinions of the company.

I don't know. Maybe someone who's written 6 comments defending the comment in question? Just saying....

Lol❕... You're persistent.. I like that❕

That would matter if......

As much as I hate to admit it these are some very good questions, and they just might hold the answers to why people are leaving for other companies.. This is reality❗

Look at what happened to HTC...

DGAF about what some MS hating Nokia fanboy thinks. I thought he said he would leave once the Nokia deal was approved.

No, it was when his Nokia Lumia brakes down. Meaning we can have him around for another 10 years... ;)

The comment is bullshit period. All major tech companies lose employees. A quick search for Google will show the same pattern with employees leaving for Facebook, etc. At one point Google lost hundreds of developers to Facebook and their top executive. At least with Microsoft a lot of the exiting employees are doing so for CEO positions.

Yeah, but that's not fair because this time he didn't say anything wrong.. What's the point of being hateful for no reason❔

They will be offered CASH and that, once they leave, is worth EVERY SINGLE penny when the press grabs hold of the story. All about the marketing


While I'm not sure there will be a lot of people leaving, it's been rough times with the restructuring of Microsoft, leaving people wondering who's in charge etc. Now the big boss is leaving. Its new times and were in a period where we will see folks come and go for a while until it all settles with the new boss/bosses.

They replaced him with Joe Bilfiore and a new team. My speculation.

If pay and working conditions are that bad, alot would have left a long time ago and we would here this on reddit and many other web outlets. My assumption is probably something to do with the reorganization. But hey, maybe opportunity is also nocking at Google.

Those are some bad loaded questions

Wow, some pretty petulant schoolkid-aged bullies over here. The kind that picks on someone who just has different views. Get a life, all ya.

Read DJCBS's comment above ⬆⬆.
He's got a point❕

Yeah the point is that some people may be leaving for some reason based on the evidence of one guy going to Google.

It doesn't matter. He could be wrong, and he could be right.. That's his guess, and his is as good as ours. So, why do people have to get so defensive about, well, nothing❔ Its not like he said that another users dad left his mom because of, whatever.. Who cares.. And, he may be right because it's not just one person. There's been quite a few.. For whatever reason they are seeing the grass greener on the other side, and MS, or any company that wants to be successful, should secure it's most valuable resources.. Talented engineers are a value resource❕.. Look at the WP Store.. Rudy, and Liquid Daffodil, are definitely top WP developers, and it would look bad, and be bad, if they decided to stop developing for WP. That would mean that they don't view WP as valuable as iDroid.. This guy obviously saw Google as more valuable, and DJCBS is right in the fact that MS should not ignore that.. That's all he said, and there's nothing illogical about that...

Loaded questions are illogical.

You just don't get it.. That's his opinion.. Deal with it.

Oh, now you get to decide whether some random dude gets to ask loaded questions or not as a comment on a forum? This is your idea of a debate on an issue? Talk of being open-minded.

I sense sarcasm.. Or your comment is contradictory.

No. If you MSFT are really going to argue as to why Microsoft is better, at least do it with some factual statements, and some grace. Not with putting down other companies and arguing one sided debates. Otherwise, there is no difference between msft/nokia fanboys and apple fanboys. And that has nothing to do with being open minded. I'm stating the illogical points. I never said anything was wrong. I never even disagreed with major points. I only showed that the reason is illogical. Not the opinions. Bozo

You don't get it.. I don't care❕.. Shut up❕

Maybe he realized too that MS moves to slow to innovate anything. Considering the fast pace that Google moves, who wants to be stale at a company that moves at a snail pace. Iono it is what it is. MS better wake up.

Sadly you have a point. And so does the first commenter.

Google be like: One of us! One of us!

I second that, photosynth is incredible especially with he recent update, I am think 20 years from now, Will I have to finally adopt the android OS, ugh. Please fix this microsoft. You have the resources, use them!!!

Let's be mature about it, please. Working in a transitional office with the uncertainty of an impending new boss and what their vision may or may not be is no fun. Being proactive and securing your future elsewhere is the smart move. He probably won't be the last.

Honestly guys, after watching Google's headquarters in the movie "the internship" I dont mind working at Google :D

You mean the 2 hour long advertisement for Google?

This. The movie made me want to puke, it was so full of propaganda.

That's full of shit. Changing jobs is rarely a hard decision. It's either financially, geographically, or satisfaction driven.

+1 why is this even news?

Something is wrong in MSFT lately, the guy that left for zinga( Don Mattrick) the MS excel lead that left with a video on YouTube and now this guy... Money does not always talk also we people have a lot of money the tend to go to the funniest or challenging areas...

Microsoft has over 100,000 employees. There are always people coming and going, and there'll be high-profile ones among them at times. BTW, wasn't there a Microsoft employee the other day that went to Google, and then returned to Microsoft later?

This is what happens when a company is transitioning. People's responsibilities change and some aren't happy about it.

Feels sad but lets move on there are many engineers specially from India who can take his position but microsoft have look after the main reason why he signed Google but I think MS will get a better engineer quickly.

Lmao, let me guess.. You're from India?

Yes I am,because microsoft recruits many engineers from India.

Too many buts in your statement! Seeing much far, eh?

People come and go, like Elop a few years ago.

Are you implying he is the new Trojan horse? :-)

Can be or could be, and may not be. Haha, it depends.

Plot twist: Nokia buys Microsoft's devices and services division in 5 years. Windows Phone Server 11 is released, and companies of all sizes quickly replace Windows Server with it

LOL THIS should happen. :)

That is Google model. First we steal the data from the users, then we steal the employees from the companies. Watch out! We are Scoogled!

Anyone else remember when Microsoft sent limos to Borland HQ to whisk their top talent, including Anders Hjeslberg, out to lunch and a job offer? Ah, those were the days.

So no hair pulling, cursing or chair tossing at his leaving? Tells me they don't view him as very important. They bought his company, gave him a job, and waited til he got bored and moved on...sounds like the plan worked to me .

Remember the Danger company... they made the T-Mobile Sidekick, and MS bought the company for $500 million, after that they worked on the Kin... In the end, almost all the staff from Danger left MS to other places like Google.

ubergizmo . com/2013/07/microsoft-wants-to-ban-steven-sinofsky-from-working-at-amazon-apple-facebook-google-and-more/
"According to the SEC filing, the companies Sinofsky will not be allowed to work at include Amazon, Apple, EMC, Facebook, Google, Oracle, and VMWare" doesn't this apply to all MS employers?

the point is: why Blaise Agüera y Arcas doens't need to wait 2 years to switch to scroocle like Sinofsky, for example?

I really don't understand why companies like MS, Google and Apple always have to be at loggerheads with each other. Why can't they just move their respective ways, collaborate peacefully when necessary and keep all their customers happy? Obviously there has to be competition but bitterness is a different thing altogether.

You'd have to ask Google, who staunchly refuses to produce Apps for Windows Phone (YouTube as a prime example), and will not allow Microsoft as a "third party" developer to create viable apps for Google products such as YouTube.

ask google. ms makes apps for wp, android, and ios. google only makes apps for ios and android.

8 years is not that much if you think about it. I work for gm and that's considerate a newbie. Well go scroogle your self.

This is nothing new. When a CEO position is about to change, you will see a few people leaving and coming to the company. It has always been like that in large corporations. I wouldn't be surprised if we see more people leave in the coming weeks and then see an influx of new people enter the company next year.

He just scroogled everyone

So, does MS not have their employees sign a non-competition agreement? My company is tiny compared to MS, and I had to sign one when I was hired 10 years ago. I can't work for a competitor or start a competing business for at least 2 years after leaving, whether I get fired or leave on my own. You would think they would cover their hind-ends on this issue. If I violate my contract, the company can sue me. I doubt it ever being an issue, being the closest competition is in Germany. But software companies should be a little more careful with this stuff. I'm sure Google already has a virus floating on all of Microsoft's PCs like a real life Skynet, but still, having an insider cross over will be a window into their operations.

I recall there being a ruling in California that non-competes are not necessarily binding because they can be unfair to the employee. However, there may be other ways that Microsoft could protect sensitive information, via patents and copyrights.

MS is already doing that, hence the constant (costly) litigation with them, Apple, Google, etc, etc. I'm not sure about California's laws, so that may be the case. Even with my own agreement, I'm sure the company wouldn't find it worth their time/money to sue me over it. That, and it depends on what he's going to be working on. If it's different enough, an agreement wouldn't be conflicted. Just sucks for MS if you lose talented people. Maybe they should try to hire Snowden, that guy was supposed to be a frickin PC genius. Of course, he may have to telecommute...

It's unrealistic to expect empoyees to be loyal to any company outside of the owners who profit directly from it's success. So loyalty is bought; via money and/or benefits, promotions or a positive and stimulating work environment. It's the same motivator driving athletes, which is why I always find it ridiculous that people consider some guy a traitor for leaving their favorite team. Interestingly, surveys show that people value quality of work more highly than even salary. So the problem here isn't necessarily that Microsoft isn't paying enough. There is likely something there that is leaving these people unsatisfied. And it doesn't necessarily mean the company as a whole is that way, but specific divisions are. It's also very likely that current changes are leaving people concerned for the future. It's kind of ridiculous, but often the most effective way of moving up the corporate ladder is to switch employers. I will say that Google seems to be working on some very interesting stuff, well outside their typical focus. Consider self-driving cars and the purchase of Boston Dynamics. So this guy might be looking at doing more than just the same old software development. And let's not forget the whole green grass mentality. People are apt to believe things are better everywhere else and that isn't necessarily true. So this guy might end up not liking Google, but once he's there he's kind of stuck. And if he ends up leaving Google within a year or two we won't necessarily hear about it.

Damn - he was quite talented. The TED presentation of him with the Photosynth technology was the best. http://www.ted.com/talks/blaise_aguera_y_arcas_demos_photosynth.html

Please correct "top engineer" with "obsolete engineer"

A steady brain drain from MS to Google has been going on for many years now. Countless engineers have made the move. Guess how many have gone in the other direction? It sure makes an impact on one's impression of a company when several people you interacted with end up jumping ship to the biggest rival. It started as "what? Google?! noooo!!!" and ended as "there goes another one..."

And so continues the trend: Microsoft creates a great product that becomes standard, employees go to Google, then Google creates a substandard alternative to the product ...

I'm thinking about moving job, simply to try something new, if anyone wishes to give me this job i speak of, or if WPcentral wants to write an article about it...feel free

Don't let the door hit you on the a$$ on the way out!
Jk
Let it hit you on the way out!!

He's a engineer; the US produces thousands upon thousands of talented engineers every year. He did Photosynth? Whoop de do. It'll take much more to make him anything other than just a good engineer.

Ok!....who cares, gl man......next news?...

"Google is a com­pany of grand ambitions and brilliant people." ... that are on the fast track to become Cyberdyne systems. Funny, right? If you think so, you're not paying attention ...

i've said it all along that google is going to take over the world and nobody is going to try and stop them. it's crazy.

http://observationdeck.io9.com/the-day-google-had-become-skynet-1483254398

Man... all these ill wishing comments. Let's realize this man wasn't a MS native. His company got bought out. While I'm sure he was treated well, it's not like he had any deep seated loyalty in the company. He likely saw a new opprotunity, and decided the money was good enough. I hardly see this as talent poaching. It's happened in the auto industry as well.

get out of here with logic man. it's obvious everyone at ms is going to leave for google. it's written in stone. it is done. LOL

Sue him and Scroogle him. Greedy SOB.

It is fine to be a fanboy and whatnot.. But these arguments are hella weak. They aren't even arguments, they are just opinions. There is no fact involved, nothing but conspiracy theories, and people playing grownups from Berkeley trying to decipher some huge corporate scandal.

1 out of like how many to thousand emplyies. I love photosynth its to bad but im sure there are others who can do better.

He's going to infiltrate and take over Google for Microsoft lol

The grass is always greener

keep calm while we steal your engineers

Key engineers like this can make or break a company.

Is he better than Miguel de Icaza? Why has this mexican isn't part of Microsoft yet? :D

Top Microsoft engineer makes the hardest decision of his life and packs his bags for Google #firstworldproblems

If that's the hardest decision of his life, he's had a pretty easy life. I wish.
Windows Central Newsletter
Thank you for signing up to Windows Central. You will receive a verification email shortly.
There was a problem. Please refresh the page and try again.