Ukrainian video game studios respond to Russian attacks, share how to help
"Our country woke up with the sounds of explosions and weapons fire, but is ready to defend its freedom and independence."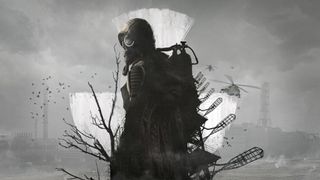 (Image credit: GSC Game World)
Update Feb. 25, 1 p.m. ET: CD Projekt Red announced it'll support humanitarian efforts amid the invasion.
Update Mar. 3, 6 p.m. ET: Ukrainian vice prime minister Mykhailo Fedorov has called upon the video game industry to cut support for Russian and Belorussian users.
What you need to know
Ukrainian studios like GSC Game World, Frogwares, and others have spoken out against the Russian invasion on Thursday.
GSG Game World called for support from across the industry.
There's a huge video game development presence in Ukraine, with over 400 companies represented.
Russia launched an attack on Ukraine early Thursday in a move that's already had a huge impact the world over, from sanctions to bombardments of population centers. Video games, like many industries, has a presence in Ukraine, and studios are calling for support.
GSC Game World, the studio behind the STALKER series and the upcoming entry, STALKER 2: Heart of Chernobyl, put out a statement on Twitter to ask for people to "help those in need."
"Our country woke up with the sounds of explosions and weapons fire, but is ready to defend its freedom and independence ... We thus address all of our colleagues in the gaming industry, players, bloggers or anyone who sees this post in their newsfeed: Share this, do not stand aside," the post said.
There are other video game studios based in the country as well. 4A Games, which is behind the Metro franchise, has offices in Ukraine and Malta and was founded in the capital, Kyiv, in 2005. In an interview with Polygon last week, studio owner Andrew Prokhorov (speaking for himself and not for the company) said that he believes everything "will be fine."
"Our army is ready, [our] nation is ready, and if [a] sick old man [does decide] to invade they will be kicked out," he said. "I hope for peace [to end] the situation," he added, "but if something bad happens victory will be on the side of good guys."
In a follow-up statement to Fast Company, Saber Interactive, which acquired 4A in 2020, said it's continuing to monitor the situation, but doesn't think the attacks will impact development due to a lot of developers working remotely.
"We are prepared to support our employees however we can and remain fully committed to the physical and emotional well-being of all of our teammates, and are in touch daily with studio leadership as the situation develops," it said.
Frogwares, the developer behind the Sherlock Holmes games and The Sinking City, is based in Kyiv and condemned Russia's advancement.
"We can't just stand by. Russia attacks our homeland and denies the sovereignty of Ukraine. We are trying to stay safe, but this is war, there are no two ways about it," a statement on Twitter read. "We call on everyone to force Putin to withdraw from our lands."
Gameloft, a huge mobile game publisher, has two studios in Ukraine. It tweeted a statement of solidarity with its Ukrainian employees, adding that it's also been monitoring the situation.
Vostok Games, which is based in Kyiv and developed Fear the Wolves and Survarium, went the simple route, tweeting out a photo of the Ukrainian flag with the hashtag #StandWithUkraine. Business Development Director Oleg Yavorsky told Polygon that there is already a plan in place to relocate team members if necessary.
Ubisoft also has a studio in Kyiv, which it describes as one of its biggest, that provides quality control and supportive development on company-wide projects. Ubisoft told Fast Company that it's monitoring the situation. Multiple Ubisoft employees have also tweeted their support for their colleagues in Ukraine.
It's worth noting that there are dozens of video game studios in Ukraine, more than we can talk about here. Other huge studios with a Ukrainian presence include Playrix, World of Tanks developer Wargaming, Plarium, and many others. While most of the companies are headquartered elsewhere, they employ thousands of video game professionals. According to a talk by video games HR expert Alina Mudraya on the state of the Ukrainian video game industry, there are over 400 companies with over 30,000 employees.
Narrative designer James B. Jones tweeted out the graphic below from a 2018 report about Ukrainian video game development that will give you a better idea. According to the report put together by ACHIEVERS HUB and UNIT.City Innovation Park, over 70 Ukrainian companies were surveyed and were found to be representative of almost every area in the nation. They also span multiple sizes and develop for almost every platform, including mobile, PC, and console.
How can you help?
GSC Game World suggests donating directly to the Ukraine armed forces through a special bank account set up by the National Bank of Ukraine following the declaration of martial law in the country. The number is UA843000010000000047330992708, and accepts multiple international currencies, including U.S. dollars, euros, and pounds.
Verified Ukrainians put together a list of resources that includes donating money for military and medical supplies to organizations like Come Back Alive and Razom for Ukraine. It also suggests supporting the English-language publication The Kyiv Independent.
Meanwhile, other Eastern European studios are doing their part. 11 bit studios, which is based in nearby Poland, posted a statement on Twitter announcing all profits over the next several days from This War of Mine, a survival war game that focuses on the civilian point of view, will be put into a special fund to be donated to the Ukrainian Red Cross.
CD Projekt Red announces it'll donate to humanitarian efforts
Witcher and Cyberpunk 2077 developers CD Projekt Red have weighed in on the crisis on their border, announcing it'll be donating one million PLN to Polska Akcja Humanitarna (PAH)
"We cannot remain indifferent in the face of such injustice and we ask everybody to join in and help in any way you can. Together we can make a huge difference!" the statement on Twitter said.
PAH announced early Thursday morning that it will be providing aid to people who have to flee their homes in Ukraine. Poland, which shares a border with Ukraine, said that it was preparing for up to one million refugees.
Ukraine calls on "all game development companies and esports platforms" to cut support for Russia and Belarus
Ukrainian vice prime minister Mykhailo Fedorov has called on gaming firms for help in shutting down Russian access to video games during the ongoing conflict. Writing in an open letter posted to Twitter, Fedorov called on "all game development companies and esports platforms," alongside other prominent tech firms, requesting support amid current world events.
"I appeal to temporarily block all Russian and Belorussian accounts, temporarily stop the participation of Russian and Belorussian teams and gamers in all international esports events and cancel all international events holding on the territory of Russia and Belarus," Fedorov stated.
Windows Central Newsletter
Get the best of Windows Central in in your inbox, every day!
Carli is the Gaming Editor and Copy Chief across Windows Central, Android Central, and iMore. Her last name also will remind you of a dinosaur. Follow her on Twitter or email her at carli.velocci@futurenet.com.
Just to be clear to everyone in the comments here: The only people who believe the Russian government narrative on their aggression against Ukraine are: - some of the audience of Russian state media, including RT, and
- gullible American right-wingers THE REST OF THE WORLD sees this for what it is: Russia, unprovoked, unilaterally taking over an independent country. Even the paid trolls are just in it for the money.

the shifting sands and borders of europe over the years are definitely convoluted.

And just to be clear, not even gullible American right-wingers believe the Russian government narrative. I'm not defending right wingers, I just don't want your comment to give the impression that there is more support for Putin than there actually is. Here in the U.S. there is essentially none, right left or center. The financial forums I hang out in are obnoxiously right-leaning, and the comment I see there over and over is the ridiculous idea that Putin wouldn't have dared do this if Biden didn't look so weak. What I don't see is anyone saying Russia's attack being anything but an unjustified power grab based on a pack of lies. No one believes Putin. No one.

I agree, it's clear that *most* conservatives (even right-wingers) stand with Ukraine. But that's not how it looks in the far-right Internet, and Trump himself is calling Putin a "genius." JD Vance, a nut running for Congress, with *zero* evidence, publicly accused a *US general* of financially benefiting from the US response to the invasion. The Hillbilly Elegy guy! Running for Congress! And do not underestimate the impact of Russian government propaganda and disinformation efforts, especially with their force multiplier Trump still around. The most stunning single fact about the 2016 election was that at the beginning of the year, the vast majority of Republicans had a negative view of Russia and Putin, 70-30. By the middle of the year, when Trump had won the primary, those numbers reversed, 30-70. The Republican Party is very unstable, very susceptible to Russian disinformation -- and very dangerous.

"Geniuses" can also be criminals.

I am not American nor lives there, but I think everywhere people are susceptible of disinformation, regardless of political affiliation.

This is is certainly true. Though usually the TYPE of disinformation only works with one type of group. It is usually what they want to hear, confirmation bias. In our silly American political system it is easy to do an Us vs Them battle because you only have two parties to choose from. When you are a team, that team does no wrong and it is obvious that anything the others do is just wrong. They have people too busy hating each other that we don't actually hold our leaders accountable for their actions. It is incredible.

We will not tolerate any defense of Russia's invasion of Ukraine in the comments section. It's a hostile attack against an independent nation. The purpose of the article is to educate readers on how the Ukrainian and Eastern European video games industry is responding to the invasion.

Thanks to Windows Central!

Does anyone know what to do with that bank account number for the Ukranian armed forces? Do you just take the number to your brick and mortar bank and they'll know what to do with it?

I have no idea what to do with that string of code, but as I said in a comment that was unfortunately culled, I doubt giving money directly to their armed forces will help that much. Where are they even going to make purchases? I'd leave buttressing the Ukranian forces to the US government. For better or worse, they know how to arm belligerents in foreign wars. Personally, a) I'd support humanitarian organizations that will be helping refugees, and b) I'd pressure my own representatives to do as much as they can to help. There will be *millions* of refugees.

They would likely use those funds to pay any citizen who takes up arms, or to at least ensure they're fed. They're also accepting Bitcoin & Ethereum donations.

What did the USA, NATO, the UK or the EU do to prevent this invasion? Nothing whatsoever. Bad actors will do bad things no doubt but they only do them if they are allowed to. It's not as if we didn have enough warning.

What in the hell would you like them to do? Start world War 3? Baby Putin is already starting to whine because his mighty military is getting a stiff resistance and he's threatening to arm his nukes. Bullies are always going to be bullies no matter the "rules" you place on them. The US finally just got out of war. We have been in war so long that there is an entire 1 or 2 generations of people's lives have been in them. I am going to turn 40 in August, when I was 19 9/11 happened and our leaders thrust us into an unwinnable "war on terror". For nearly my entire adult life we have been at war, at one time there were 3 conflicts. We need to learn our lesson that we can't police the world.

well Ukraine wasn't in NATO or EU
Windows Central Newsletter
Thank you for signing up to Windows Central. You will receive a verification email shortly.
There was a problem. Please refresh the page and try again.