U.S. Cellular to offer first WP7 phone tomorrow - the HTC 7 Pro!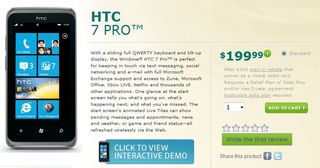 It was just days ago that we reported that U.S. Cellular would be offering their first WP7 phone, an unspecified HTC device, "between now and the end of the year." Well, it turns out that it would be less than a week later, on June 14th, that customers will be able to get an HTC 7 Pro (aka, HTC Arrive--see our coverage here) sporting Windows Phone 7. The 7 Pro is available for $199.99 with a Belief Plan w/Data and/or a new 2-year contract. The final price is also after a $100 rebate in the form of a Visa debit card.
Today's press release hyped the 7 Pro as a great device for multi-taskers and multi-media/gaming enthusiasts who are looking to "simplify their busy lives and have fun too." It's not clear why the initial forecast was so murky, but the sooner the better for Microsoft, who is trying to break into a smartphone market dominated by Android and iPhones. It's a good sign that another carrier is bringing WP7 onboard.
You can get yours here (opens in new tab).
Source: U.S.Cellular (opens in new tab)
Windows Central Newsletter
Get the best of Windows Central in in your inbox, every day!
I'm loving my HTC Arrive. Hopefully it sells well on U.S. Cellular.

Good to see another carrier. Too bad home is just outside of their supported area, or I'd consider them as a successor to T-Mobile USA when it gets thrown on the trash heap.

does anyone know if stores can price match this? If i go into my U.S cellular store and ask for the 0.01 price deal rather than pay the 199.99, would they consider the match???

Holy **** I AM surprised! I would love to feel like a warm autumn!!

When i get this phone Thursday, I will write up a review on the forums if anyones intrested and actually cares about US Cellular :P
Windows Central Newsletter
Thank you for signing up to Windows Central. You will receive a verification email shortly.
There was a problem. Please refresh the page and try again.