Voice Recorder update with fix for call recording bug now available for Windows Insiders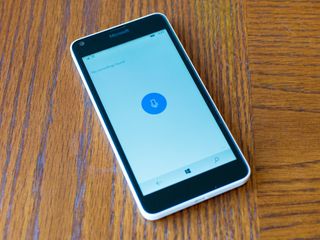 As promised in the release notes for the Windows 10 build 14390 notes for PC and Mobile Insiders, a new update is now available for the Voice Recorder app in the Windows Store for Fast ring Insiders on mobile. While minor, the update fixes a bug that would sometimes cause the app to be missing from call recording options.
The update was confirmed to now be available by Windows Insider chief Dona Sarkar on Twitter. Here's a quick recap of what was fixed, from the build 14390 notes:
In any case, if you're a Fast ring Insider on Windows 10 Mobile build 14390, you should now be able to snag the update in the Windows Store.
Download Voice Recorder from the Windows Store (opens in new tab)
Dan Thorp-Lancaster is the Editor in Chief for Windows Central. He began working with Windows Central as a news writer in 2014 and is obsessed with tech of all sorts. You can follow Dan on Twitter @DthorpL and Instagram @heyitsdtl. Got a hot tip? Send it to daniel.thorp-lancaster@futurenet.com.
Thanks for the headsup!! I don't use this, but I'm glad to finally have it out of my Store queue.

Hey, hey hey.... How are you? Haven't seen you around here before!

Your avatar is gorgeous...

Haha, true.. But for all you know, it could be someone else altogether.

But I was commenting the avatar...

Yeah, I meant it could be a guy for all you know. Doesn't take a genius to create a fake profile. Lol :p

Lol, I'm certainly not a guy in disguise, but that photo of me was professionally taken. So it's not 100% genuine.

Hehe.. I was really pulling Mr. Cats leg, Nausky !!

If you consider my username, that is humorous.
....
I am pleased that it is indeed nausky in that photo.
..
Let's not scare her away folks.

Hehe. Fun conversation. Btw, if you really think about it, there are not many ladies who use W10M !! :( I hope this changes sometime . :)

Other than jessicator and maybe one more...they are few. This is why I said don't scare them away.

ask her phone number man go for it!

You think I got an in?
..
Maybe the coffee cup after my name when she said hi above is an invitation to ask...
..
Maybe I'm just a lonely cat...idk...

Yes you are almost inside her, go for it. You only live once

Oh God man. Your comment just ruined it...read what you wrote..

Nausky, we are still WC boyfriend and girlfriend, right?

Is it working? If yes, how to do so? It is not working for me.

anyone able to use voice recording feature on older phones like 1520 or 930? i'd love to have it on my L1520

I don't use it but a friend with an AT&T 640 told me it didn't work on his phione and asked if it worked for me. It works fine on my RM938 on the preview ring. Didn't check to see if it was available for recording calls.

only phones that came preinstalled with Windows 10 Mobile will have access to record calls via this app.

No , same problem on 1520

Hardware dependant I believe

Finally. So annoying not having this feature.

Just a note: If you still don't see the "Record" button on calls, go to: Settings > System > Phone > "Choose app" link (under "Default apps" section) > Under "Calling" section, the middle drop down list, select: "Voice Recorder", and it should be back on your next call. Hope this helps!

Thanks for the tip, but for me, this didn't work. I only have two options: Caller id and video calls... ☹ build 14390, lumia 640.

Did you install the latest the Voice Recorder update from the Store. I have version 10.1607.1931.0. If you do have it, or just updated to it, and the option is still not there as it was before, then try and reboot your phone (you never know), and see if it is there. Else, well that sucks, post in the feedback that your phone doesn't have it, and hopefully the next build you'll have it.

Only phones that came preinstalled with Windows 10 Mobile have this feature. All older Windows phones unfortunately cannot record voice calls :(

yes I can assure you this is the case. By the way, I currently have the Microsoft Lumia 950.

So this reminds me that I've had Voice Recorder stuck in my Downloads and Updates for like the last 5 updates with this error: 0x80073CFB According to Microsoft this means the following (found on support for developers): The provided package is already installed, and reinstallation of the package is blocked. You may get this error if installing a package that is not bitwise identical to the package that is already installed. Note that the digital signature is also part of the package. Hence if a package is rebuilt or resigned, it is no longer bitwise identical to the previously installed package. Two possible options to fix this error are: (1) Increment the version number of the app, then rebuild and resign the package (2) Remove the old package for every user on the system before installing the new package. Is there any way to fix this without resetting the phone? It won't let me delete the app since it is part of the OS (I guess?) so I seem to be stuck like this. EDIT: Ha, nevermind - I was finally able to get it go by cancelling the download and checking for updates again (attempts to do this in the past just repeated the error)

I had that same problem. Just out of curiosity, do also have problems with GroupMe updating?

I didn't have it installed (didn't know it existed) - but I just installed it with no issues.

My cat us bigger than your cat...

Had this issue since a long time. This new update worked fine. So no problem with this anymore

Which ever apps are showing error for downloading you must move those apps from SD card to Phone memory. Then try to update again.
Still if it is not working then reboot your phone and give it a try. It will work.

Applist still shows pending under voice recorder. Is it the same for u?

finally - now to try it out

It finally fixed that download error that would NOT go away!

That download error on edge?

No the voice recorder download error. It's been there for me the past 3 or 4 builds. This update got rid of it.

No. On windows voice recorder.

Settings -> network & wireless -> cellular & sim -> sim settings -> highest connection speed

Nope. Suomi Finland per... =)

I don't have "3G only" or "4G only" option, it's just showing 2G, 3G, 4G.
Which build do you have? I'm having 10586.494

Same. I guess this is an RS only feature.

Yeah bro, we might get it in RS1 hopefully.
Just two more weeks!

Don't remember but I do have the one released to fast ring yesterday

Can you send me the screenshot? On insta or Facebook?

Setting screen https://1drv.ms/i/s!AutqBPOXOM9LqtR3QfKKqUit35vVgQ

Is this an RS only feature ?

Does call recording work? Is it available on non-insiders?

Yes, its available for non insiders.
Only Lumia 550, 650, 950, 950XL.

And Alcatel OneTouch Fierce XL as well

NICE, got it and can confirm this does the trick!

I still get error downloading

I have RM-937. didn't work on the last build

Btw I don't see the setting in the phone app. Can you tell how to get it to work.

Still cant use it to record calls on my lumia 550:-(

You should be able to since your phone came with W10M

Can't record calls on the 930 with it!

only phones with Windows 10 Mobile preinstalled will have this feature enabled

Only new W10M phones can, I assume.

Does anyone know how to record a call using this app
I am using Lumia 730 with latest build

Can't record calls on 730

This is all I wanted. So glad this finally got fixed and I don't have the update pending anymore.

Why not mentioning in the article that which phones will be able to record calls? New W10M preinstalled phones or old phones like 1520?

anyone know of a good recorder that can record directly to the MicroSD card? every one I've seen, including the built-in Windows one, must record to onboard storage.

for realz it's driving me crazy that it won't record to SD.

Voice recorder is still not showing up while on the call even after updating VR . I am on the latest build onL730

Only for 950 series mobiles...

And Alcatel OneTouch Fierce XL

Hi i am not able to use on Lumia 1520,

I get this error code 0x82040024 for skype. It was showing error while loading skype, so i deleted the app and when i tried downloading it again it showing this error for past one month. Is there any way I can get the app without a hard reset?

Hi dinesh.. R u experiencing with skype only...
I had also experienced the same problem and unable yo install apps from store and sometimes it shows downloading but with no progress... I had to go through all these after hard resetting my lumia 730 accidentally.After that I did hard once again.. But that didn't solve.. Later I tried to download apps over wifi .. It worked successfully... So I suggest u to download over Wi-Fi..

Cant record calls. Lumia 540

It works on only 950 and 950xl mobile's

And the Alcatel OneTouch Fierce XL

App is still impractical until they fix the bug causing recordings of over 5 minutes to be saved in some unusable format.

Call recording is both hardware and firmware dependant . If the option isn't available in settings it simply won't work.

Does it record over the lock screen now?

950XL running 14390, but can't get the WVR update. Power cycle phone, delete/reinstall app... nothing. The Settings/Phone/Preferred Apps display won't offer me the VR recording choice. I got the app update on a 930, where I didn't expect it to record phone calls anyway. Anybody know how to force the upate on an Insider/Fast enrolled device?

Shouldn't be hardware dependant though.

Shouldn't be hardware dependant though.

Windows 10 can't get out of trouble always issues here and tv there.... Not ready as a consumer product

Hello everyone. I would like to install the Play store on my L1520. Anyone know exactly how to do it? Thanks

THANK GOD! I use 950 JUST for the feature!! Thank you MS!

Still no call recording feature for Lumia 730 and such phones...

Is nobody bothered with the issue that the recorder keeps giving "Format not supported error" or "Cannot play this file" after a important long recording.

Still u can hear it if u tap on it

The call recorder button appears while on a call but when you play it nothing is heard. I have Lumia 950DS in India.

Is win 10 build 14390 availble on lumia 540
Windows Central Newsletter
Get the best of Windows Central in in your inbox, every day!
Thank you for signing up to Windows Central. You will receive a verification email shortly.
There was a problem. Please refresh the page and try again.