Advertisement Feature
Which is better? A laptop or a notebook?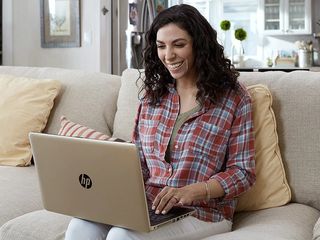 (Image credit: HP)
Although you may see the terms "laptop" and "notebook" commonly used interchangeably amongst individuals who are not seasoned tech professionals, these two devices differ when it comes to functionality, but are actually quite similar when it comes to size. With modern-day advances in technology, the power integrated into a compact laptop becomes greater. The capacity of a notebook is also expanding as we move into a new decade.
Deciding which is better, depends on your needs. While a laptop can offer more storage and processing power to complete business projects or to complement heavy-duty gamers, a notebook can offer lightweight portability for students or personal use.
Size and weight
Laptops are generally known to be slightly heavier, weighing in at around 4 to 10 pounds, while notebooks are usually quite a bit lighter. This is customarily because of what is tucked away under the hood. With that said, as technology advances, notebooks are becoming more laptop-like in terms of their lightweight appeal paired with their ability to perform like a PC. For example, the HP Elite Dragonfly Notebook comes equipped with Windows 10 Pro 64, an 8th Generation Intel Core i5 processor, 16 gigabits memory, 256 gigabits SSD storage, a 13-inch display, and Intel UHD Graphics 620, while only weighing in at 2.2 pounds.
Typically, a laptop's design is larger than a notebook and can support a screen display of above 15 inches. This is great for individuals who use their screens to perform tasks such as sharing ideas, editing media, or gaming. A larger laptop also means a larger keyboard, which makes typing easier. Because notebooks are generally smaller, their keyboards tend to be more compact. However, with that said, you can still find notebooks that are quite large as well. This emphasizes that although the two typically differ, they are becoming a lot more similar and the titles are becoming interchangeable amongst the two devices, according to a related post from HP
Powerful notebook
HP Elite Dragonfly Notebook
Lightweight and powerful notebook

This 2.2-pound notebook features 16 gigabits of RAM and an 8th Generation Intel Core i5 processor, much like a laptop.
When it comes to travelling with your computer, laptops are becoming more sleek and slender. Carrying your laptop in your briefcase or purse is becoming a lot more mainstream and easy to do. The HP Spectre x360 Laptop 13t comes equipped with Windows 10 Home 64, a 10th Generation Intel Core i5 processor, Intel Iris Plus Graphics, 8 gigabits of memory, and a 13-inch display, while measuring at 0.67-inches thick and weighing in at 2.88 pounds. This laptop is packed with power and is essentially the size of a notebook.
Functionality
When it comes to functionality and processing speed, laptops are generally faster and more powerful. They can be parallel to the functionality of a desktop computer. Because of this, laptops are typically heavier and bigger in size, while notebooks typically have a slower processing speed and are more lightweight. A laptop will usually come with a built-in cooling fan to regulate its temperature; however, most notebooks don't require one because they generate less heat.
Sleek laptop
HP Spectre x360 Laptop 13t
Sleek laptop with powerful processor

This laptop is only 0.67-inches thick and weighs 2.88 pounds. It comes equipped with a 10th Generation Intel Core i5 processor.
In the past, notebooks have had built-in processors with lower power compared to a laptop, which comes prepared with a much more powerful processor. However, in today's world, when you compare the specifications of a common notebook with that of a common laptop, the processors don't always differ. If you're looking to use your computer for small business tasks or for school, notebooks generally come programmed with better confiugurations than laptops at a more affordable price, but unlike a notebook, a laptop comes with the possibility of upgrading features later on. With that said, the HP Elite x2 G4 Notebook PC has options to customize its configurations off the bat.
You can customize both a notebook and a laptop to give you access to features that are higher quality and more power-intensive. This may not have been the case in the past; however, as technology advances, the line between a notebook and laptop becomes more blurred.
Customizable notebook
HP Elite x2 G4 Notebook PC
A highly customizable notebook

This notebook comes prepared to meet your needs with several customizable configurations.
If you're a heavy-duty gamer, you can opt for higher processing speeds and better graphics than if your laptop needs only include using basic applications and basic web searches. The HP Omen 15 Laptop comes prepared for gaming with NVIDIA GeForce GTX 1060 graphics with Max-Q design that delivers crisp and sharp images, and a 9th Generation Intel Core i5 processor.
Another feature to pay attention to when shopping for a laptop or notebook is whether or not it includes an ethernet port, HDMI port, or USB port. Older laptops usually come equipped with an ethernet port, but as the newer models become more sleek and lightweight, this port often gets bypassed. If you're going to need access to a USB port, ensure that your notebook comes equipped with one as many notebooks don't.
Gaming laptop
Gaming laptop with lots of storage

This gaming laptop comes with a 9th Generation Intel Core i5 processor and NVIDIA GeForce GTX 1060 graphics with Max-Q design.
The HP Elite x2 G4 Notebook PC comes equipped with USB ports as well as headphone and microphone ports. If you require the use of an HDMI cable, you can connect your computer through an HDMI adapter through your USB port.
Storage space
Because laptops and notebooks come in so many different models with varying degrees of storage space, it is hard to specify the range in which each of these fit. However, a laptop has the ability to use both SSD and HDD storage. A notebook usually only has SSD storage capabilities.
A basic laptop will come prepared with approximately 128 gigabits of SSD storage on average. A standard notebook will start at about 64 gigabits of SSD storage. Both styles of computer are similar when it comes to RAM and typically have around 8 gigabits. If you're looking for a lot more power and memory for gaming or for large media files, you can upgrade your laptop with up to 16 gigabits of RAM. This is something only a few notebooks can do.
Bottom line
When it comes to deciding whether a laptop or a notebook is better for you, you must first understand what your needs are. If you are a student who is looking for a computer that can handle basic web searches and applications like Microsoft Word, then a notebook is perfect for you. If you're a heavy-duty gamer or a business professional who needs a large bandwith with crisp and clear graphics for presentations or gaming, then a customized laptop is a better choice for you.
Overall, laptops and notebooks are becoming more and more alike as technology advances. The lightweight appeal of a notebook can be found in most luxury laptops, while some notebooks compromise their lightweight characteristics in order to have a more powerful processor and greater bandwidth. When deciding which is better, you must first consider your needs.
Get the Windows Central Newsletter
All the latest news, reviews, and guides for Windows and Xbox diehards.