WhatsApp gets enhancements and bug fixes in latest update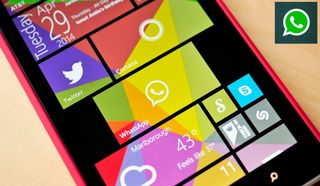 WhatsApp just updated its messaging app for Windows Phone to bring "various enhancements and bug fixes." The change log didn't get into specifics with the app.
This comes on the heels of the previous update about a week ago, which brought support for higher resolution screens, the ability to crop and edit photos, and the ability to archive conversations. Tonight's update brings the version number up to 2.11.596.0.
What do you think of the latest app? Let us know in the comments if you find anything new.
Thanks to all the tipsters.
Windows Central Newsletter
Get the best of Windows Central in your inbox, every day!
Chuong's passion for gadgets began with the humble PDA. Since then, he has covered a range of consumer and enterprise devices, raning from smartphones to tablets, laptops to desktops and everything in between for publications like Pocketnow, Digital Trends, Wareable, Paste Magazine, and TechRadar in the past before joining the awesome team at Windows Central. Based in the San Francisco Bay Area, when not working, he likes exploring the diverse and eclectic food scene, taking short jaunts to wine country, soaking in the sun along California's coast, consuming news, and finding new hiking trails.
Facebookification in progress!

When I update any app... My phone downloads the complete app, while after windows phone 8.1 it was told that only a part of app will be downloaded. While updating WhatsApp i had to download 17mb of data. And this happens with every app I update.

I haven't heard anything about that

That is only for Windows Phone Store apps (the apps that doesn't close on back button) which uses appx package. WhatsApp is an old Silverlight model app which uses the old xap package.

It is only true for apps which are written as windows phone 8.1 store apps (same framework as windows 8 or 8.1), and not WP8 silverlight or ported 8.1 sliverlight apps. Whats app is still WP8 app.

It still supports WP7.8 even after MS abandoned it. I can see updates even on my three years old Lumia710.

Whatsapp still support symbian

No it doesn't support Symbian but there are some Third-party Whatsapps available for it.

Wrong, Symbian got an update for Whatsapp very recently.

I did not hear anything like that!!!

For me, the last update was just 10 MB's.

For me today's update was for just 14MBs but the last one was 15MBs.

Nice to see another quick update. But they didn't fix Search unfortunately. It doesn't find anything

The latest update is the best so far as it is the first time this app is optimised for 1520

No link in article from mobile app.

Give it a few mins for the app feed to refresh. In their rush to publish, our newsroom forgot to add the Store link.

Thanks Daniel. I just hit the store direct for it. Just wanted to point it out though. Good to see progress from WhatsApp.

I'm kinda scared to update and all my contacts get deleted like last time.

I updated, content and everything is fine

After the last update I wasn't able to see the profile of my WhatsApp contacts but today's update just changed it.

Bro add me on wtsapp 9478716161

Are bhai strangers ko add karne mein tum logon ko itna maza kyun aata hai?

Chalo main bhi add kar leta hun.

Look what I found! Press and hold your message, tap info and you'll see who has read it or not!

That was in the previous version too!

I didn't know, wasn't in the change log.

Good see continuous improvement in this front though.

Not to feed a troll, but yes.

Alright then, so I'm a troll now. Should I feel flattered?

Feast your eyes for the cavalry has arrived.

Definitely an improvement

Only if all the official apps updated this quick and good.

After whatsapp's dry update spell I wouldn't praise them just yet. This may just have to do with the blue ticks even if that's server based. Once they are done with that they may go into more update less months. I really hope I'm wrong though.

Quick?! Are you kidding me? It took them nearly 4 months to update this PoS and it's still slow and full of Resuming every time I enter it. Not to mention there are still missing features from other OS's. Just because they've released these "bug fixes" so soon after, doesn't prove any commitment to this OS -- at least not a stronger commitment, that is.

Stop complaining and go buy an Android.

Not because of one app. Also, if there's no complaint, there's no telling if it needs improvement. I believe that's what they call feedback.

But this is windows central not whatsapp feedback website

So what? It is Whatsapp for Windows Phone that we're talking about here. According to your comment we shouldn't comment any article on apps. Furthermore, Duduosf is right. The app has improved, but it took months and there's still a lot of work to do to make it as good as it is on the other platforms.

It is an article about the latest update to whatsapps but like with every other article on here I have to hurt my thumb scrolling through the endless digressing slagging tripe to find anything constructive about the article itself

complaining about an app in the comments section, calling it a pos, etc isn't feedback. Feedback is being constructive and sending feedback to their support channels. So if you want all the features this app has on IOS and Android, buy those devices. I'd you want to be on Windows phone deal with it and set your expectations when using a platform with less than 5% of the world market.

So you're telling me that if I want the latest and greatest, I should move to other platform? Why is that? Because WP shouldn't enjoy those features, too? I have no problems with WP and I've been with it since WP 7, so if I wanted to move on because I was unsatisfied, trust me, I would've. And even with those setbacks I still (strongly) recommend WP to everyone I know. I've sent emails, I've posted feedback in the store review and I'd be more than happy to be part of the beta programme if it weren't closed. So yeah, I complain (not only here, just so you know) because I want developers to look more kindly at WP. It takes them almost half a year to bring us an update and it isn't even full fledged like on the other OS's. The question is: WHY?? Why is it so damn hard to add some ridiculous features (like select multiple messages at once?) that the competition already has for months now? Unfortunately, it's a two sided knife: Developers won't do much (or anything) because the MS is at 5%; on the other hand, the MS is at 5% because mainstream apps aren't here and Apple/Android addicts who try WP will say it's shit, will bash it to everyone they know, people won't buy it, and developers won't develop because people ain't buying it. Fuuuuuuuuuuuuuuck!!!!!!!!!

Give me the money and I gladly will right now! :) If not let me wait 2 years so I get the money.

My ENTIRE phone says resuming for everything, not just whatsapp so clearly is not the app, is the OS :D. Plus, some apps didn't even update at all. Twitter, Instagram. Vine app sucks, etc, etc. So yeah, no one is commited to this OS except the third party developers that make an excelent job to keep this platform somewhat useful and entertaining.

Twitter is a disgrace, although it is good performance wise. And my 925 says resuming A LOT, except for built-in apps! I wonder if it's the Developer Preview, since it's trashed my battery as well.

love this app - keeps getting better - wish the audio send button was bigger though. This is a daily use app for me. Works better than any other messaging app i've used.

I wish it wasn't tied to a phone number and only installable on one device. That's what keeps me from using it more... prefer Facebook Messenger. Same thing with bbm.

Well, I don't see any changes, but that may be just me

I hope they fixed the invisible display picture and status bug. I'll update it later.

Yes. Exactly! Finally I found someone who's facing the same issue. I thought I was the only one :D

If you can't see a Contacts picture, or vice versa, this is a lot of the time related to the Privacy settings that have been fairly recently changed. There seems to be a bit of an issue where, despite someone clearly being a Contact, Whatsapp doesn't think they are, and thus hides your display picture from them (and status). I've read a couple of theories on why this happens, but haven't tested them. Try going into the 'Account > Privacy' options and change the profile photo/status settings from 'my contacts' to 'everyone' and see if that helps. If it's the picture for one of your Contacts you can't see, they'll have to change this setting on their side. It worked for me, although i can't say for sure that's the issue you're facing.

Even I was facing the same problem after the last update and it's good to know that I was not only one who faced this problem.

It's still slow as fuck on my 925... I wonder if it's any better on the high-end devices (1520, 930).

If you un install and then re install without restoring from the backup it will actually become faster. Tried it myself on Lumia 920.

You have a broken phone because the app is not slow at all (this or you are a troll).

I'm not a troll, and I hate this term. Anyway, it's slow when going back to the app (multitasking) since it ALWAYS shows the Resuming... screen -- you know, just like Skype. I wonder if it's the Developer Preview.

Try to move to internal storage. The app is not slow at all.

That's the thing, my phone is a 925, so no SD.

Time for a factory reset...WA is fast as hell

Which version of WhatsApp are you on..cause I'm sure WA on wp was never "fast as hell".

Are you using lock screen beta? I got that when I had that installed. Maybe. Hope that helps.

God, no! I've deleted that a long time ago.

Uninstall , install without backup, the app is fast at my 920 and my 930

There is no way to restore a backup in the Lumia 920 since does not have a external memory storage...

Man. I have a lumia 925 too and whatsapp never was so good.

Have you tried continuously stabbing your phone with a tomahawk? Works fine for me.

I've tried with a butcher knife. I'll try the tomahawk now. Thank you!

App will now force you to move it to phone before update. So, no sd card installation available now.

Nope..it allowed us to install on SD card in previous update. Latest update pulls this ability off.

All ​images in WhatsApp are now distorted/pixelated! Using Nokia Lumia 930 in UK

All fine for me 930 from spain!! Hi brother!!

Mine is pixelated as well, only some of them...

I'm betting it'll Seem Faster

Someone should make a seems faster meme with Coral. That would be epic :D

Don't know why I can't update. It wants me to move to phone from sd card.

I'll wait for the comments here to be sure this is not a broken update. By the way, the previous update made it quite slower... That's what I feel.

I thought it was just me. 925 owner, btw. And this update hasn't made it any better.

Even my friends 720 it was very laggy after last update.

925 here. Its much better.

Yeah, there's Read Notification, Blue Checkmarks :)
I love ❤ WhatsApp :D

I don't see any blue tick marks on my phone. However my friend using android says today when she chats with me she gets blue tick marks.

Yes. I don't see it either.

Blue check marks are there but not in group chats. Anyone notice that or is it only me

Well, that would be difficult. When should the checks become blue? As soon as one person has read the message, as soon als all of the group members have? How would you do it?

It has been updated on WP too. You get the clock when it is not sent. The single tick when it is sent from your phone. Double tick when it is received on the other phone. And the NEW thing, a double blue tick when the person has READ the message.!! :D .. Doesn't work on group chat unless every person on the group has seen it. :P .. This is a server update though. Not the app update which came out. The app update is just bug fixes. This is like how Cortana can be updated in the background. So it updates automatically on ALL PLATFORMS. :)

That was why I was wondering why Daniel said there's no need to update with the blue tick, when I found there was an update. Guess, I jumped the gun...

You didn't need to. This came after that.

I know. But when I checked there was an update. I had to re-read Daniel's article. Maybe I got the update earlier. Maybe.

This app is for bug fixes, not the blue checks. The blue checks came before automatically as a server update (similiar to how Cortana can be updated without an app update).

The blue check was working only for a few Contacts, I don't know about now. Need too use it. But all the people are sleeping already. The blue check was working for all the contacts then it stopped working. The update must fix that.

It added blue checks to notify something.. xD

To notify when a message was read.

1 check = message received by WhatsApp server
2 checks = message received by user (not read yet)
blue checks = user read the message

Definitely has blue checks.

Wrong - WP DOES have blue checks :) I'm glad they gave to WP at the same time as everyone else

Maybe it doesn't arrive for everyone at the same time. Give it some time. It shows up only on a few contacts at first, then it spreads :P

Same is the case on my phone. No blue checks.

I'm getting blue checks, but not for all of my contacts. I guess the rollout of that feature has not completed yet.

No blue checks for me too.

The person at the other end should have the updated version, so give it a time. Slowly everyone will be using the updated version

Does it have a privacy setting to require a PIN before you open the app yet?

Anyone in India getting blue check marks??

Yeah !! I got the blue checks after message is delivered.

Blue checks = message read!!

It's not working in my region
When I tap and hold it nd select info it after blue checks(read) it say unknown time
I think android users have to update app :p

I m getn blue checks on 920 and 1320 India

I'm getting the blue ticks for the messages that are read.. L830.

Ok. Seems faster than before. Still no blue checks. Maybe only available on us/uk for now?

I live in Latin America and I already have the blue checks.

The blue check marks are an in-app update on their server (not an acutal app update). I think it probably didn't hit your region yet. It works in most other countries already.

Blue checks already on WP.

Yeah. I have blue check for some chat. #India

Really?? M also an indian, but I didn't get this blue tick yet:-(

No blue checks for me (India)

That doesn't require an app update. That's an in-app update. It probably didn't reach your region yet.

It says "Attention ⚠ Required" immediately

Change the storage of new apps to Phone,

Thanks Angel or is working now.. :)

Sorry I hurried a bit. It downloaded but did not install. :(

I tried restarting but it did not work. I had to change the Storage Space to "Phone", Uninstall the app and the do a Fresh Install. Anyway it is working now. Thanks for the help and sorry for the delay in reply. :)

Blue ticks from India after updating app

Blue ticks even before I update the app. Daniel is right, for the blue ticks, there's no need an update and it on the server side. I even don't update because of my data internet limitation now.

I hope that they've mad it battery efficient... This app kills my battery...

The 2 ticks which show the status as delivered are now changing to a beautiful blue color..i think the blue color is indicating the status as "read"

https://www.whatsapp.com/faq/en/general/20951546

The blue check works when you chatting with a windows phone users but not with an Android user.

Works between iphone and windows phone.

Apparently it's because of the Android fragmentation. It's taking longer to deploy the update to everyone on Android. Woo hoo for one WP gets it at the same time/before most Android users.

I have an android tablet and it's working flawlessly. No matter who you chatting with!

I believe its universal. From whatsapp faq
"If you do not see two blue check marks next to your sent message
The recipient may not have opened your conversation.
The recipient may be using an outdated version of WhatsApp.
You or the recipient may be experiencing connection issues."

yes blue ticks doesn't appear while chatting with android users

+525 no one in my contact list is using windows phone so I'm not getting blue check marks (India)

Try to save your own no. And send msg to yourself :P . Lol blue tick will come.

It worked right away for my Galaxy S4 (i know cause i tried it directly with my collegue who has a lumia 1020)

Android to windows works perfectly but windows to Android doesn't work. I don't want to generalize but I have some friends in NY and other countries that informed me of the same thing.

Don't yell... Cuz after releasing the bug fixes and build update the app takes about 6 months to renew. Hope they add at least Cortana integration before that.

It will be nice if they add the option to select any file to attach just like in Kakao Talk..... I mean, just add a file picker...... :)

^^This
I told this to telegram also but they didn't listen, at least not yet

Whatsapp now saves incoming pictures to a 'whatsapp' folder rather than saving incoming pictures to the 'other pictures' folder. Good move Imo

Mine did that for a while already. I think during the last major update (not this recent one).

Possibly I probably didn't notice it

Well I noticed it just after reading this thread. :) Thanks :)

Yes, that was part of the major update, not this one.

FYI There's now blue checkmarks to notify read messages.

Good ... About time these apps are getting their right updates.

The update is great because the previous update was very laggy and buggy

+920... My WhatsApp link wasn't working, so reinstalled it, but lost
all old messages. Any way I can get them back?

Sorry mate..... I guess there is no way to retrieve..... Happened to me too during previous major update...... :(

Anyone failed to update the app???
Mine has failed. Couldn't able to update to latest version. Everytime I download it starts fresh and not resumes if fails in between but then at time of installation it fails. Any idea how to backup xap files to sd ?
I don't wanna any trouble after deleting the old one.

Go to Storage sense and move WhatsApp to phone memory...... Then try update...... It will work....... You are welcome........ :)

Review of the app by users say unable to view profile pics n statuses??? Is it so, or shall I update the app???

Am I the only one with no blue checks here? Before the update I had the Blue Check, after the update no blue checks...

cant believe they have yet to fix the randomly occuring bug where when listening to an audio message having the lumia screen go into standby causes the playback to stop! i have to set my lock screen to never timeout just to listen to messages.

My friend's 630 faces the same problem...... But my 620 is just fine.

Wonder what they think of the eff report http://www.windowscentral.com/eff-releases-secure-messaging-scorecard-ra...

I want them to add separate rotation lock feature that won't affect global setting.

Where are the pics saved ? I cant seem to find my pics

Where is my blue checks. I cant find it

Look at previous conversations.

good but watsapp doesn't here is always. We also require cortana commands. I hope you guys are listening to us.

This is what I'm talking about! Bug fixing updates should done frequently.

WhatsApp is the most polished messenger besides the native app

Everything is as same as earlier. Don't see any enhancement. Lol

Kudos for the update. But instagram for windows sucks!!

WhatsApp is giving multiple updates within hours.. It shows v 2.11.596.0 for the latest update... Can't see what improvement is there inside..

Seems faster on my 820 now..

No blue for me here in india. Anything can be done abt it?

Thank good now my photos are properly saving in "WhatsApp" folder than the "others" folder!! I waiting for this particular thing since long!!

Blue checks are appearing for windows users conversations nt btw windows and android :( Hope to get mp3 share soon

Upload the MP3 to skydrive and share it.

I can as well email mp3..bt looking for in app share as in Android

Try Kakao Talk...... It has the perfect integration of file picker supported by WP8.1 :)

Then comes someone and say that they dindt keep updates coming...

Whatsapa screws up its update more like.

I love whatsapp but this is not perfect before I can send mp3 without having to change the format into mp4

PEOPLE HUB INTEGRATION PLEASEEEEE. That would be great

Let me clarify android users have to update the app in order to get blue checks
If u r on wp and not seeing blue checks while chatting with android user then ask the other user to update the app

But didn't find any blue checks in my chat history.why?

uhm no... i have a Galaxy S4 and didn't need to update the app. I got the blue checks anyway without any update. It's a server thing from whatsapp not a update for the app.

Haven't noticed anything yet but its very encouraging that they're updating it so frequently. They seem committed to the platform. American Airlines can take a long walk off a short pier, I already flamed them in via the complaint form on their website.

Still no option either for voice calling or sending songs.. :(

"This comes on the heels of the previous update about a week ago" Say What?! About a week ago week ago..!! <(",)> <(,")> / \ | | | |

For some reason my WhatsApp doesn't launch. I get notifications but when I click them it doesn't work. Icon is disabled as well. Not able to update it as well.
Anyone with similar problem?
Even store doesn't show me any buttons (view/update/install etc)
Using 920 dev preview in India.

I think a reinstall would fix ur problem ;-)

Sadly... That was the only option.. And I lost all my conversations :-(

I dont see any changes, even no blue ticks yet!

Bro plz update here drive + its not working proper with lumia 730

Why would HERE's developers read comments in an article about an update to WhatsApp?

Still not getting the blue ticks .. That's weird. !

So I found a bug now. All the dates are messed up. Pings I received two days back are displayed as received in Oct!

Yea you're right, I just noticed.
What the hell WhatsApp. They can't roll out one proper and complete update for once.

I don't get the blue check signs :/

+1 i think today they removed it!

But why would they do that? Android still has it as far as i know.

happy to see this app being update regulary

Blue checks for msgs between WP users only???

nah, whatsapp across all platforms got updated with this new function similar to bbm!! blue check means 'read' messages. lol

It's not installing after download.

Well for me this update did sort out crashing of I was watching a video in the app and then stopped it to forward it and the speed is definitely improved..
I do want the audio attachment to come though..

My favorite kind of articles.

Bug detected as Sunil mentioned above. Dates are all messed up.
These *bug fixes* updates are more like *bug introducing* updates.
Pathetic.

Once again I ask, where can I find the Start Screen Background in the picture lol. I've been searching for that very specific background for as long as I can remember now lol. Daniel?

Now I can also see the 'read' mark apart from the 'seen' mark for sent messages. It's shown with the blue colour double checks symbol. Did someone also notice that?

Scroll down the frontpage, there's an article about that!

WhatsApp now 2.11.596 ... So can we expect .600 Soon ? With more improvements ??

Thats not how this works...

why can't they just remove the or make the in-app vibration optional. it kills battery

Not install new update of WhatsApp.plz resolve issue.abhijit142@live.com

Good some love for windows phone

Lost my lifetime membership when I last updated. Tells me I will have to pay in a few months now. Well, had it free for four years now

Abo Status has nothing to do with an update because its a backend thing

Its not downloading.... Its giving an error at the end of installation

It's a'ight....but I'm still waiting on a patch for BBM...it's stuck on 'setting up BBM'...pls fix that soon

Can I get that wallpaper? Plz provide a link

WTF,, when u tap and hold on ur sent message then u will be able to see the status of ur msg whether its is delivered or read by the other user, no blue tick available for me :-/ Is there any option to enable it? Plz do reply and suggest

Why can't we still send audio? My old Symbian phone can do that and 920 can't! WhatsApp please!

MS and Apple rules. Not WhatsApp.

when will be video optimisation get fixed? windows wahtsapp doenst compresd the video msg

You can only download to system storage

Did they take away the blue ticks already? Suddenly I can't see them.

still cannot attach and download audio/mp3 files on whatsapp on windows phone

I had the blue checks but they went away after I updated

Now, in your groups, when you send something, if you push above the message for a few seconds, you can now see who read that message too!!!!, you only need to choose info for that!

Still Cant Attach Mp3..Now losing Patience....

Where can i get this background image?

Excellent update ;-) happy to see wp whatsapp going hand in hand with other platform os :-)

It's not getting download, its irritating. Wats going on

I am getting the same problem!!!!!

I updated it on my Lumia 900, now it just crashes when I attempt to load my conversations. Really frustrated since WhatsApp is one of the only ways I can talk to my friends and family.

The update is cool, the fonts have been changed and app became faster than Eva and the ticks are now un blue color which indicates that the message is seen..coool..background images,croping,captioning images...superb..

plz include audio file sharing and downloading like in ioS and android

Works good on L1320 Cyan + DP.280!

They recently brough back WhatsApp Photo Folder, didn't they? I'm so glad they did!

For Windows Phone 7.8, user Details now shows on the info, photos, etc. After the previus update I was unable to see it. Now fix it.

What app is that above the twitter app? I want that but idk what its called.

That blue ticks come only for particular contacts

Well, I think they updated the read confirmation. On other OS they now can see, if you opened the message. I think, we have to wait for the feature, but we bring already the data...

Dates are wrong after the update...

WhatsApp now have " seen " notification..!! When tick is blue it has been seen

Tick mark is changed .. When person is online .. Tick goes to blue and either remains same

Still no audio share feature

This app is very slow.....I have L1020