Windows Phone overtakes iOS in Pakistan, Lumia 535 leads the charge
Windows Phone is now the second-largest mobile platform in Pakistan, with quarter-on-quarter sales tripling in the first quarter of 2015.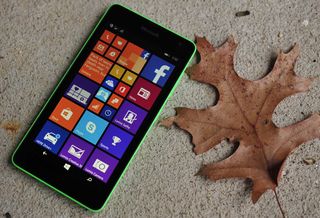 The Lumia 535 was the best-selling device in the country during the time period. Talking to Pakistan's The News, Patrick Mercanton, head of marketing for Near-East, North Africa, Levant and Emerging Asia for Microsoft Mobile Devices, said:
In the interview, Mercanton also highlighted the importance of the feature phone segment in driving sales:
Mercanton shared his views on the growth of Windows Phone as well as his expectations for the Pakistani market in the interview, which can be accessed from the link below.
Source: The News
Windows Central Newsletter
Get the best of Windows Central in in your inbox, every day!
Harish Jonnalagadda is a Senior Editor overseeing Asia for Android Central, Windows Central's sister site. When not reviewing phones, he's testing PC hardware, including video cards, motherboards, gaming accessories, and keyboards.
Lololololololol..... its a great day rejoice. Fallujah praise him. Lolololol

You seem to know so much abt North Africa don't ya? So tell me how many countries there have no govt?

Morocco, Tunisia and Lebanon also count.

Of wonderful. Those places are going to get decent banking apps before the UK. What on earth? MSFT really has stepped off the pedal in the West. But at least the devices are selling. Somewhere.

I'm pretty sure 535 is widely available in the west too

Lebanon ? This in middle east .. After the dead of nokia no new lumia here no wp . I am searching everywhere to get one..

Lebanon in North Africa?!?!?
you don't even know basic geography! http://en.wikipedia.org/wiki/Lebanon

Pakistan? Lol, that was unexpected

Lol , now think different :P about us

I am surprised. I know Pakistan is a developing economy but I thought the economy wasn't that bad. I guess I was wrong.

Kindly see these links if you like : http://news.uniquepakistan.com.pk/20-reasons-why-it-companies-around-the... http://www.technocrazed.com/top-10-amazing-achievements-of-pakistan-in-s... I hope you pass your views to other people. :)

I hope axact is not involved in this

Looks like u have a lack of knowledge. Google what is the function of IOS, windows phone and axact ... lol

Yes, unexpected... Pakistan is, after all, a nexus of wealthy consumers who can afford to drop $800 on designer smartphones. Never saw this one coming. :P

Being someone from Pakistan, this is intriguing. Windows Phone are on display in many shops, I've often seen huge banners dedicated to Lumias, however some Microsoft services are lacking here, primarily maps. Given that this is a developing country, iOS was bound to become less popular than Android and Windows because of the abundance of low end devices that these operating systems have. But still, the fact that this made headlines means more competition for Google which is a big win.

Pakistan is a country of 200M people and has one of the most modern and diverst telecom and IT industry... this is just the begning to be surprised. and Asia is the next big thing.... 4.2 Billion people means business specially for low cost devices.

The amount of poor, inane English in this thread is ridiculous.

Don't be cute. Let's see you attempt to speak a foreign language with proficiency.

I have read through the whole thread, I have not seen a comment that was so poorly written that I could not understand. As long as I can understand, why is "poor english" judged by your almighty that important? On the other hand, there are people with good grasp of english who are totally jerks.

Seems promising! Windows phone is gaining market!

Yeah. .. well .. except in the US for example where they lost 1 Million customers since the beginning of the year

Really?? Where does it say that they lost 1 million customers?

http://wmpoweruser.com/windows-phone-loses-a-million-users-in-usa-since-the-beginning-of-the-year/

That is because they are being screwed by the carriers and that is happening only in the US.

The percent drop is from comscore. The number of users is speculation. If the overall market grew enough that percent drop could even still represent a numerical gain. Unless you know for sure (and can provide evidence other than wmpu's speculations) it is disingenuous for you to keep parroting that "data"

Can you present me other data than what they give in this headline hear.. no.. so we all rely on what analysts have to say.. but if they say things the same way over and over again you can see a trend in things

All we know from comscore is that Windows share of the US market went down 0.6%. We don't know how that translates into numbers. See how the percent change of "total smartphone subscribers" is NA because the chart as presented isn't tracking the number of people the 100% of the market represents. Without that information it is impossible to extrapolate user numbers from the data. No link needed, just an understanding of 7th grade math.

After Windows 10 this growth will be much higher.
Even many of known are waiting for its release.

Haan kam se kam is baar orginal chalane ko to milega :p

Yeah! Finally. Some WP love for Pakistan. Just goes to show that Microsoft delivered big time when it comes to the 535

I just hope the same happens with the Lumia 640. Still waiting for it.

Hope it happens in India too... Congo Pak brothers....

WP overtakes ios in Pakistan
Hope it happens in India
When in India comment spotted
Jk

Unnecessary comment spotted

In India Microsoft/nokia has bigger market than iOS already

No.. Nokia leads Apple when combined with Asha feature phones..... When we consider Windowsphone.... Its poor with 3% in 2015 Q1 and iOS at 18%

No you are wrong Lumia surpassed iPhone way back in 2013

Exactly after I bought my phone!

iOS at 18% ? Where did you get this stat ? It must be 1.8 not 18. Most of iPhones are bought from US with contract and smuggled here unlocked. 1st hand buy is very less.

No bro... Windows phones already surpassed iOS more than a year ago...iOS have less than 3% share and WP had around 5%... Android has a market share of more than 90% in India

Ios has 18% market share in premium smartphone category in India. Where wp has 3%. But overall wp has above 5%, ios has below 3%

iPhone premium lol Not waterproof
Not dustproof
No SD card
No wireless charging
No double tap to wake
Battery drains quickly
etc etc Premium prices yes!

my god, india. self centered much? i believe it was already a given that WP is popular in india.

I guess ill go read the article now.

535 is worst latest lumia

Recent touch fixx update has cured from touch issues... Believe me , my brother updated it and he is delighted

my sister's lumia 535 still has a horrible touch response. even after two firmware updates that MS rolled out. however, a bigger problem is the screen resolution.
major apps like FB messenger and others aren't optimised for the 960x540 resolution. and hence they load in the 800x480 resolution, leaving a black bar at the bottom and a pixelated look.
it sucks. given that 535 is the second most selling lumia, it's time devs did something. another work around could be that since quad-core snapdragon 200 can handle 720p displays (lumia 540), MS could release an update that renders apps in 720p and then compresses them to 540p. it still will be a lil weird but at least not as blurred as the 480p upscaled graphics.

i agree! i'm surprised how it went to become a big hit!

Its all about Kulfi [ I mean Selfie ] Dat Damm 5 MP front camera is the mainstream

I'm writing you from a Lumia 535 and I could say you that you're wrong, besides the touch problems that are 95% fixed, there's nothing wrong whit it and you can't buy anything better at that price ;)

I bought lumia 640 for just 9000 and also i got 1000 cash back. Plus mobokiwi or some app gave 1000 cash back. So totally i bought 640 for 7k... And its best phone till now in mid range lumias...

Even I got Lumia 640 @discount for ₹ 8999 with ₹1000 cash back from mobikwik. Very happy with purchase

Do you comprise of all the Lumia 535 owner's 5??

it's by far the most decent low end/budget phone. not too many important features were compromised, unlike prior lumias where they lack ram/ffc/flash/sd card slot. touch issue was already fixed months ago.

Today Pakistan, tomorrow the entire world :D

'Murica! Wait what are we talking about?

Is 'Murica a part of this lowly world? Posted via the Windows Central App for Android

That got me rolling on the ground laughing! xD

I wonder how well Windows Phone doing in South and South East Asia compared to the US in terms of the amount of users... Pretty sure the number makes the US a little bit dwarfed there

2.5% in Canada, 4.2% in the U.S.

Good to know... Anyway, 1% in China, India, Pakistan, and South East Asia combined would be bigger than 3% in USA and Canada combined, so I think it's already dwarfed by now :)

Read a case study... Asians generally buy after doing some research on features, Americans on the other hand buy for ease of use and hype. Reason Nokia and it's symbian were a huge success in asia and could never break in the North America territory. Posted via the Windows Central App for Android

Oh my Goooood LET'S PARTYYYYY!! #WP4LIFE #WERCOMING

There will be a day when Microsoft will be a king in all three types of devices e.g. Desktop or laptop, tablet and Mobile phone. Just let the windows 10 get settled into the market!

Woooah. Hurray hurray.
Hope the same for India, US, China.
.....
I'm from India though

I'm so happy right now... Congrats MS

It should be the case in France too next quarter since only 2% separate WP from IOS. But IOS is in stagnation and WP is growing month after month, slowest but surely.

Windows Phones are already higher than iOS in India. So no when in India..

Good job ms.i hope indonesia too!!!. Indonesia is one of the Biggest population in the world. If ms conguer my country, it will be a big achievement

Hello! I'm from Indonesia too

Yeah. One of my friend is in Indonesia.

Good to see Windows Central at least posting some news about Pakistan after every 3-4 months lol :P

Yeah. :p
The last thing I read about Pakistan was about us getting the denim update.

Lol and mobilink giving lumia year ago , before that

You just took the words I wanted to say after seeing the post

Waw... Its really a good news..

Numbers are numbers, profit is story for another day

Since when ppl choosing windows phone over...

Anyone knows how's going in Mexico and other Latin American countries? I never seeing a post about the numbers of Windows Phone in this markets and I really want to know how's going.

I want 640 to grow and want to see snapdragon 615 on the budget Lumia under 150€ like we have so many home grown and chines barnd offering that chip with 120-130€ phone with android. So if Lumia do this then it will grow and one more thing we want under 5" screen phone like moto x (first version) with is easy to carry and last long with the battery as well

It's just a bit to take over here in south Africa

so do we get maps for Pakistan now or we still wait in agony for them ?

Maps and the high number of US-only apps from Microsoft are the sole reason I am using Android (after selling off my 925). I miss WP, I hope HERE (if not Bing) gets Pakistan maps soon.

Exactly. We need HERE maps of Pakistan.

My brother's Lumia 535 has worst touch after two update........how can phone like this can be number one ??worst phone every from nokia sorry microsoft

Try putting screen guard on it. This will help.

My sister's got a 535. It's touch works as good as my 630 and my brother's 730. :|

A friend of mine had the same problem but he solved it in an update relatively quick.

Yeah! :p Btw, even though (imo) windows phones are more suitable for most of the pakistani ppl (because of low budget), they still buy low quality android phones. 1st reason is, microsoft has the WORST marketing strategy i've even seen. At least in Pakistan, they don't know how to market their product. 2nd reason is, there are not enough windows phones yet. Lumia 640 was launched 2 months ago in India, and is still 'coming soon' in Pakistan. I had to buy it for my dad (because of decent price, quality and 5" clearblack display), and have been waiting since March, and still don't know when will it arrive. So naturally the next options become android phones under $200 range (which will be crappy). And even afer windows 10 mobile launch, if they'll stick to their poor marketing, there'd be no use. *Hope*

But if MS does a bad marketing job in Pakistan how is it then that the 535 is sold that good?

That's why some people here are surprised XD

Marketing problem of Microsoft is not only in Pakistan. They have a problem in marketing in the whole world. You don't know maybe your country's marketing people in Microsoft are slightly better than other countries. Take for example in the UAE. Microsoft here is sleeping.

The ad for 535 in India on tv it's playing a Spanish song with nothing else to say about the phone.

Isn't that place a war zone?

Yes this is war zone for you as long as you continue listening your lame media

Lol looks like u keep your TV on and listen news what u want to. And what your media want you to listen.
Welcome to lost world lol

Yes. Other countries try their best to keep it one.

facepalm comment of the day.

Haha I feel bad for all the people living in that war-ridden shit hole of a country, even if they have Windows Phones...

Having a bad day huh(or a bad personality)!!

what even is this comment

Hell yeah! Way to go windows! Best news ever!

Finally a good news for Windows Phone users in Pakistan. And a boo to all Android users. See the Microsoft taking over all you Androids. Good luck Microsoft. :)

Yeah.
(My names Adil too)

Thanks.
Maybe you can stop by in the Thread,"For all Pakistani WP Users" in the forums.

I don't see any specific percentage about Windows phone market share in Pakistan...

Any actual data to share? Android 99% Windows Phone 0.6% iOS 0.4% ?

Yeah you're right bijak, Windows Phone and iOS are probably even smaller...

Go Pakistan go ! We will change the world's image about us soon inshallah!

So Taliban now prefers WP. Good stuff.

You know what else is good? Zombies aren't gonna eat you

'Find my Phone' with drone support.

Plz control on your language !

Hopefully this brings Snapchat to WP ..

Hopefully not. I'm not interested with Snapchat.

Not you. Not me. But there are people who need. There are people who ain't switching because they need. Options. The more, the better.

Shaan ali khan ur last comment.. Lol r u kidding me? ..tiye

You're not even replying to his comment dumbass...

Poof! Pakistan? That's no contest. Lol!

I suppose surpassing iOS in any country is a good thing? All I can say is that all this low budget flooding the market strategy better be worth the wait for a decent flagship.

It just shows that MS has no idea how handle the United States. Their delay of any flagship phones in favor of cheap phones has been a disaster here. They've lost significant ground and are unlikely to get it back. Waiting for Windows 10 to release high end phones was stupid.

It's actually pretty smart if you've got some common sense.

They are not going to sell either way, so it really doesn't matter. They could have at least launched something last fall. Posted via the Windows Central App for Android

Well, it really depends how you see it. If you run a WP marketing campaign it is good!
But for a developer it means absolutely nothing. Now the fact that it dropped 15% in US though is a lot more telling.

Maybe the Marketing people of Microsoft Middle East want to learn something from Microsoft Pakistan.

Apple is doomed for sure. LOL.

i realize that many people in my hometown use Lumia, even they want to buy a new 640xl. it's great signal for windowphones.

Pakistan? Pakistan ? Pakistan ? In Robert vadras words are you serious are you serious are you serious?

Open ur eyes. Yes Pakistan.

Sad that Osama died otherwise he would have taken a selfie for sure with windows phone.

In US it dropped about a million in the last 15 months. that is from 6.5 million to approx. 5.5.

Nope. Market share went down, which could mean that the market grew faster than WP. There is no evidence that 1 million people left WP.

wtf @ all the hateful anti-Pakistan comments on this post... I mean, I tell people around me to not irrationally say bad things about Westerners - thinking they'd at least be somewhat more polite towards us - but I guess hate runs both ways. If you're a West-hating Pakistani or a Pakistani-hating Westerner, you are an idiot. exit yourself from this planet. thanks.

People like these(the discriminating one's) need a kick in the nuts.

Finally. Pakistan is mentioned in a Windows Central article.

Good to know that somewhere is getting smarter about their choices for tech products, since Windows Phone has been the best since it was first released...
Windows Central Newsletter
Thank you for signing up to Windows Central. You will receive a verification email shortly.
There was a problem. Please refresh the page and try again.