Witch Potion, a challenging matching game for Windows Phone 8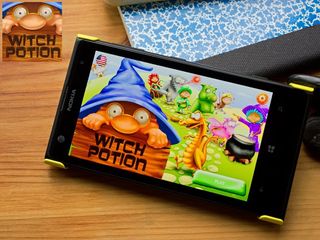 Witch Potion is a match-two styled puzzle game for Windows Phone 8. The game premise has you seeking out these matches to make potions. A black magic is surrounding the game's realm and hurting the creatures within. The potions you help to create will go towards defeating the black magic and restore harmony to the realm.
Witch Potion has 120 puzzle levels that will create potions to help eight different creatures that include a Yeti, Ogre, Mermaid, Leprechaun and more. Each puzzle level has a set number of moves and some levels include additional challenges such as not matching certain elements.
Witch Potion is from an AppCampus alumnus, has nice graphics, challenging game play and comes across as an entertaining puzzle game for Windows Phone 8.
Game Layout
Witch Potion has a no-frills styled main menu with options to jump into game play, sign in using your Twitter account and access the game's settings. Witch Potion's settings include muting sound/music.
Game play is laid out across eight chapters, each designed to help one of the creatures your potions will help. Each level has forty-five puzzles that are progressively unlocked as you complete the previous chapter.
Game Play
Game play with Witch Potion is equally straightforward. As with the chapters, the puzzle levels are progressively unlocked and at the start of each level the best scores will be displayed along with the move limits and any special instructions (e.g. don't collect mushrooms, collect only blue feathers, etc.).
The game screen has an assortment of puzzle elements scattered about. You need to move elements of the same kind next to each other to collect them. You can match more than two of the same elements to collect them and chain reactions are possible.
Witch Potion also has a gravity counter that will elevate all the elements to the top of the gaming screen after a set number of moves. It will then return everything to the bottom of the screen after a set number of moves as well.
To the left of the gaming board you will see your move count and a ratings meter. If you solve the puzzle within the limit number of moves, you will earn three stars. As you go beyond the number limit for moves, your score will decline and will be reflected in the ratings meter.
Each level is re-playable for practice or to improve your score.
If your moves result in an orphan element, the game will end. If you collect elements that you aren't supposed to, the game will end. Success or failure, at the end of the level you will be presented with a scoring summary where you can try the level again or advance to the next level (only if you succeed at the current level).
Overall Impression
Witch Potion is a nice departure from our typical Windows Phone matching game. While games such as Sweets Mania Space Quest and Bejeweled are fun games to play within their own right, Witch Potion sets itself apart by having challenges within each level. Not only are you tasked with not leaving any orphaned elements but you may also have to avoid matching certain elements.
Witch Potion does a good job of reminding you of the level challenges before each game and with icons displayed during game play. My only nit is that the game lacks a help section outlining game play and referencing what each icon represents. Witch Potion isn't a difficult game to figure out but a reference section would be nice.
Witch Potion does require a little strategory in determining which game piece you move first and deciding if that move will cause an unwanted element to be matched. Overall, Witch Potion has its appeal and is a welcomed addition to the Windows Phone gaming library.
Witch Potion is a free gaming title that is available for Windows Phone 8 (including the low-memory devices). You can find your copy of Witch Potion here in the Windows Phone Store.
Windows Central Newsletter
Get the best of Windows Central in your inbox, every day!
George is the Reviews Editor at Windows Central, concentrating on Windows 10 PC and Mobile apps. He's been a supporter of the platform since the days of Windows CE and uses his current Windows 10 Mobile phone daily to keep up with life and enjoy a game during down time.
Looks cool for the kiddies!

Kiddies or not, this game is very mind-blowing! I've been playing this game for a while now (and I am 32), it is similar to other popular match/swap games; but, this one is more challenging! I remember being stuck at some 30-some levels for 2 days. If you think it is for kiddies, I can only say Parental Advisory is needed :)

Hi everyone! I am Emre from Alictus. I hope you like Witch Potion. I am here to answer your questions if you have any =)

Hi Emre, Good to see developers in the comments sections to answer the queries. I am downloding the game now and will let you know how is pans out.

Hi! I hope you like it =) Btw, you can always reach us from Twitter: @WitchPotionGame and via e-mail: weloveyou@witchpotion.com but I will always be here to answer you! =)

Hi, Emre,
I don't have any specific questions but I would like to thank you for such a good game. It's quite enjoyable and offers a decent amount of challenge for all types/ages.

Thanks! We are happy that you enjoyed it!

No questions, but thanks for supporting 512mb ram phones, wish more developers were like you

Thank you! We are and always will be supporting 512mb ram phones with our games!