You want Windows Mobile 6.5.1 (and the new TouchFLO 3D)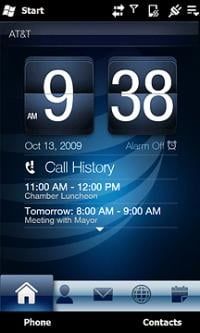 We don't usually cover the ins and outs of ROM-cooking community for several reasons. No. 1, it's huge. No. 2, cooked ROMs are updated seemingly daily, especially for HTC phones. And No. 3, it's a little nefarious, and Microsoft should be commended for giving it a nod and a wink.
All that said, let's talk cooked ROMs for a minute.
The first official releases of Windows Mobile 6.5 in the United States have come on the AT&T Pure and Tilt 2, and the Samsung Intrepid on Sprint. As we discussed in our review of Windows Mobile 6.5, the builds we're seeing largely have the same look and feel of what was first announced nearly eight months ago. Meanwhile, we've seen newer and newer builds leak out, dubbed Windows Mobile 6.5.1.
Now, stock ROMs hardly ever are a fun time. Carriers load them up with their own customizations and programs that you might or might not use. (We call that bloatware or crapware.)
I picked up an AT&T Tilt 2 on Sunday. The stock ROM lasted exactly six hours. Now, I'm running what is considered a Windows Mobile 6.5.1 ROM (Build 23071.5.3.0, from NRGZ28 of XDA Developers fame). Whatever ROM you use, remember that a cook is only as good as his or her ingredients, and so kudos to Microsoft for improving Windows Mobile 6.5 even as it was being released.
But, like we said, we're not going to dive into the ins and outs of custom ROMs. However, we will say this: You want Windows Mobile 6.5.1 (or whatever it ends up being called). And for you HTC users out there, you'll want the newer versions of TouchFLO 3D and the Sense UI. And HTC, Microsoft and the carriers should (and in all likelihood will) bring them to us in an official capacity as soon as possible.
Will it change your life? Nope. But it'll make your experience with Windows Mobile 6.5 much more enjoyable as we all hold our breath for Windows Mobile 7.
Windows Central Newsletter
Get the best of Windows Central in in your inbox, every day!
Phil is the father of two beautiful girls and is the Dad behind Modern Dad. Before that he spent seven years at the helm of Android Central. Before that he spent a decade in a newsroom of a two-time Pulitzer Prize-finalist newspaper. Before that — well, we don't talk much about those days. Subscribe to the Modern Dad newsletter!
i need to see if my cook can get this cooked in my omnia :)

You have to love Microsoft standpoint on the topic. XDA-Developers (And thus also Duttythroy.net) breaches intellectual property laws regarding ROM Cooking. However Microsoft and HTC both agree "We can't live with 'em and we can't live without 'em." The biggest producer of Windows Mobile-phones, HTC, also says they don

i wish i could do this im too scared

There really isn't any need to be scared. There are many people that are more than willing to help on these sites and I will tell you that it is a very simple process if all directions are followed.

Boy, I am really NOT sold on moving the start button to the bottom yet. I've yet to see a screenshot where it looks natural. It completely screws up the alignment of the traditional soft keys. NRG does a great job skinning, but why is there still all this empty space between the buttons, and especially to the right of the Contacts button? (I assume NRG has limited or no control over that.) Further, the squashing of the top notification area is bothersome. It looks way too cramped. now.

The reason for the spacing in the buttons, is because when you move to other applications, and areas within WinMo, other buttons become active in those spaces. But I agree with you - it does look strange.

Screenshots don't really do it justice. I thought the same thing for a long time. But once you use it, you don't even notice the spacing.

I just got myself a HTC device, finally that stupid LG KS20 broke a fourth time so I could get my money back, this means I don't have a lot of experience with HTC... I know there will be a windows mobile 6.5 upgrade for my phone, Touch Diamond 2 soon. But will HTC give it an update to 6.5.1 and the new touchflo??

will this work on Verizon TP2? thanks

leathernuts,
The Verizon TP2 has not been cracked yet I believe...so no custome ROMs yet for that model. The XDA community more strongly supprots the GSM phones. That is why if cooked ROMs are your thing then stick with a GSM provider (AT&T and T-Mobile).

Or if you have CDMA take a look at PPCGeeks.com for roms. XDA does do mainly GSM but there is a ton of CDMA stuff going on at PPCgeeks

True PPCGeeks.com has some action on the CDMA phones. But often the same information shows up on both regarding HTC phones. The latest update is that within a couple days the TP2 CDMA will be cracked with HardSPL by Cmonex.
Place to watch: http://forum.ppcgeeks.com/showthread.php?t=78887

Awesome, can't wait to get my hands on it.

What about Verizons HTC Imagio ??!??

Still waiting for the TP2 to get back in stock with Verizon. Will the new Touch Flo 3D that is on the Imagio work on the TP2. If so, how do you update it?

6.5.1 does make life a little easier. And the new touchflo is slowly integrating more and more of WM. Personally, I can't go back to the top start menu buttons and smaller softkeys. I didn't think it'd make such a big deal but now my Diamond really feels more thumb friendly. Plus, I no longer have to stretch up to the top or use 2 hands to navigate.

I recently started using cooked-ROMs on my Sprint Touch Pro. (I had always been too afraid to try this with my old 8125/Wizard and my Mogul.)
I'm hooked. With so much happening outside of the MS-ecosystem, the benefits of these ROMs really makes me more patient as I wait for MS to really kick some butt with WM7.
If they came after the "cooks," I'd probably just say the hell with MS and move on to Android or to the Pre.

Okay, I really want to do this! Where can I find VERY simple instructions on how to do it? With pictures would be very preferred. Also, will I be able to go back to the official version of WinMo / Touch Flo later on? And what does this rom bring? Can you make it so that you can always see your wallpaper on all the pages instead of just your home screen?

I had the same reservations before I flashed my first cooked ROM. Here is a very good guide to flashing ROM's that was a tremendous help to me.

Phil, did you have any problem mapping the keyboard after the flash? That's why I'm kinda waiting a bit before wiping off this bloatware fest.

There are CAB fixes for that. :)

XDA does good stuff but it's important to remember that the majority of WM users will never load cooked firmware, most will never even update official firmware unless it's pushed. WM 6.5, 6.5.1, 6.5.x, 7, etc., isn't Microsoft's problem or salvation, it's their after sale relationships with customers as well as their relationships with handset manufacturers and carriers. Unfortunately for Microsoft, those relationships are stuck at version 1.0.

I have the same question as a few others..... ...why is the Imagio always an afterthought, Mal and Phil? When I hear about non sliders, the Pure is the only phone brought up in the podcasts and in a post like this (for the most part). Might I add that the Imagio launched with 6.5 as well? Side rant-
The Imagio walks all over the Pure in MANY aspects: -MUCH larger screen for viewing and interacting (typing on it Mal?)
-MUCH better camera, 3.2 vs. 5.0 (I know its not always about MP, but it is WAY better.)
-The kickstand. While it seems gimmicky, I've used it several times already and love having it.
-No ridiculous and cheap little port covers. (explained by Phil)
-3.5mm jack. Need I say more? I understand that the Imagio belongs to the big evil V (I love Verizon btw, no complaints) and with that is CDMA (again, I have no problem with CDMA) but I am already tired of the poor little Imagio not getting any press or praise. For those who like the idea of the TP2 but don't want moving parts..... Imagio. Also, if you guys won't cover custom ROM's then could you please post a link for a "How to install custom ROM's for Dummies" somewhere on the net? I've seen a post or two at XDA but it still doesn't seem to come from ground zero. Thanks. Keep up the good work in the Podcasts. I love Mondays at work because of it.

Hi looking for some advice. Got a HTC Touch Pro 2 running Windows 6.5
Rom Version 1.86.161.0 (67102)WWE
ROM date: 09/25/09
Radio version: 4.49.25.17
Protocol version: 61.44tc.25.32U I personally have no idea what all this means! All I need is the TouchFlo3D cab. file so I can load it on my device. Please can you point me in the right direction??

How do i get the new touch flo 3d i have a htc tilt 2 someone please help...thanks!
Windows Central Newsletter
Thank you for signing up to Windows Central. You will receive a verification email shortly.
There was a problem. Please refresh the page and try again.