7 essential Windows Phone apps for traveling in Southeast Asia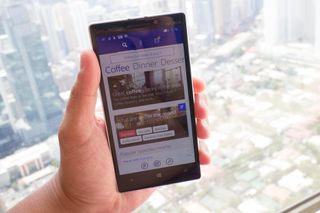 In a few days, I'll be returning back to New York after spending three weeks in Southeast Asia. To be more specific, I've spent time in Thailand, Malaysia, and the Philippines. I've had the Lumia Icon with me, which comes unlocked out of the box by Verizon.
I've noticed my usage is a bit different compared to how I use the Icon back in the United States. Here are 7 apps that have become really handy while traveling in Southeast Asia.
Eating
My go-to app in the US for finding food spots is Yelp. I know can rely on the service to provide reviews and photos from its millions of users. Unfortunately, it's not available in the three countries I've visited. How would I know where to eat? Instead of panicking, I've started using three apps: Zomato, Foursquare, and Tripadvisor.
The three apps are all great for giving restaurant suggestions, whether you are looking for breakfast, lunch, dinner, pubs, or snacks. There's no clear favorite. I use them all to read the reviews and look at user-submitted photos. I especially like that Zomato provides an estimated price for two people.
Things to do
I've already mentioned Tripadvisor for food recommendations above, but it's also great for finding attractions. For example, it was really useful in telling us which island hopping tours to take in Palawan and which beaches to visit. Instead of depending on our hotel's front desk, who might have other motives to suggest certain places, I read TripAdvisor reviews from several other people who have travelled in the area.
Another useful tool while travelling is WikiTravel (wikitravel.org). It's not an app, though. It provides great information on things to do and places to see. Simply use your web browser.
Getting around
I don't know if it's the way I look or speak, but many taxi drivers in Southeast Asia want to rip me off. Several times, drivers have refused to use the meter or only agree to flat rate prices that are more than double the usual amount. I'm glad Uber exists and I've used it several times on this trip.
One thing to note is that the Uber drivers see my American number on their app. They're unable to contact the number on my local prepaid SIM. I use the 'contact driver' option in the app, if I need to call or send an SMS to the driver for more details just in case.
Another service that is popular in Southeast Asia is EasyTaxi (easytaxi.com). It's a little different from Uber. The app flags down a nearby taxi and you can track its location. The taxi will use the meter when they pick you up, but there is a small booking fee. The locals I've talked to use this service as well as a similar service called, GrabTaxi (grabtaxi.com). Unfortunately, GrabTaxi is currently unavailable for Windows Phone.
More travel tips
Before you leave home, I recommend downloading offline maps for HERE maps. It's not hard to get a prepaid SIM card for data when arriving at the airport, but it'll be a lot better if you already have the maps downloaded on your phone.
If you need help reading foreign menus or signs, the camera feature on Microsoft's Translator is pretty useful. It lets you point your phone towards the menu and translate the words on the screen.
Do you have any more tips or suggestions for people travelling in Southeast Asia or in general? Are there any other apps worth mentioning? Let us know in the comments!
Download the apps
Get the Windows Central Newsletter
All the latest news, reviews, and guides for Windows and Xbox diehards.