Our three favorite Wireless Chargers for your Qi-enabled smartphone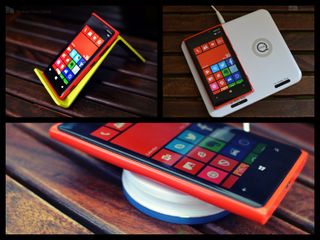 From a novelty to a norm, wireless charging is increasingly becoming a popular feature especially with the consistent push from Nokia and innovative accessories to complement them.
After Nokia introduced the DT-900 wireless charging plate and the Fatboy wireless charging pillow with the launch of the Nokia Lumia 920, their first Qi-compatible Windows Phone device, several brands have followed up with their variants of wireless chargers like the Mugenizer N11 I wrote about last week. In this post, let's take a look at wireless charges from Mugen Power, Tylt, and Brando that I've been trying out since a while.
Mugenizer N12
[[ h3mugenizer h3 n12 wireless ]]
[[ h3mugenizer h3 n12 wireless ]]
[[ h3mugenizer h3 n12 wireless ]] The Mugenizer N12 is one of my favorite wireless chargers around. Of the three here, it is the most compact, and weighs only 90 grams.
[[ h3mugenizer h3 n12 wireless ]] Shaped like a hockey puck, the Mugenizer N12's cord wraps around itself, and the USB end of it tucks neatly in its bottom, making it great to carry around in your bag or even your pocket. You can use the device as a wall charger with a USB adaptor, or plug it to your laptop or other devices with a USB port while you're working.
[[ h3mugenizer h3 n12 wireless ]] While placing the phone on the charger to align it correctly isn't much of a hassle, it becomes a tad awkward to place the large Nokia Lumia 1320 or Lumia 1520 on the small charger. It's not at all a problem though.
[[ h3mugenizer h3 n12 wireless ]]
[[ h3mugenizer h3 n12 wireless ]] The charger is available in three colors and you can buy it for $50.95. You can check out more details about Mugen Power's Mugenizer N12 Wireless Charger here.
[[ h3mugenizer h3 n12 wireless ]] TYLT VÜ Wireless Charger
[[ h3mugenizer h3 n12 wireless ]]
[[ h3mugenizer h3 n12 wireless ]] Purely in terms of aesthetics, the TYLT VÜ takes the honors. Beautifully designed, the inclined wireless charger is a great accessory on your work table. When you place the phone on the charger, it slides nicely on the stand and the 45-degree angle helps you see the screen while it gets charged. You can place your phone horizontally or vertically on the stand.
[[ h3mugenizer h3 n12 wireless ]] Available in four colors – green, blue, black, and red – the charger has a soft touch surface and the charging cable leaves unit neatly. The VU is designed to stop charging your phone as soon as it's full and go into sleep mode to conserve power. It will wake up every so often and check to see if your phone needs a charge to make sure you wake up with a full charge every time.
[[ h3mugenizer h3 n12 wireless ]]
[[ h3mugenizer h3 n12 wireless ]] At $69.99, the TYLT VÜ Wireless Charger is a great buy, and you can check out more details of the product here (opens in new tab).
[[ h3mugenizer h3 n12 wireless ]] Brando Dual Wireless Charging Pad
[[ h3mugenizer h3 n12 wireless ]]
[[ h3mugenizer h3 n12 wireless ]] If you've got more than one Qi-enabled smartphones at home, the Brando Dual Wireless Charging Pad is the perfect table top charger to have. This dual charger can charge two devices at the same time.
[[ h3mugenizer h3 n12 wireless ]] You can check out more details about Brando Dual Wireless Charging Pad here. You can just buy the charging pad alone for $60, or buy in combos with receiver pads for your non-Qi enabled smartphones.
[[ h3mugenizer h3 n12 wireless ]] Do you have a favorite Qi wireless charger? Let us know below, including price, why you like it and where to find it! Maybe we'll include it in a part 2 wrap-up!
Windows Central Newsletter
Get the best of Windows Central in your inbox, every day!
The TYLT VÜ is the best charger in my opinion

-1520 I purchased this beautiful charger to go with my 925. Once I went to the 1520, my Vu is now just a stand while I have a regular charger in the micro usb port. lol

Dt-900 charging plate all the way:P

Does it work with lumia 1520

My International Lumia 1520 (RM-937) works with the DT-900.

All are good just S-L-O-W, roll on faster Qi charging....

I dunno, have the Tylt and it seems faster than the wall wart...

Mmm, I find it heaps faster than the plug charger.

They are all expensive, I got a usb/ac adapter one from amazon for like $24 and its awesome http://www.amazon.com/gp/product/B00G9W7S4O/ref=oh_details_o04_s00_i00?ie=UTF8&psc=1 i alos have 2 fatboys, one red one black, for my Silver Lumia 925 with a yellow charging cover.

I'm kinda jealous you have a silver 925...

I've been using the Nokia DC-50 a while now and love it, great battery life, a little expensive averaging €80/90 but the unit is solid holds all phones well and comes in nice colours.

Hum, you can place the phone hortizontally on the TYLT VÜ Wireless? I may have to get me one of those. I already have so many wireless chargers though, three DT-900 and one DT-910, that I probably shouldn't.

Does it charge while horizontal?

Samsung released their QI charger at Best Buy recently and it claims 2 amp charger, not sure if that really makes anything charge faster with wireless charging though.

AT&T comments in 3, 2, 1...

I seriously miss the wireless charging with my 1520... Stupid ATT❕... What's his bic% a$$ name❔ Ralph De La Vega❔.. This was him... Damn you❕❕❕.. I wish MLK was still here.. He'd take care of this mess❕❕❕.... LOL❕❕

I would've bought it right when the 32GB modem came out if it even had at least a Qi backplate. Even if they finally release it, I'm not buying the 1520 anymore, as WP8.1 devices are right around the corner.

Yeah, but I already got a 64gb SanDisk ultra card, so my storage issues are pretty much solved.. It would be nice to be able to store apps and games on the card, and I'm hoping that this capability comes in the next major update... As far as those next generation WP devices go,, I'm on that upgrade every year plan, so I'm already looking at getting a new device in December... That is if they have a new device 6" or larger,, because I can't go back.. Remember❔ once you go 1520 Lumia Black,,, you never go back..

Tylt Vu with my 928 FTW! Allows for efficient use of email while I'm at my desk.

What about the wireless chargers for the Wii remotes? Can I use them?

DT-910. That TYLT VÜ has an enormous footprint! Takes up too much space...

Only about an inch wider and an inch longer than my 928 laying flat on the desk.

That's my thought too. Love the DT-910 and very compact. Takes up much less space than laying the phone down on the desk. However, it doesn't charge the phone horizontally, at least not my 928. Has to be vertical to charge it on the DT-910. I assume that's becauset he charging area in the DT-910 is up pretty high. Yes, confirmed, if I hold the phone about 3/4" up from the base (obviously not really a viable long-term option), it will charge horizontally on the DT-910.

Play's with the tylt at CES, had soooo much fun placing and removing my 920.... no clue why i had fun doing it though?

I will try the tylt. I am on my 2nd DT-910 that is not reliable with the 1020. In fact, the Nokia site doesn't list the 1020 as compatible with the DT-910. How can that be? Sometimes it works and sometimes it doesn't. I suppose it could be the shell, but it seems more likely to me to be the stand.

I think that unlike the DT900, the 910 has only one charging coil instead of 3. It may be that the coils don't always line up quite well enough to be reliable, which would be a bit silly on Nokia's part, but I'd imagine that gigantic camera bulge makes it tricky.

Thanks for the info! Yeah, I will try the tylt vu. Timely article! I'd never even realized there were third-party wireless chargers.

I bought a wireless charing case for my 1020 but the camera grip does not go on over it so now I don't use wireless anymore and my Nokia wireless car charger is useless a well. Thanks AT&T and I don't even like in the US. Thanks Nokia too for being such a wet noodle in dealing with AT&T.

Have the DT-910 bought for around $45, and two of the DT-900's for ~$12 each. Opened one of them to use when I was in the hospital, a lot easier to charge than trying to get a cord plugged in while you are yourself plugged in also. ;)

Yes I agree with you, DT910 is the best. :) All the others in here here got it all wrong. ;)

Questions: 1)Regarding the Tylt, if I have my phone charging on it and decide I'd like to use my phone while charging, which probably involves a lot of swiping left to right, how pro r is the phone to sliding off the tylt or at least out of alignment?
2)Regarding the Brando, if I have just one phone on it do I need to still align it perfectly straight kn the charger or can I just set it on there diagonally or whatever and not worry that its not aligned?

Have never had a problem with my 928 sliding while swiping when it was in the Tylt...if anything, the Tylt is more likely to slide on my desk when doing so, but even that is pretty limited.

I dunno, I kinda prefer a simple, angled, magnetic charging puck, like the old Palm Pre Touchstone. Never had problems wondering if my phone was properly aligned, the puck itself stuck perfectly to nearly any surface without any weird tacky residue, and my phone was angled perfectly so I could still use it. Haven't seen anything besides the orb for the Nexus 4 that even comes close.

I'm hoping Qi is Qi, because I just ordered this for my 920. Is this sort of what you're talking about? Anyone else try something like this yet? http://rover.ebay.com/rover/1/711-53200-19255-0/1?ff3=4&pub=5575095911&t...

I'd assume that's compatible, but you might wanna check the manufacturer's website or the amazon listing for more info.

Nokia DT-900 here, for $12.50: 50% of, minus 50% off on top for being a good Premier employee. Do the math backwards for the original AT&T price.

Until I looked at the check saying $7424, I accept that my neighbours mother was like they say actualy receiving money in there spare time from their laptop.. there uncles cousin started doing this less than 9 months and recently took care of the dept on their cottage and got a brand new BMW 5-series. read more at, w­w­w.w­o­r­k­s­7­7­.c­o­m

At 70 dollars, it is most certainly not a "great buy" unless it comes with a phone.

Not available in India,i guess?

On the past it was a good practice to only charge when nearly empty. Is that nowadays not neccessary anymore? I like the tylt but then it is charging every night, while now i'm charging once in two days.

My blue TYLT VÜ is sat on my desk next to me with my 925 at the perfect viewing and working angle. Bit pricey maybe, but looks great and very functional

So why aren't we putting pressure on Nokia/AT&T into releasing the long-promised wireless charging cover for the Lumia 1520?

Wireless charging is almost useless on Nokia/WP8 phones because of a bug introduced in GDR2!!! When the phone is on the wireless charging stand and it is fully charged it will wake up and "ding" like when you first put it on the stand very 10 to 20 minutes. IT WILL DO THIS ALL NIGHT AND IF YOU HAVE THE CHARGING STAND NEXT TO YOUR BED IT CAN WAKE YOU UP. I have tried to notify Microsoft throught their Live Chat and sent info to Nokia through Feedback on the phone and still no fix after 5 months now. See my forum post and see more people with same problem. (I originally thought it was a charge complete ding) http://forums.wpcentral.com/windows-phone-8/245228-charge-complete-alert-how-turn-off.html This lack of response by MS and Nokia as well as a couple other issues has just about gotten me to the end of my rope for MS/Nokia phones.

I have that issue as well with my Nokia 810.. I could be wrong but it could also be the charger going into standby and then turning on to make sure it is fully charged? They explained that the TYLT VU does that. I don't see why other chargers wouldn't do the same. Mine doesn't do it that often I would say about 2-3 rimes thought out the night using the DT-900. Sometimes it won't do it. Not exactly sure what it is.

Nice review. There should be more of these, especially on the choices out there of Qi chargers.

And that ugly adapter ))))

The TYLT VÜ looks great and is one of the best looking QI chargers I have seen but, You could take the Nokia charger that MOST people have and a 3D printer then make something like this for under $5-10... Dam, I gota get a 3D printer for crap like this...