AccuWeather app updated to include new MinuteCast feature and more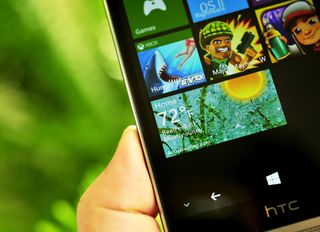 One of the best weather apps for Windows Phone, AccuWeather, has received a new update today that includes MinuteCast, which offers a way for users to learn how much rain or other kinds of precipitation is expected at a location down to the minute.
As explained on the app's page:
In addition, the update includes a way to launch the AccuWeather app from the user's current GPS location or a favorite location from their default live tile. Finally, fans of transparent live tiles can now check out this feature on AccuWeather.
What do you think of these new features? Thanks to Prashant for the heads up!
Look a bit better at the MORE section

Yes!
Also DP 8.1 got an update 2 hours ago.

Do you happen to know when the official update 1 is scheduled for WP 8.1 users? (EU)

Your clock seems to be too slow :-)

I sent an email to the guys in WPC,seemed they don't care unless they discover it by themselves:(

They probably get asked the same questions over and over

Simply explore your apps a bit more, this is a common feature of many apps on WP.

The DP 8.1 update came out yesterday.

more importantly, if you check the video section of the app, theres an absolute babe doing the forecasting!

Appy weather just implemented a similar feature a few days ago. I wonder if minutecast will become standard practice.

Amazing weather hd all the way for me. It is one of very few that lets me use oC and mph together instead of just a choice between imperial and metric. A lot of my fellow Brits seem to still like Fahrenheit but only is seems when it is hot. A lot of people then start reverting back to Celsius when it is cold lol

Will be happy to see Bing weather app updating

hopefully this will happen soon since Bing gets its weather from AccuWeather anyway

I want yahoo weather making its way on wp8.1

I can't figure out how to make the tile transparent

It's automatic. If updating the app, you likely need to repin it to refresh it.

Do I have to make the tile transparent? I don't like my weather tile being transparent.

Is the tile actually TRANSPARENT transparent? Doesnt I show info on selected locations weather?

My live tile is just stuck with the orange accuweather logo. Tried unpinning, pinning, allowing to run in background, uninstalling, reinstalling with no luck. Won't even let me pin a location to the homescreen

Same here .... After updating to Cyan .... It's live tile is not working .... Then I removed it from the start screen then repin it now it is stuck in orange accuweather logo ....

I'm having the exact same problem.

I can figure out why it's not a live tile. I don't think I have the updated version yet.

It should be. Their live tile is actually quite good. Have you double-checked in the settings to see that it's switched on?

Sorry, how does it work on android? Is it a new feature just on WP?

I had this app, liked the info, precise info but bad looking tile. Now with transparent tile, here goes redownloading!!!

Great. New features aren't available for my region but it is good to see WP apps getting more feature rich.

I just can't like apps with ads and no options to removed them. Installed and uninstalled.

Same here. I bought Amazing Weather HD just so that I don't have to see ads.

I am using Vieather app as of now.. So which is the better app.. Vieather or Accuweather??

Is anyone here not getting notifications for Severe Weather with the app?

There is no transparent live tile feature...

Did they update it to stop asking for a rating every time you open the app?

Do they mean that the app tile is now transparent?

nevermind it is transparent :)

Transparent live tile also

Ah, it is a live tile and it is transparent. Nice.

It looks great, but Weather hound has the best lockscreen! If theese two could mix up it would be perfect! :)

For the 500th time, the live tile is transparent. Just thought one more iteration was necessary.

More like ADcuweather.... Get rid of the ads guys!

Son of a... I have too many weather apps. What is wrong with me? Downloading this now as the lock screen looks cool. Have to disable more background tasks too. I wish there wasn't a limit.

I Love the new lock screen images. Much better than the static images they used to have. And dammit John, how is it that I cannot escape you. Everytime I find an interesting article either with your former employer or this one, your name is there. AAARrrrragghghghghghggghghhghghgh!!!

Its Not working !!live tile is not showing anything !! Yes in setting I've turned on live tile !!! But showing nothing !!!

Leave it for a while. It will sort itself out.

Be patient for a few minutes...

Yup !! Now it worked !! Bcoz I've uninstalled & reinstalled it !!! Such a smooth & smart live tile !!

The lockscreen feature doesn't work on my phone :(

It works for me but weird photos come up instead.

Now it's working but not properly, it's doesn't refresh automatically. I don't have weird photos, it shows me pictures from the city i live in.

As a cyclist, I like the new Minute Weather feature. But, until there are some options for the Live Tile and the ads are gone (I would pay), it is still Amazing Weather HD for me!

Am I the only one that isn't seeing any ads that a few people have mentioned?

This is an excellent app. Their forecast is quite accurate and the cloud cover feature is awesome.

Cannot set wind to m/s, uninstalled.

I wish WeatherBug would have a nicer looking live tile..because it's caca

Crahed on my Lumia 1020 WP8 and now same on WP8.1 cyan update.

That app has lots of ads they are alternative apps in the store

Refused to get downloaded

Accuweather purchased Skymotion and incorporated the minute forcast feature. You can still get Skymotion as a standalone app. I use it all the time bad it's very accurate!

It can't find my current location. Also while transparent tile is heaps good there should still be option to have both. Bing Weather is still the best!

The last update introduced adds, something my wife's android phone version is free of, and the accuracy in western Australia is unreliable and often inaccurate, I will give it another go just to see if its any better though..

Also the lock screen now shows the Sydney Opera House, WTF??????

Uninstalled, still has unremovable adds ...although it did find my location in this version

I don't get apps with ads. I would be happy to pay for ad removal

Are they serious?? STILL no option for wind in m/s... How hard it is to make so small update?

What u guys are talking about

Live tile does not work anymore.

Same, the live tile stopped updating.

Live tile is broken for me too. It initially seemed to work when I updated when I woke up this morning it was stuck on yesterday's weather. Have tried to reinstall but the problem remains.

Tried to expand to wide live tile. Then it stopped updating :-(. Uninstalled and installed. No good. Now live don't show anything and don't update :-(

I'm having the same problem. It was working fine yesterday but now it's suck on a weather forecast from earlier today. Maybe they are having problems pushing out data to everyone after the update. Hopefully they'll get it fixed soon.

The back tile is stuck on the 5 day forecast from 2 days ago, and switching between the wide and medium tiles shows 2 different temperatures...if memory serves me correctly, this is the same craptastic behavior that this app has been doing since the WP7 days...time for a new developer I think, other weather apps have much more reliable Live Tiles.

Same problem here - live tile is stuck. Initially it was stuck on the 5-day forecast from 3 days ago, so I tried re-pinning it. That didn't solve it. Next, I decided to uninstall and reinstall the app. Now the live tile is just stuck on the orange accuweather logo. Oh, and yes I have the live tile turned "on" in the settings.

Live tile not working on my lumia 620. I reinstalled the application still live tiles and lock screen are blank.

live tiles worked but the same old having black background not transparant as reported.

Just like to say that Accuweather was the best app on windows phone ever since the update it has become the worst. The update broke it because nothing works anymore, live tiles, lock screen even accuracy is bad. It seriously needs to be fixed because right now I have 3 different weather apps installed and there all giving be different results.
Windows Central Newsletter
Get the best of Windows Central in in your inbox, every day!
Thank you for signing up to Windows Central. You will receive a verification email shortly.
There was a problem. Please refresh the page and try again.