Acer's Switch Alpha 12 is a 2-in-1 liquid-cooled notebook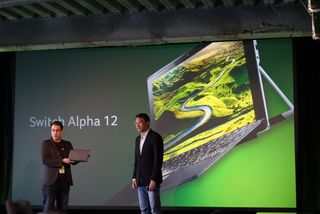 At its media event in New York, Acer announced the Switch Alpha 12, a 2-in-1 hybrid that relies on liquid cooling to keep its components cool. The 12-inch device features a brushed aluminium design, offering a 2160x1440 display and a kickstand.
Acer is targeting the premium segment with the device, which offers a backlit keyboard (for free) and configuration options that include sixth-generation Intel Core i series of processors, 4GB of RAM, and up to 128GB storage. The device also offers a full-size USB 3.0 port, as well as a USB Type-C port, and you can even opt for an Intel RealSense 3D camera, which allows you to login to the notebook using Windows Hello.
Acer notes that the laptop doesn't need active fan cooling because it uses a closed-loop liquid cooling solution to keep the system temperature constant during periods of high load. There's an optional stylus called Acer Active Pen that attaches to the side of the notebook.
The Switch Alpha 12 is coming to North America in June starting at $599. In EMEA, it is coming in May starting at €699, and in China it is coming in May starting at ¥5,999.
Windows Central Newsletter
Get the best of Windows Central in in your inbox, every day!
Harish Jonnalagadda is a Senior Editor overseeing Asia for Android Central, Windows Central's sister site. When not reviewing phones, he's testing PC hardware, including video cards, motherboards, gaming accessories, and keyboards.
Great.. Surface idea is working! Who have seen ' onda ' surface book clone? It's amazing

Except "made by Onda" most likely means poor build quality and software issues. Tempting looking, but as far as Chinese copycats go, they're low on the list of potential purchases for me.

The problem is that Surface is just leading to mostly copycat devices. Some real innovation like the Elite x3 phones would be nice from the others (Dell, Vaio, Lenovo, ASUS, etc.).

Where are the stylus pens? What's the point of all these sleek, ultra thin touch screen laptops if u can't write or draw on it?

There is a pen loop attached to the keyboard like SP3. So... I assume it supports and maybe even ships with. The keyboard does, so...

True, I've never used a computer for something other than drawing. The answer is portability.

That liquid cooling is awesome.

why does it need a liquid cooling? It doesnt have a super high end CPU/GPU.. so why?
Aahhh, I see.. its because liquid cooling sounds good for marketing purpose

It literally almost doesn't realy sound. That's why.

People do not like fans but want performance. P.s. I have no issues with having a fan on the SP4.

Agreed. Never really bothered me on SP3 or SB. But I can see why people want it. Fans make noise.

So do farts, and you don't see people complaining about those. Sent from Ultimate Toaster 2.0 Deluxe

Some fans are better than others, my old HP Spectre wasn't bad, but still the humming noise was noticeable and got irratating at times. Since moved to a m5 and while it's not as powerful the silence is nice and makes it feel more like a tablet than a laptop.

In theory, losing the fan and vents could also let the tablet be thinner and lighter, and possibly achieve waterproofing, like some of the Samsung and Sony tablets. I'm a bit skeptical of a Core i-series processor with no fan, personally. I'd be surprised if Acer's engineers achieved something that Microsoft's haven't been able to.

Well this looks like some kind of more active water cooling, compared to the surface's passive water cooling. As far as I know, surface relies on just liquid moving due to heat differences. But this looks a bit more complex. However, it's also an animated ad that advertises "space age cooling", so I'll take everything with a grain of salt. I do like that their keyboard, while being almost a complete copy of the surface one, has way more function keys and stuff, because they made the arrow keys smaller. Wish I had a few more buttons on my keyboard.

Core i5/i7 skylake isn't high end? Ok........ These puppies require cooling. This is a true liquid cooling solution you would find on a desktop, not a vapor chamber that MS uses. That's pretty impressive.

Kinda digging my Acer Laptop with a touch screen. Bringing it up cuz here in Mumbai I know surprisingly few people who appreciate Windows, don't really look into it beyond the basic tasks and using touch means going back to a normal laptop some times feels incomplete. I suppose the difference in experience would have been substantial if my laptop was more touch oriented and not a conventional one Posted from Windows Central App
Lumia 830/Win10Mobile

RAM and storage are anything but premium.

Loving the thoughts which arise from the Surface. Truly a successful piece of hardware.

Not sure where the information in this article is coming from but you can see the options available on their US store site here; https://www.windowscentral.com/e?link=http2F2Fclic... Standard 8GB RAM, up to 256GB SSD, optional stylus, no mention of an upgrade to a Realssnse camera. Price starts at $699 for Core i5 8GB RAM 128GB SSD.

If it's really active stylus and the latency is in par with Surface devices, that is a pretty good price, IMO.

No, FHD option? Damn, I'd rather have battery than a barely noticeable resolution upgrade, Still watching this closely, I can always run it at 1080p as I do my current Yoga 2 pro, which is going to the wife when she finished school in 6 weeks. It's on the short list for sure.

Guess 2160x1440 has become the default resolution for high end two in ones. Excluding the pro 4.

Nice, but I've been burned by Acer twice when it comes to laptops...

..i think Surface line served its purpose - to inspire other OEMs to produce innovative solutions, or clone it and make the price cheaper... :D
Windows Central Newsletter
Thank you for signing up to Windows Central. You will receive a verification email shortly.
There was a problem. Please refresh the page and try again.